There is only one thing Frédérick Ernestine Grasser-Hermé won't tolerate: boredom. In her apartment a few hundred yards off the Champs-Élysées the 70 year old remains a live wire, producing new ideas by the minute. And while she changes the subject quicker then you can say D'accord! there is one constant: food. For FeGH everything starts and ends with the edible. Here, everything is allowed.Grasser-Hermé, who used to be married to Master-baker Pierre Hermé, has been cooking and writing for decades. But it all started in the world of film, in Cannes in the late '60s.She became the marketing director of film magazines Journal du Show Business and Screen International despite, as she admits today, never speaking a word of English. Building on an ever-growing arsenal of contacts she moved further into advertising before making the world of food her main occupation.Today she has published more than twenty books and is involved in restaurant openings and exhibitions all around the world. At home in Paris Grasser-Hermé is one of the key figures in the local gastronomy scene as well as a sought-after contributor, most recently for the Marie-Antoinette exhibition at the Grand Palais.When not working on a new book or travelling the globe in search of new food trends, she consults restaurants and brands as diverse as Heinz, Alessi and Kellogs. Today her most active partner in crime is Alain Ducasse. Holder of 21 Michelin stars, Ducasse is the grand seigneur of French cookery.If Ducasse is the reigning king of cuisine, FeGH is the secretary of cultural affairs, keeping the traditions alive while constantly re-inventing. There's also a touch of the court jester about her and alongside her many admirers she has made a few enemies along the way. But in a very Parisian way she is okay with that. As long as it keeps things fresh.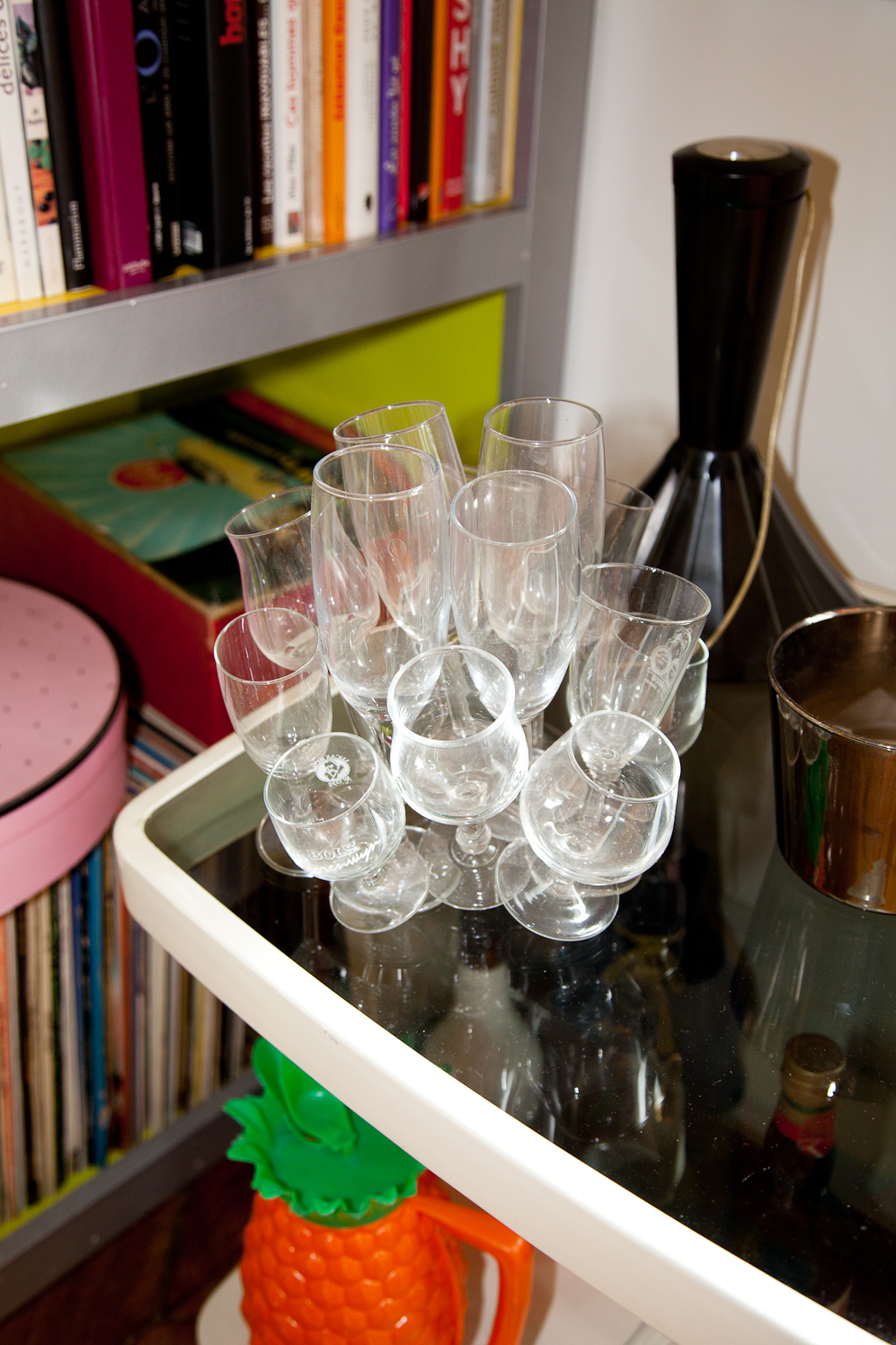 Could you tell us how you ended up in the world of food?
To be honest it all started quite late. When I was a child I was often ill and did not eat, so my interest in the world of food came only much later. However I was introduced very early to good quality produce by my mother. She bought fresh butter and cheese only on the markets.
Much later, in 1973, when I was 30 years old, I met Jean-Pierre Engrand, a great epicurean who changed my culinary and cultural life. This man of taste would literally take me on gourmet escapades. I still remember the first great meal we had at Alain Chapel's, who was a famous 3 star cook at the time: fresh frogs.
Jean-Pierre Engrand was a patriarch, incredibly passionate about cooking. He knew and frequented the greatest chefs of "Nouvelle Cuisine": Guérard, Verger, Chapel, Robuchon, Trama, Loiseau, Amat, Maximin and many more.
He trained me for 6 years, till his tragic death in a car accident in 1979. Nevertheless I wanted to continue my quest and face the challenge. I finally got the chance at the Cannes festival, where I worked during that time.
The opportunity presented itself in the extraordinary challenge the greats of Nouvelle Cuisine set themselves – to cook for stars like the Rolling Stones, George Benson, or Yes. Here in May 1981 I met a young chef called Alain Ducasse. In fact Maximin introduced me to him at the Juana hotel in Juan-le-Pins. From then on every morning I went to the Fortvilles market where Ducasse would buy his groceries and try to talk to him.
In the last twenty years you've worked extensively with Alain Ducasse, tell us more about the way you collaborate.
It has always been a kind of dialectic process. In 1989, almost nine years after we first met, Ducasse invited me into his kitchen. I asked for years and years and the day he finally accepted me I told him "No." That showed him! (laughs). One hour later I told him for once I was to be his cook. Which is eventually how the book "La Cuisinière du Cuisinier" came about… a book to tell this marvellous story.
Ducasse has the memory of an elephant and I like talking to him. Our conversations are based on trust, a longstanding friendship and listening (boy, he listens). There's no funny business between us. I don't need acknowledgement, we have an understanding, we keep each other informed, we appreciate each other, we respect each other and it's wonderful!
Throughout all those year what is the most memorable event for you?
In 1986 I set myself the challenge of cooking for Joel Robuchon, the greatest chef in the world, in my own home – and he accepted the invitation. On the menu was: pigeon pastille – delicate and something that I had long practiced – and lamb confit in apricot.
To tell the truth I'm lying: most memorable was when Robuchon himself, who is also my god-father, signed my book La Cuisinière du Cuisinier!
Is there anyone who you would still really like to collaborate with?
No directors, no politicians, no artists…
I'd choose an eater, that is someone who can eat. Someone with whom I can share the pleasure of exchanging all the emotions created at the table. Without hesitation it would be: Inaki Azaipitarte, he knows how to eat. I like all the freedom he grants himself with food. He's someone you can bank on, he is still the leading figure in his way of cooking.
I think it is hard for many people to understand what it is you are actually doing. So how does a typical day in the life of a food thinker look?
A food thinker reads, documents and cultivates herself. Then she takes her electronic fountain pen and writes for a few hours, every day, like you would if you were learning your scales or your verbs. Finally she disappears into the kitchen to develop recipes and goes on a journey to find heavenly new dishes made purely for the pleasure of eating.
What are the most important elements to a good dish?
It's a 50/50 game. The first part consists of buying good quality products and the second is cooking them well. It's important to know where your food is coming from. That doesn't necessarily mean buying organic. But it helps to buy directly from the farmer/producer if your budget permits it. And I'd also suggest to buy less. It's better for your health. Meat should not be eaten more than twice a week. As for fish, don't get me started on how much pollution they contain these days.
Anyway, all of these elements are important for the taste and the texture, as well as our health.
Do you have a favourite cafe or restaurant in Paris?
I can't pick just one. There are three different cafés where each coffee is accompanied by a different emotion. A different emotion for every moment! I like drinking my espresso with a stick of buttered baguette – which I dunk in my coffee – on the terrace of the Flore in Saint-Germain-des-Près,: a moment of pure happiness. I prefer the terrace outside when it's nice weather and the covered terrace when it starts to get chilly. Why? To watch people, it's a real spectacle!
To drink a really good filtered coffee I go to L'Arbre à Café on Rue du Nil, which is run by Hippolyte Courtis, the master of coffee. Hippolyte also puts together the "café" collection for Pierre Hermé consisting of قهوة kaoua, a red Lapar from Brazil and also a Bourbon Pointu from Réunion which offers a surprising kick.
And for restaurants?
My absolute favourite restaurant is run by a very talented lady: Raquel Carena at Baratin in the Rue Jouy-Rouve, in Belleville. She cooks with skill and simplicity. I love her veal brains cooked in butter, which is also outrageously seasoned with lemon. And of course her tasty stews done with al dente vegetables.
Any more tips for Paris you want to share?
I love hunting around the Chinese markets in Belleville or on the market on Avenue du Président Wilson.
I also like going to see Cédric Casanova, who's up to his head in olives, on rue Sainte-Marthe right next to Carlos and his salted meats, chorizo and wagyu-iberico. Finally there is Andros Rallis, a nomadic merchant who sells sinfully juicy oranges, seasonal feta – especially the one he makes in May – and literally orgasmic Kalamata olives.
How do you get around Paris?
I prefer to take public transport – bus, métro – or walk. At night, or when I have a big day, I take my Smart convertible. Or I call Hubert, my driver who picks me up from my flat in a limousine. And for not that much more he takes care of everything: he opens doors, closes them… I love it. It's so practical.
Do you remember a particularly funny moment when visiting a restaurant here?
Once at Laurent le Magnifique, there was an American lady who was terrified that we ordered a chicken with a "half-full bladder" – which is a stuffed bird encrusted in black truffles. She was crying out with bewilderment and I finally had to ask if we could move seats to get some peace and quiet! On top of that she was smoking! Honestly…
What's the most exciting thing happening in food at the moment?
Most of all, that nothing is impossible on the sole condition that it tastes good! It can be Street Food, la Grande Cuisine, World food, Russian, American, English, Scandinavian… I try to study everything to hopefully better understand each person's tastes. Naturally it is about taking risks, but honestly I never liked followers anyway.
If you could give one piece of advice to someone (a chef, a writer, a consultant) who is trying to get into this world, what would it be?
Show determination.
We have been looking at your apartment all day and there are so many fascinating details. I was wondering if there is a particular piece you like above the others?
My favourite thing is always the last thing I've bought: recently, a knife from the manufactory in Laguiole ora glass pot from 1920 with a transparent tajine compartment so I can see all the foods that excite me. Tomorrow, no doubt, my favourite object will be something else.
Not to forget: I love my English Aga cooker, which functions as an exhibition space to show off all my favourite dishes.
And finally what is your current favorite travel destination?
Tel Aviv! Because the people are very friendly, the food is exciting and also because I am addicted to the Miznon Restaurant in Paris…It's so cooool and so so so so SO good!
Photography: Fred Lahache
Video: Nikolaj Belzer
Interview & Text: Nikolaj Belzer