Ask Frank Huang if he has any idols, and he doesn't pause to think for long. "Peter Pan," he says. "He's an explorer. But he maintains a young heart."
The sentiment seems apt, given the fact that Frank has dedicated the better portion of his adult life to creative pursuits that seem suited to a storybook. Once a student of business strategy, he's now at the helm of two small companies based in his home city of Taipei. One, which he calls Double-Grass, curates exhibitions and unique, art-centric events; the other, Polymer, is Taiwan's largest artist residency village. The shared goal between each is to support and unite the country's burgeoning – yet somewhat isolated – creative community.
In many ways, Frank's home life mirrors his work. He's filled his 130-square-meter space with a diverse assortment of curiosities that exemplify his penchant for the weird and wondrous. There are sculptural chairs and knick-knacks aplenty; here, art doubles as plaything, and plaything doubles as art. Outside, plants congregate in a roomy rooftop garden, an area much-loved by Frank and his two-and-a-half year-old son. They tend to each one with utmost attention – partners, side by side.
Taiwan isn't a place where it's common to pursue a creative path, but Frank, determined to stray as far from common as possible, has made it his mission to provide space and opportunity for artistic spirits to thrive.
More than that, he keeps a curious mind, always. He experiments. He plays. He continues to push forward, while his son – still at an age where the biggest question is "why?" – watches.
This portrait is part of our ongoing collaboration with ZEIT Online, who presents a special curation of our pictures on ZEIT Magazin Online.
"[The plants] have taught me to focus on detail. I look at every leaf, every plant, every day."
You have a beautiful home garden. Have you always been interested in plants?

My mother has always been interested in ikebana flower arrangement. When I was young, I saw her doing that and enjoyed being near the plants. Part of the reason I chose this house is because I wanted an outdoor space – now we've been here for three-and-a-half years.

Every time I see the plants, I feel healed. They remind me to slow down, enjoy life. They've taught me to focus on detail. I look at every leaf, every plant, every day. All the time, I discover that something's different from the way it was yesterday. I think this helps in raising my son – I'm very sensitive to things changing for him, and his experience adjusting to new things.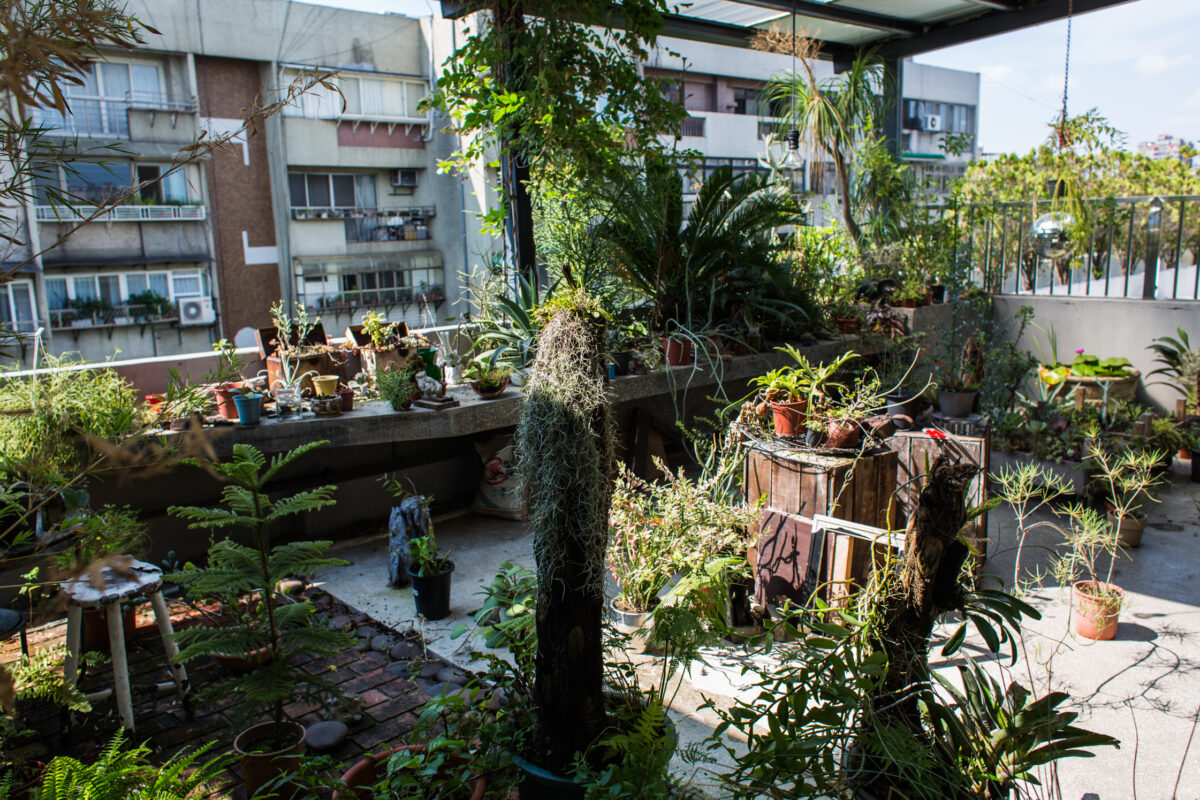 How long have you lived in Taipei? Is this where you're from originally – and if not, what brought you here?

I was born and raised in Taipei. After college, I worked for my uncle's nutritional supplement company in the Philippines, and after that, I went to USC for my MBA for one year. Once the year was over, I felt I'd learned something about business strategy and I wanted to explore the world. I applied for an exchange program, and I went to school in Tokyo. Then, finally, I came back to Taiwan to start my own business.

Tell us more about that. You have two businesses now, is that correct?

I have two small companies. One is called Double-Grass, and the other is called Polymer. Polymer is the biggest artist residency village in Taiwan. We've gathered around 20 Taiwanese contemporary artists, and we use the space for studios and exhibitions. It's huge – about 2,000 square meters indoors, and 2,000 square meters outdoors. We have lots of room to experiment.

Double-Grass is basically a curation company. We do pretty interesting exhibitions, and we produce unique events. Right now, we're working with a 20-year-old paper museum. They want to open a new space next year that's more vibrant and focused on younger people – so we're curating an event to celebrate their 20th anniversary. We rented Taiwan's equivalent of Central Park, and we've asked artists to hand-make hammocks for the trees. We're also working with a British composer, who has a new album out about sleeping. The album is eight hours long, and we're playing it in the park during the event.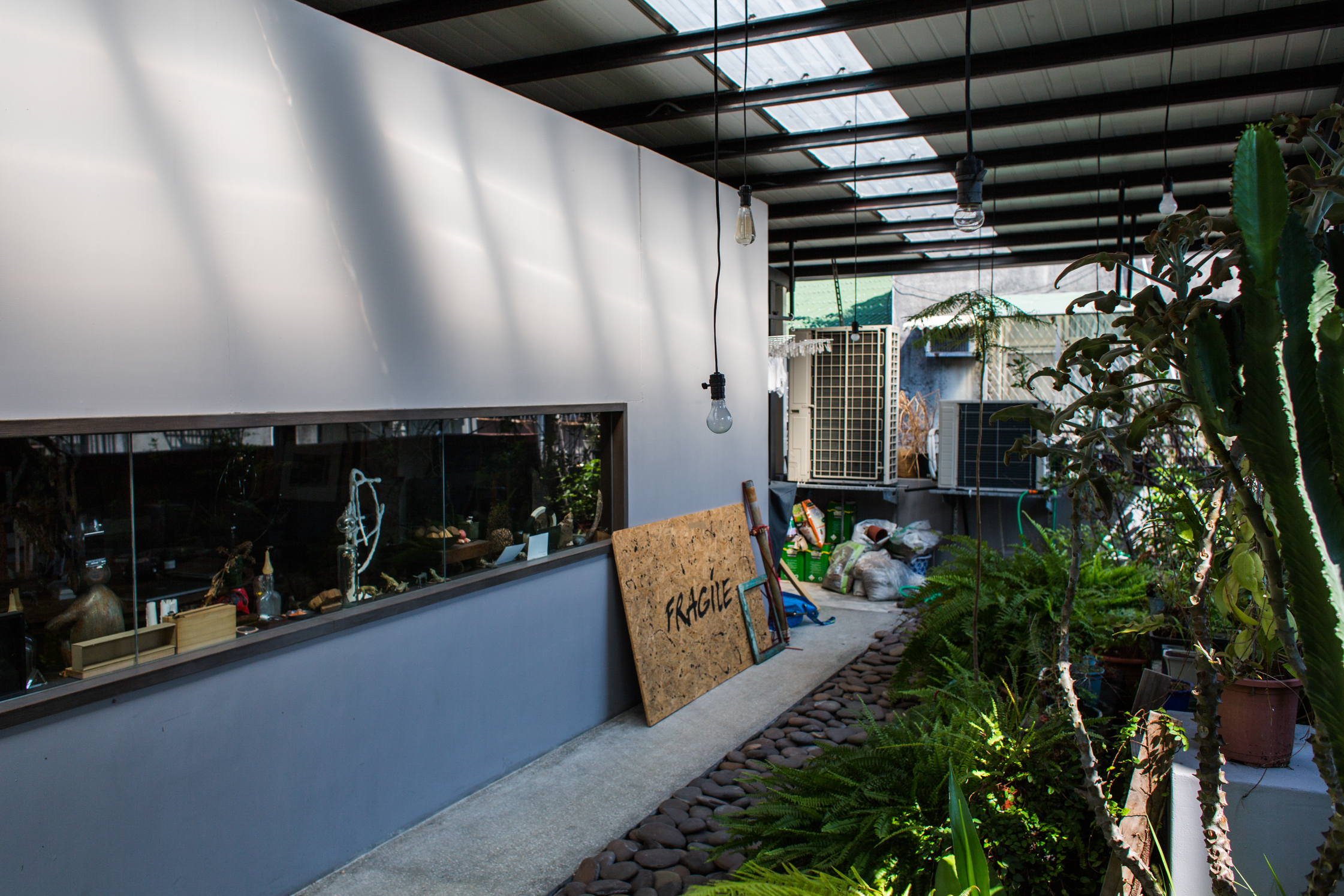 Would you call yourself a curator? What title do you use when you introduce yourself?

I'm very bad at introducing myself. I don't like the title of curator. I say that I curate unique experiences –  and that I'm a 24-hour father.

Tell us more about your home, which you share with your wife and son. It's full of so many curiosities – it's almost an art piece in itself.

I do collect art, but I don't think of myself as an art collector. I only collect things that I like – not everything is made by an artist. Something could be made in a factory, but if I look at it and think, wow, I buy it. I'm just a collector of objects.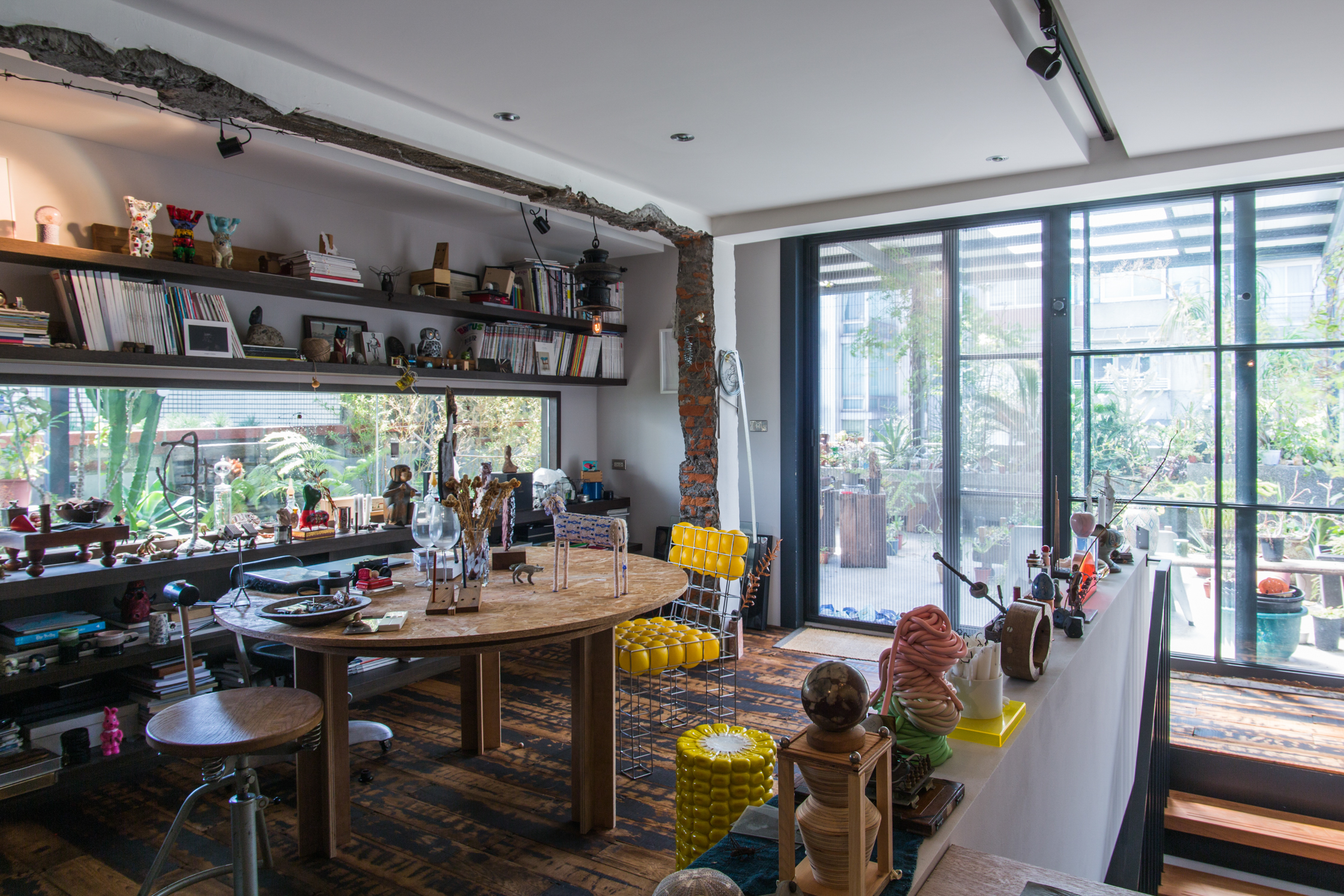 What would you say the objects you're drawn to have in common?

They all have some weird element. I like things that are strange or unreasonable. I like to think, why did he do that? Or, why did the artist paint like this?

What's the story behind the corn chair? Actually, looking around, you have many interesting chairs – what draws you to chairs in particular?

I bought that corn chair online. It has the thing I like most: it's weird. When I bought it, my son still couldn't speak – but I could tell he was very surprised. In his mind, he might have thought that I took the big bite out of it.

I like chairs because they are the closest thing in furniture to sculpture. A chair can feel like an installation in itself. The most interesting chair I own comes from an exhibition at Double-Grass. We curated it there for a Polish artist, Pawel Grunert, who put plastic balls inside the structure of the chair. I love it. When the air is full, it feels very puffy, and you feel you are full of inspiration and energy when you sit on it. After one or two weeks, it starts to deflate. Then you might feel it's time to take a rest, or have a holiday, or eat a good dinner with your family and friends. It reminds you of cycles. So then you pump it up again. I have two of Pawel's chairs, and I've been trying to introduce his work to Taiwanese collectors.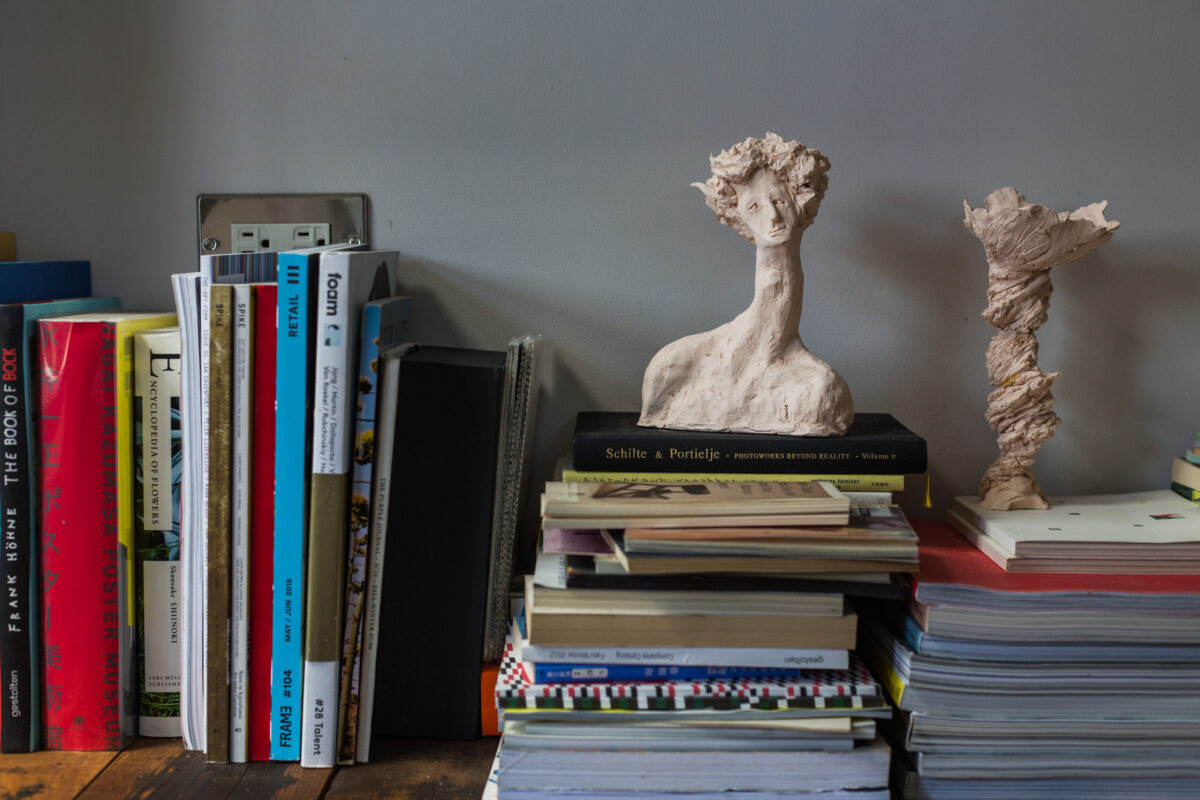 Do you ever make your own art?

When I was in Tokyo, I was pretty into taking pictures. I started some photography work, and later, when I moved back to Taiwan, I entered a competition and won a prize. I had a solo show in a gallery. But after my son was born, I was busy and didn't have much time. Today, I still like to take pictures and I do some sculpture in my free time. I have many clay pieces around the house – some of those are from my friends; others, I was the artist.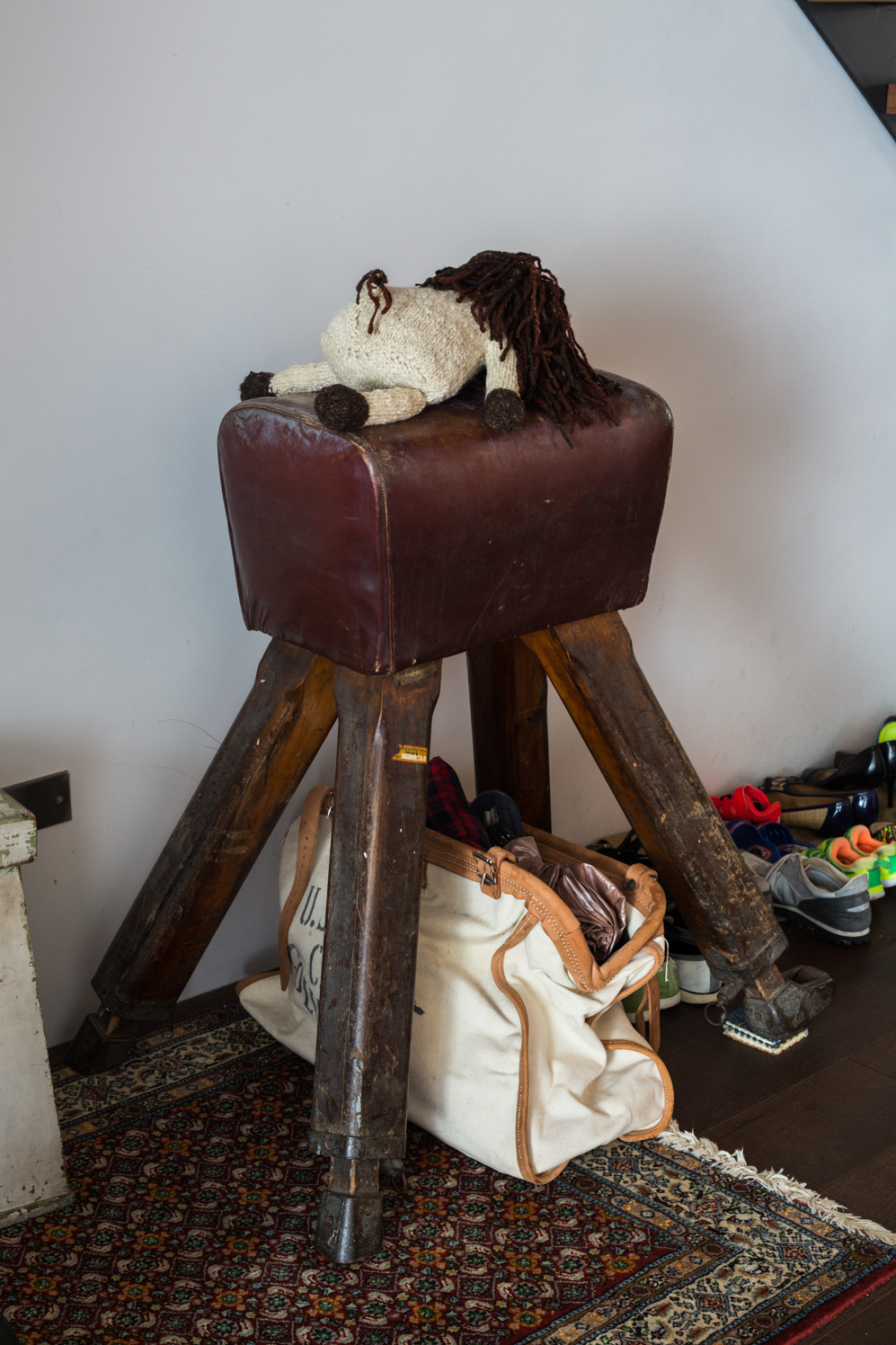 Your son is now two-and-a-half. In what ways do you feel you're sharing your love of art with him?

Since he was born, I've been taking him to everything I love: my studio, my art village, museums. He likes it all very much. He has emotions when he looks at the artwork. Sometimes in a museum, he'll just say, "Wow!" It's fun to see him react, and I feel we have the same taste. He loves the plants, too, so we share that. He loves taking care of them, looking after every leaf. He likes weird things – like me.

It's wonderful that your son is growing up in a home full of humor and art and play. Looking at your home, it's hard to tell at times which items are art and which are his toys.

I choose his toys the same way I choose any other object. If it's inspiring to me in some way, I will buy it for him. I try to collect art nowadays that I think will speak to him. I bought a disco ball for the garden from a friend's store, for example. When the sun shines on it, it brings light into the house. It feels like disco every day.

Do you work from home, as well?

I have a small studio on our second floor. Before my son was born, I worked here three or four days per week. Now, I work at the artists' village, so he can play at the house. If I'm there, he will always want to play with me, so I have to escape to do any serious work. Then I come back later to do things that don't require my full focus.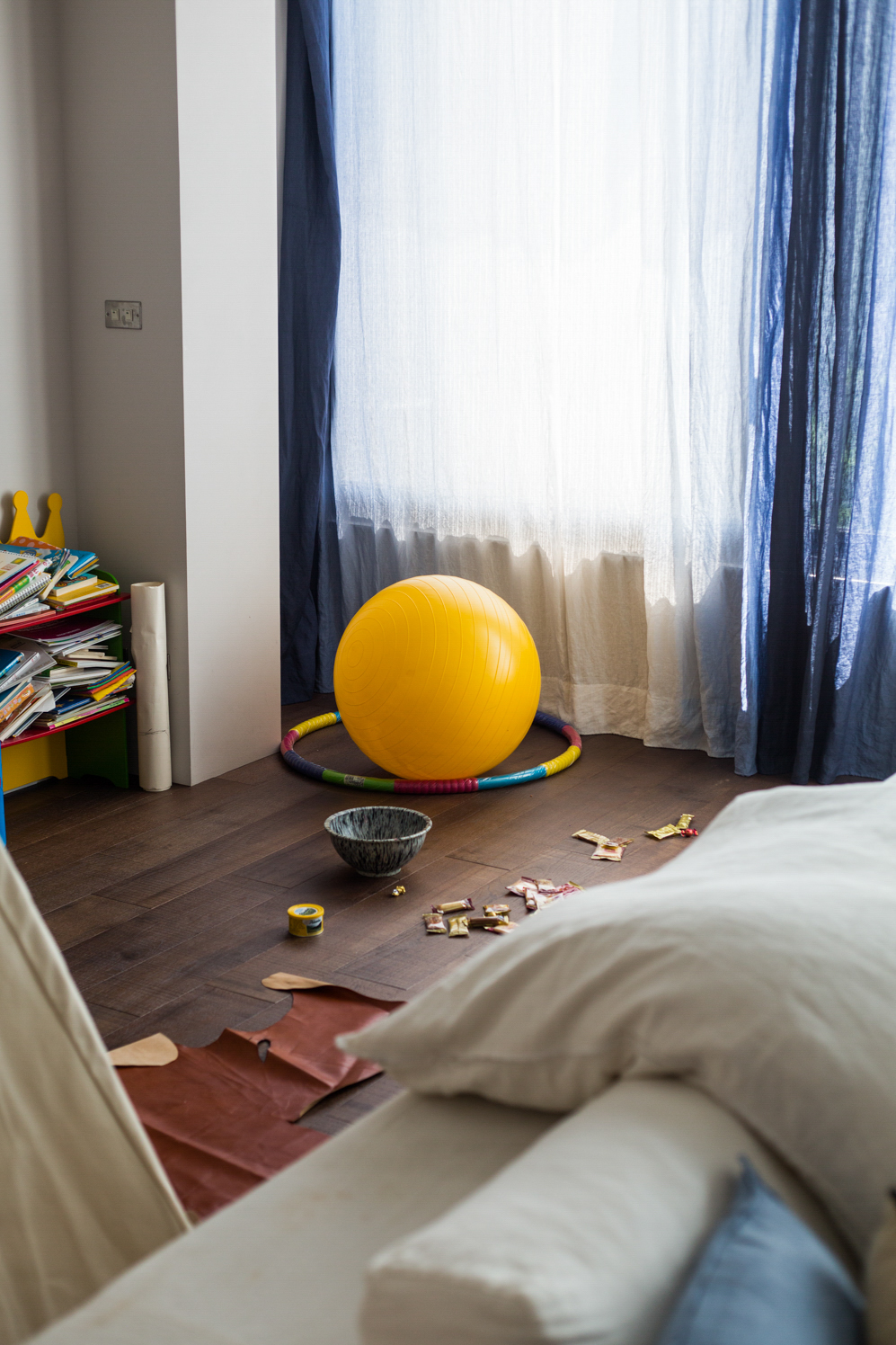 What do you love about living in Taipei?

My neighborhood is very community-oriented. It's in the city center, but not many people come here. We don't have a subway station, but that's a nice thing. The pace is pretty laidback. The area has good atmosphere, lots of parks, lots of trees. And, it's easy to leave. Within five minutes, you can walk to an open-air market. If you walk another 15, you arrive at the airport. I still go back to Tokyo often, and I can walk to the airport and be there in two-and-a-half hours.

What about your home? Besides the art, what do you love about living there?

I love that right outside of the window I can see banyan trees. When the leaves are growing, I don't need a curtain – I can hide behind the trees. I can look out and watch the birds commuting.
You're clearly a devoted family man. How does your family feel about your work? Is it common in Taiwan to pursue a creative path?

No, it isn't. But my family has always supported me. Even though I studied business in college and grad school, I wanted to do something different – something creative. They trusted my judgement. I'm very lucky.

My father died when I was 14-years-old, and when that happened, I grew up very fast. I was the only male in the family. I was very good at taking care of my mom – and now I'm very good at taking care of my wife and son. They are supportive of me, and I am supportive of them. They back me up as I continue to try new things.

With both Double-Grass and Polymer, it's my goal to bring something different to Taiwan.  Later, I want to do the same to the world. I want to challenge myself – and challenge my friends – to do this together. I want to encourage us to be a stronger team.
"I've found so many inspirational artists here, and I think they could be inspirational to the world, too. That's why I do my work."
What do you think it will take to do that?

Our generation is still in the process of creating a new atmosphere here in Taiwan's creative world. We have so many talented individuals, but we haven't come together yet.The art industry here is actually pretty strong, but the galleries don't have the ambition to promote Taiwanese artists to the world. That's a pity. I've found so many inspirational artists here, and I think they could be inspirational to the world, too. That's why I do my work. I want to provide those contemporary artists with a place to work and talk – to think about something different.
Thank you, Frank, for sharing your thoughts – and your beautiful space – with us.  Visit the Polymer and Double Grass websites for more information.
Interview and Text: Shoko Wanger
Photography: Shinji Minegishi