Simple, modern, chic and unique: François and Olivier transformed their apartment in the 9th Parisian district into a space that perfectly reflects their lifestyle. Aiming at functionality and exploitation of smaller spaces, the two integrated various individual design pieces.
The two men, both heading to Paris from the south of France, met in the capital and soon developed a special bond, which inspires them in their private as much as in their professional lives. That same ecological-creative spirit influenced Olivier's hairdresser's shop at the Rue Faubourg Saint-Honoré: a line-up of organic products, the use of green energy and a purist interior design. This kind of simplicity also prevails in François' art work, without losing touch of the sensibility of his protagonists. After first expositions, he pursues this passion but also started to designing furniture and lamps.
Many talents, two creatives, one get-together with a Parisian couple.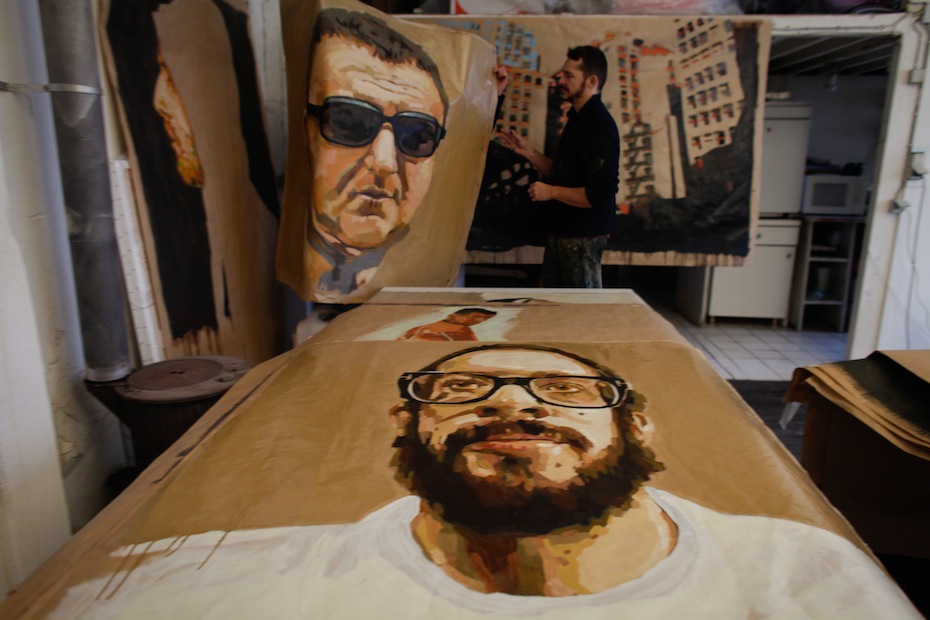 Where are you from and how did you come to Paris?
Olivier: I am from the south of France, after school I went to America for some years where I had a restaurant with my former boyfriend and then I came back to Paris where I worked as a hair dresser. It was five years ago when I opened my own store near Madeleine.
Francois: I am from Montpellier just like Olivier, but we didn't know each other before we met here in Paris some years ago. After finishing school I went to the Ecole des Arts a Lyon, then I came to Paris and took classes at Ecole des beaux Arts. When I stopped I started working in advertisement, making logos and looks. And then I consigned myself to painting again and had some great exhibitions in different galleries all over Paris. When I started a project with another artist and she ma lassoer tomber.. I was really deceived and stopped painting completely, I bought a boat and lived out of town on the Seine for a while. When I met Olivier I started to make furniture, the first ones I designed were for him and after that I got jobs on demand from friends.
Tell us a little bit about your apartment and how you changed it?
Olivier: Three years ago we bought the place in the 9th Arr. and there was nothing there, not even electricity. So we made new plans and changed everything. The most special room in the apartment is probably the bathroom which is lower than the rest of the top floor, otherwise there would not have been enough space for a shower. We chose a very simple clean style – a lot of concrete mixed with contemporary design objects. I love to decorate, so I would love to change things again. Make and move to a new apartment. I moved 8 times in 10 years. I love it to create something new.
What are you favorite pieces in the apartment?
Olivier: The Cobra lamp from Martine Helui, in black it is a limited edition of 500 pieces, our Charles Eames from the 70s, the pink chair from Pierre Polain and the library that Francois has made.
Francois – How does somebody start making furniture just like that?
Francois: First I did drawings, now I am doing that with a 3d-program. The furniture is made from metal-pieces, always pattiner (I worked at an antiquiere while I was painting as well and restored furniture from the 20th century, that is where I learned with metals and galerie 54 with different proprietaire. I only design on demand, but I would like to make little editions and move on from just designing some pieces on demand. I would love to collaborate and I am looking for a new gallery to expose my art.
Speaking of your paintings. Has your style always been like this or how would you describe the development?
Francois: There was a big development. In fact there are three different periods, the first one was what I would call a figurative phase, the subjects were more soft, I never painted people, only landscapes. I stopped painting for a while after that and when I came back to it while living on my boat in the middle of the nature on the Seine there were a lot of pictures of nature around me, very symmetrical ones. There were reflections on the water and I translated that into abstract paintings. For many years I did that and it allowed me to learn a lot about color and how to work the materials. Now, the third phase, is all about the human being. At the moment the body, the face, expressions, the skin and all the little details are in the center of my attention, although I started some works of New York.
What was your best exposition?
Francois: Galerie des Cherche midi, my first exposition was my best in my opinion. The first articles in the press made me so happy. And then I did one called L'atelier d'artiste it was all about paintings from sculptures from Rodarte, Chemie Clodelle, peinture sur toile. I worked with the niece of Clodelle, chose the sculptures with her and painted them.
Was painting always your passion?
Francois: I have always loved to paint. But before I wanted to do theater decoration and then graphic design, but somehow it was really natural to paint because I always loved to do it.
Are there other passions, like music?
Francois: Yes, music. I listen to a lot of music when I paint, mostly classical music. I love many american composers like John Adams or Philip Glas, repetitive melodies. I love that. It is funny because my series of paintings are always related to a certain kind of music. The New York series corresponds to John Adams. Steve Ridge.. It really influences me. The portrait of Olivier with the grey sweater was part of the series where I made people pose like in Renaissance-Paintings but in their casual clothes from today. While working on this whole series I was listening to a different genre of music – very baroque, music from the renaissance. There are often parallels between the painting and the music I was listening to. I was even thinking about marking the song I listened while working on them on their back. It is a very important influence. And in fact I am not even capable of playing any kind of instrument. But I love music and find it very inspiring.
Olivier: I love the work of this gentleman (points at the painting of Alber Elbaz) and I love to go his fashion shows and others as well of course. Sometimes I also style hair for fashion weeks, a couple of years ago I worked for Yves Saint Laurent. And I love Francois' work. I made him start painting again after he had stopped. I thought it was too sad that he had dropped it completely, he is by far too talented to not do it.
Do you style the models regularly or just for the shows?
Olivier: Actually for both occasions. We take the new girls that arrive from the east or from Brazil and style them together with the agencies to find a matching and striking look for them. For instance we had Stella Maxwell that arrived with long hair, she comes from NZ and she is with Viva. She didn't get so many jobs in the beginning and so we discussed her look and finally cut her hair short and dyed it blonde- ever since she works super well and got great jobs.
Who are your favorite painters?
Francois: Lucian Freud, Bacon and after that I like italian painters from the 15th and 16th century. In contemporary I also like the English school.
Favorite museum?
Francois: It is a museum Gustave Marot. It is (derriere trinite). It is in his former hotel particular where he lived with his mother, he never really sold his paintings. The whole museum shows his own paintings. Paintings of Paris.. very 19th century. his aquaria are almost abstract. There are some that are not even finished, it shows his whole world. HIs works are very intimate, personal and incredibly beautiful. chimaire
Do you paint woman as well?
Francois: Yes, but there are more men. recently I drew a series with naked woman with boots on. But in fact I don't like natural beauty, I am not interested in the beautiful faces of models. I prefer something strange, remarkable. Character-faces.
How do you start your series and what's coming next?
Francois: The next project is men in suits with Alexis Mabille! I always start with a series of photos and then I paint them. Sometimes I just take them with the Iphone. When I see somebody in the streets that I would love to paint for instance. Apart from that I just watch out that it is quite contrasted. Sometimes I retouch a bit.
The two Parisians, Olivier and Francois, serve as another great example on how one passionate approach can interact and be the catalyst new ideas. If you feel inspired by their work, please check out more work from Francois Mascarello.
Even if the guys are not easy to catch up with on a daily basis in Paris, Olivier will welcome you in his hairdresser studio anytime.
Interview & Photography: Natalie Weiss
Text & translation: Romy Strassenburg / Noemi Causse