Florian Jöckel has been living in Frankfurt since 2001. In the Nordend, he runs Guilty76 Artist Management, where he's managed a handful of artists for the last 12 years. Previously he was in a band and a tour manager, but today he dedicates his energy entirely to a rock n' roll lifestyle, one where he sees everything as possible, even if some ideas need creative solutions.
In 2011 he started, as a self-professed couch potato and a new non-smoker, in Frankfurt's traditional bike race on the first of May. Because he felt uncomfortable not only in the colorful shirts, but also with the club culture of cycling, he unceremoniously founded his own cycling team. Today it includes approximately 150 members. The base of the club, which resembles the structure and membership criteria of a rock n' roll motorcycle club, is in Frankfurt. Yet, members can be found in London, Paris, St. Tropez, Nancy, Stuttgart, Hamburg, Münster and Berlin. We met Florian in Frankfurt to visit some of his favorite places together.
Florian's Favorite Spots in Frankfurt
Florian's Agency – Guilty76 Artist Management, Nordend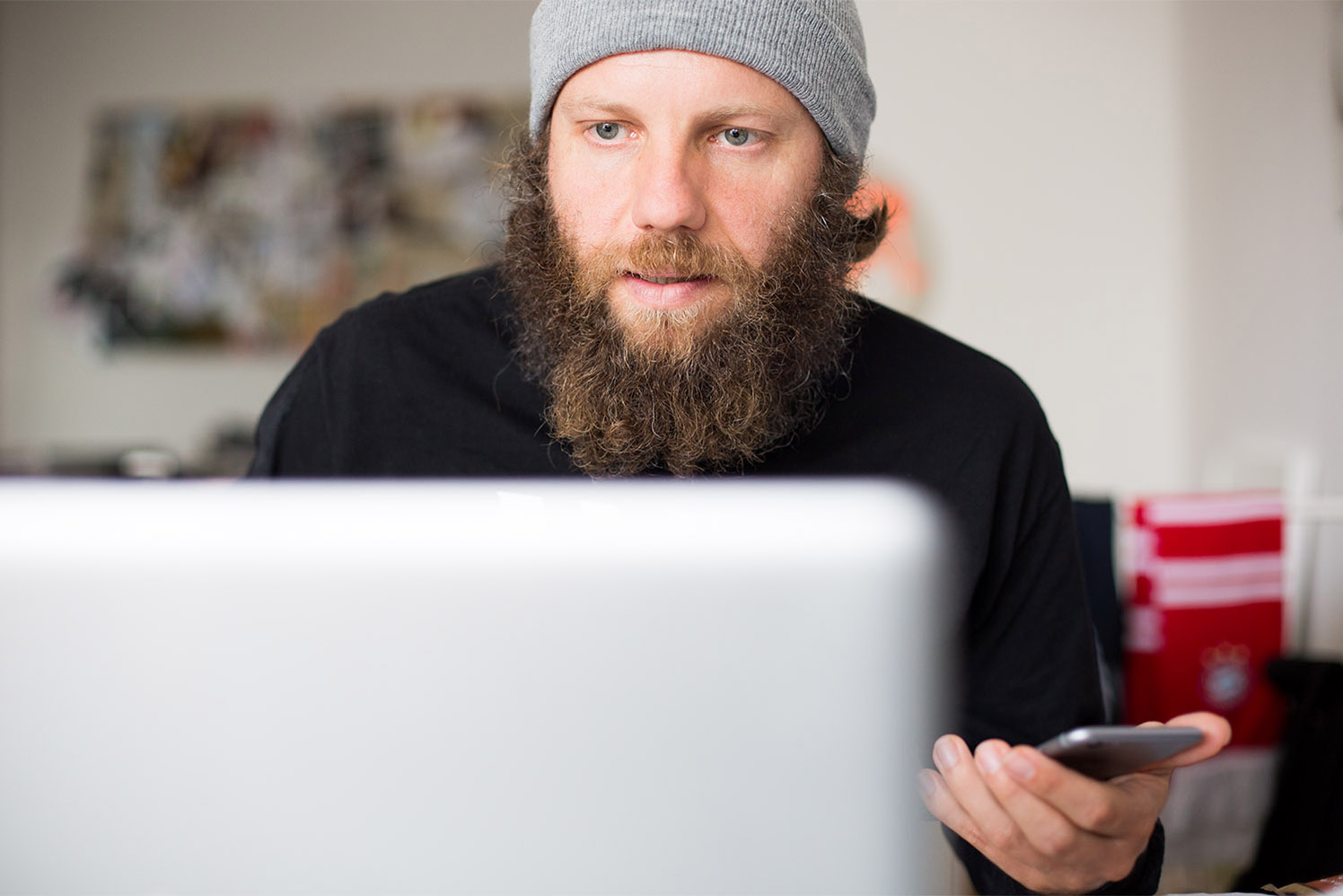 You've been living in Frankfurt for 13 years. How did you decide to stay here permanently?

It was a pure coincidence. Earlier, I didn't like Frankfurt at all. The city is incredibly confusing and not very open to outsiders. Earlier, if we would do gigs in Frankfurt, no one wanted to go. In the meanwhile Frankfurt has become the best city in Germany, I also met my girlfriend here. You can have a lot of fun if you take root and know the right people. Frankfurt is very small, but at the same time very international and is in the middle of Europe. From the city center it's really easy to reach the airport, which is an amazing place, with almost only direct flights. If you travel a lot it's great. Also, you meet people from all over the world who come to Frankfurt to work. Decisions are made and implemented here. There's no time for snobbery or indecisiveness. And no one asks where you're from. And when someone here says, let's do this or that, then it's 99 percent sure to happen. This image of the city as a crime capital is of course also super. In other places think that we're all constantly being shot at here.

What led to the foundation of the agency?

I used to play in a band and right after school I started as a tour manager and traveled the world. I realized that in the business a lot of things are really going absurdly. A lot of agents just do their thing and aren't interested in the artists at all. In that sense I've really experienced terrible things. After a few years it became clear that you have to do things differently in the interest of the artists. So Guilty76 Artist Management was founded as a logical consequence.

The Nordend is strategically located within Frankfurt. Starting from the office we do cycle training in the direction of the Taunus. The famous Berger Strasse isn't far away and in the Friedberger Landstrasse is my favorite café at the moment. The blueberry espresso there is my favorite. After every training session, we stop there.
Hoppenworth & Ploch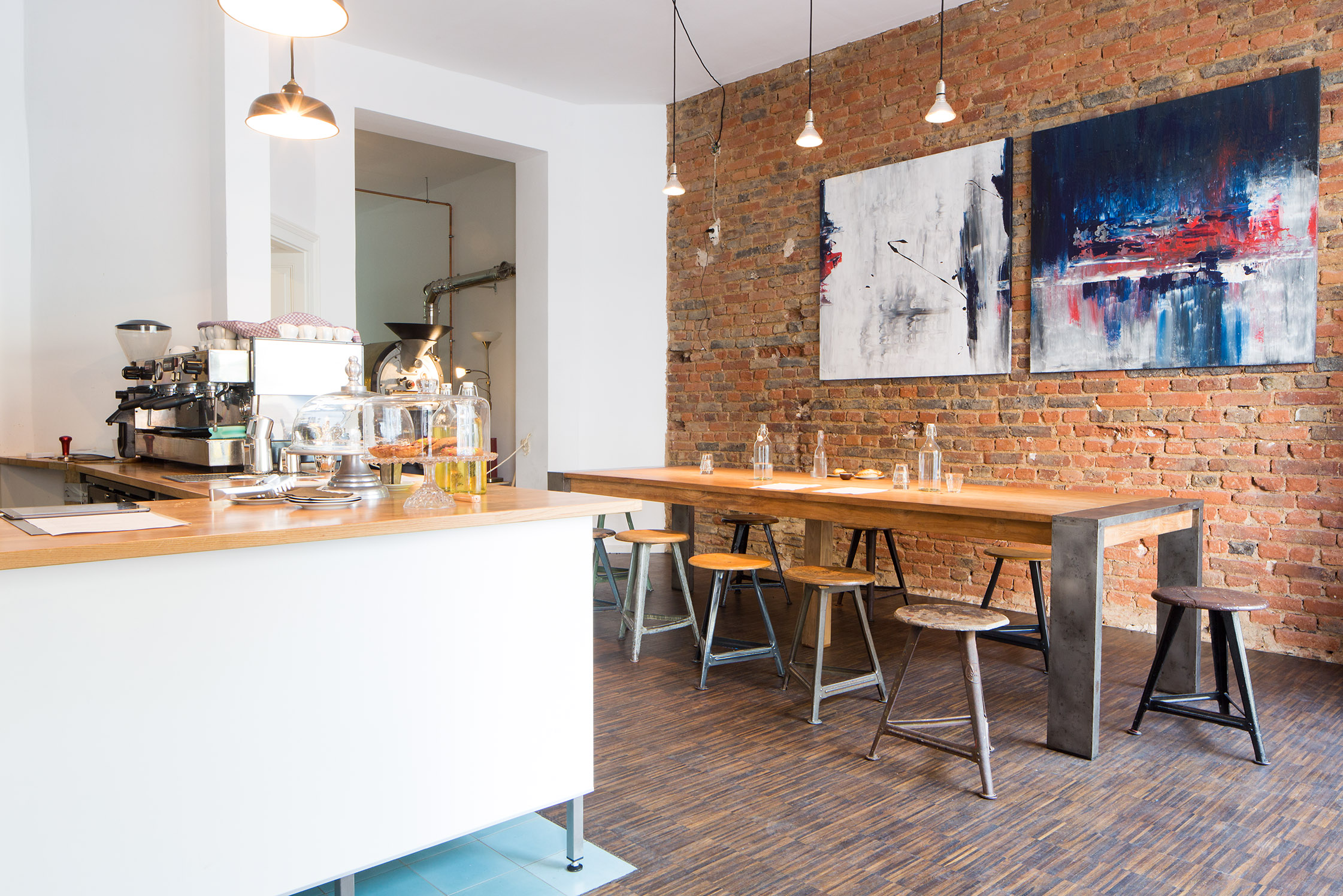 With you, there's the slogan, "It's only rock n' roll" everywhere. You say it's your life motto. Can you tell us a bit more?

Rock n' roll is first and foremost a relaxed and honest lifestyle. You can see that immediately. Rock n' roll has nothing to do with a lack of seriousness and infidelity, rather it's much more a certain way of dealing with life and its uncertainties. Risk-taking, a cosmopolitan openness and open-mindedness are definitely a part of it. And fun! Fun is absolutely the most important! I think it's only really good when one does that which brings happiness. But ultimately everyone has to know this for themselves. Rock n' roll is also live and let live. I don't want to tell anyone what they have to do. I just do what's fun to me. In work, in life. I simply do what I can and what I want. If it's cool or not isn't relevant and plays no role. Others should decide. Important is to do.

Rock n' roll in that sense is probably also the story of how you came to cycling…

I quit smoking from one day to the next five years ago even though at that point I smoked three packs a day. One day I decided to invest the savings from quitting into my health. Since then I've worked with Steffen Laudeley, a personal trainer and owner of the Frankfurt S1 Athletics and Fitness studios. He asked me to define a training goal, which completely overwhelmed me as a couch potato. Because I had excitedly followed the Tour de France every year since I was ten, for lack of alternatives he proposed a cycling tour from Frankfurt to the south of France. We began to train, I bought my first racing bike and just three weeks later I convinced myself to ride the 100-kilometer race in Frankfurt on the 1st of May. I didn't think much about it afterwards. A friend took me straight into his team and I got a sponsor's shirt.

Exactly. At the time we started as three. I thought to myself, cool, first race, first time doing the Feldberg and I'm already sponsored. Only the look wasn't perfect, there was room for improvement. With the support of an online shop, BRUEGELMANN, two years later we could bring Guilty76 Racing to life. The next year four of us started, that was when it became clear that something had to happen. In 2013 there were 69 riders fro Guilty, and in 2014 with over 100 riders we were the biggest "everyman" team in the race. This is the new bar! We did the tour from Frankfurt to southern France later, by the way. As a team with nine members. This is now an integral part of the Guilty Team. This is our "Grand Alps" excursion. Since then, we've done it every year.
Hohe Straße / Feldberg
During the car ride the telephone rang constantly. We stop on Hohe Strasse. The clear view of Frankfurt's skyline is clouded by thick fog. Florian summarily concludes phone calls. With Shantel, Senor Coconut, Alva Noto + Ryuichi Sakamoto, Diamond Version, The Moons, The Dukes and Baba Zula he manages eight artists internationally. While the creative energies are flowing around the world, organization and management come together with him.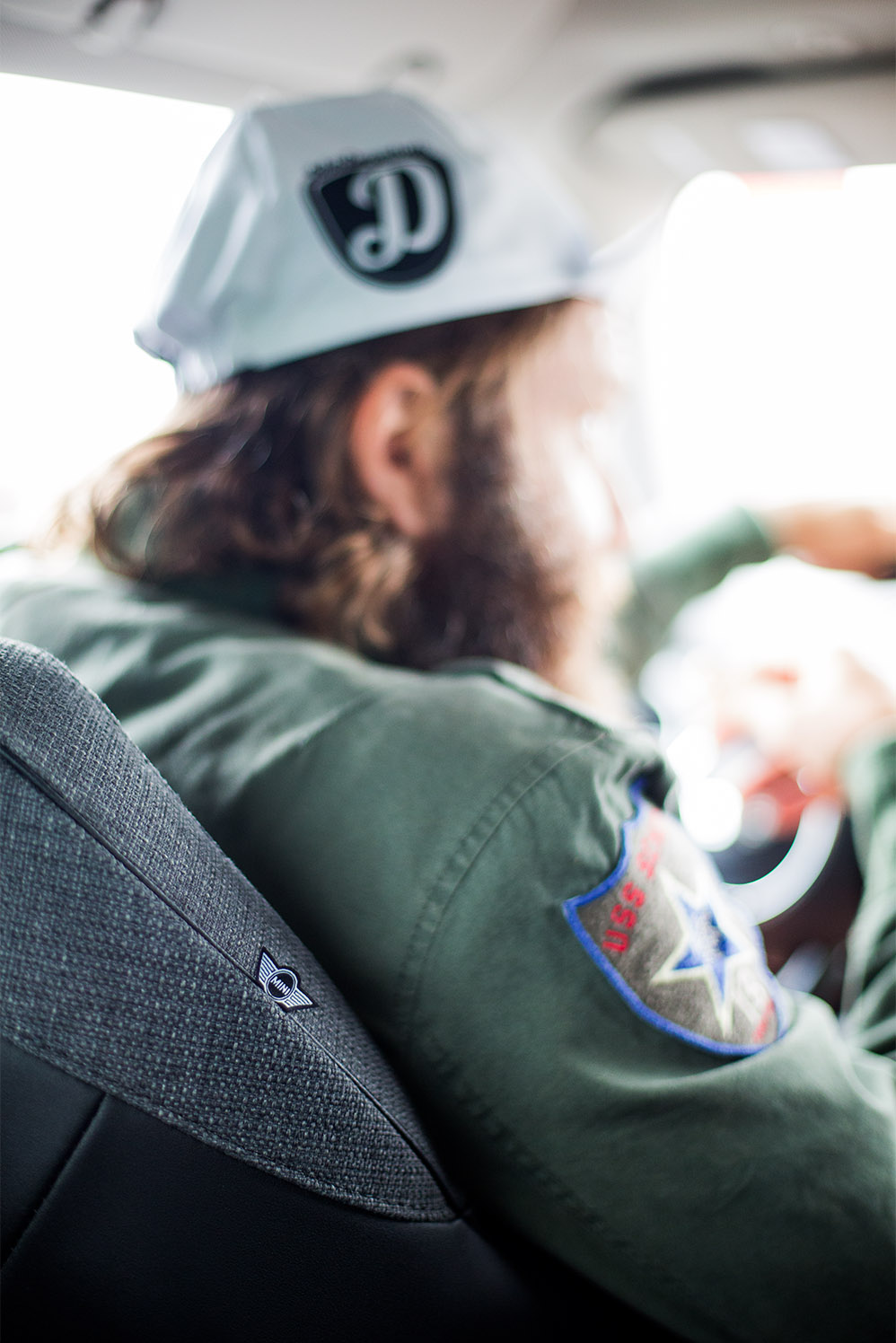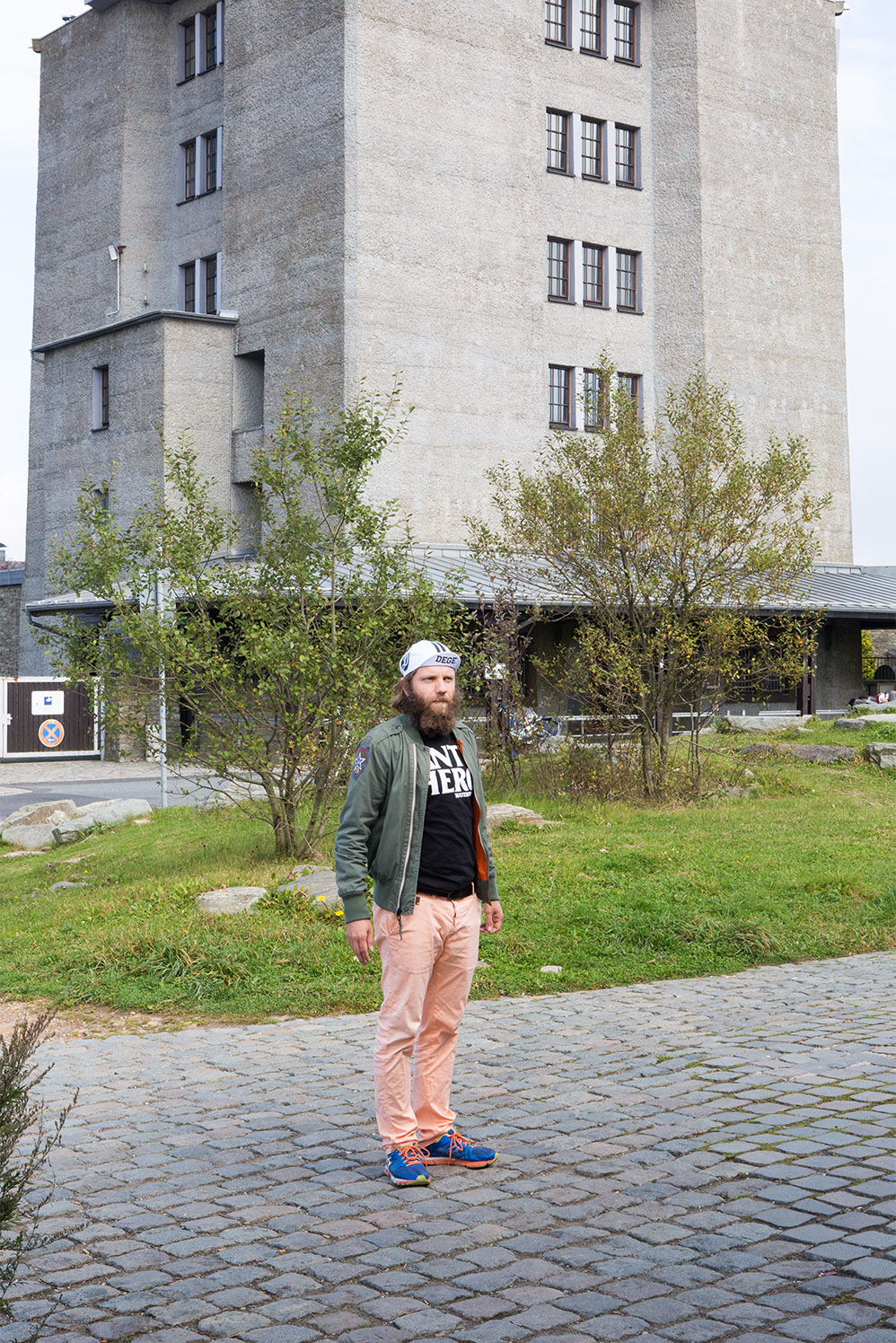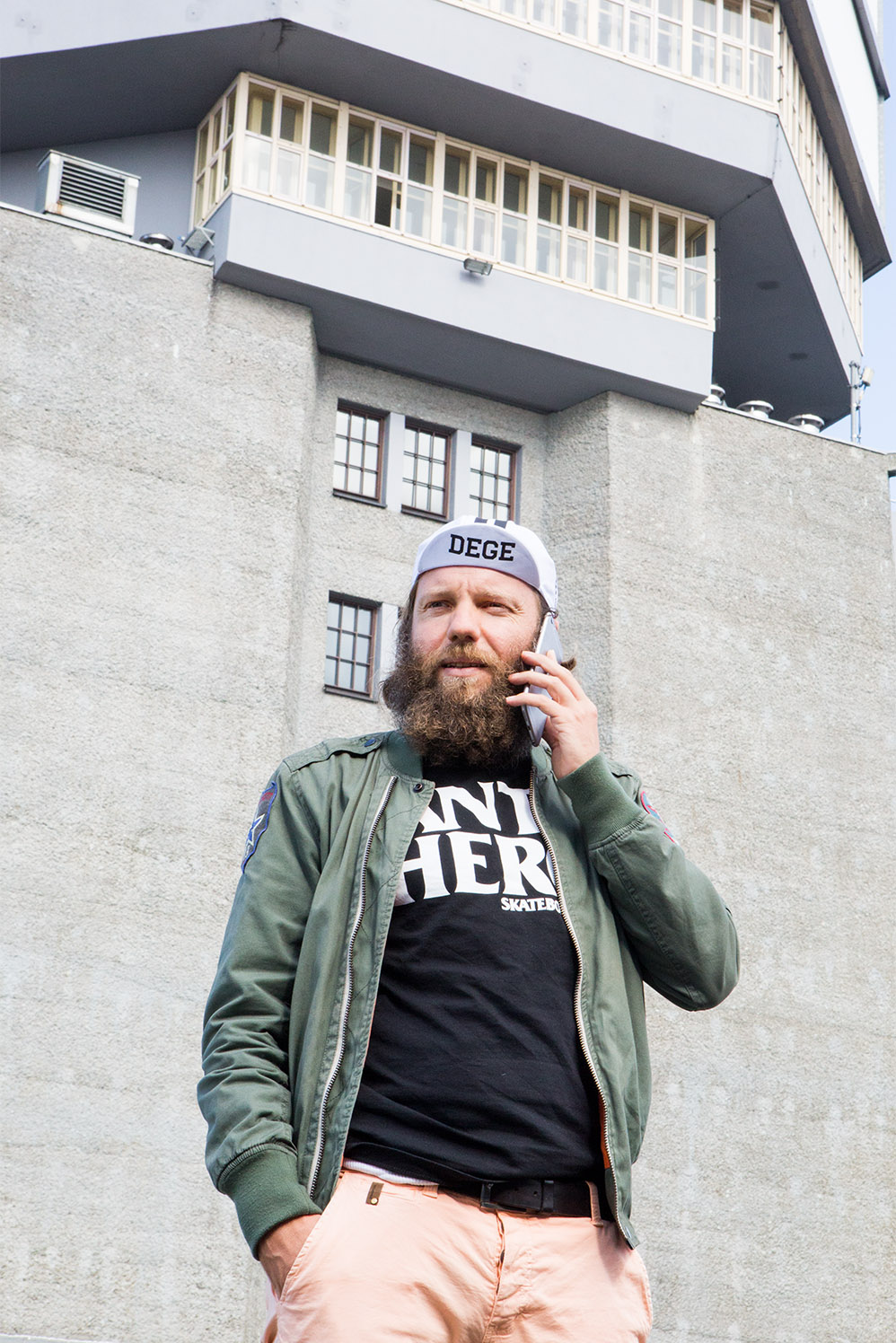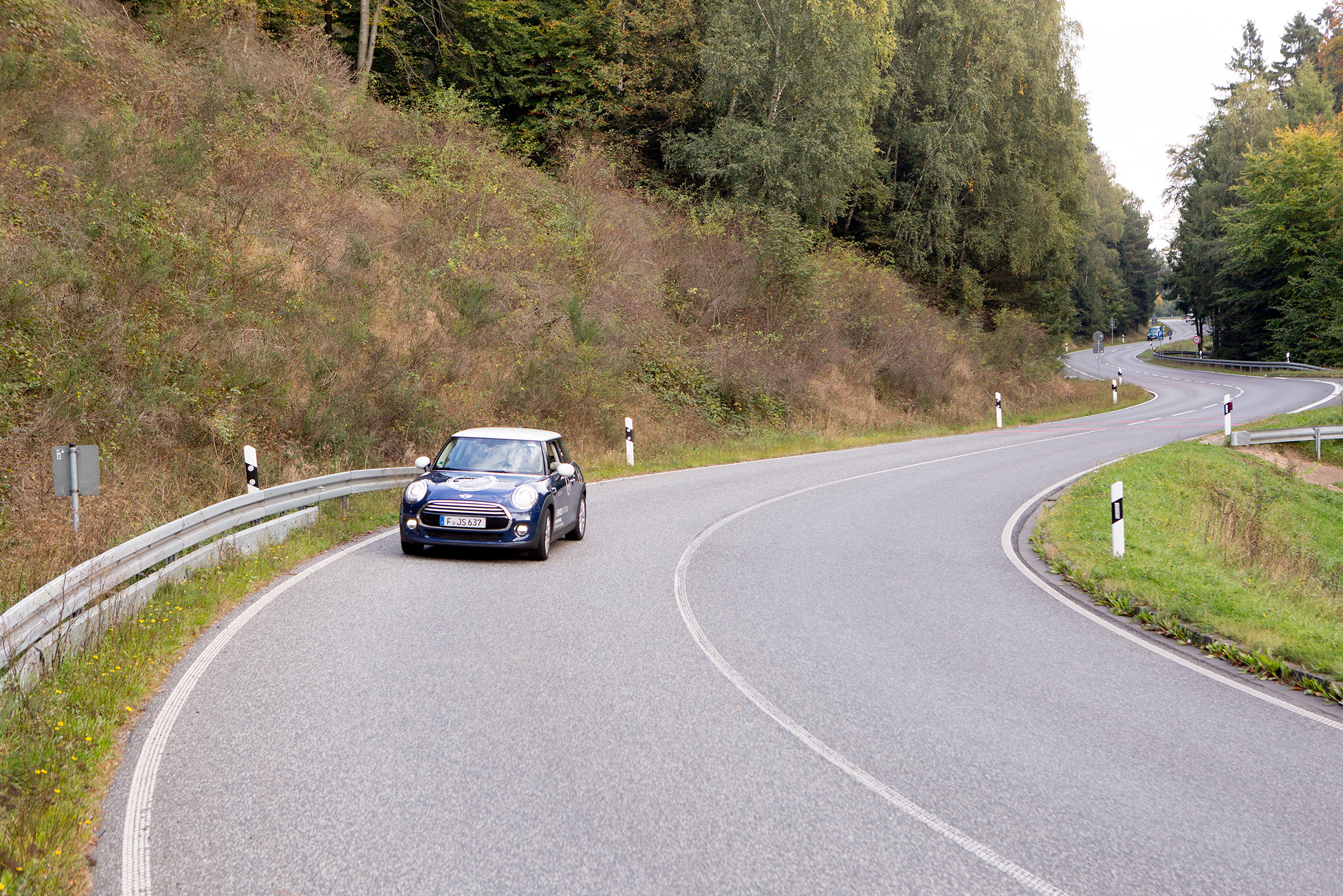 Are there certain criteria that you use to choose your artists? How does a cooperation come about?

This is a question I can't give a general answer to. Common to all, is that I know them very well and for a very long time. Over the years they've become real friends, ones that I would also go on a family vacation with. They're all pioneers in their fields musically, the spearheads of their respective genres, absolutely unique, high quality, and thus highly successful. They all really have something to say. The decision to work together comes from a gut feeling. I feel that there's something there and want to also know for myself how it would evolve over the years.

People who don't know Frankfurt usually find it pretty ugly and confusing. Whoever goes off the beaten path is usually surprised.

Absolutely. The quality of life in Frankfurt is great. Of course this is also related to the infrastructure. You have great restaurants and an incredible offering of culture. Frankfurt's surroundings are also incredibly beautiful. The Taunus, for example, on and around the Feldberg, the Odenwald, and of course the Main River. Hohe Strasse is one of my favorite places. It's not just a place for good cycling. What most people don't know is that this is an ancient trade route with a long history, you can go from Frankfurt to Kiev.

How can one become a member of the Guilty76 racing team?

You can only be recommended by an existing active member. Then during a personal meeting it will be decided if you pass to the team or not. The basic requirements are, of course, an active, ambitious, passion for cycling and a commitment to ride on the first of May every year for the team in the "Rund um den Finanzplatz," our home race. But that's not all, and it goes without saying that all relevant events at home and abroad at least a handful of "Guilties" should be at the start. It's crazy and from time to time creates a "positive" confusion, because a year ago no one in the world of cycling knew the team and one or the other asks, what's going on in Frankfurt, please? You can also leave the team. Especially when you consider introducing any sort of structure to the group. There's no chairman, no meetings or a treasurer with us. We don't even have a cash box. There's an e-mail group and the chance to meet in relaxed groups to train for races, to take trips or to go to training camps. We all have our jobs and full lives, most don't have time for regular commitments, as one usually knows from clubs.
Desres Design Studio at Bahnhofsviertel
Out of the nature and down from the mountain to the heart of Frankfurt, the Bahnhofsviertel. For a long time the part of the city between the main train station and the city center was considered an embarrassment and because of the high criminal element and the drug culture, it became known as a no-go area. Today, a large part of the Bahnhofsviertel is known as the place to be. Numerous cafés and restaurants are opening their doors to a diverse audience. This year the New York Times declared the area as one of the 50 places to visit worldwide. Florian's girlfriend, Michaela Kessler, moved her design agency, desres, into one of the many magnificent buildings of the Bahnhofsviertel in 2003. She is, amongst other things, responsible for the design of Guilty76.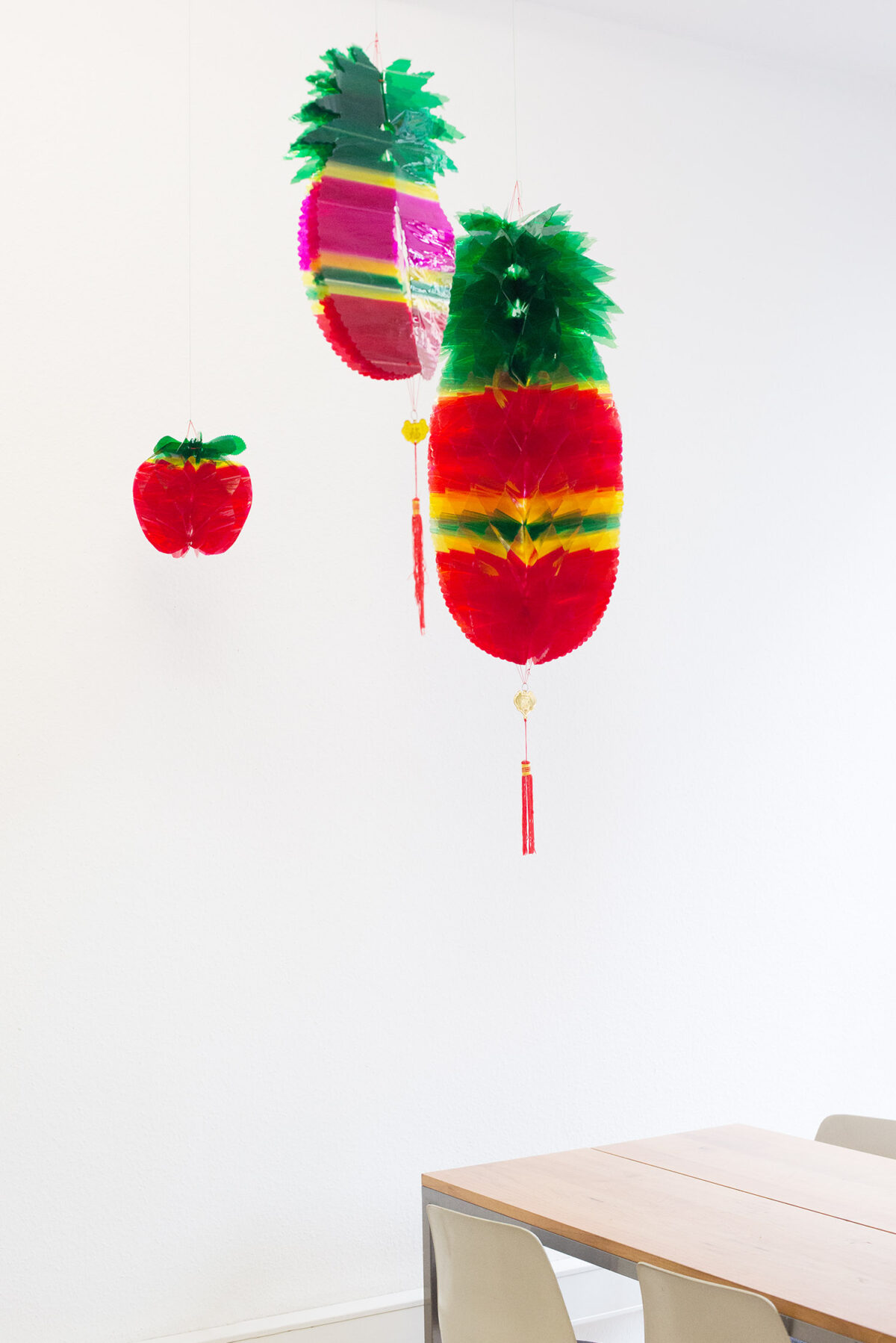 Radlabor
Every bike lover in Frankfurt should, according to Florian, know Radlabor. Sitting analysis and performance diagnostics of cyclists next to personal training are part of their services. "In the winter we're often here for hours on the machines, just talking and riding our training kilometers down." Tim Boehme and Stefan Zelle are also part of the gang. Tim is the reigning German mountain bike marathon champion.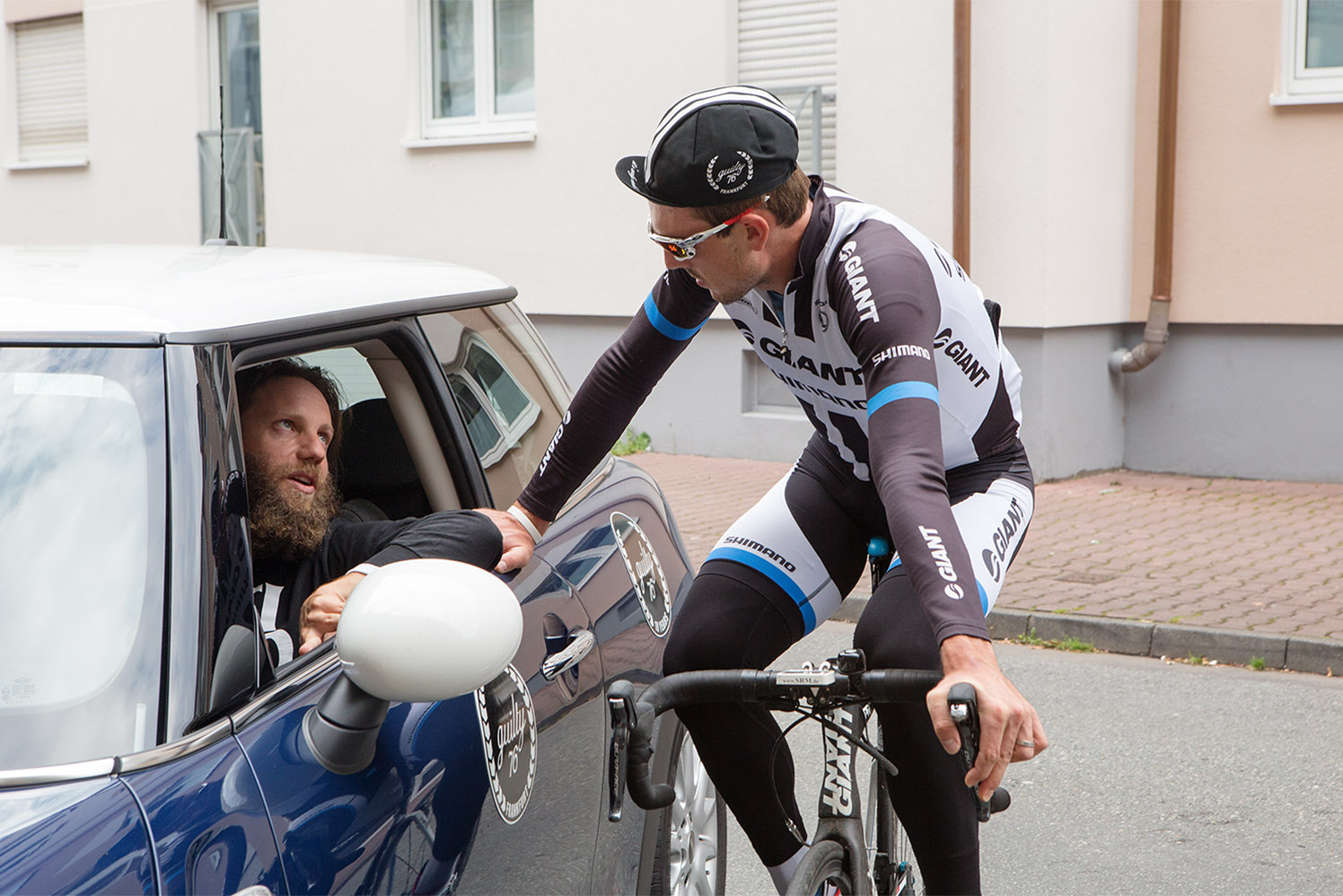 On the way back to the city center we meet with John Degenkolb, who just a few days before was the top German participant, achieving ninth place in the road racing world championship. When Tim, Dege and Florian are in the city at the same time, they train together professionally. Mutual support and solidarity is important to everyone. The racing hat with the loge "Dege" is part of the fan articles of Guilty76 racing equipment.
B74 Selected Goods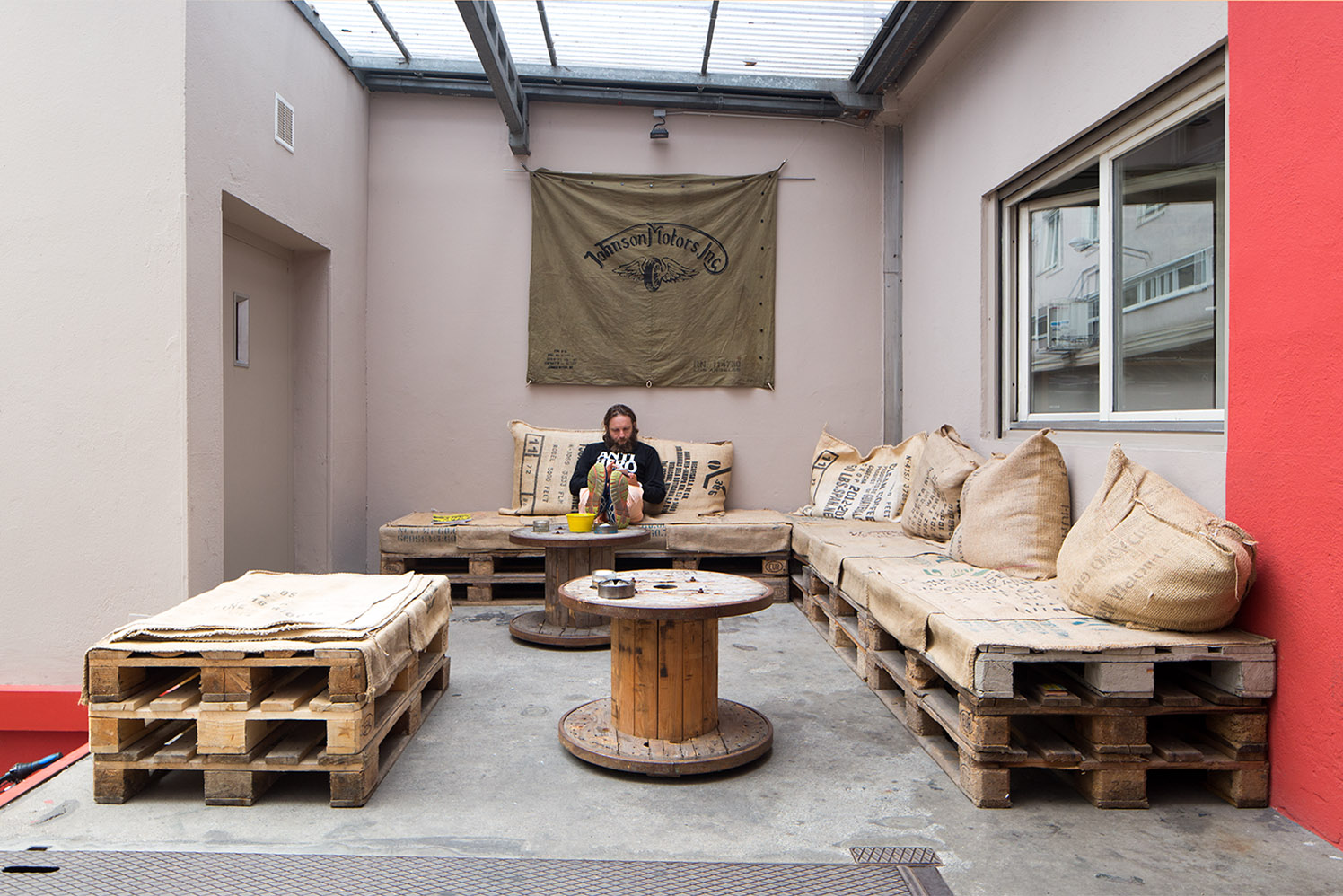 You designed extra cycling jerseys, because the existing supply didn't meet your expectations? Which role does clothing play in your day-to-day life?

I'm always on the search for the special. Today, all pedestrian zones look the same across the world. This means there's the same junk everywhere. Away from this mainstream, there are luckily niches world wide, small businesses that still partially use centuries-old techniques and manufacturing techniques to produce things of the highest quality in a time of three Euro t-shirts. I love finding these spots.

Absolutely. If you've been here once, you understand the rest. With the guys from B74 and Golden Bear in San Francisco we're currently developing a Guilty76 varsity coat. Every piece would be individual, handmade in the USA, highest quality. They have, for example, woven the collar extra and exclusively for us, as well as all the embroidery. A production like this takes almost a year, but then you have it for a lifetime, not just anyone can buy it. Also, you know where and how it was produced.
Lobster in Brunnenviertel
Many non-Frankfurters only know the old town of Sachsenhausen, called Alt-Sachsenhausen, and it's bars, restaurants and pubs. Unlike most other parts of the city of Frankfurt, the part of Sachsenhausen south of the Main River was never independent, rather in the Middle Ages belonged to Frankfurt. In addition to the famous apple wine and the Henniger or Binding Brewery, art is at home above all on the museum banks. In the middle lies the Brunnenviertel. Florian lives here together with his girlfriend Michaela. They often spend their evenings at Lobster.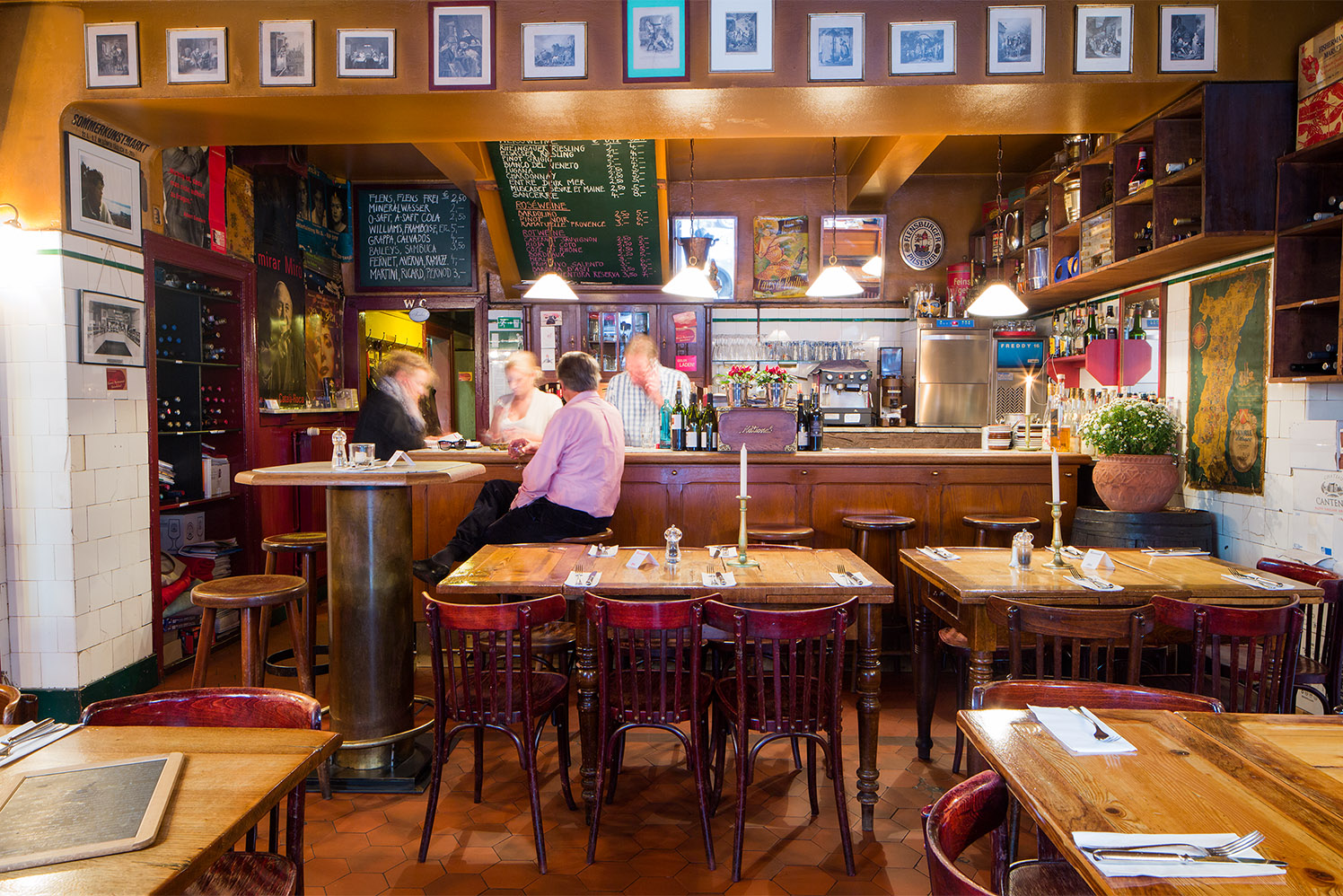 What's special about the Brückenviertel?

The location! The Main is super close and with time all of the most relevant Frankfurt record shops have moved here. There's also one of the best bakeries in the city, the Portuguese with the best coffee, and a number of good restaurants. You can live in a very relaxed way here, if you can come clear with the rampaging hordes of football fans, stag and hen parties and other victims of alcohol abuse on the way to Alt-Sachsenhausen. It's really only quiet on Monday evenings. Then Monday is also a state of emergency.

It's an oasis, almost a mini vacation. It's not Frankfurt at all. A typical Parisian bistro. Through the open-hearted service it becomes typical Frankfurt again.