Whilst Felipe Morozini graduated in Law and developed some work in this area for a while he soon decided to embark on a different path. He decided that he was going to capture his everyday through the lens of his camera; travel around the world and transform pieces of furniture devoid of character into objects of such magnetism that they almost speak to you. Felipe prefers to stay away from labels; he does not allow himself to be defined by occupations instead he allows his vast abilities to speak for themselves. He harbors a passion for colors, loves monkeys and dreams of having his own morning radio station – just as long as it occurs immediately after waking up -"I like the way my voice sounds in the morning" he jokes. He gave up Law for the freedom of creativity, left behind reality to explore the power of imagination- he's the daydreamer personified.
Felipe is able to see the shapes, colors and movements in the most mundane. He's the man behind some unconventional ideas like drawing flowers in the middle of a street or scrawling graceful messages that allow for reflection amidst the chaos of a metropolis. One of his greatest achievements however is reflecting all that makes the streets of Sao Paulo beautiful and interesting in the character of his home. In his home sweet home, located in the heart of Sao Paulo, he has successfully mixed colors and lights, with the spirit of a city that never stops. This dream world spills over onto the balcony where its end is marked by a STOP sign that signals the transition back to Sao Paulo's reality.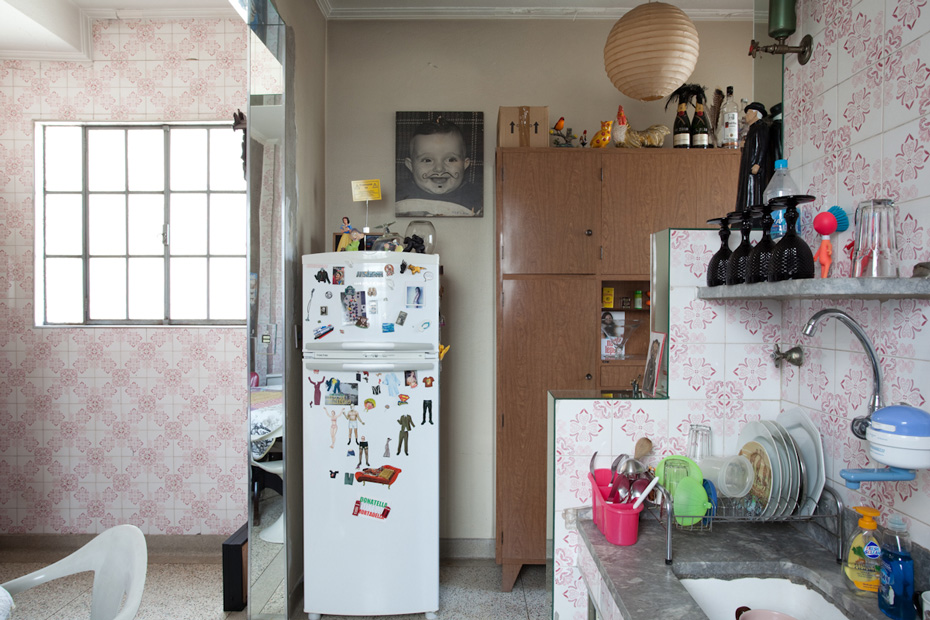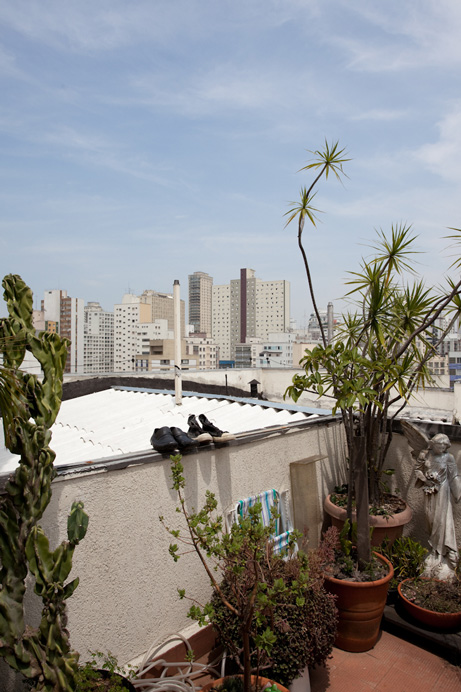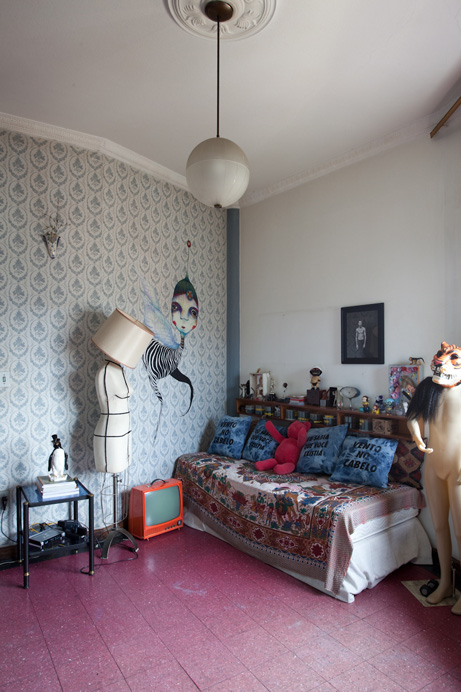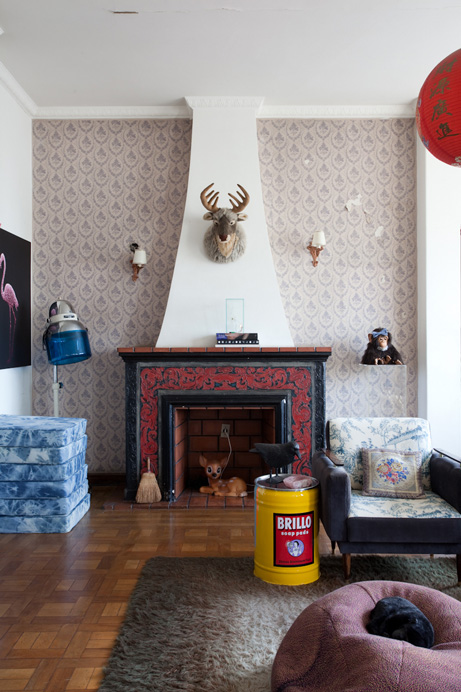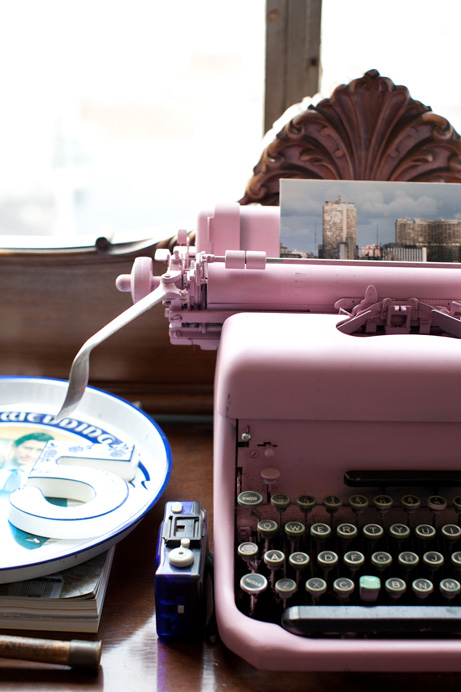 Why did you choose to live in Sao Paulo's center?
I must say it was the city center that chose me. I spent a significant part of my life living in a big house with a garden and plenty of space to run and play. Meanwhile, my great-grandmother was living in an apartment located in one of the busiest avenues in Sao Paulo. At the time I didn't understand how she managed to live amidst all of this chaos. After she passed away, and I visited the apartment and realized that it was indeed possible to live there. You just have to create an environment that is comfortable for you to live in.
And how did you manage to transform it yourself?
I thought about creating a pleasant atmosphere. I wanted to be in downtown Sao Paulo but not have its mark on my space, I should be able to imagine that it could be anywhere else in the world. I have gradually put together this home, with each piece of furniture bringin me back memories and becoming part of my life. Now I live here not only because I work here but because I am in Love with this place.
What is your favorite thing in your apartment?
My toy animals collection has a special place in my heart. They are my imaginary friends. I talk with them all, forgetting that they are nonliving things; and imagining that they have their own lives.
What were the main intentions when doing up the apartment?
None, to be honest. The character of the space has grown organically over the past ten years. All my pieces and objects are things I got from my family and friends. This way I have managed to collect and accumulate memories.
In what way does Sao Paulo influence your creative process?
The city is my creative engine. I never get tired of admiring the architecture and the city's inhabitants. Every little thing excites me and, of course, I always try to encapsulate that feeling in my work.
Would you say that shooting the environment that surrounds the apartment was your way of giving something back?
Yes, life here in the center can be truly interesting. It's awesome to stop for a few hours, walk around and just observe what people do, how they act and their general behavior. Then I started capturing these moments and as it turned out I was pretty happy with the results. The photos are very natural; they show the residents in their daily lives. And I do not use any program to edit them. The main idea is to show life as it really is.
You said like to imagine things being different. Have you ever stopped to think that Sao Paulo could be different? If yes, what would it look like?
I often imagine what could have happened had some areas of Atlantic Forest have been conserved during Sao Paulo's construction. Each neighborhood would have their own forest and it would be fabulous.
How would you describe Sao Paulo to someone who doesn't know it?
Ample, jumbled but with a single architecture that can't be found in any other place in the world. I have friends from outside of Brazil who are madly in love with the city's buildings. They say that Sao Paulo is like a melting pot where different times and cultures can be combined to become one.
How did you come up with the idea of painting giant flowers in the Minhocao (a large asphalt structure that crosses the city center) back in 2009?
Every time I opened the window and and looked out on the Minhocao, I believed that it could be different. One day I woke up and felt like having a garden right in front of me. So I invited some friends over and we decided to paint flowers on the asphalt. Our combined efforts led to this wonderful and well received piece; several people really liked it and repaid our efforts with smiles.
In which way does the apartment reflect your lifestyle?
It is pleasant, with plenty of space and a lot of natural plants and books. It manages to contain all my thoughts, my collaborators, my objects, my studio and my friends. And that's all that matters.
What's your favorite thing to do when you're home?
Create.
Thank you very much the nice talk! Check out his Flickr stream for more imagery of his recent works.
Interview: Juliana Duarte
Translation: Cosima Ehni and Lúcia Ribeiro e Sousa
Photography: Fran Parente