Just outside of the Florence city walls, Emiliano and Carlotta have recently moved to a spacious apartment in an area full of radical 1960s architecture. Their old apartment, with its soaring views of the city from the rooftop terrace, was located a stone's throw from the Duomo. I had told them that they were crazy to leave that flat, but when you enter their new apartment, you understand the appeal of the calm and peaceful space.
The couple both work from home – Emiliano with his studio and Carlotta with her piano. With black marble floors and minimal styling to keep the feeling light and airy, the serene space manages to stay cool, even on a day that is near 40°C outside. We sipped glasses of fresh mint water and talked about their connection to their city, their community of creative friends and what they do to slow down.
In true FVF style I met Emiliano through my friends Gnam Box in Milan, when he was their first "chef at home".
Tell me about your love of Florence.

Emiliano:  We were both born here, and Carlotta's family goes back generations. My grandfather was from Hungary, but I feel Florentine through and through. We couldn't imagine living anywhere else – this is our home, and it's a beautiful place to call home.

You used to live in a wonderful apartment in the center of the city.

Emiliano: That was my bachelor pad. (laughs) I was there for over 10 years, but we needed to move, so now we are renting it out.

Carlotta: Sant'Ambrogio is a great area, but also very noisy, and being that it was an old apartment with a steep narrow staircase, it was impossible for me to have a piano in our former flat. We both work from home, so we decided to move and we found this great place, only 10 minutes walk away from the old place, but so different in atmosphere. And I have my piano at last. I hope to bring my grand piano from my parents' house soon, but that's a big job.
Has the transition been smooth? Don't you miss that fantastic rooftop terrace that you had at your previous apartment?

Emiliano: Of course! We had dinner every night on the terrace with friends. It had such amazing views and there was the breeze that came down from Fiesole, which is important in a city that is known as the hottest and most humid in Italy. But our lives changed, and there were other things we needed which became more important. My work grew, Carlotta wanted to teach at home, so we took nine months to find this place. Yes, it doesn't have the terrace, but we have space, and I love the area and these cool apartment buildings from the 1960s. We are still close to the center but it's so quiet here, and our dog, Oliver, is so happy to relax on the marble floor. It's 38°C outside today, and in here it feels fresh.

Carlotta: We chose the apartment for this. We spend a lot of time at home, so we need a space where we can be comfortable and relaxed, somewhere that's a pleasure to be. Also, I think we fell in love with the black marble floor as soon as we saw it. A floor like this is not common here in Florence.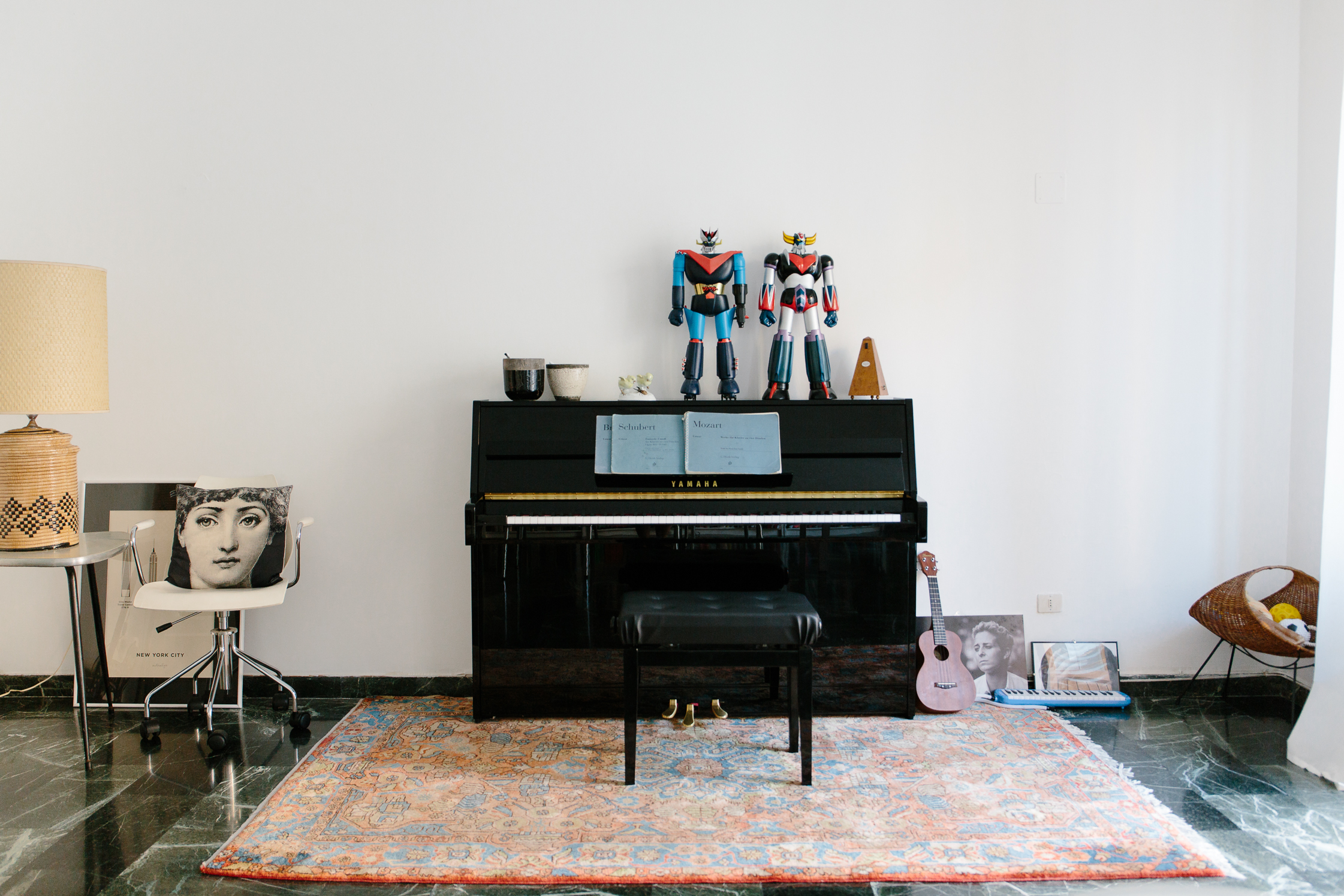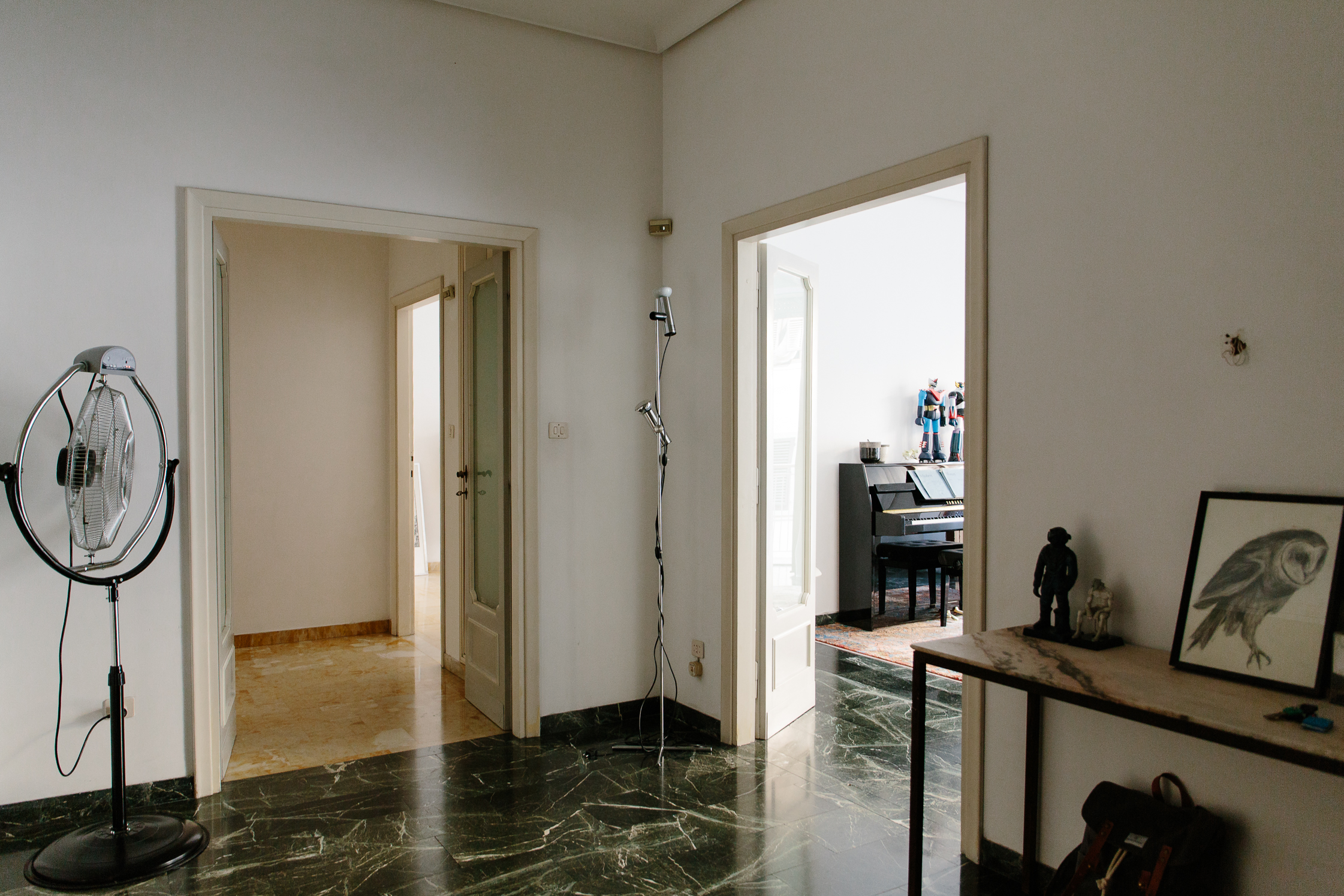 How is it to work at home together?

Emiliano: Actually, it's really relaxing. Our jobs are quite different. When I'm at home, I'm usually on the computer, and Carlotta is playing or studying, so it's like having the radio on, and generally, depending on the student, the music is good. There is the odd student who starts off quite badly, but I just sit here quietly laughing, and it's nice to realize they are progressing and getting better week by week.

Carlotta: We are also both out a lot. I go out to teach at the local university a few times a week and to practice with Elettra Capecci, my partner in Mad Emoiselle Sarabande. We play what is called "quattro mani" – four-handed piano music. The pieces are duets that we play together on the same piano at the same time, so there are four hands on one keyboard.

We started eight years ago, mainly because it was more fun than playing alone, and we wanted to give small concerts in unusual places. Actually, I met Emiliano when we gave our first concert in 2007 and he was working in the theater where we were playing. We will release our first CD early next year, called "Caramel Mou," under the direction of a wonderful Italian pianist, Enrico Pieranunzi.

Emiliano: I'm also out a lot. Studiopretzel depends on the great craftsmen that are in the local area, and I really believe in the idea of "handmade in Tuscany." The skills of the people and the quality of the fabrics here are second to none, except maybe in Japan. I get a lot of inspiration from the workwear in Japan and I spend a lot of time doing research about fabrics. I want to make a range of clothing that is quite timeless, practical and comfortable – clothing that doesn't ask you to think too hard in order to wear it.
Your work places strong value on quality craftsmanship and thoughtful design, but in visiting you here, there's a sense of playfulness as well – your home is full of toys! What's the connection?

Emiliano: They are NOT toys! (laughs) This is an old passion of mine. I was in love with Japan when I was a kid. I was crazy about manga, so when I was old enough, I went to Japan alone and spent a few months there. I love to collect things and I love the attention to detail that is practised in the Japanese arts.

We pay similar attention to detail here in Tuscany – there are more things in common between the regions than you would first expect. I think it was this love of Japan that was my inspiration when I started Studiopretzel.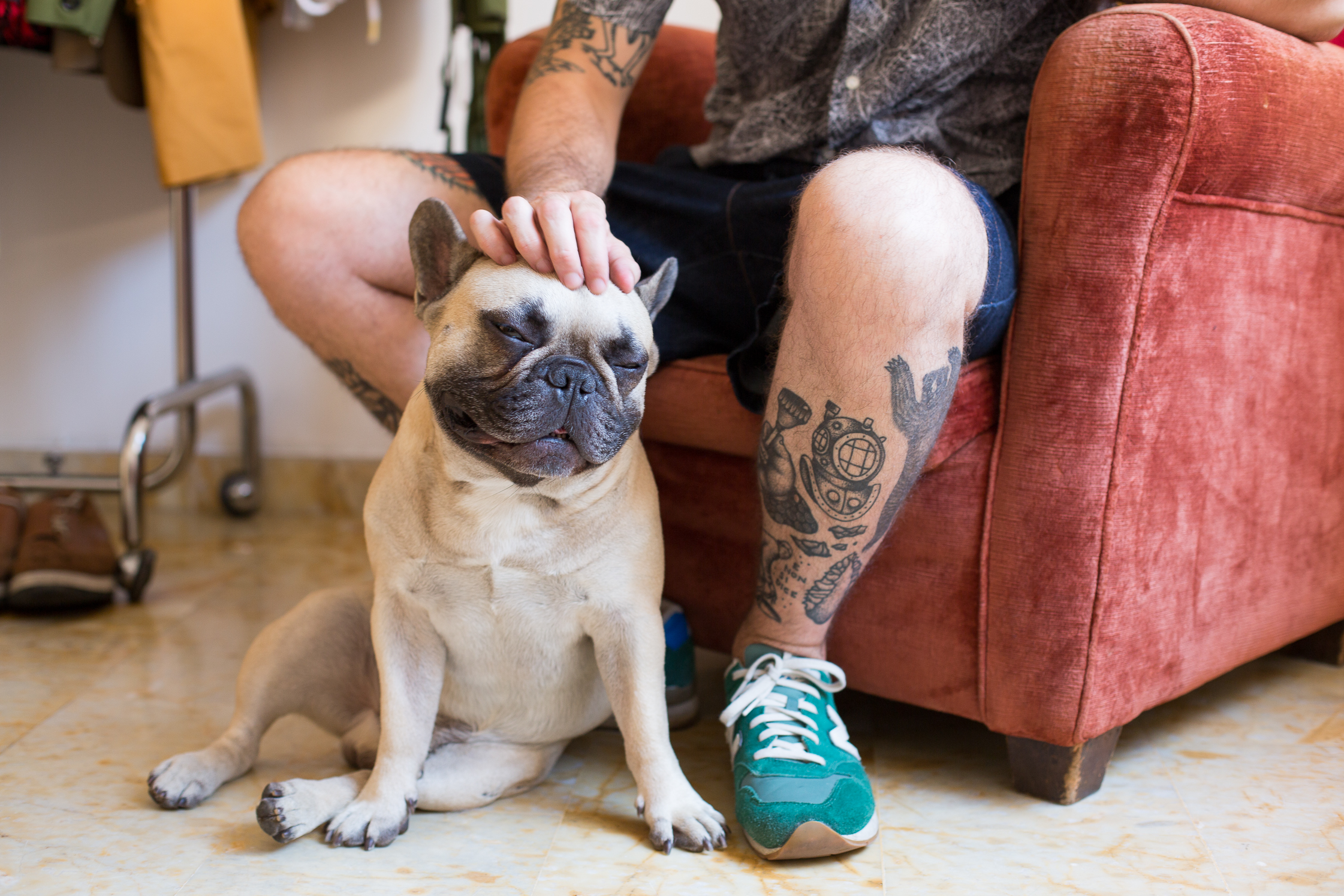 Below are some of the fabulous designs and accents from Studiopretzel's Spring/Summer 2015/2016 collections, pushing Emiliano's playful flair for bright colors and wild patterns.
It's impossible not to notice the beautiful objects – that vase, for example – that you have placed in your home and that contribute to the atmosphere here. Where do you find items like these?

Carlotta: The vase is by a friend of mine, Britta Hermann, who designs and makes a range of handmade ceramics called Mani, which means "hands" in Italian.  She has a studio not far away in the hills, in a town called Montelupo. We really like to support young local talents and craftsmen, and we are very lucky to live in a place where a lot of young people are investing themselves into traditional crafts and arts and beginning new companies and projects. With such a history of art here in Florence, we also have many theater groups or artists making spectacular work.

You have a lot of original artwork, as well.

Emiliano:  I'm a big fan of art, design, architecture and reading, and we both like to collect. We moved to the area because we liked the style of the buildings in the neighborhood, and this house lends itself perfectly to our hobby as collectors, with its clean walls as the ideal backdrop to my ever-increasing assortment of things. I have more artwork in the other house. But some items are so big that we need help to bring them here. We will get there, bit by bit.
And these prints over here look the same as your tattoos. Is there a story behind that?

Emiliano: Yes, the prints are by a good friend of ours, Simone Rucco, who lives here in Florence. He's a young artist, originally from Rome, who has become one of the most interesting tattoo artists here in Italy, in under two years. And as you can see, I like to collect tattoos.

You have your Studiopretzel collection here, but you don't make the clothes here, is that right?

Emiliano: Yes, here is just my office. I work very closely with two studios in Prato and Pontassieve. Together, we make the patterns, and they are also the artisans who produce the collections. We source all the fabrics locally, too.

Sometimes, I think it would be better for business if I moved, but it is so important to me to be close to everyone who makes the clothes. And in the end, Milan is only one and a half hours away by train. Florence has a huge history of fashion, so it's hard to tear ourselves away.

I can imagine. It must be a dream to live here in Florence – the city is incredibly beautiful.

Carlotta: Yes absolutely! We are in the middle of Italy. Within a few hours, we can be in Rome, Venice or Milan. We are also in the middle of some of the most beautiful countryside in the world and only one hour from the sea. The city is small, so you can get anywhere in a short time, either walking or by bike. There is a really slow, relaxed pace of life here, and Florence is full of parks. We love to take Oliver to the Giardino Ortocultura, about a 10-minute walk from here, which has an amazing view across the city. We go often, even if Oliver is a little bit lazy and would like to stay home most of the time, which is especially true in this heat.

Emiliano: The food is great here. The markets are full of local produce, and the idea of slow food is hitting most of the restaurants, so there are many that buy locally or even make their own produce. Dario Cechinni, who is more of a butcher than a chef, has a restaurant near Greve, about half an hour away, and you eat very, very well there.