Writing, Editing, Consulting, Other Shit is written under Elliott W. David's name on his website. And basically not much else could sum up better this native Texan's profession(s) and general attitude.
Being in Elliott's company is pretty much like spending time with one of your favourite humans. You never want him to shut up. It's not necessarily the fact that his life is more interesting than others—it definitely is in some aspects—but, truthfully speaking, it's mainly about those perfect literate equations that come out of his mouth. Even, let's face it, when he talks about other shit.
After almost a decade in New York, Elliott has not only transformed into what many would call a 'real New Yorker,' but has left his imprint on the city's aggressive and daunting literary scene. While he has edited major publications like VMan and Flaunt, he has freelanced for The Paris Review, Interview, Esquire, and T Magazine, amongst others. But that's not it. Due to his general talent for innovative thinking, the young writer has recently been tapped by industrial giants like eBay, American Express, and Nike to help with general conceptualization of future projects. When Elliott doesn't sit at a desk or run to whatever meetings throughout the city, he withdraws to his apartment's atelier-like corner and continues to work on his small and large scale paintings that—no surprise here—get just as much attention as his texts.
A conversation about the advantages of not being bound to a 9-5 schedule, general difficulties and reasonable solutions to make a living as a New York artist, and why it's healthy to look for other artistic outlets other than your creative occupation.
I'll be frank, Elliott. It's a bit hard to keep track of all your projects. Let's go back a bit and start with your first love: words.

Well, if we go way back, I actually failed 6th and 7th grade English. I hated school and I just didn't read the books. I was obsessed with comics (Namor, Punisher, X-Men), Calvin & Hobbes, and a couple books here and there (The Phantom Tollbooth) but I refused to read assigned texts, so I really missed out on a lot of great books as a kid. But I'd always loved writing. From, like, 12 to my late teenage years I made passes at screenplays, novels, poems, comics. But for the most part I think I affiliated it with just thinking and expression. I never finished anything, treating them more like passing hobbies.

Then, the summer after I turned 17, I read Kurt Vonnegut's Cat's Cradle and Chuck Palahniuk's Survivor and it just suddenly clicked in my head, this moronic epiphany that books are written by people, and I'm a person who could maybe do that too.

You decided to pursue your undergraduate in Sculpture and Literature at USC, and afterwards moved to New York to get an MFA in Fiction at The New School. While in university, you gradually turned to freelancing. What draws you to magazine writing?

At first, probably some (shallow?) sense of validation. But very quickly I realized it was a way to meet incredible musicians, artists, writers, just whoever. That's really remained the main draw to this day. A recent example: I found this Dick Cavett autobiography at a great bookstore in Austin, called Farewell Books. After reading it, I found that I really connect to the way Cavett thinks, and I wanted to have a conversation with him. So I pitched it to The Paris Review for their site, reached out to Cavett's people, and we spoke for a couple of hours. I make sure I get the quotes I'd need for the piece—so for PR it was about the craft of writing—but then I asked the questions I personally wanted to know.

I've done that with many people whose work I admire, and it's an invaluable tool for making me better at the things I want to pursue. Who better to give you advice than the best at doing what you want to know? I recently got to speak with David Lynch about my meditation practice and balancing personal work with paid work. I went to Marilyn Manson's house to hang out and had a great correspondence with him for a long while. I went to Paris with Kanye and just hung out for a week, talking about art and music. Stuff like that.

Besides being able to talk to interesting people, are there other great aspects about writing for magazines?

Early (and free!) access to the arts is certainly the greatest. I get to go to movies before they come out in private screening rooms, see art shows before they're open to the public with guided tours by the curators and/or artists, and tickets to see pretty much any band that comes through NYC. This is probably the main reason I keep myself affiliated as a writer: so the publicists will let me keep my key to the city.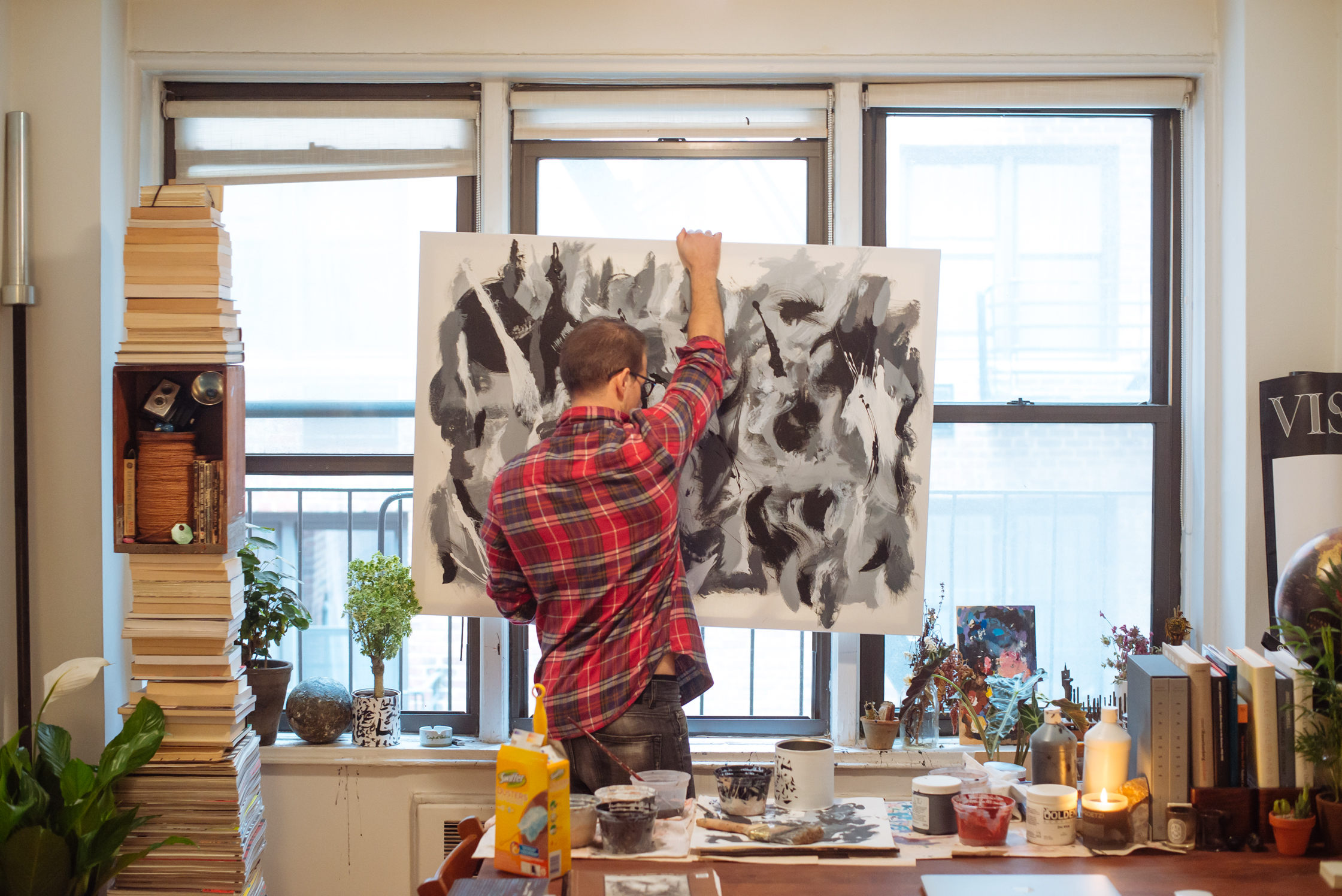 For the last several years you were working as the editor of the bi-annual fashion magazine VMan. Content-wise it's quite the contrast to publications like Paris Review.

I always saw it as executing someone else's vision as best as I could, but it was never really a magazine of which I saw myself as a reader, if that makes sense. I think we did some great stories, but it was never a platform to express my own interest or taste.

I would only work there full time for about four months a year, maybe six to eight weeks per issue, the rest of the year I would be out of the office, working remotely but also focusing on other things. That was the main value of the job.

Do you see yourself getting into any other types of writing genres?

I'm very interested in getting into TV writing. I would love to be another mouth in a writer's room, and I see showrunning as a much larger scale version of what I do as a magazine editor: administrate across all departments and drive a large team of writers, photographers, producers, art directors, etc. to express and maintain a singular aesthetic and narrative.

I've written a pilot, I'm working on a feature treatment now and another pilot with a writing partner. I have really strong connections, but right now it's just about accruing the work, which is a slow process, particularly when it's just one of several balls you're juggling in attempts to make rent in Manhattan. But mainly I enjoy writing these things, so that's the real reason I do it. If something eventually comes of it, great. If not, no big deal.

Aside from working as a writer, you work as a "consultant," which is a sort of ambiguous term lots of people throw around these days. How does it apply to you?

It's a variety of things, but mostly it means being a creative gun for hire. For example, I just wrapped up a project with Nike and Alldayeverday. Nike is their client, and they asked AllDay to create something around a new product. AllDay brings me in, we discuss what Nike wants, what they want, then I come up with ideas and help build them out. Sometimes that will continue into producing the content itself, sometimes it ends with finalizing the "what" of it all, then they run with it.
Are you working on anything else now?

I've just wrapped up an in-house stint at eBay. For the past year, I've been working as a part-time consultant helping them conceptualize what their editorial content would or could be, should they pursue it. But then I did about three months in-house helping them actually create that editorial. Basically, I'm making a cache of content to potentially be used if/when these channels are activated, but also experiment with the CMS and backend and see what type of editorial structures it supports.

People active within the art-industry often choose consulting as an additional way of paying bills. But is it easy to get started with?

I've often said the most difficult aspect of working as a "consultant" isn't what you do when you're under contract but the act of finding said contracts. It's challenging to find a company or brand that will, essentially, sponsor you to think. Of course, you have to be professional and ultimately productive and provide your clients with valuable services, but that's the easy (or easier) part. But, yes, finding clients is the challenge.

Why do you prefer freelance work to a full-time job?

As someone who likes to do a variety of things, I've actively pursued a sort of project-based career. I'm interested in the way an artist or filmmaker or actor gets to completely immerse themselves in a project, then resurface, self-investigate, and survey their interests and options going forward.

I've sought a career that allows me to take periods of artistic indulgence. Before V I was a freelance writer as well, and the main reason I made that magazine the past couple years is because I could take months after an issue to work on something else. I'd find some consulting work to supplement my income, and spend the rest of the time writing and painting. I do a little bit of all these things simultaneously as well, but I find that if I want something to be done well, I need periods to devote my complete attention to it.
There must be a downside to all of this, right?

Sometimes not knowing where a future paycheck will come from can be stressful, but it's worth it. It makes me happy to do these things, and, the last couple years, I've been actively pursuing the things that make me happy, as opposed to what I'd been doing the last decade, which is sacrificing them to New York bullshit.

Entering your apartment, the plethora of paintings are hard to ignore. In fact, it looks like an atelier of an artist, rather than a typical writer's den. So, what's up with all the paint?

Creative expression of any kind can be a balm for the mind, and since my form of that has been writing—something I do on a computer (typewriters I fetishize but very rarely actually use)—I needed an outlet outside of that.

I started painting because I wanted the experience of expressing in a tactile, abstract way. It's a cathartic practice, a bio-hack really. Painting, for me, is a way to reengage with the physical world and accrue representations of myself. I believe it's restorative for my mind and there are many clinical studies that are beginning to suggest the same. And it's a highly enjoyable indulgence.

My undergraduate was in conceptual sculpture—big installations—but I've always had a natural ability to draw, or to manifest visually the things I see in my head. I wanted to sketch again, for the above reasons, but never had a thought to paint. I'd long loved certain painters, so maybe it was just dormant? Anyway, I got a sketchbook, kept it with me always and worked to devote time to it during the week, and then eventually decided I wanted to mess around with some paints. I got some children's acrylic because it was the cheapest way to get a wide variety. Then pretty much I blinked and it was six or eight months later and I'd constructed this whole setup, "completed" several large and small scale pieces. It really just hit me one day that it had progressed to this level, I guess it happened so organically that it snuck up on me. Now I'm starting to get commissions, which I'm into doing—I wasn't at first if it means making enough money to afford studio space and more materials.
Who are some of the artists that have inspired your paintings?

I love Antoni Tàpies, who spoke about using materials that he felt came with their own native narrative that he's merely exploiting, which is something I feel similar about with color palette and brush stroke. But he also spoke about the fear one confronts when painting, particularly abstraction: you make something that looks good, but you know it's unfinished—there's an intense apprehension of moving forward with instinctual expression due to the very good chance you'll ruin what you've made. There is no undo. I wanted that sensation. And I've now certainly felt it.

De Kooning is someone else I love, and he struggled similarly. Rauschenberg, Twombly, Kandinsky, Mark Tobey, Paul Klee for his diversity in aesthetic, passion for experimentation, and refusal to embrace that which "works," Eva Hesse, Joan Mitchell, Lee Bontecou. I might be in love with Eva Hesse.
Are you this objective with everything?

I don't know. Maybe? I just know this happens to me with music, film, art—so I rarely rule out anyone or anything completely. I just assess, then, down the line, reassess.

But to answer your question about writers, in part, off the top of my head: David Foster Wallace, Percival Everett, Justin Taylor, Don DeLillo, Dashiell Hammett, Brian Evenson, William Carlos Williams, Wallace Stevens, Raymonds Chandler & Carver, Tracy Letts, Martin McDonagh, Charlie Kaufman, Andrew Kevin Walker, Rod Serling, and David Markson.

What's your favourite place to be alone (except your apartment)?

In New York: Poet's House or the 42nd street Library. I have a spot in Central Park and one along the Hudson. And if you count biking along the water being alone, then that too. Before I sold my truck for moving-to-New-York scratch, I loved long, solo road trips. And you're alone during meditation. Even if I'm doing it on a packed subway or a crowded airport, I find that I can sink down into a place of splendid aloneness.
Elliot, we truly enjoyed meeting you!
Head over to his website to find out more about his projects. See all portraits from our creative community in New York here.
Photography: Nick Vorderman
Interview & Text: Lara Konrad