It's still early when we head out to meet Doug Perkul, illustrator and artist in his home. It is here in the south of Amsterdam that he lives with his wife, kids and two cats. A lively mix of German and English is exchanged in the spacious yet classic Dutch house. Having spent most of his youth and teenage years in places such as the suburbs of Georgia and New Jersey, the generic sameness of these places left Doug thinking there was more to be discovered in the world. His first attempt at standing out was when he began experimenting with sound, moving image and illustration. Having defined the turning point of his life at the age of 17, Doug made his way to Europe where he completed studies in Switzerland and ultimately met and married his Austrian wife Diana. After having lived together in Vienna, Austria, New York and San Francisco, Doug and Diana made their Austrian-American family home in the Dutch creative capital of Amsterdam three years ago.
Although his job as Managing Director at advertising agency Sid Lee requires extensive travel and overtime, Doug finds time to draw every Sunday in his light flooded idyllic living room together with his kids, Zoe and Florian. Together they constitute their very own little creative collective. The heart of his home is not only the center-point of this creative family but also the starting point of our conversation about work, food culture and places to live around the globe.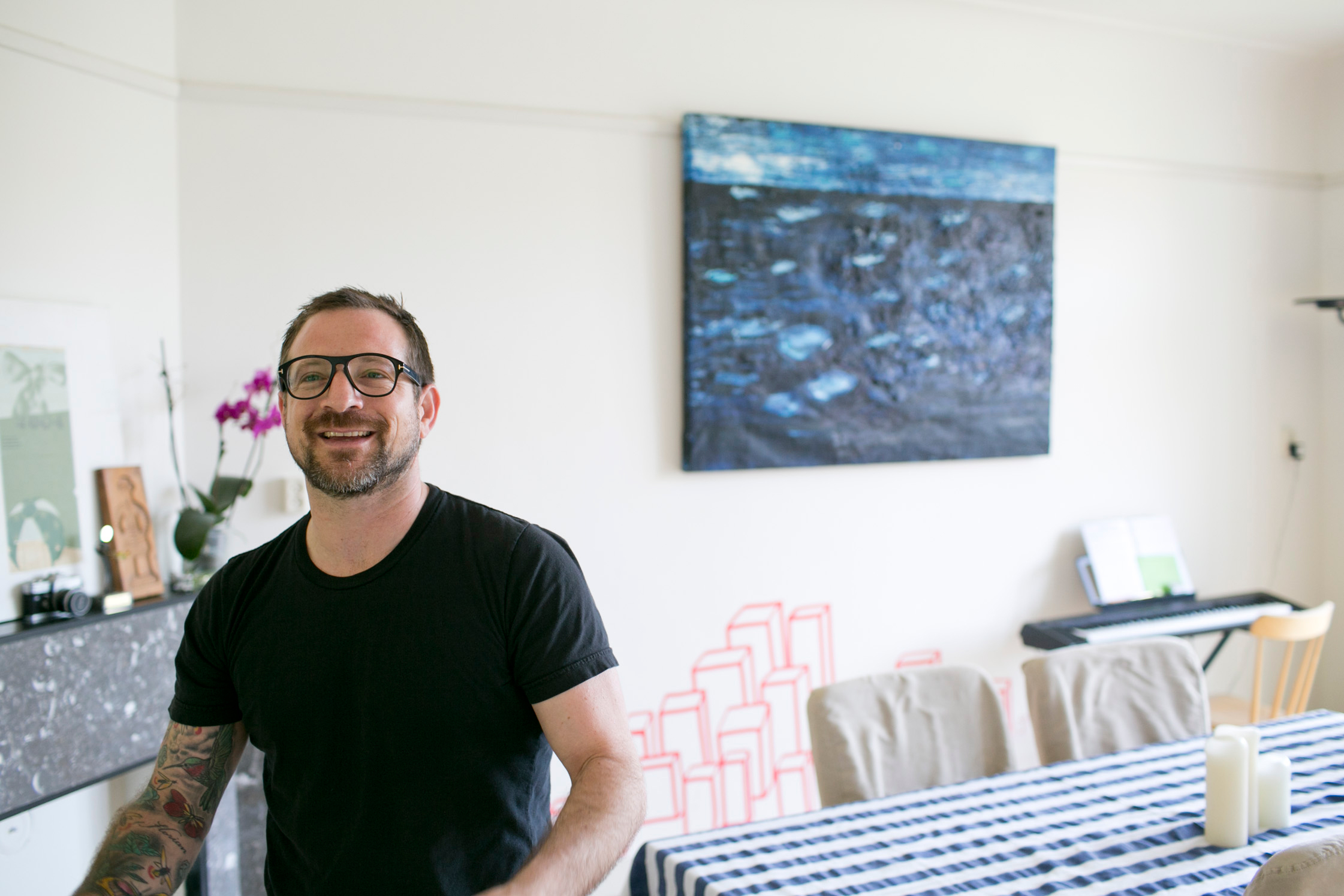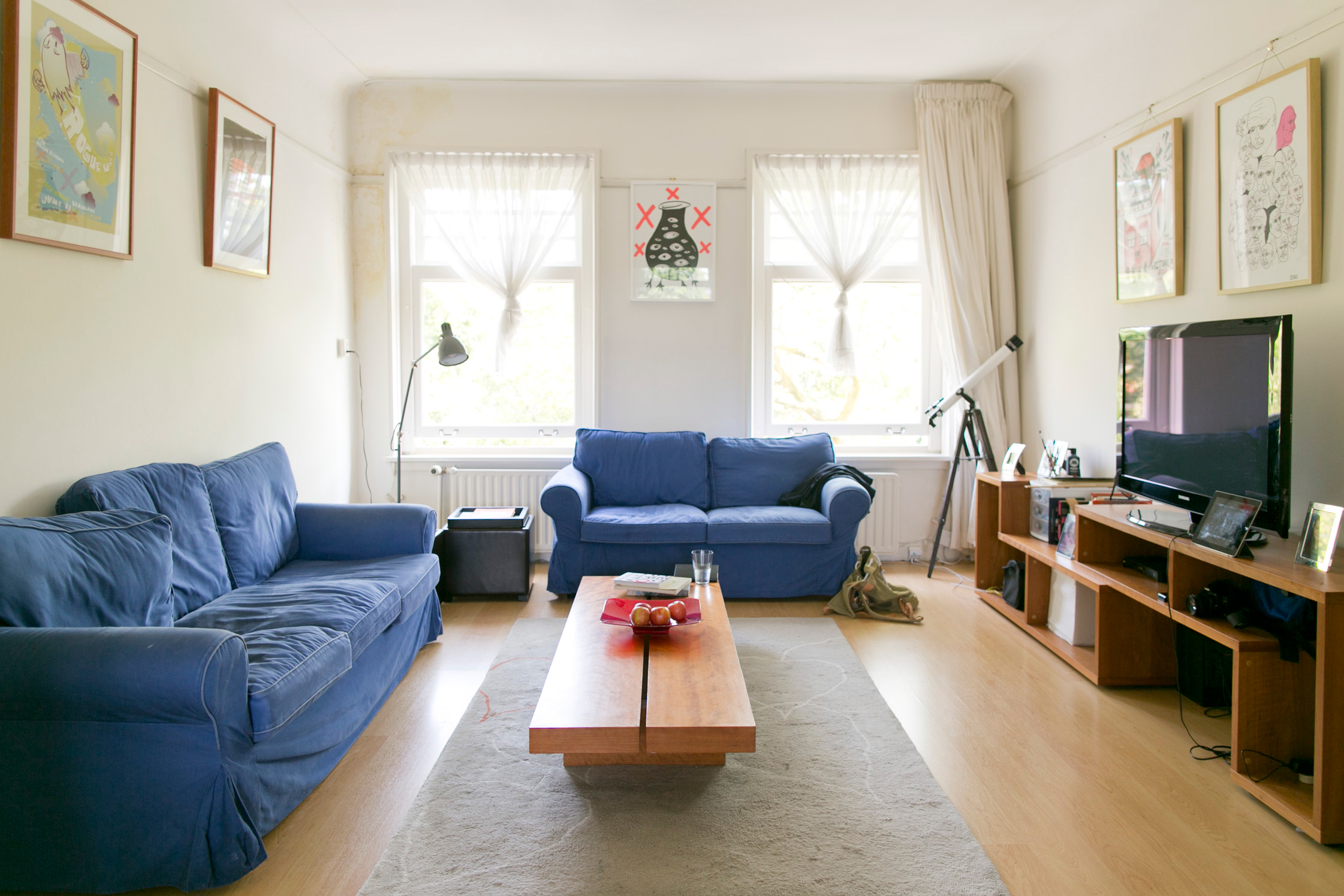 We are welcomed enthusiastically as Doug's son Florian runs upstairs to get his breakdancing hat and show us some head-spins as Doug explains to us the meaning of the big, welcoming room in his family home. "This is the everyday room. This is where we paint, where the kids breakdance and make music. It is where it all comes together. We just drag out big sheets of paper, put them on the floor and start drawing together. The painting in my bedroom is actually a co-creation by Zoe and myself. Flori did one too."
You have a little production company here.
Yes indeed. With this one for example, I couldn't deal with the concentric circles any more so Zoe helped me out! And then basically she signs her name on it – and we have a deal. She gets 10 percent of the price if we sell a piece.
Sounds like good family business to me!
The kids would agree for sure. I just love spending my free time with my kids and drawing. When I moved in here, I really wanted to have one of the rooms as a small studio – just like when I lived in New York – to have some quiet little space where I can lay back and play guitar and draw.
The interview is accompanied by some piano music. Doug's very talented daughter Zoe is playing us a little piece, Skyfall, followed by more breakdancing by Florian. A veritable circus.
So you prefer to work in an open space more than a closed and quiet studio?
Definitely! You know, working in a closed space you do not get feedback from others. If you open up and move it out in the open, creativity can grow together and compliment other people's work. From these initial ideas on ways of working together our Sunday afternoon creative sessions turned into big endeavors where we all come together and do stuff. When I looked for a house, the "must" basically was to have an apartment big enough. I wanted room. Space is the main thing I care about the most.
Also the agency you work at is known for it's "creative collective" approach. Are you able to integrate your illustrative skills into your everyday job?
Well through the personal drawing work I'm doing, I happened to be involved in a project for Red Bull, where we painted their Headquarters at the NDSM Werf in Amsterdam's North neighborhood. From then on I started to be involved in projects as an illustrator alongside my day job. I enjoy it a lot, it breaks my routine from being an everyday manager and enables me to create in a non-commercial context. Just to step outside your box and do something you're interested in is great. I also host exhibitions at the agency featuring different illustrators. We have a space at the agency reserved for that.
Another project of mine was C2MTL – International Commercial Creativity conference held yearly in Montreal – where one of my colleagues Cat Laporte invited me to paint at her project Building Blocks. This was incredible and one of the most relaxed group projects I have ever been involved in.
What other collaborations have you done?
Recently I completed a project with WIT Industries and Koga bikes here in Amsterdam and really enjoyed creating a custom bike with Olaf Witt – owner of WIT Industries. I am also going to be starting another art project with Portland Design Works and will be doing the second publishing of the book 'Fire in the Sky' that I wrote and illustrated. It's a kids book but I think the story works for anyone that does not get to see the sun too often.
Is there any criteria to how you choose what to work on?
If I like a company or product I will often reach out and see if we can work together. My only criteria is that I have the freedom to do what I want to do. I have a day job that is based upon the wishes of my clients – which is totally understandable – but when it comes to art projects, I get to decide and I don't need to compromise. Other times people reach out to me and ask if I would be interested in working with them. I love collaborations so seldom do I refuse unless I am in the midst of something serious.
How did you come to your alias, "Schatzi"?
All of the SCHATZI work began several years back. It started off as something I would call my wife and kids – it means sweetheart in German – and it just made sense that this would become my sort of alter-ego.
You have a very distinctive illustration style. When did you start developing your signature style and what inspires you to work?
I have always been painting, dragging inspiration out of the smallest things. For example, my travels or my kids act as inspiration. I still love to watch cartoons with them, like this famous series called Flap Jack, do you know it? It has an amazing illustration style to it, with a very dark storyline. Everything is super saturated and layered, it is really great and simple! It is the simple things that generate the biggest ideas for me. I think one can recognize this in my work. Most of it is relatively simple at first glance, but there is always an underlying story. My personal style did however take 25 years to nail.
How would you describe your work-flow?
When I draw and paint I kind of go into a trance. I can hear and see everything around me but largely I ignore it all – much to my wife's chagrin. I begin with a rough concept but largely don't know where the work will take me. It's like meditation without the chants and cool robes and burning sage. The themes vary as do the materials and overall direction. If I find myself getting stagnant then I know I need to change things up. That's the goal really, keep things moving forward and never look back. This way of thinking has also seen me move to so many different cities around the world in order to find new challenges and take on new adventures.
Speaking of different cities, what did you enjoy the most about living in Vienna? And what about Amsterdam?
Vienna: Schweinsbraten and Semmelknödel! Actually whenever we go over to Red Bull Salzburg we go out for great local food. We once went on a kebab mission in Vienna. Everyday I would go out and try another one to find the best! I miss that.
Amsterdam: Even though the weather is complete shit – everything else is amazing. I don't have to spend time commuting or on the tube – that's probably what I enjoy the most, the proximity and the mobility. In general, not only within the city but also when I have to travel abroad, Amsterdam is extremely connected internationally thus very convenient for me. As for work, the art scene here is ok but certainly not on the level as a place like Berlin. However, for me it's a great place to create and I find it very inspiring. I have never been more productive art-wise than I have been here. So to sum it up, Amsterdam is a beautiful, gorgeous city and by far my most favorite place I've lived in so fair and I will surely for a couple more.
Doug many thanks for introducing us to you family and home so graciously. We enjoyed a morning full of inspiring stories and gained an insight into creative family life. Find Doug's work here.
Photography: Jordi Huisman
Interview & Text: Felicitas Olschewski