Dez'Mon Omega Fair is digging, bare-fingered, through the soil of a large potted tree in his kitchen. It's morning, and he's murmuring to himself, eyes narrowed, searching. Alanis Morissette plays in the next room, followed by the Ethiopian jazz artist Mulatu Astatqé. A plate of stroopwafels sits on the counter alongside a brimming French press. At the moment, though, all focus is on dirt. Seconds later, the artist emerges from deep thought, triumphant. There's a smile on his face, and a tiny, twitching, soil-speckled turtle in his hand. He's pet-sitting, he explains.
A Brooklyn-based painter with an eye for the eccentric, Dez'Mon's work is a representation in dreamlike watercolor of a world that's uniquely, happily his. At the moment, he lives in Bushwick, operating out of a two-bedroom apartment chock-full of curiosities. Dez'Mon himself is full of stories, ideas, questions – he's a striking presence, in both spirit and physique. And though he may be called a hipster, a morning spent in his space proves that much about the artist is – like turtles in trees, like playlists filled with Morissette and Mulatu, like his ringing, childlike laugh – a surprise, and a wonder.
This portrait is part of our ongoing collaboration with ZEIT Online who present a special curation of our pictures on their site.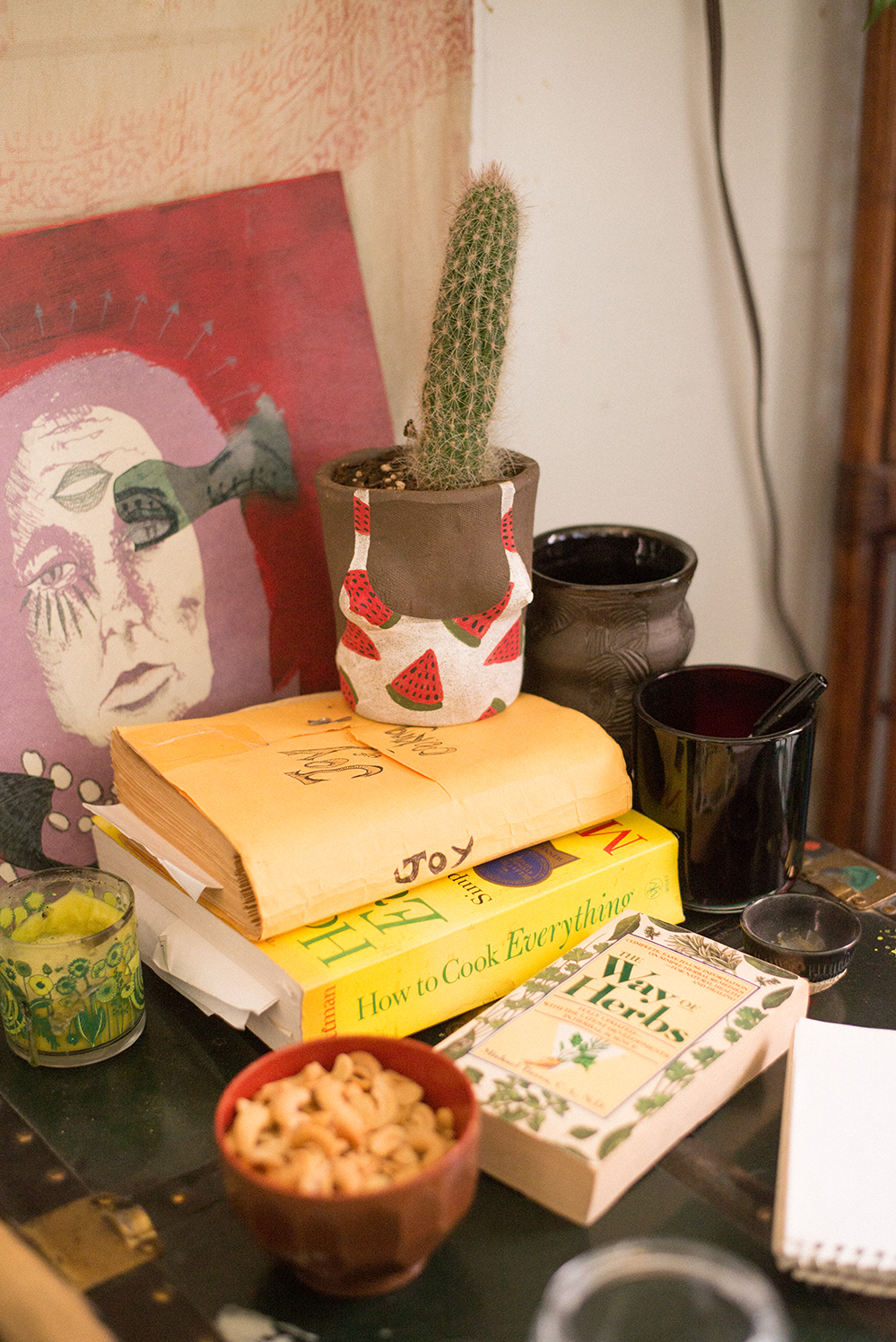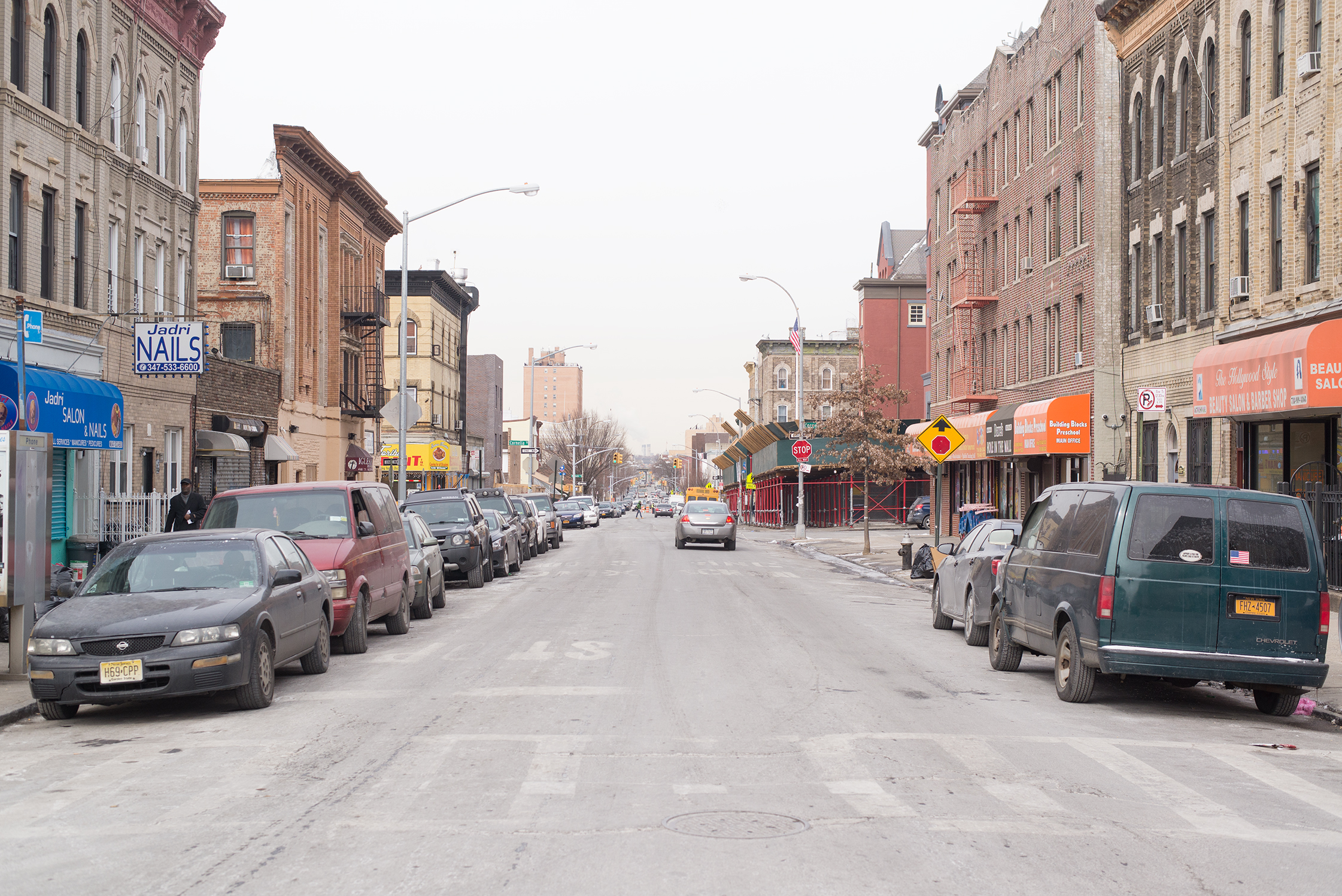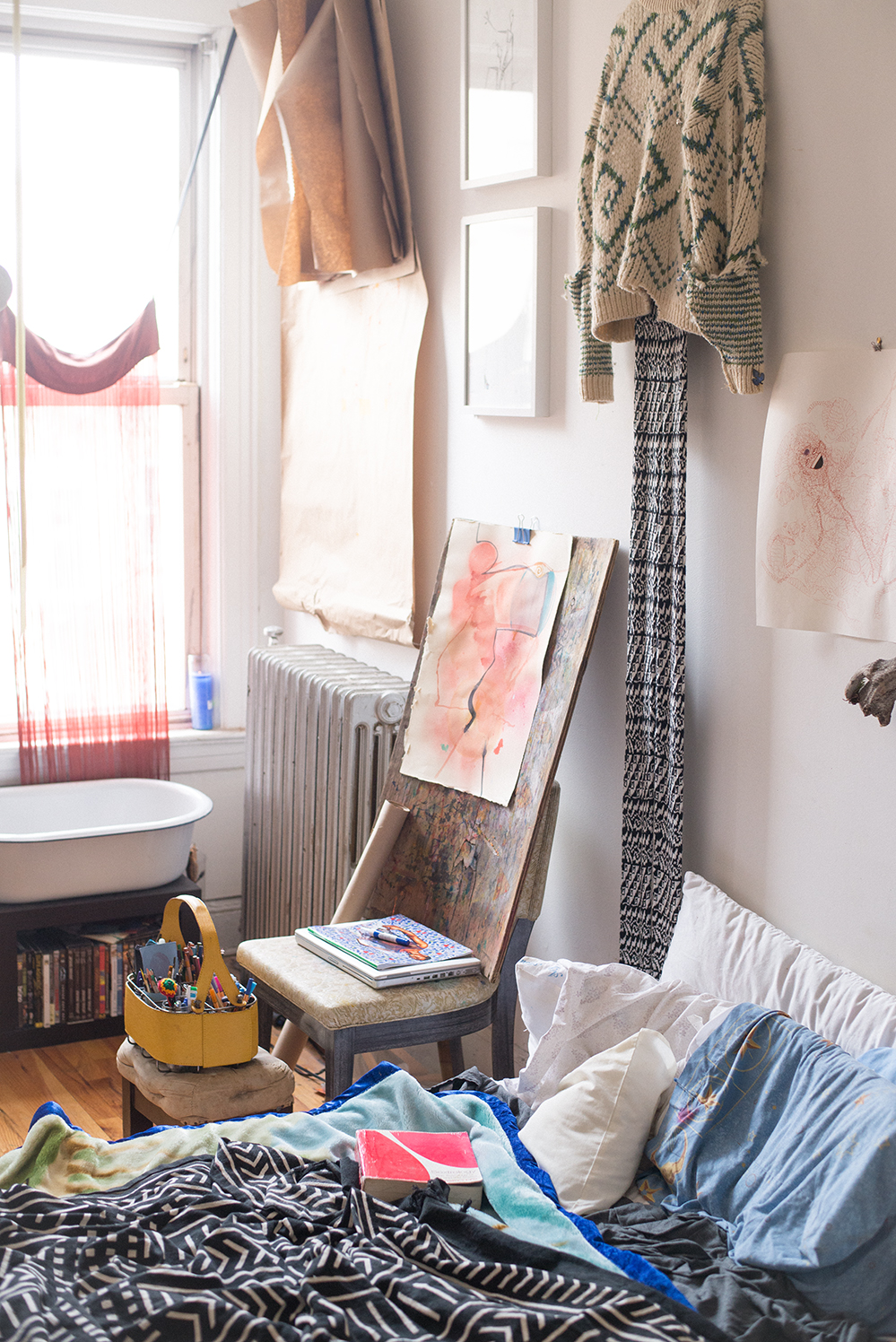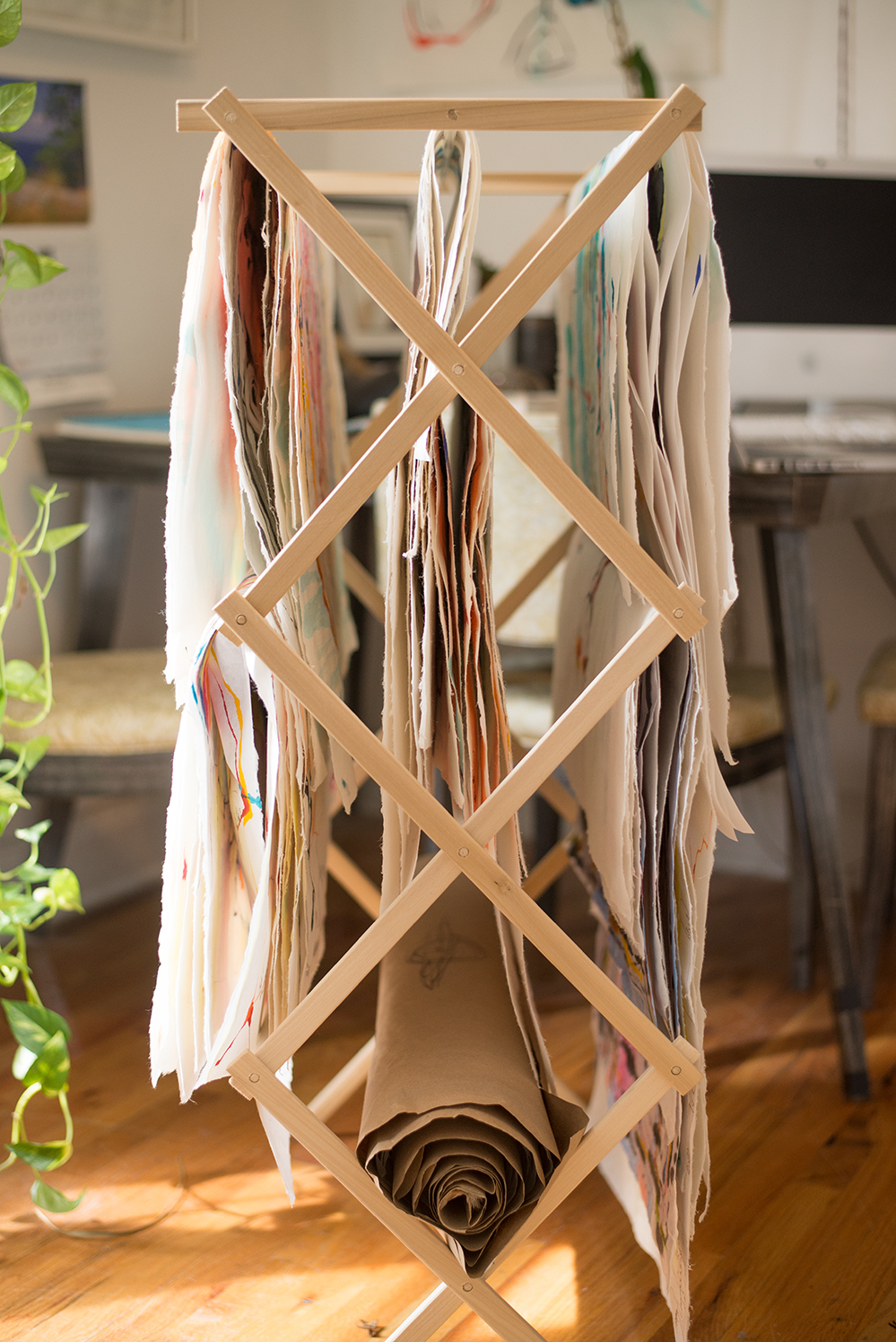 You seem like a natural New Yorker. How long have you called this city home?
I'm a deep, deep Southern boy, originally from Orangeburg, South Carolina. I moved to New York about four years ago. I'm officially in my fifth year.
You were an art student before you moved, is that right?
Yes. I was at the Savannah College of Art and Design. I originally planned on being a packaging designer, then an illustrator. I ended up focusing on fine art. Now I work primarily in watercolors.
What was your experience as an art student like? Was it inspiring to learn among other creatives, or did you feel – like many artists do – that the formal training hindered your growth?
I felt broken down. I went from being the only creative person – the only special kid, the only weird kid – in my small town, to being in a place where everyone was special. Everyone was weird. And not only that, everyone was better than me. At the time, that steered me away from any interest I had in an art career. I didn't know if I had anything to offer. I was too young to understand art being subjective. It's taken almost a decade to regain my childhood confidence.
What drew you to painting?
I've tried many things: design, illustration, fashion styling. I've always been searching for this golden medium that encompasses who I am socially, professionally, emotionally – something I enjoy doing by myself, but that I can share with the world in some way or another. That sort of thing is hard to find, and I feel like I've found it. I have no idea where my life would be if I didn't start painting.
Would you say you have an artistic process? Do you adhere to a routine when you work?
I try not to force anything. Things happen when they're supposed to. I'll be flipping through a book or listening to music or having a conversation, and an idea will come to me and I'll go from there. It's fun connecting the dots from what's happening in my head to what's happening around me. "A masterpiece as a painting will paint itself, as a life will live itself" – telling myself this helps me relax.
What would you say defines your style?
I don't think I've been able to determine that at this relatively early stage in my career. Sometimes my work feels abstract. Sometimes it feels representational. I'm not 100% sure what's going on just yet.
Who are some of your favorite artists?
Alive, Kehinde Wiley. Dead, Rothko. With Wiley, it's nice to see an African American gay artist – everything that I am on the surface – do so well. I've been lucky enough to meet him, and he's an amazing human being. So nice, not jaded at all. Meeting him made me feel like I'm moving toward something. When it comes down to it, though, my artistic heroes are my friends. I've chosen to surround myself with people who are creative and driven, people who inspire me, and who I hope find me inspiring, too. I have my friends' artworks displayed all over my house. I'm always making more room for their things, because I love what they do. That's why there are so many holes in my walls.
How long have you lived here in this space?
Just under two years. I love it. I happened upon it by accident, but the design of it came together very naturally. A lot of these things come from other apartments I've lived in. Other things were gifted from friends. Everything seems to fit perfectly. I paint either in the living room or in my bedroom – the subject matter in my art is typically very intimate, so I think it makes sense that my living space is also my work space.
There's so much to look at. Do you have a favorite item in your home?
I'm a scavenger. I got that from my mom. She over decorated, and our house was always a little cluttered. I like things to be clean, but I also like a home that looks lived-in. My favorite item is the tambourine on my nightstand. I bought it at a yard sale. It's something I've carried with me when I've traveled. It came with me to Spain and I played it while walking through the streets at night. It's something I look forward to having with me as I continue to explore the world.
You display clothing as art. Style-wise, what are you drawn to?
A thousand different things. Texture is important as far as displaying clothing, things that can be explored with both the hand and eye. I like items that remind me of family and the past. I collect hats, and so did my granny. I like a good statement piece. Why not wear something different?
Have people called you a hipster? What do you make of the various clichés associated with being an artist in New York, particularly in Brooklyn?
I've been called a hipster, and it did bother me at one point. But if that's a term that people use to describe a person who wants to look as individual as they feel, then I guess it's an appropriate word for me. I may be hipster-ish, but I'm also a lot of other things that are less obvious. I may have a look, but that look isn't a new thing. Nothing about it was developed consciously in order to be cool. I've been this way as long as I can remember. If this is what 'hip' is, I've been 'hip' all my life.
As for clichés, I'm not sure what is and what isn't a cliché. I sometimes feel like a walking cliché, but of course, it's not something I planned. The other day I was listening to a cheesy record, I had a joint going, I was barely wearing anything. I was sitting there, zoning out, looking at my painting. I thought, "I've seen this before." But really, that's how I work. It is what it is.
What do you love about living in Bushwick?
I spend a lot of time in places like Williamsburg, and I like that it feels like a different sort of world out here. There are a lot of families. It's nice to hear kids running around, instead of the mindless drunken twenty-something chatter elsewhere. It's a removal from everything that I'm used to. Also, I love that my apartment is far from the train. I appreciate the walk. I need the peace and quiet.
What role does peace and quiet play in your work?
I like a healthy balance of both extremes. I like being around people and I like being around activity. But there's something to be said for silence, for isolation. It's important to me. It's just as important as socializing and being creative.
What are your favorite restaurants or shops in Bushwick?
Restaurant-wise, I like Northeast Kingdom and Fritzl's Lunch Box. Aside from that, I have to say that I love my corner bodega. The guy who owns it is from Colombia. I believe he speaks four languages. I try to practice my French with him, my Portuguese. It doesn't go well. He thinks I'm a fool, I'm sure.
How do you get around the city?
When it's hot, I bike, and I bike aggressively. I like riding with no hands. I like to multi-task – you know, changing clothes, texting, Instagram-ing. It's completely ridiculous. I really go for it. I've only ever lived in cities that I can explore by bike. It's fun.
Do you see yourself staying in New York?
I love this city, but I'm not sure I'd want to raise a family here when that time comes. I need trees. Blue skies. I'm still searching for where I'd like to nest. I'm traveling to California this fall and I'm interested in San Francisco and LA. Internationally, I'm considering Rio, or Cape Town. Professionally, though, it's hard to beat New York. It's where I started. I was able to create myself here and I hope it'll always be my creative home base.
What have you been working on most recently?
I'm currently in talks with a church in my hometown about painting with autistic children as part of a new art program, and I'm excited about that. I love kids. My last personal project was a painting on rice paper, which has increased in scale and focuses on only two or three colors. It's hanging in the living room as we speak. It's composed of lots of layers. Working on it has involved a lot of sitting and staring.
What do you think about when you sit and stare?
Right now, just simple human interactions. I'm fascinated by how people develop and how they relate to the world – how they grow to understand themselves. I'm trying to figure that out in my own life, as well. I'm trying to learn what it means to be human, if it means anything at all.
Thanks so much for a wonderful morning, Dez'Mon. Learn more about the artist and his work at his website, here.
Photography: Nick Vorderman
Interview & Text: Shoko Wanger