For Keegan Fong, opening the LA-based restaurant, Woon, was about harnessing childhood memories of braised pork belly and five-spice chicken wings, and creating a place of nourishment that connects with his own family traditions.
Starting out as a noodle cart and family passion project, the culinary endeavor soon developed into the renowned restaurant it is today—a noodle shop serving Keegan's mother's own recipes and beloved meeting point among LA's noodle aficionados as well as Keegan's own community.
Together with our friends at Closed, we spoke to Keegan about opening a restaurant without ever working in one before and the experience of running a business together with his family and friends.
In addition to sparking the conversation below, Keegan's story and tight-knit relationship with the creatives of his community also inspired Closed to collaborate with Keegan, Friends of Friends, and mixed media artists TY Williams on the design of two exclusive organic cotton t-shirts.
You've never worked in a restaurant before you opened Woon. How did you get started?

My background is in marketing, but I really wanted to work on something of my own, so I created this business plan of a noodle shop with my mother's food. We started doing pop-ups on the weekends—my mother, my sister, my brother-in-law and myself. It was our passion project. We sold out the first event and it went surprisingly smooth. We did the pop-ups for a couple of years, every other month or so. We didn't know what the hell we were doing, but somehow the process worked. That helped a lot when opening the restaurant—although brick and mortar is a whole different beast!

What has been your biggest challenge when creating Woon?

I remodeled the place myself with subcontractors, friends and family. It was such a blur for those four months of being in there every day: the dining room torn apart, trying to figure out how to hire and train a staff, what to train them [for], and just learning how a restaurant works. The other hard part was, right after I signed the lease, my mother was diagnosed with breast cancer and had to go to radiation every day. She was training the entire kitchen staff during that time. She's a home cook who had never worked in a professional kitchen and scaling her food, measuring it and making it more repeatable was so hard to do. Until COVID hit, she would spend eight hours in the kitchen every day. And now that the situation is a little better over here, she comes in about once a week.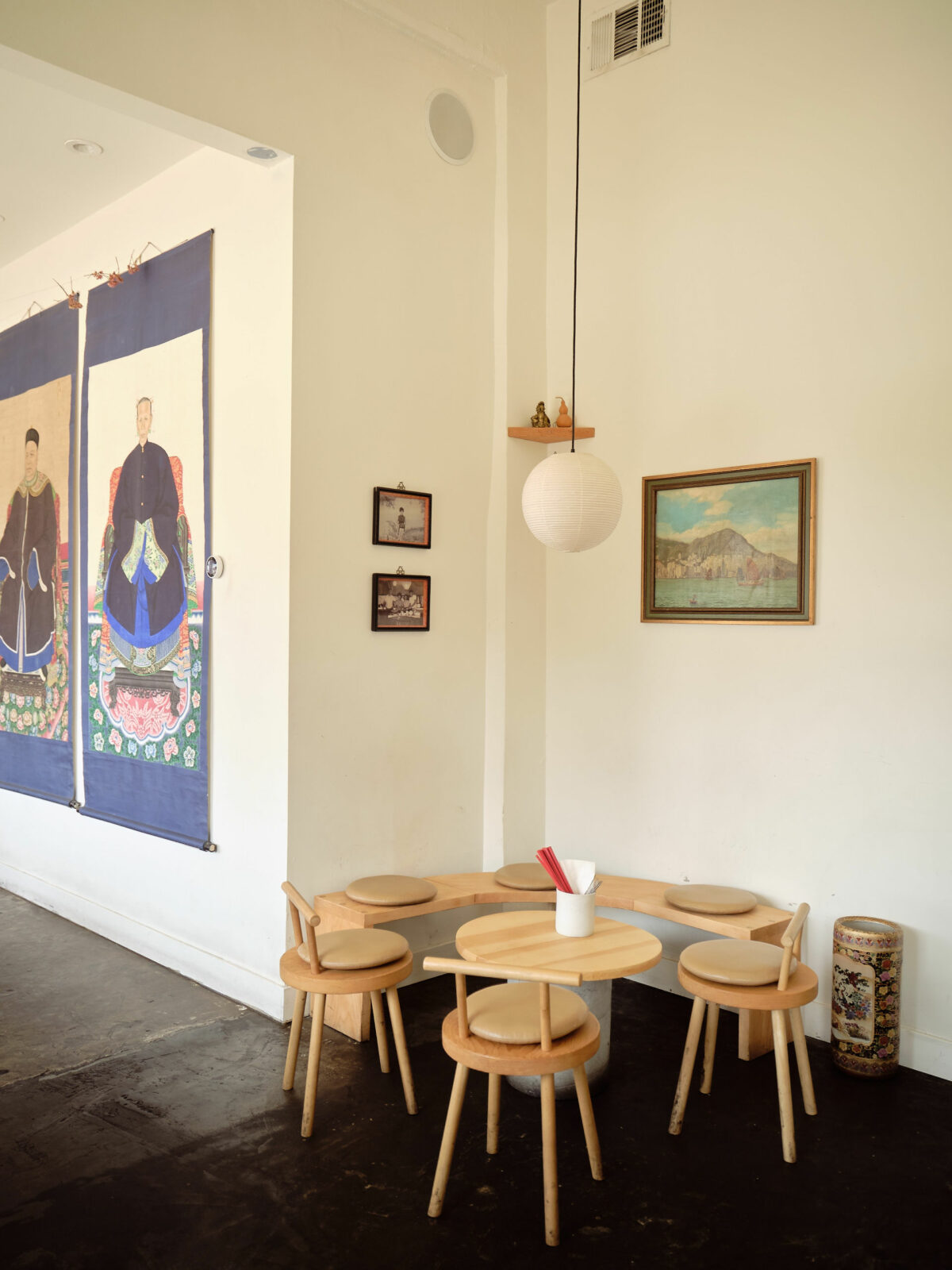 What's it like to work with your family?

Working with my mother is great—I get to hang out with her more. But as you'd expect, it's also tough! My mom has always been the boss of me and now I'm the boss of her. A lot of times we butt heads, but we're also able to do things together that we weren't before. My brother-in-law was helping around the kitchen the first few months, while I was able to focus on operations. My sister and cousin were a huge part of helping me open and getting my front of house operations going. My wife also helped out a lot when it came to building the place. That was nice, it felt more like time spent together!

With your marketing background, it was probably very important to you to have a nice branding from the beginning?

This part has come the easiest. When we first started the pop-up, I got my family together, and said: "Let's think of a name that's going to sound Chinese but is also easy to read for people who don't understand it—and something that has a meaning." Woon means "bowl" in Cantonese. The logo was done by my good friend Robbie Simon, a great contemporary artist. He used the noodle to spell out Woon, but not making it too obvious, so that people can discover it later. A lot of the artwork and marketing is to credit of my other friend and artist Ty Williams. His art has become a big part of Woon, you can see it all over the restaurant walls—and he also worked on our collab T-shirts! I think his style is really fitting because it's not too serious. There's still a little bit of edge and looseness to it—and that's how Woon is. Our food is not too serious. It's comforting and homey.
"My mom has always been the boss of me and now I'm the boss of her."
What does Woon's menu look like?

We have a small menu that is made up of my sister's and my ten favourite dishes growing up. It's our comfort food. It's the stuff that, whenever we left for college and came home, we asked my mom to make. The first things are her noodles—dry stir-fried noodles in the wok with a very chewy texture. Those are the star. And then her braised pork belly bao with pickled greens and a steamed bun. Then we have her five-spice chicken wings that are one of the biggest sellers. There are also things we don't sell as much of, but they're very important to me, like the fish cakes that just remind me of childhood. The salads are all staples growing up—things that were in the refrigerator when we came home from school. Very home-style, very comforting nostalgic things. The most flattering thing our customers can say is that our food is now their comfort food!
We have a small menu that is made up of my sister's and my ten favourite dishes growing up. It's our comfort food. It's the stuff that, whenever we left for college and came home, we asked my mom to make.
And what about Woon's interior design?

A lot of that was a huge collaboration amongst friends. I tapped into all my resources, and that's the coolest part—the restaurant is not built by one person. It's built by everyone. I mentioned Ty and his artwork. The design of the space was to credit of my roommate at the time and good friend, Peter Wilday. He's an amazing craftsman. We were living in this house with a lot of his furniture pieces in it, and I had just come back from a trip from Hong Kong and Taiwan. So it was a lot of like inspiration from that trip, simplicity and Asian inspired, mixed with what we liked personally in our own homes. Amongst that, there are some furniture from my mom's house. My uncle contributed a few antique Asian pieces, which has really helped to bring the more traditional side to life. The ceramics are my friend Monica, Salamat Ceramics. Our friends Paula and Ben donated the beautiful piece of sycamore wood that we turned into the front counter.

What is the best part about your job?

It's amazing to be able to like build something on my own. Having my own business is pretty great, as stressful as it is. It's a fun challenge: with all the issues that come up, a million solutions that come up as well. I think it's a character-building experience. The coolest part is that it's very personal to me, it's a very big reflection of myself and where I am as an Asian American—bringing this thing to life and sharing it with people. Being able to do that with friends and family and being able to employ people is pretty rad.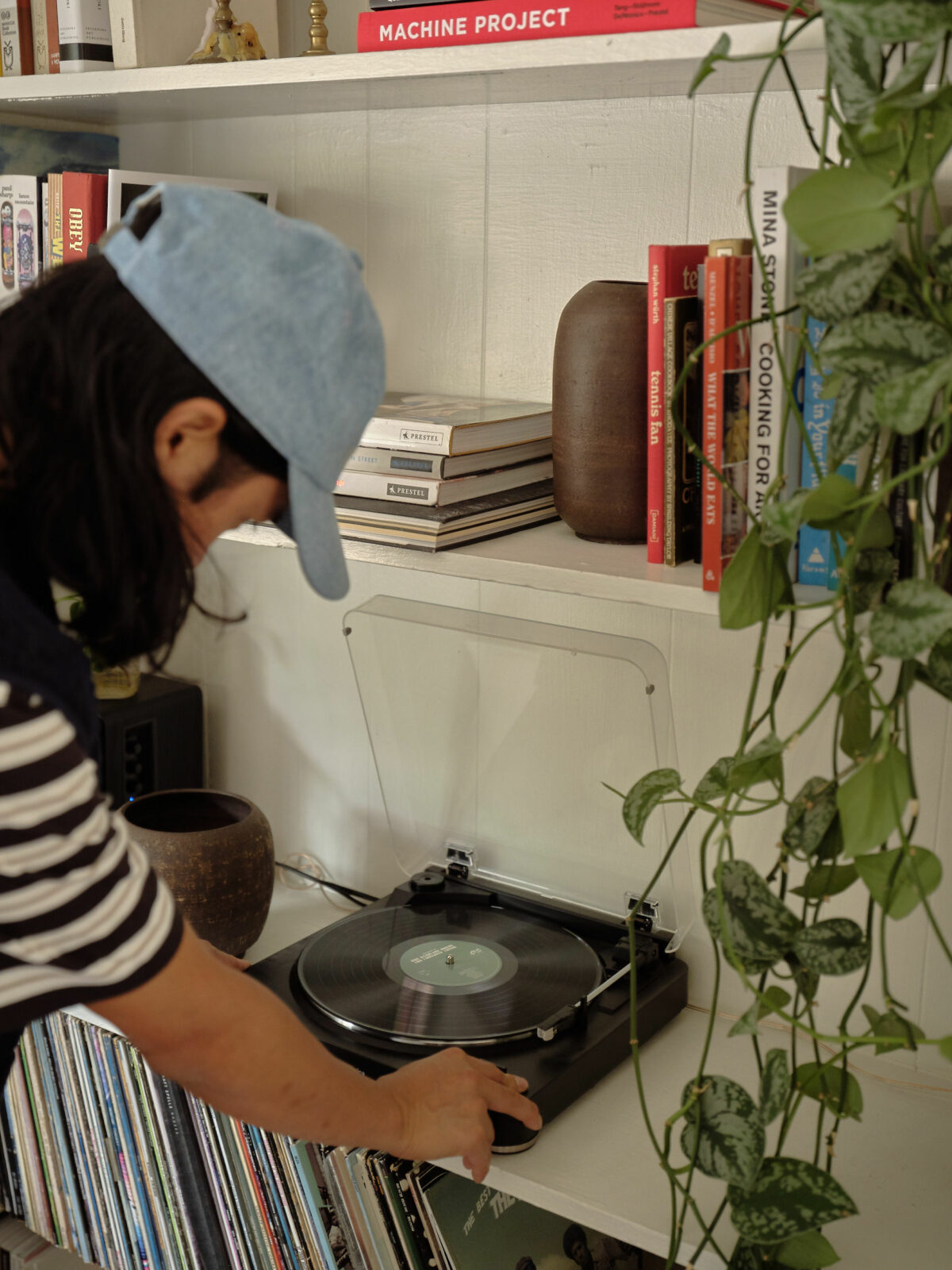 What are your five favourite spots in the neighbourhood of Woon?

Doubting Thomas is a coffee shop with amazing pastry we frequent a lot. And there's a French spot called Taix in Echo Park. My grandma used go there for like special occasions—and now there's a bunch of young little hipsters running around. We sometimes go to Crawford's for a cold beer and fried chicken. And our friends have a pizza spot called La Morra—amazing sourdough pizzas!
Keegan Fong is the owner of Woon, an LA-based restaurant and former noodle cart serving Chinese comfort food based on Keegan's mother's own recipes. The design of the space is the brainchild of craftsman Peter Wilday, while most of the artwork punctuating the interior was created by artist Ty Williams. To find out more, visit Woon's website and Instagram.
This interview is in collaboration with our friends at Closed, a sustainable fashion label equally centered in innovation and tradition. Inspired by our long-standing friendship, we are highlighting the lives and achievements of creative tastemakers—from LA to Berlin. You can find out more about Closed's collaboration with Woon over at Closed's blog and purchase their exclusive organic cotton t-shirts here.
Interview: Laura Reinke
Photography: Cody James