Bruno Kolberg ist gebürtiger Berliner aus Kreuzberg und freiberuflicher Grafik-Designer, Illustrator und Kreativdirektor bei Kazik.
Mit seinen Freunden hat Bruno 1992 Kazik als ein Kollektiv von Graffiti- , Hip Hop- und Breakdancekünstlern in Kreuzberg gegründet. Daraus ist bis heute eine funktionierende Firma erwachsen, die unter anderem den Leschi (eine kreative und kuscheligere Variante zur Wärmflasche) weltweit vertreibt.
Neben Kazik prägt Bruno als BeezeBoe das Berliner Stadtbild mit Visuals, Flyern und Artworks aller Art.
Bruno wohnt zur Zeit in Schöneberg, ist aber vom Herzen immer ein echter Kreuzberger geblieben und hat uns im Interview ein paar Fragen zu seiner Heimat und seinen vielzähligen Leidenschaften beantwortet.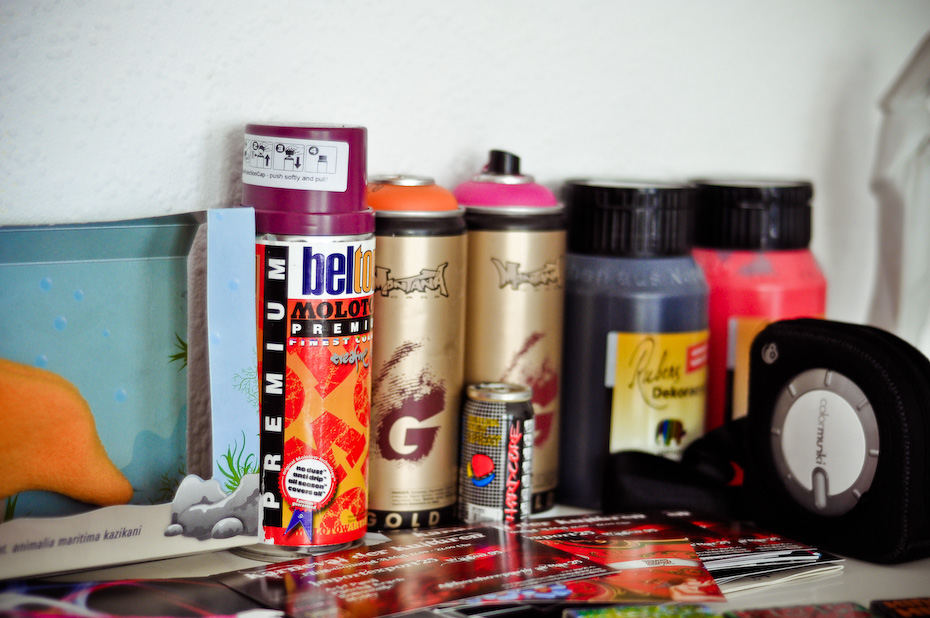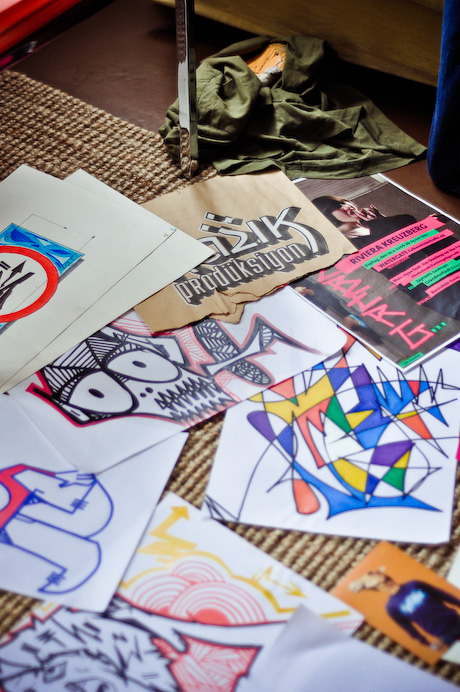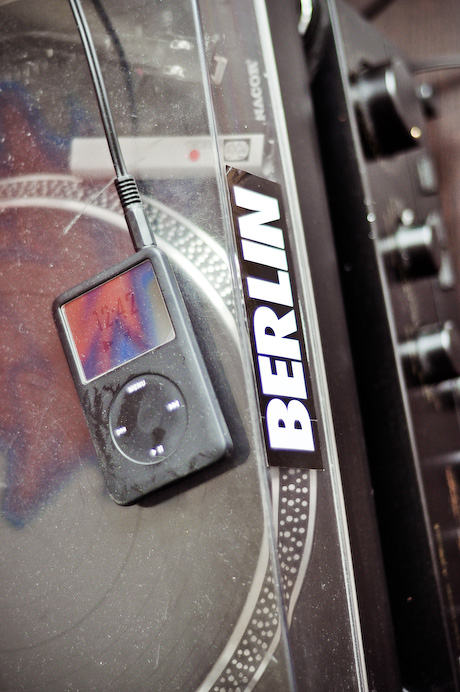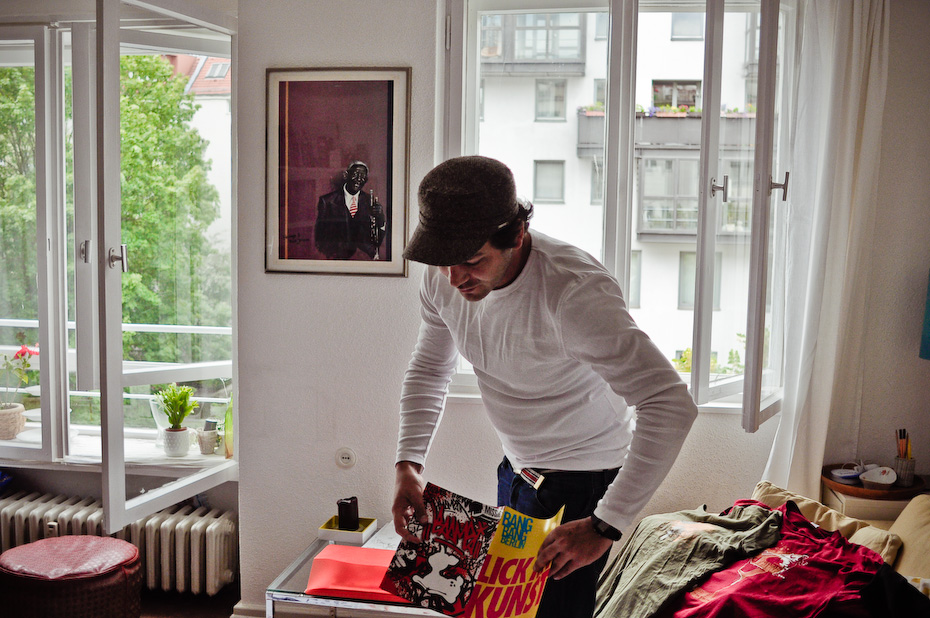 Du bist in Berlin-Kreuzberg aufgewachsen, oft als kreativer und multikultureller "Melting Pot" Berlins bezeichnet, inwiefern hat Dich das Umfeld in jungen Jahren und heute beruflich inspiriert oder motiviert, vielleicht auch behindert?
Es sind die multikulturellen Strömungen und ein gewisser Lifestyle, der mich von Kreuzberg abhängig macht. Diese Vielfalt an Menschen und Lebenseinstellungen, die einem begegnen, setzen bei mir eine hohe Motivation frei, an Wege zu glauben, die nicht immer konventionell sein müssen.
An Deinen Arbeiten kann man sehen, dass viele Einflüsse aus dem Street-Art und Graffiti-Bereich aufgenommen und verarbeitet werden. Was denkst Du ändert sich von der Herangehensweise eines Designers, sobald die Kreativität mit einem konkreten Auftrag, bzw. Geld und Kunden in Verbindung steht?
Strukturierter arbeiten, die Kommunikationsziele des Kunden durchgehend beachten, und somit auch zu akzeptieren, meinen eigenen Style oder Geschmack nicht immer verwirklichen zu können. Aber im besten Fall ändert sich nichts!
Wie sieht Dein perfekter, entspannter Sonntag in Berlin (-Kreuzberg) aus, abgesehen von der Couch zu Hause?
Cafe schlürfen mit Linda, im Vereinszimmer treffen mit dem Homies, Spaziergang an der Riviera Kreuzberg, über den Sinn des Lebens debattieren, am Urban-Hafen sitzen und abschließend den Sonnenuntergang auf dem Denkmal am Viktoria Park genießen!
Die Produktfamilie der Leschis (leschi.de) vereint popkulturelle Gestaltung und Funktion in einem Produkt. Nenne uns drei Beispiele funktionaler gut gestalteter Produkte, die dich beeindrucken.
1. Makrame Stones von Pulpo
2. IB Pop Chair von Blue Marmalade
3. Der Lümmel
Du hast schon ein paar Aufträge für die visuelle Gestaltung von Clubs, warst als VJ unterwegs und hattest auch schon Versuche als DJ. Wie würdest Du die Bar- und Clublandschaft in Berlin beschreiben. Wo gehst Du als alter Kreuzberger am liebsten hin? Was ist eigentlich noch "real" in Berlin?
"Real" ist für mich gar nichts mehr! Es ist ja in Berlin auch eher so, dass in bestimmten Phasen der eine oder andere Club gehyped wird, wo dann viele aus der Szene hin rennen und es geil finden, bis dieser Club wieder durchgelutscht ist und sich der Focus wieder wo anders hinbewegt. Früher fand ich es angenehmer, mich in der Clublandschaft zu bewegen, man hat immer wieder die gleichen Gesichter gesehen und hat sich meistens wohlgefühlt. Aber heute habe ich das Gefühl, dass nur noch zugekokste Wahlberliner unterwegs sind und es nur noch um ein oberflächliches Gepose geht! Für mich sind eher die Leute entscheidender, mit denen ich unterwegs bin, als die Location.
Du hörst viel alten Hip Hop und Funk, welchen sind Deiner Meinung nach Evergreens, die Du heute noch auf Heavy Rotation hörst?
Moob Depp "Survival of the Fittest"
Method Man "All I Need"
Roots Manuva "Juggle things Proper"
Abstract Rude "Simple Man"
Dead Prez "Hip Hop"
Tribe Called Quest "Scenario"
De la Soul feat. Redman "Ooh"
Defari "Say it Twice"
Defari "Slumpy"
The Pharcyde "Runnin"
Out Kast "Two Dope Boys, ATLiens, So fresh so Clean"
Jeru the Damaja "You Can't the Prophet"
James Brown "Give It up or loose, Mother Popcorn, Sex machine, The Payback"
Boby Byrd "I Know you got Soul"
The Fatback Band "Goin to see my Baby"
The J.B's "Pass the Peas"
Curtis Mayfield "Future Shock"
Johnny Guitar Watson "Superman Lover"
The Commodores "Brick House"
Miles Davis "Blue in Green"
Jazzanova "Can't get away from You, Soulpower"
uvm.
Wie sieht Dein Charakter als Comic-Figur aus?
I am Sheezoe.

Deine Top-5 Songs of All times?
Mobb Depp "Survival of the Fittest"
The Pharcyde "Runnin"
Out Kast "Two Dope Boys"
James Brown "Sex machine"
Boby Byrd "I Know you got Soul"

Deine Top-5 Websites aktuell?
1. blublu
2. Tapedeck
3. Franco Ischalet
4. Pfadfinderei
5. Stylepark

Deine Top-3 Magazine (Online oder Offline)?
Lodown, Backjumps und das Root Magazine.
Mehr Informationen zu Bruno Kolberg und seinen aktuellen Arbeiten findet man auf seiner eigenen Website oder aber auf der Homepage von Kazik.
Vielen Dank für das Interview.