Tucked away on a quiet, tree-lined corner in Soho, New York, artist Bill McMullen and art director Yuki Iwashiro have spent the last seven years together living here. Their space is overflowing with objects, artifacts and personal stories. It's clearly an apartment inhabited by a couple that understands and appreciates modern design history (and the importance of Star Wars), and how that sensibility has informed them throughout their lives. Both have carved out their own creative paths with the same curiosity and enthusiasm they have for their personal lives and common home.
The past few years have been quite eventful for them, mostly due to Bill moving his larger-scale projects to his woodshop in California. Over the years, Bill has seen his work range from designing album covers for the Beastie Boys, to creating art installations, to working in Hollywood. But in everything he does, there's that unmistakable nod to street culture, sci-fi, and hip-hop reference points. In contrast, Yuki's work lives within the world of fashion's top tier as an art director with famed New York agency Baron & Baron, creating imagery and campaigns for Calvin Klein and Burberry. They meet somewhere in between those two worlds, and the union is both expressive and effortless, as they finish each other's sentences more than just a few times during our talk.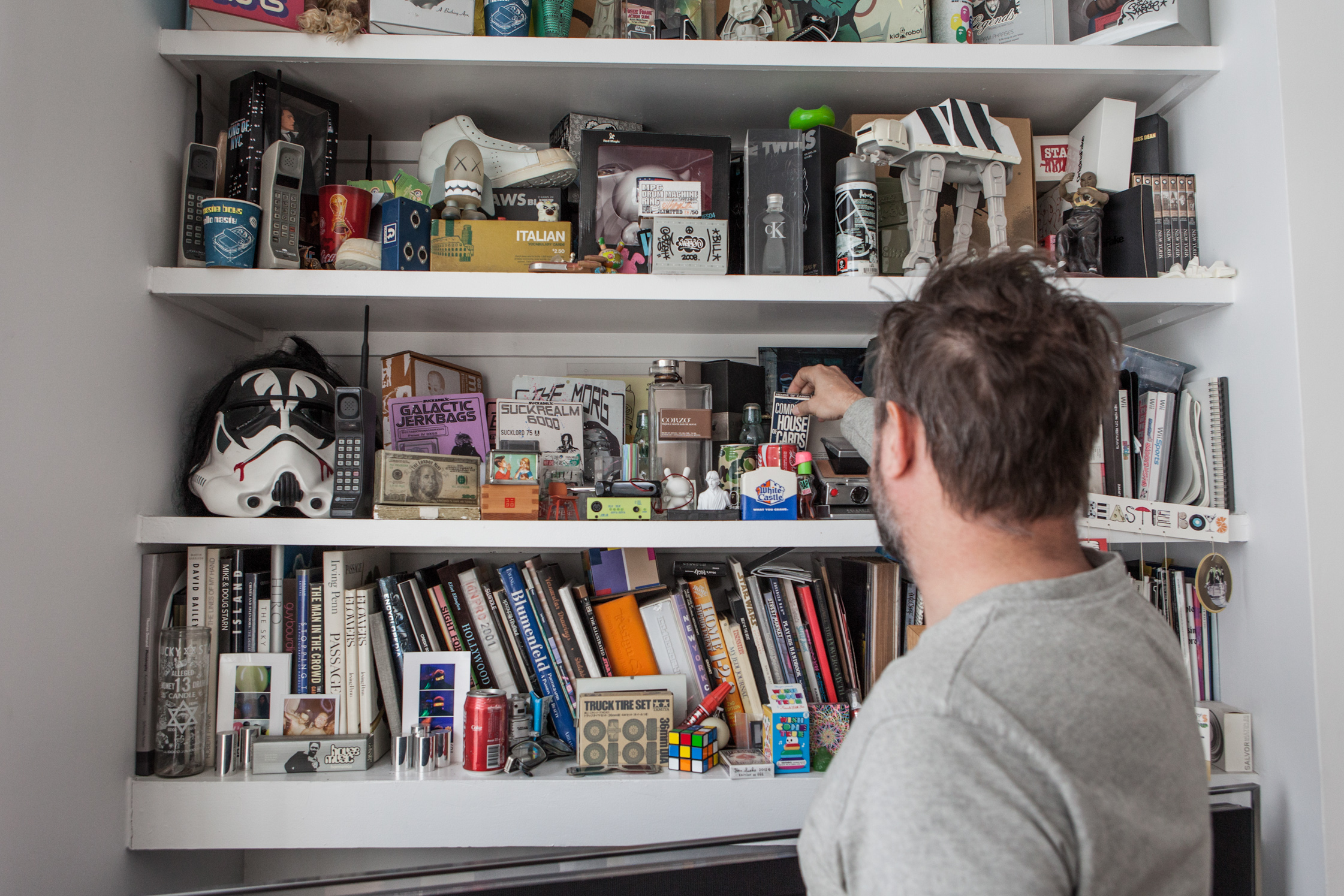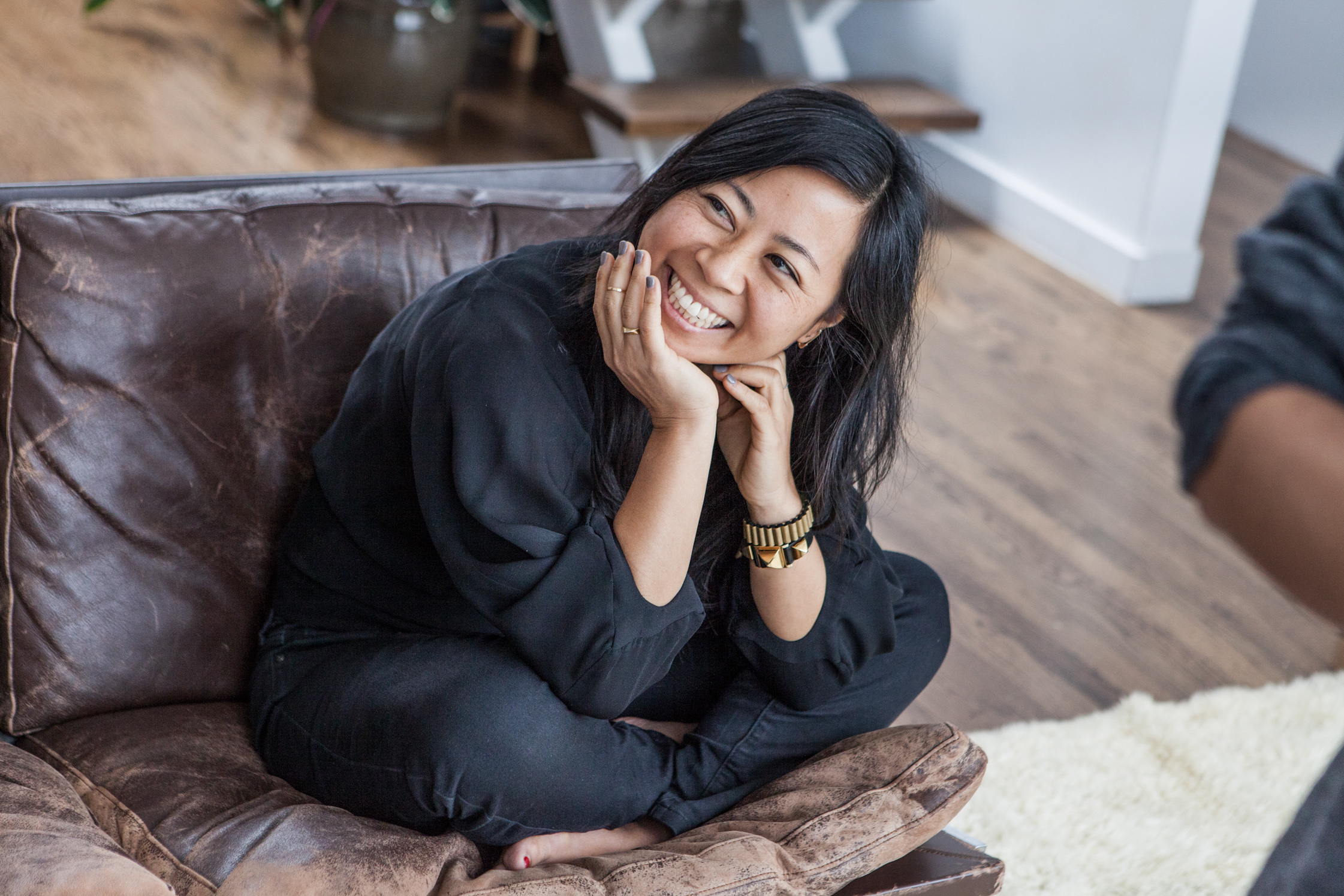 Both of you have been in New York for quite some time and you met each other here. Give me the story.
Bill: We first met in New York around the late-nineties, and a friend of mine started working for the studio that Yuki was working at, Baron & Baron. I think Yuki had been working there for a while, and one day we just started talking about Eames chairs.
Yuki: That's right, we talked about this one vintage blue Eames side chair that we both wanted from our friend's shop.
Bill: And Yuki ended up getting it!
Yuki: I did! And so we bonded over furniture and design.
What are your first memories of New York?
Yuki: Well, I grew up just around the corner, right around West Broadway. I've since lived in Chelsea and the East Village. Now I'm back in Soho and when I walk to work, I walk the same route that I used to walk going to grade school when I was little, because they're both in the West Village.
Bill:I grew up in San Diego, so coming here was crazy to me in terms of the seasons changing so dramatically compared to California. I would walk outside and leaves are blowing, and things like my apartment being freezing in the winter and hot in the summer. And then within six months of moving here, I started working for Def Jam, which was great.
Speaking of Def Jam, I feel like the work you did there and the relationships you forged there still have resonance today.
Bill: Absolutely. It was a massive, formative time for me. That's all I wanted to do when I moved to New York, design album covers. And just to be at Def Jam, with all the artists and DJs coming in, and seeing all these underpinnings and machinery behind the scenes to hip-hop, and how amazed I was.
What's your favorite memory of that time?
Bill: Wow. I mean, I love the whole time. In retrospect, it was a lot of seeing how the industry worked. Artists would come in and their record would be due in six weeks or something, and they would need to record say, seven tracks. It was crazy to me, how these guys would be doing it at the last second. Guys would be writing their songs, as they were walking into the studio. They'd have a legal pad and be writing their lyrics.
And Yuki, you've been working with Fabien Baron for quite some time. How has that been?
Yuki: It's been almost seventeen years now. I've been able to work on things like Margiela [fragrance] bottle designs, store designs for NARS, and commercials for Calvin Klein. I spend a lot of time at work and traveling on shoots so its nice to come home to overgrown plants and skylights. It's very peaceful. 
A while back, he did an interview about his new apartment at the time, and he talked about how he tried to reduce the number of visible seams around the space, like the electrical outlets and such.
Yuki: Right. Seamless. I think he also had some holes in the floor that were covered up. You would be able to open it, and then it would be a plug, things like that.
Bill: Seamless, like our kitchen!
Yuki: The thing about our kitchen is that I had originally wanted it to be one piece of marble that was fifty to a hundred years old, where there might be marks from a pastry chef or something. But the stone countertop you see is about as big as it could be.
Bill: We cook a lot mainly because of the kitchen. Having a good kitchen to work in, it's a lot of fun.
Yuki: And growing up, it was always around the kitchen, with my Mom cooking. And so we spent our lives in the kitchen. Everything happened there.
Bill: I think it's also this thing where in a lot of places, especially in this city, the kitchen isn't big enough to do that. And I feel very fortunate to have this kitchen.
A standout feature of this apartment is the shelves and all the great objects. Can you guys each pick out one piece that means the most to you?
Bill: Oh! I can tell you right off the bat which one it is for me. The Computer House of Cards, designed by Charles Eames for IBM. It's a house of cards, but it's the special IBM Computer one, from the 1960s. My Dad got this for me at a convention back then. This means a lot to me. My father was an industrial art professor, and so growing up, I was surrounded by a lot of art and objects. I realize now, how much of it was this California design mentality. My father's passed away now, but just looking back on this, I was ten years old and it's still such an influence on me. So this is probably my favorite, most prized piece. Just the mindset of Eames is an influence on everyone, primarily designers.
Yuki: For me, my favorite is actually something Bill picked up from the street. It's the wooden World Trade Towers. At the time, I thought, we have a lot of things in the apartment, and I wasn't so crazy about it. But then, over the years, it's become really something.
Bill: We were living down on Reade street, in 2002, and there's the fire station on Duane street. And in the weeks following 9-11, the station was clearing out all these things that had been given to them by people and neighbors. There were a bunch of dried out flower wreaths, posters, and handmade things. These towers were sitting in the trash pile, made by someone who wasn't necessarily a craftsman, like one of the sides is particle board, and the windows are all hand drawn, and it's put together with drywall screws. But I look at them now and I think that it's just this really great, heartfelt, folk-art expression.
Yuki: For me, my Dad had visited the towers at the time they were being built and under construction, and so I remember seeing pictures my Dad had taken during that time. Now, it's something special for me to see these every day, just to know they're there. You know, I miss seeing those towers.
I noticed a lot of the vinyl collection has been moved out to your studio in San Diego. Anything still here that you've worked on?
Bill:I worked on this one a little but, not really that big of a deal. It's the 'Sounds of Science' Beastie Boys box set thing. I did a lot of graphics with Adam [Yauch] for Beastie Boys record covers and stuff, and we had talked about how I thought that there should be a numbering system for this box set. So when they were actually made, he saved me number one, and I think because I had been such a big proponent of this numbering system, he gave me the first one. It was more just like a "Bill you're such a spaz about numbers, so I saved you number one" type thing.
Another one that's special to me is this Gang Starr record, Daily Operation. I got this signed. Guru's one of my favorite MC's, my favorite Gang Starr record. "Stay cool, stay in effect". I actually got to do the graphics for one of his Jazzmatazz records, so this one is really cool.
My favorite thing that you've made over the years is the Shuttlemax. What's the story behind it?
Bill: It started out as a drawing that I had made for a t-shirt. It's based around the Nike Air Max 95, which is my favorite shoe, and the Space Shuttle. It was a project I did with Kid Robot, which ended up taking over a year. There were a couple setbacks but then it finally got done. When it first came out, it really didn't do that well. But then what happened was, Kid Robot started making clothing, so that brought in a bunch of people that were sneakerheads, and then it sold out. I think the audience changed and the people that would get what it was – they were now coming into the store. I made two different colorways, the lime-green one and a red one. The lime-green one is the iconic colorway, and it's the one that most people react to. But yeah, I like this toy a lot.
Your last show in L.A. featured a lot of the wooden gear systems you've been working on the past few years. How has this series been coming along?
Bill: Yes, I've been kind of developing them, and I've been making more and more of those things. It's all kind of based on the fact that most of the things that all of this equipment can do or did, or was needed for, is now handled by software these days. And so the actual tactile interest, the buttons and the knobs, etc. are what's interesting to me now. I kind of had this epiphany that I'll just make these things that are all about the buttons. I think a lot of people react the same way, they just really like all the buttons and knobs, whether it's wood or it's real. Then I started making them out of finer wood, using better machines, making higher quality ones, and exploring making them out of cement. It's mostly what I've been working on out in California. I've got a nice big wood shop out there that my father had built. It is the wood and metal shop right next to the house. My parents built it, and I'm using it now.
Looking at the wood pieces in a way reminds me of your staircase here.
Yuki: It was a two way stair thing. It was originally here [points next to kitchen] but then it was other there. It went so far, it was so big.
Bill: There was probably only about six feet between that and the wall.
Yuki: So we had to engineer this sort of streamlined way to have it fit…
I think this works though.
Yuki: Yea, the no-rail look. The city won't like it, but we do.
You just can't have any kids running up and down there.
Yuki: Or friends going for a smoke on our roof deck. You know, that reminds me of something! I have this fun object that my parents gave out at their wedding!
Bill: Ah yeah, that's a cool object!
What is it?
Yuki: It's this design object that my parents gave to guests at their wedding, it's an ashtray.
Bill: It's interesting, there's no indications or marks anywhere.
Yuki: I think they just liked the artist and the form of it.
Bill: Wait, it's Olivetti!
Yuki:Really!
Bill: Were they trying to encourage people to smoke?
Yuki: I know, that's what I'm wondering now!
Thank you so much for your time, guys. Check out Bill's art here and take a look at the work Yuki produces on Baron&Baron's official website.
Interview & Text: Gabriel Kuo
Photography: Saul Metnick