The Danish entrepreneurial duo on IKEA hacking, sustainable design languages, and why quality and affordability don't have to be mutually exclusive.
It may seem like a strange turn of events for a business marketing executive and a construction engineer to suddenly enter the kitchen industry, but for Michael Andersen and Jeppe Christensen, it made complete sense. "I've always been interested in design and architecture," says Christensen, who first conceived the idea for the kitchen company Reform in 2015. The name came from the company's desire to offer customers an opportunity to 'reform' their box standard, neutral kitchens—and everyday lives—with innovative design. "One of the main reasons for creating Reform was that we couldn't find a brand we could relate to," adds Christensen, explaining how he took a cabinet-making course in his hometown and the company's current base of Copenhagen before inviting former Bjarke Ingles Group employee Michael Andersen onto the project.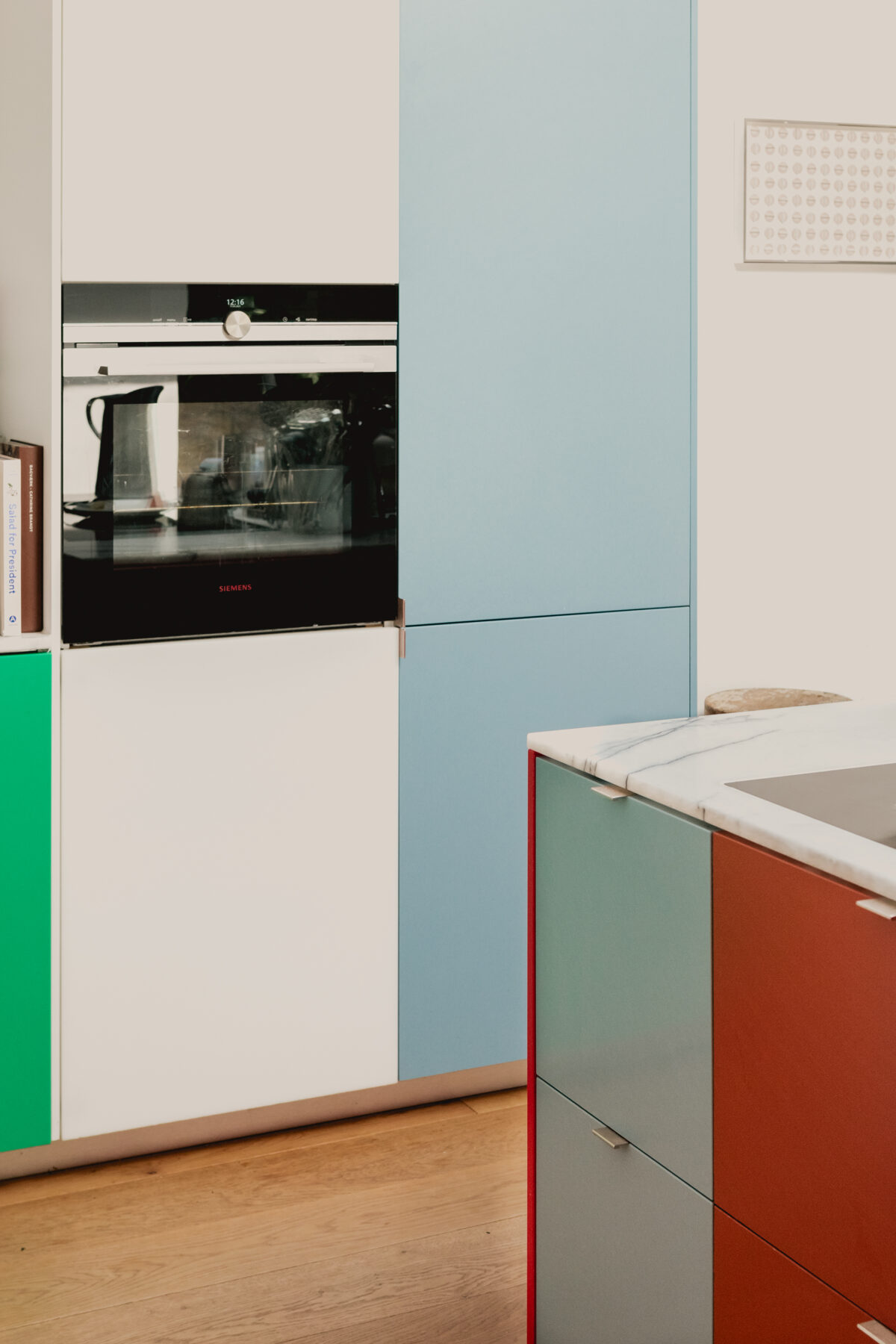 Once united, Andersen and Christensen began to channel their frustration with bland kitchens into their unique business model. This process involves commissioning acclaimed designers from all over the world to conceptualize each new series and to imbue them with their unique approaches. "That's the real DNA of Reform, to be innovative, to move forward all the time, and to push the boundaries of great design and aesthetics," says Christensen.
To date, all of Reform's kitchens have used IKEA cabinets as a base, adding newly produced fronts onto the modules in a process called "IKEA hacking." By utilizing the Scandinavian furniture company's renowned modular system, Andersen and Christensen enable their customers to mix and match different elements and cabinet fronts together in accordance with their taste. For example, Danish fashion designer Stine Goya had a pure golden brass kitchen fitted in her head office in Copenhagen using modules from Reform's Chelsea series, which also includes blush pink and grey cupboard doors. "We want to allow all of our clients to be able to show their personality with their choices," says Christensen.
"We've promised each other we're never going to go for the safe choices." – Michael Andersen
Reform's new aim is to move away from their IKEA roots and to produce entire kitchens themselves, as working with premade bases was a matter of utility rather than an end goal. "Working with IKEA was actually just a really fast and smart way to enter the kitchen industry," says Christensen. "When you're starting a company, you really need to just go ahead and do stuff so you can gain some momentum."
But even though 'IKEA hacking' isn't Reform's main focus, using it as a springboard has helped them identify other aspects that they want to make fundamental to their practice. "When we first had the idea to work with pre-made modules, I realized that it gave people the ability to upgrade their existing kitchens," says Andersen, who goes on to explain that upcycling and sustainability are important facets of Reform's design ethos. "Every time we work on a new design we ask ourselves: is it possible to reuse or recycle material as part of it?" he adds. The best example of putting this into practice is the 'Up' kitchen. Produced in collaboration with Danish architecture firm Lendager Group, it is made out of recycled wood from the factories of renowned flooring manufacturer Dinesen.
According to Christensen, sustainability isn't just about using recycled materials but also about creating sustainable design languages. He points to the sleek wooden chair he sits on. "This was probably designed around 80 years ago, but it's still contemporary, it's still something that you want to have in your home. If we can design kitchens like that, that's probably the most sustainable way."
"There's no competition between us. We both want the same things for the company and we always talk about Reform as our joint venture. We can't imagine doing it without each other."
Having an eye for timeless design is something that is part of Andersen and Christensen's heritage: hailing from Copenhagen means that they are following in the footsteps of a long history of Danish designers and companies. "It's important for us that things are well designed and have a beautiful aesthetic language. So definitely we are bringing something from the Danish tradition of great skill, craftsmanship, and well-produced design, furniture, and architecture," says Christensen. But that doesn't mean that Reform limits themselves to producing Scandinavian style kitchens, or just working with designers from their native country. "We don't really care if people are Danes or Japanese, as long as they produce really good designs," adds Andersen.
One example of a design duo Andersen and Christensen have commissioned are the renowned Belgian creative duo Muller van Severen—who we profiled on Friends of Friends back in 2019—whom Andersen notes are a perfect example of how Reform aims to push boundaries. "They have a different, more artistic approach to what design is," he says, referring to the fact that the pair trained as sculptors and photographers before progressing into creating functional furniture. Named 'Match', their Reform kitchen mixes together classic brass handles and smooth marble countertops with playfully colored wax-like polyethylene, which is usually used for chopping boards and is the duo's signature material.
Experimenting with unexpected materials is somewhat of a theme for Reform, as other designs of theirs have used tombac—a brass-like alloy—and even the material commonly used for seatbelts as cabinet handles. "It's not a safe choice to pick materials that are not normally used in kitchens," says Christensen. "But we've promised each other we're never going to go for the safe choices," adds Andersen enthusiastically. "The kitchen industry has been the same for 80 years: people are still making white kitchens out of chipboards," he continues. "Things don't necessarily have to be expensive to be good quality and well designed," Christensen adds, who explains that Reform keeps their costs down by selling directly to their customers and outsourcing production to existing factories. "Most of the designers we work with also think it's really fun to design for normal people," says Andersen. Currently, they are working on new kitchens with Jean Nouvel, which they will release this year, and Aspekt Office, an up-and-coming studio based in Copenhagen. "Jean Nouvel comes from an architectural background, whereas Aspekt Office comes from a product design background. The processes are completely different," says Christensen. "When you work with architects they focus more on the bigger picture, whereas when you work with a product designer they look more at the detail. I enjoy both approaches."
"Things don't necessarily have to be expensive to be good quality and well designed."
– Jeppe Christensen
Looking to the future, Reform's main aim is to expand into new markets. One of the first countries outside of Copenhagen they focused on was Germany, where Andersen and Christensen relocated from Copenhagen two years ago. Living together in a flat in Berlin, along with Christensen's soon-to-be wife and kids—with their very own Reform fitted kitchen of course—the pair show no signs of straining under the pressure of spending nearly all their time together. "There's no competition between us. We both want the same things for the company and we always talk about Reform as our joint venture. We can't imagine doing it without each other," says Christensen. "I think the fact that we weren't friends before we started the company has been super important. It's not that I don't think you can work with your friends, but it can be hard, especially if you have different ambitions or ways of working. It can really negatively affect your personal relationship." Outside of work, the business partners and housemates enjoy going for bike rides together. "It's a good way of getting some exercise, fresh air, and talking at the same time," says Christensen, who admits business does creep its way into the conversation from time to time. "Not when we're cycling uphill though!" adds Andersen, laughing.
Now firmly rooted in Germany, with showrooms in Cologne, Hamburg, Munich, and their new hometown of Berlin, Reform are setting their sights further afield. Having already opened showrooms in New York and Santa Monica, they see a lot of potential in the U.S. for a European style kitchen brand. "There's no way we could just stay in Denmark and think we could conquer the world," says Andersen. "I think the main thing we want to do is push boundaries, and we're going to keep doing that. I don't really know where it ends."
Michael Andersen and Jeppe Christensen are the founders of Reform, an innovative kitchen company placing experimental aesthetics and design at the heart of their business. With many projects on the way, Reform is in the process of working with designers from UK, Germany, Sweden, and France, and has previously collaborated with designers based in Denmark, Belgium, and the U.S.A. To learn more about their work visit their Instagram, or stop by their newly inaugurated Berlin showroom in Kantstraße 21.
Text: Emily May
Photography: Aimee Shirley