The artist and co-founder of carbon neutral power station and contemporary art center E-Werk Luckenwalde on the art of electricity, supporting culture with site costs, and why we have to start thinking differently about materials.
"If I had not gone into art, I would have definitely been an engineer," says Pablo Wendel, who admits he has been fascinated by technology since he was a child. Having originally made a name for himself for his work across performance, installation, and video art, for the past ten years, the German-born artist has been working with electricity as an artistic medium.
Wendel's decision to work with electricity was the result of a personal crisis. "I was really struggling financially. I started to ask myself how it may be possible to continue to be an artist but with more autonomy," he explains. "One of the most basic, but fundamental, questions that came up was how I was going to pay my electricity bill, which I couldn't afford at the time. It made me think: I'm skilled, why can't I produce electricity myself?" And so began Wendel's focus on generating "kunststrom"—electricity which is produced through artworks or artistic methods, whether they be sculptures, performances, or installations—which he now supplies to commercial clients and individuals through his artistic enterprise, Performance Electrics gGMBH.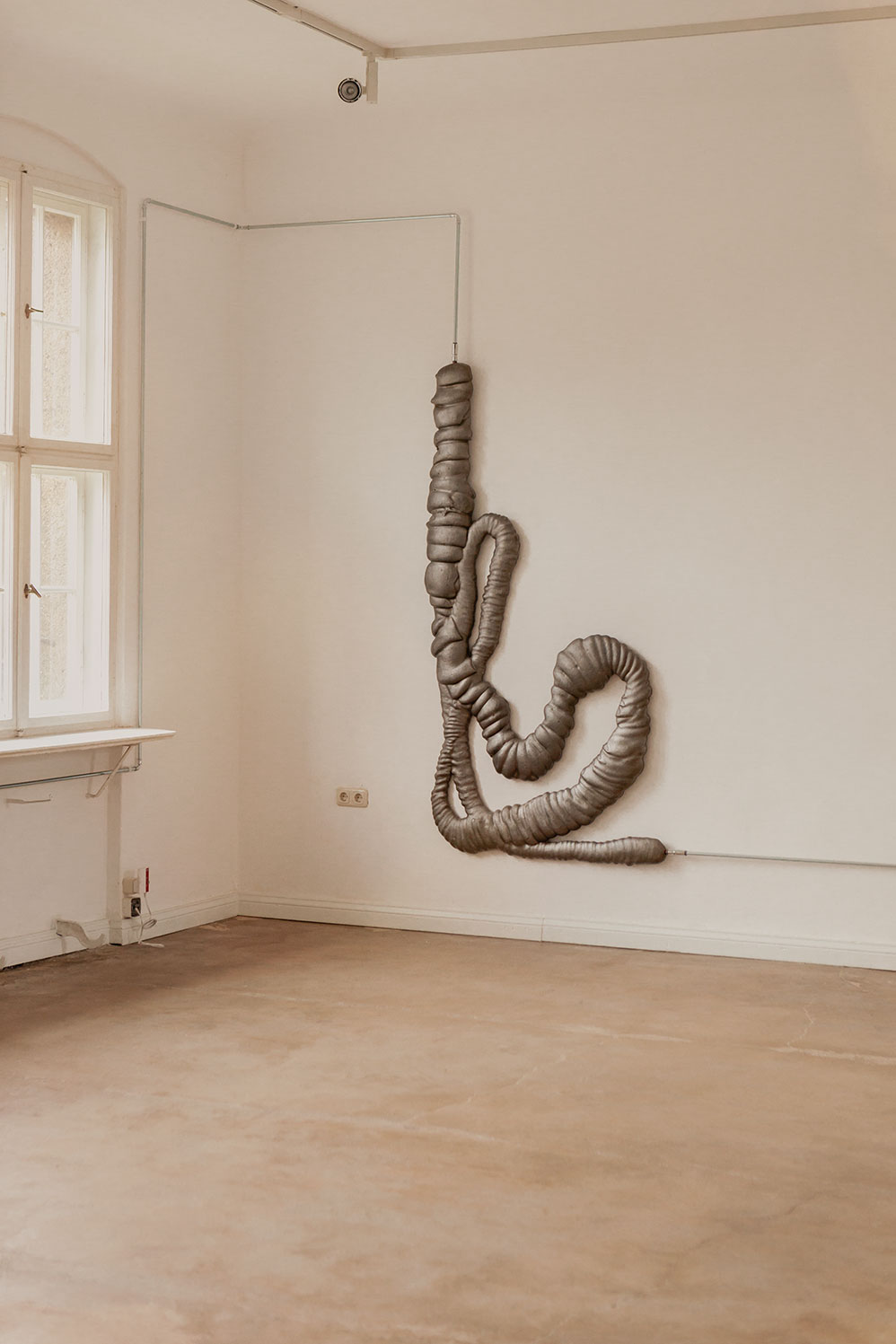 While transitioning from his initial artistic practice to energy production may seem like a drastic change in direction, Wendel believes there are, in fact, many similarities between art and electricity. "Paint itself isn't art, it's the way the artist arranges it onto the canvas that makes it an art piece. In the same way, when you're producing energy, if you use technologies like generators or certain cables in a different way, suddenly they produce something new and exciting, which I see as works of art."
One of the most unique ways Wendel has worked with electricity during the past ten years has been by collecting tiny amounts of energy from stars 36 light-years away. Using high tech solar panels borrowed from Karlsruhe Institute of Technology, a research University in Karlsruhe, and "super caps" from Berlin's Technical University, Wendel and his team spent long night shifts collecting light from the stars, eventually—after 80 hours—ending up with a small battery capacitor filled with energy from another galaxy, which they used to power a miniscule LED light in a dark exhibition room. "It took five minutes for people's eyes to adjust to the darkness. When they did, they could see this tiny light. Some people started crying, it was extremely poetic."
"When you talk about energy, you always think about how much you produce or use, but no one questions how much you need to change something, or to build up a new infrastructure, even if it's a sustainable one."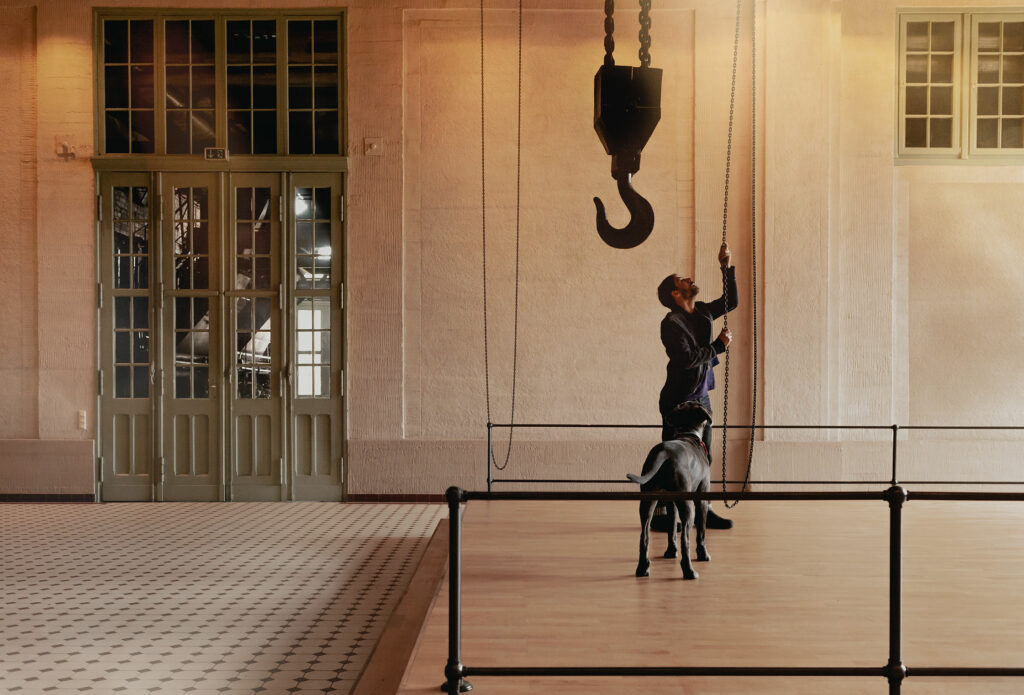 Nowadays, Wendel produces electricity in larger quantities at E-WERK Luckenwalde, a former brown coal power station located 30 minutes by train outside the German capital. After buying the property three years ago—though it only officially opened to the public last year—Wendel has transformed it into a sustainable, carbon neutral kunststrom factory, which is produced by burning locally-sourced spruce wood chips, rather than coal, in one of the station's four furnaces. This process produces wood gas, which is subsequently cooled, filtered, and transformed into electricity using a generator in the basement. A gargantuan undertaking, the project has relied on the support of many volunteers from all over the world, as well as the knowledge and expertise of local residents who used to work at the coal power station before its closure. "Some of them were a bit skeptical in the beginning, but then they became so enthusiastic and came to visit so many times," says Wendel. "You can tell it was very emotional for them. Some of them spent their whole lives here. This building survived two wars, the DDR, and the fall of the Berlin Wall. It's seen so much history."
But there's more to E-WERK's sustainable ethos than just avoiding fossil fuels. "When you talk about energy, you always think about how much you produce or use, but no one questions how much you need to change something, or to build up a new infrastructure, even if it's a sustainable one," says Wendel, explaining that while brown coal power stations are currently regarded as pollutive relics of the past, repurposing them and not wasting their existing resources is more sustainable than building eco-friendly systems afresh. E-WERK also follows this principle by sourcing and fixing up machinery from skips. "Think about how much energy you throw away when you discard precise machines made of pure steel. We have to start thinking differently about materials. E-WERK may not produce as much energy as others, but we save a lot. That brings us into a good balance."
Currently, E-WERK provides kunststrom to 35 clients under the name Performance Electrics. "We're probably the smallest, not for profit energy provider in the world, but I always say we're the most beautiful one," says Wendel proudly. "Even if it's only a homeopathic dose of kunststrom that we're feeding into the national grid, I believe it will influence our society and economy. It feels very subversive. I love it." In the future, the artist believes that more people, especially cultural institutions, should switch their energy provider to kunststrom. "Museums use a lot of energy to cool and preserve their art. They end up spending more money on side costs than they do on supporting young artists. But the minute they start using kunststrom, they will be able to do both at the same time."
Wendel is referring to the fact that revenue generated by kunststrom is fed straight back into E-WERK, which is not only a power station, but also a contemporary art center spearheaded by the artist's partner Helen Turner. Formerly the chief curator at Cass Sculpture Foundation in West Sussex, U.K., Turner has developed an exciting ongoing programme of artist residencies, exhibitions, and events, all of which respond to kunststrom and its sustainable, subversive ideals. The programme also responds to E-WERK's local surroundings. "My worst fear would be to create this contemporary art island in the middle of Brandenburg that doesn't discuss its context," says Turner, adding that the entire program is free in order to avoid creating a barrier between art and the community.
"Especially in this area, you have a lot of right-wing movements. We try to invite them in and be in discussion with them," adds Wendel, who is particularly passionate about the need for creatives to migrate from oversaturated urban areas to rural locations. He's not the only one: renowned Berlin-based artists such as Dahn Vo have also moved to Brandenburg in recent years. "Artists suffer so much in centralised cities because everything is so expensive. This makes it difficult to produce. But if you head 5km out of the city, you can find so much empty space, and have entire warehouses to yourself. It is so important to develop more creative islands, where the independent production of art and cultural exchange is possible."
To date, E-WERK's programme has included their first Power Night: an evening event in 2019 curated by Katharina Worf and Louise O'Kelly of Block Universe, which featured performances by internationally acclaimed artists such as Nora Turato and feminist punk band Charasmatic Megafauna. The latter took place in E-WERK's geodesic dome, an outdoor performance space designed by Stuttgart-based art collective umschichten. "When we were building the dome I was heavily pregnant: it felt like its growth echoed the growth of my belly!" says Turner with a smile. This observation is all the more relevant when she adds that for the second Power Night, artist Tabita Rezaire will transform the dome into a "moon center" where visitors can learn to become doulas, companions who support women during labor and birth. Taking place between 22nd October 2021 and May 2022 (a date has yet to be set due to the pandemic), the Power Night will be curated by Lucia Pietroiusti, the general ecology curator of London's Serpentine Gallery and the curator of Golden Lion winning beach opera Sun Sea (Marina), which will also be performed at E-WERK on 17th and 18th July 2021.
One of E-WERK's largest projects in 2020 year was the opening of TRAFO, a low carbon, bio-gas fuelled kitchen located in one of the station's outbuildings, which has been reimagined by artist and designer Samuel Treindl. "He came up with this really nice idea where instead of adding new materials, he removed those that were already inherent to the architecture," explains Turner. "For example, the tables outside the restaurant are actually large, concrete slabs that used to be the walls. The seats are also made from old scaffolding sourced from local industry." Indonesian food and performance collective Soy Division were the first to cook in the newly opened kitchen, which also hosted a variety of other chefs as part of workshop series Essen Für Alle. Guests of the programme have included the Studio Olafur Eliasson kitchen, who ran a sourdough cooking workshop, Luiza Prado de O. Martins, who served a banquet exploring how to circumvent the problems of colonialism and capitalism with food. Next is Eliza Mozer, who will prepare a menu responding to the concept of autonomous systems.
The coronavirus crisis not only forced E-WERK to put plans on hold, it has also put its sustainable model to the test. "Even though a lot of funding has been cut and we had to postpone the program, we could still cover all our overheads from the income we generate from being an electricity provider," says Wendel. "And of course, we always had warmth and light, because we produce it ourselves. As a society nowadays, we are so technologically developed, but we are not resilient. This means that very simple things such as a virus or a black out can incapacitate a whole country, continent, or even the world," he adds, citing how we currently rely on just a few big companies to provide us with energy. "All the money from thousands of people goes into them, creating a huge imbalance. If something goes wrong with one of them, this means that the effect is astronomical. I'm really interested in creating smaller structures on a local level, so that if things go wrong, people can fix them themselves and have a level of independence and autonomy. This is something we need not only in the art industry, but in society as a whole."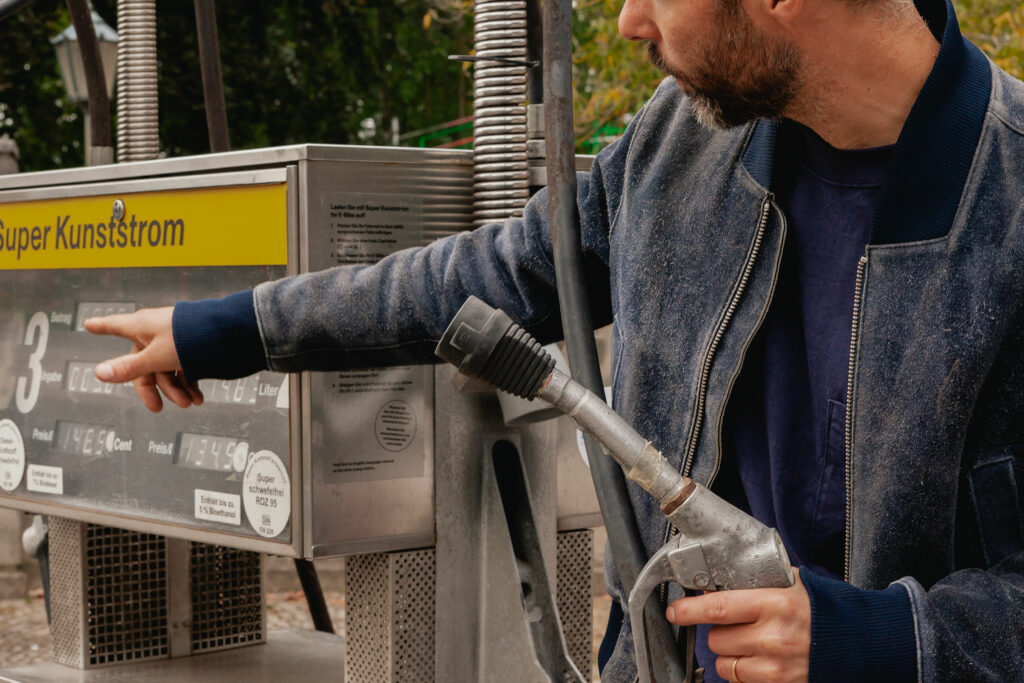 E-WERK Luckenwalde is a carbon neutral power station and contemporary art institution in Brandenburg, Germany. Founded by artist Pablo Wendel and curator Helen Turner, the station currently provides kunststrom—electricity generated through artistic means—to 32 clients, as well as running a diverse programme of events and exhibitions.
Text: Emily May
Photography: Aimee Shirley