Becca Barnet recently created an installation with 500 honeybees, each one delicately preserved by hand and hung from a honeycomb of recycled materials at Charleston's Halsey Institute of Contemporary Art. Originally from Spartanburg, South Carolina, she came to Charleston by way of New York City where she worked for the American Museum of Natural History. Wanting to leave the big smoke, it was here that she started working in a very particular role: creating and restoring taxidermy exhibits. Her historic downtown home is a testament to her quirky aesthetic and interests that, admittedly, not everyone may share. Her interior houses plaques of rotted teeth, glass jars of formaldehyde, blankets of soft furs and, to top it off, a mounted lobster.
The 25 year old lives with her boyfriend and bull terrier on a street laden with old gospel churches and groups of young university students. Intertwining the old and new, Becca has developed a way to pursue both her passion for wildlife preservation, and contemporary design. Incorporating her drawing, drafting, sculpting and stuffing talents she has started her own business, Sisal and Tow. While showing us around her abode, she discusses how she came to find her beloved profession and the fine beautiful line that defines taxidermy.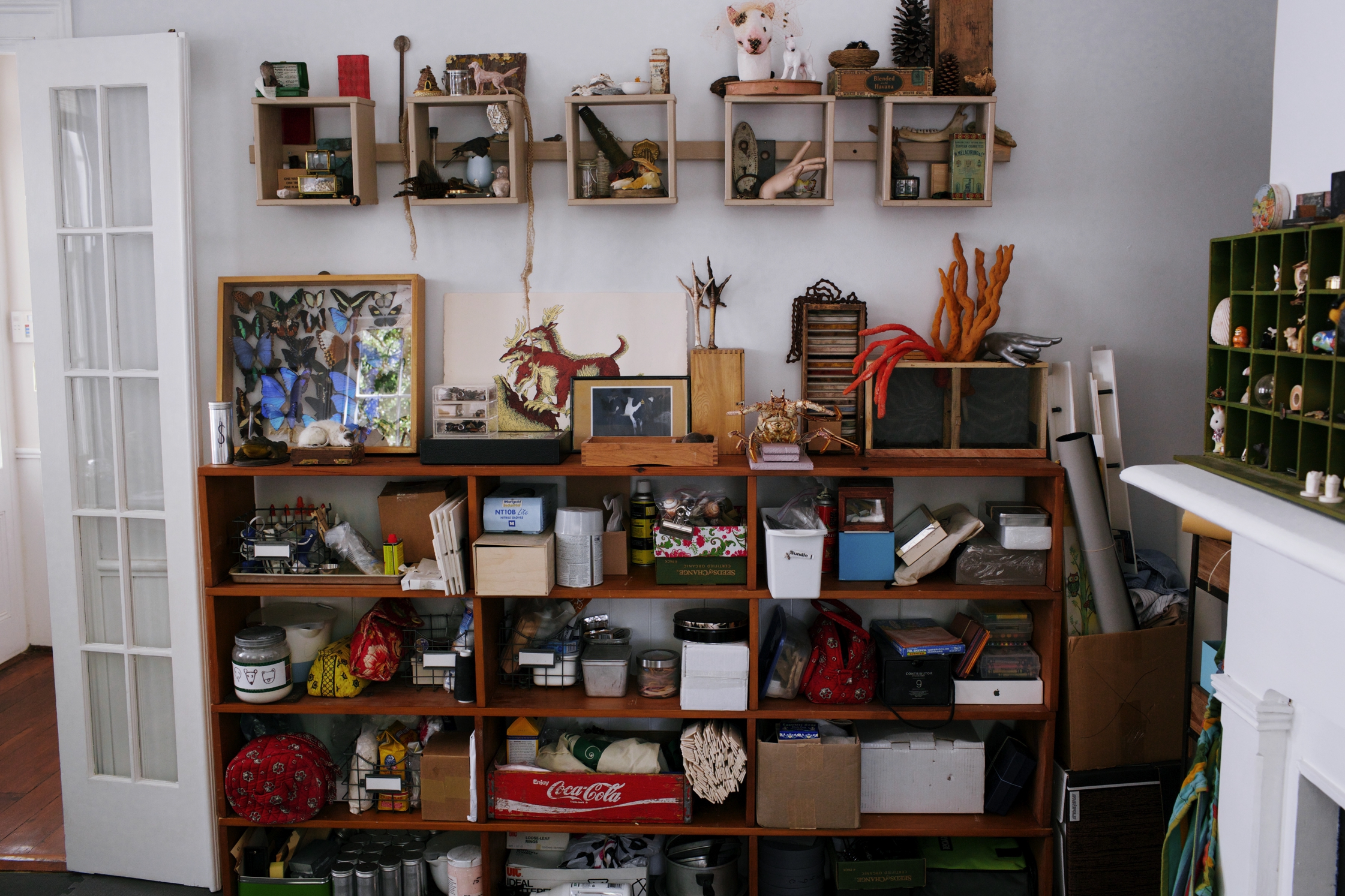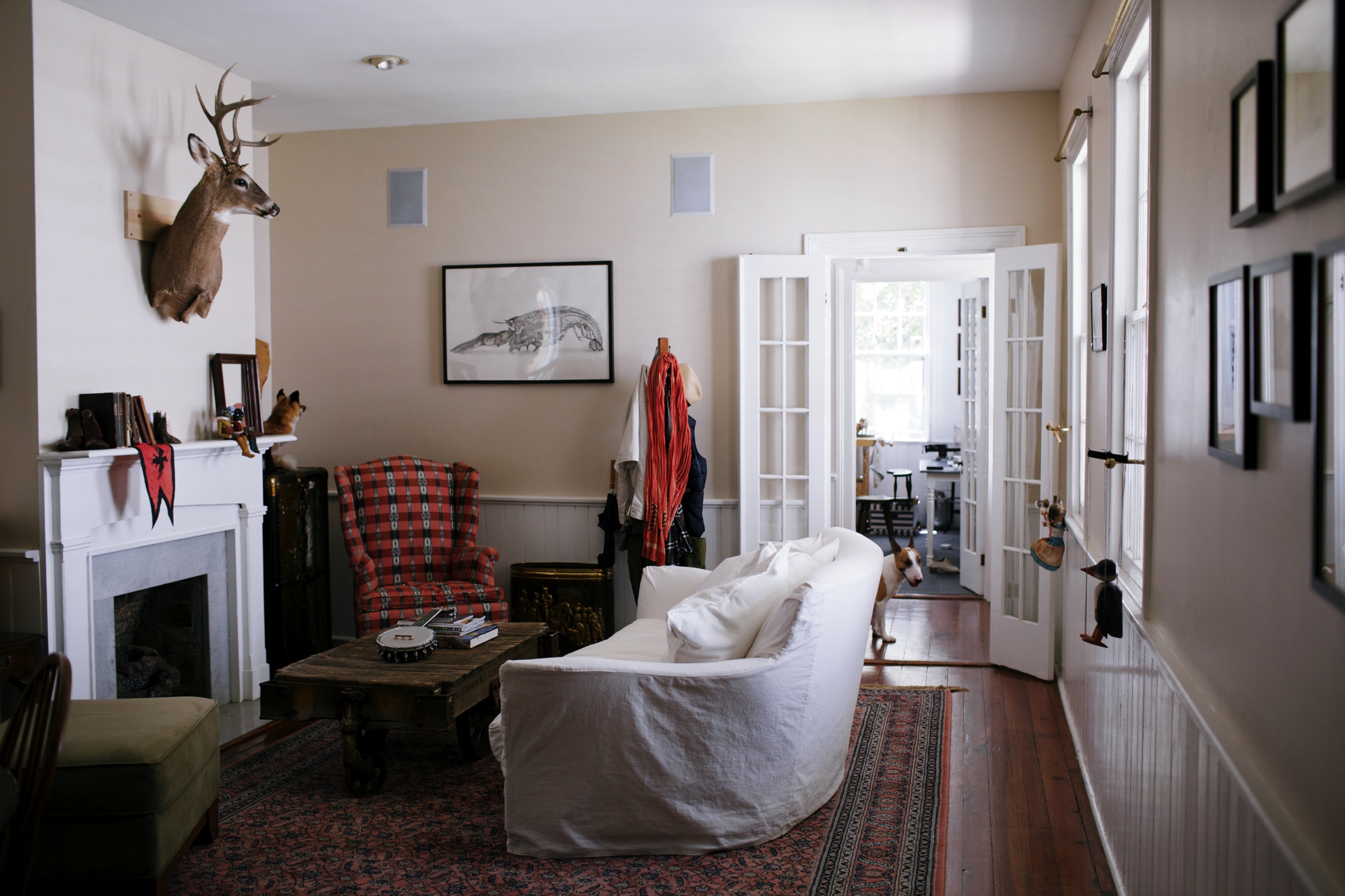 You are making a name for yourself as a young, female taxidermist. How do you explain to people what you do?
Yes, people do say that, but I'm not sure I want to be known for just taxidermy. I usually say that I create custom pieces of artwork for public spaces such as window displays and restaurants. Anything that you can't buy at a store, anything that you have been dreaming up to enhance a space, I try to fabricate it. I often incorporate taxidermy because it is one of my passions but it's not the only thing that I do.
How did you get into such an unusual art?
When I was in my last year at the Rhode Island School of Design, I knew I needed to explore what I was interested in. As I started putting the pieces together, I realized that I really like preservation, old photographs, and anatomical drawings. I like storytelling and the act of drawing as a way to remember something. I went the Missouri Taxidermy Institute for a six-week intensive course and fell in love with it. After I finished college, I went to New York City for two years and worked on and off for the Museum of Natural History. When I came to Charleston in 2011, I knew I wanted to pursue taxidermy as an artistic passion.
What brought you to Charleston?
I came down here by the seat of my pants and knew that I would figure it out when I got here. I rented a place downtown that was twice the size of my apartment in New York and I didn't have to share it with anyone except my dog Bruce. I took classes at the American College for the Building Arts – this really cool school located in a 19th Century jail. It served as an excuse. I said, "Hey, mom and dad, I really want to take classes in drafting and drawing." I took one semester there, but then realized that I could do the same thing on my own.
Can you give an example of a recent project?
I recently created four saltwater fish replicas for The Ordinary, chef Mike Lata's new restaurant downtown Charleston. They had already figured out the look for the space and were interested in an ocean shadowbox. I created a sort of vintage diorama of the ocean floor with fish and sea crabs and then we added a bunch of sea fans to enhance the space above the bar. I tried to give a modern twist to the whole design and they gave me free reign to do what I wanted.
Would you also call yourself an interior designer?
I think that I am a designer; my strong suit is sculpting and creating things. I definitely feel confident coming up with new ideas but I am also very open to stepping back and not playing the role of designer. If someone comes to me and says, "My shop window is very barren, I've just been putting paper cups together," I'd love to turn it into something more avant garde.
Tell us about your new business endeavor, Sisal and Tow Fabrication.
Tow is the stuff that taxidermists used to use to stuff animals. Sisal is the twine used to hold it all together inside. It's kind of like my nod to old-world taxidermy. I just formed the business in February, but already I have some really interesting projects. I'm working on a custom deer headpiece for a theater company and also refurbishing the huge taxidermy collection at the Charleston Museum.
What are some of the most interesting animals you have worked on?
Well, I just finished my pet rat. Does that count? She died, so I stuffed and mounted her. I've repaired a walrus and two vintage tiger rugs. I've done a lot of fish and regional species like fox and deer.
I imagine that the taxidermy process is quite messy, how are you able to do it in your home studio?
It's really not as messy as you would think. When you skin an animal its not that bloody, as long as you don't puncture any arteries. I'm very methodical and extremely slow. It only smells bad if you are working with an animal that was particularly stinky, like a skunk or a wet fox. Honestly, it kind of smells like a chicken.
Have you ever had any weird requests?
People sometimes ask me if I'll do pets, but the most pet-like thing I'll do is my own rat. It's really hard to capture a pet's personality in stuffed form. You just can't re-create that light in their eyes. People get really disappointed; it's strange, but they are expecting to get their pet back. For me, that is the fine, beautiful line of what taxidermy really is. Some people see a stuffed animal and think that is the animal, while others just see it as a beautiful object.
Does working with deceased animals make you reflect on life itself?
I treat working with deceased animals as a project. If you start feeling too much emotion for the passing of the creature, it becomes impossible to finish a task. I always explain it with this analogy: You are in the first day of art class and a nude model steps out and poses. You freak. Freeze. This person is naked, and it's terrifying. Where do you look? Do you draw the private parts? How do you get through it? Then, after your 5th day of drawing a nude model, it's a project, not a person. The model is a series of shapes, of negative and positive space. You stop focusing on how arresting it is to have a naked stranger in the room, and you start to see them as something to explore artistically.
For me, that's how taxidermy is. Yes, it's weird when you go to skin an animal, but less than halfway through, it becomes a really fun challenge. When I get around the mouth parts of an animal, I always double- take. For some reason, that's where I relate to them the most. I think it's because when you skin around the eyes, the skin is inside out so you don't see the eyes much. Working on the mouth of an animal makes me feel vulnerable on their behalf.
Do you view life and death quite pragmatically after working in this field?
As for looking at life and death differently, I've always seen death in a strange way. I guess nobody is comfortable with it, but I'm more perplexed and interested in the morbid side of things than I am afraid or unsure. Death is a very sure thing, as is the fact that you'll leave behind a bunch of stuff when you go. It's beautiful to me that animals leave us their exquisite corpses. Preserving them is an honor and a celebratory act.
What does your boyfriend think about sharing his personal space with your creations?
He's really supportive. I think he's pretty proud to have my work around the house. I don't particularly love filling my space with things I feel I've explored, but I think that he enjoys it. His aesthetic is more minimal than mine, so I've been conscious of that when decorating the house.
Do you have a dream project?
Yes, so glad you asked! I have many. Right now I'm repairing some mounts for the Charleston Museum, but the real dream would be to renovate the WHOLE gallery… we're talking dioramas, new museum furniture, the works, and have a pivotal role in the way it's designed and made. I am also currently involved in creating a wildlife museum in Alaska, and if that gets funding, I'll be living the dream. My other dream would be to design and fabricate at least 10 store windows on King Street next year.
You mentioned that you are interested in historic preservation and you just purchased this wonderful old house! What do you know about its history?
The house was built in 1867, right after the Civil War ended. It was one of the earlier houses on the block. I don't know much about its early history, but some neighbors told me that it was severely damaged during Hurricane Hugo in 1989. They said that there was a huge tree coming through the upstairs bedroom wall.
What do you love about your home?
I love the old fireplaces, the hardwood floors, the pointed doorway in the living room, and the four porches that hug the house. Oh, and the studio of course!
What makes you so sure that you want to stay in Charleston?
I'm as sure as I can be at this point in my life. I'm 25, and by no means have I figured everything out in my life. I'd like to be in Charleston at least for the next five to ten years and this is simply a good time to invest. My dream is to build my small business and make things for people. This town is just so supportive of that. We have the arts, tourism, disposable income, old families, young people coming in – all the elements of a city I am attracted to and one that I can actually make it in. After living in New York for two years, I felt a little lost at sea. Charleston has similar elements but on a much smaller scale.
Any tips on where to grab a good bite to eat or drink in Charleston?
My favorite spot to get dinner with friends is Xiao Bao Biscuit. For cocktails and drinks, the Ordinary, and for an easy and delicious weeknight meal, Bull Street Gourmet. A really well-kept secret for lunch is P.I.E. just down the street from my house, which serves fresh-baked bread – including gluten free – delicious veggies and spreads, and the price is so affordable.
Do you have time for any other hobbies?
When I do have a minute, I love playing my ukulele and singing. Most of my free time goes to hanging out with Erik, Bruce and my friends.
Becca thanks for enlightening us on the world of taxidermy! To find out more about Becca's work see here.
Photography: Olivia Rae James
Interview: Kristen Gehrman