"It's crazy that I live here," says Anna Pearson sometimes, when she stands in her garden and looks out over Lake Zurich and the surrounding mountains.
Since the summer of 2014, the Swiss cookbook author has lived together with her sister, Catherine, in Gutshaus Wellenberg, a heritage building in the uplands that lie a 30-minute drive away from the city of Zurich. The trained designer, chef and food editor focuses on sustainable cuisine, and with her home, she has fulfilled a dream. From early summer until well into the winter, she cooks primarily with vegetables, herbs and berries from her own garden. Until recently, Anna has hosted a monthly supper club in her restored third-floor dining room as a continuation of her private dinner series in Zurich, from which itself emerged Zu Tisch., her cookbook.
This portrait is part of our ongoing collaboration with ZEIT Online who presents a special curation of our pictures on ZEIT Magazin Online.
Previously, you've lived in the middle of the city, but now you live in a historic house on a property with 5000 square meters. How did you become the lady of the manor all at once?

When the original owner died in 2006, the house was sold and renovated under the supervision of a heritage conservation organization. When my sister and I saw the advertisement, I knew that I could live out my ideas about slow food here. Catherine and I grew up in Zurich, but it was clear to me that I wanted to have my own vegetable garden. Fresh, seasonal ingredients, grown from sustainable crops, have been important to me for a long time. The house is of course much too large for two people, which is why we live here with a friend and two renters. But acquaintances are also welcome any time.

In comparison with your apartment in the city, you obviously have more room here. Did you have to acquire a lot of new furnishings?

Up until now, we've mostly bought garden furniture. The house itself came a little short until now. The rooms already have a lot of character, so it's much more difficult to find furniture than it is in a newer building. Instead of white walls, we have wood paneling, tiled stoves and parquet flooring.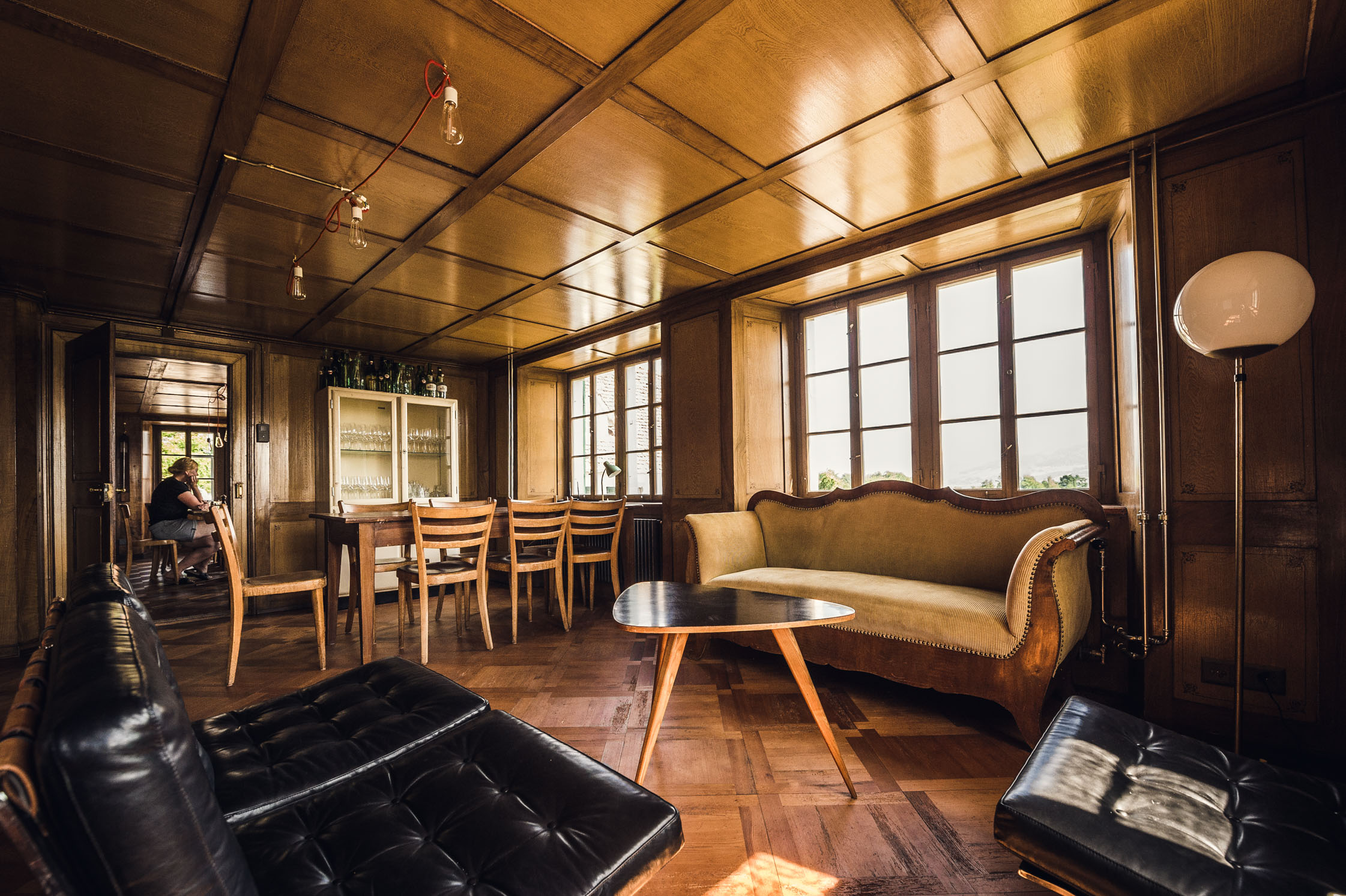 How involved is it to live in a house with such a large property?

To be honest, it's quite time-consuming. But the vegetable garden is less work than you would think. Things simply grow here. Altogether, we have a lot of responsibilities that tie us down to this place – like the chicken coop, for example. On one hand it's really nice, but on the other it's also very involved if we want to get away.

Will you soon be opening your own restaurant?

I'm abandoning the idea more and more. So many aspects of the topic of food are interesting to me. I wouldn't have the time to stand in the kitchen six days a week. Besides that, the working conditions in the gastronomic industry are very challenging these days, in my opinion.
Anna's numerous cookbooks are divided among different rooms in the house. Among them are many international titles: various books by the American slow food pioneer Alice Waters or from the River Café in London are equally represented as well as Italian standards, such as those by Marcella Hazan. Yotam Ottolenghi's successful book, Jerusalem, is also found in the pile. "I always thought, I had a lot of cookbooks. But because of my job, I've met people in the meantime who have entire rooms full."
Aesthetic in cooking doesn't stop at the edge of the plate.
Before you began cooking professionally, you studied design. Why this change of heart?

After my studies at the Zurich College of Art, I was initially employed in the design industry. I realized quickly that I didn't want to sit in front of a computer the whole day, but that I wanted to work with my hands and be in contact with people, create something that engages the senses. So I began as a kitchen helper in my aunt's restaurant in Tessin and afterwards in Italia Restaurant in Zurich, where I learned how to cook from the ground up.

Zu Tisch. carries the mark of a designer. Did you find your way back to design with the cookbook?

After a while, I actually began to miss the longer conceptual work and writing. The cookbook project motivated me to examine the convergence of design, conceptual work and cooking.

Today, my passion for cooking and my background as a designer are converging. I write for the Swiss women's magazine Annabelle, and I write not only my own recipes, but I also design the editorial concept and am responsible for the food styling.
Along with the twelve menus in Zu Tisch., which are each dedicated to a calendar month, the book includes personal stories and portraits of the producers, such as regional cheesemakers and butchers, as well as short essays about ingredients from stewing hen to tomatoes. The book project was realized through a crowdfunding campaign, in order for the two sisters to be able to publicize their own ideas: "Notably, many cookbooks now focus only on one theme: vegan barbecuing, gluten-free cooking, the Paleo diet. I have the impression that our approach to good nutrition is dominated by uncertainty. Above all, it's a shame that food trends often neglect enjoyment." Enjoyment is the starting point in Anna's kitchen, because why adopt a nutritional philosophy if the food doesn't taste good? As a chef, Anna refuses to reduce her nutritional approach purely to health or ecology. For her, food – like everything in life – is holistic. With food, you should rely on common sense: "Everything in moderation."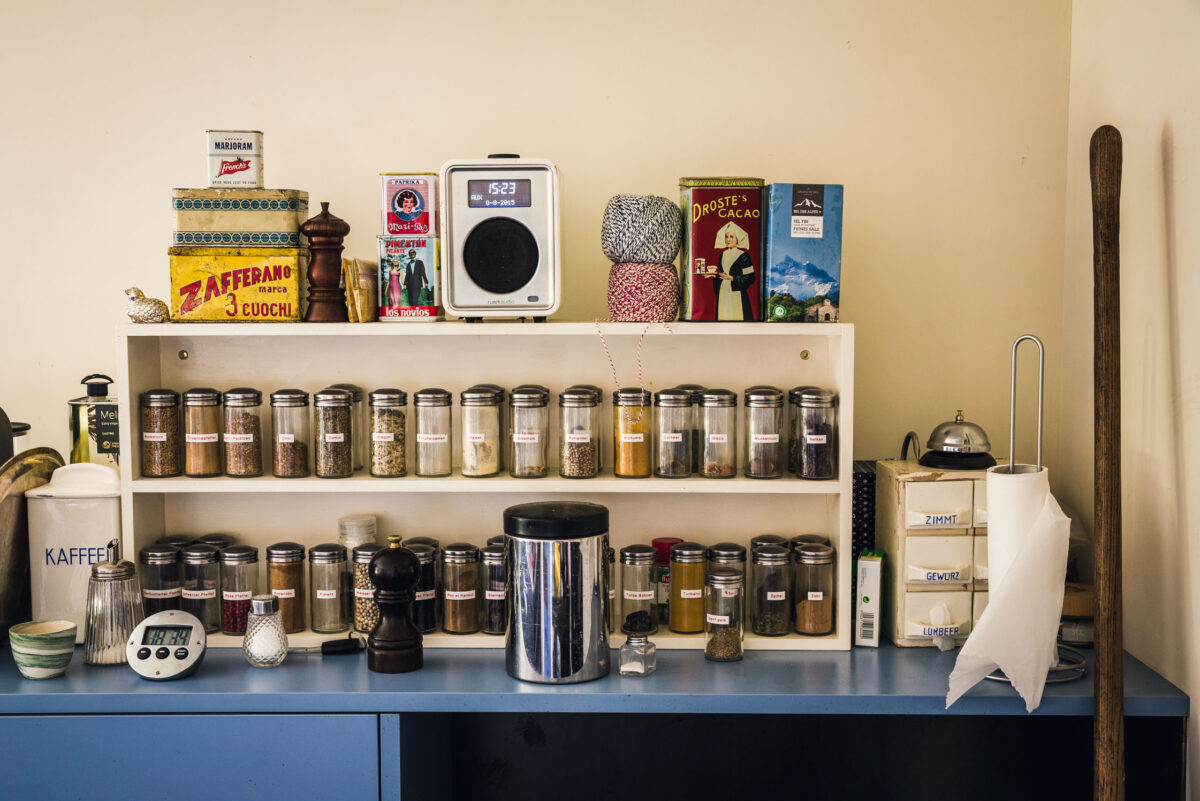 Where does your passion for slow food come from?

I have Italy to thank for that. I was downright in love with that kitchen. For a long time I only cooked Italian dishes. In Italy, I saw the "Slow Food" sticker on the doors of restaurants and began to inform myself about it. Soon after, I joined Slow Food Switzerland. From the beginning, I was impressed by the holistic approach; that is to say, with food it's always also about interconnection, such as with working conditions, biodiversity and environmental conservation.

How does that affect your recipes?

My point of view is that cookbook authors and chefs have a responsibility: they influence how the rest of society cooks and eats. Most of all, it's important to me that people cook intentionally, that they think about where their food originates.

I value an ingredient more when I buy it directly from the producer and know how it was made. Cheese from goats that I have petted simply tastes better to me than cheese from the supermarket, shrink-wrapped in plastic. I have absolutely no reference to those products.

In addition, I try to highlight alternatives. Nuts are a good example: almonds come onto the market mostly from monoculture in California, where the cultivation uses pesticides that contribute to the death of bees. Here, you can switch to organic almonds from Italy or use Swiss tree-nuts. Also, you can often eat more from animals than is commonly accepted. I try to impart this "nose-to-tail" mentality in my recipes. It is really nonsense to convert valuable meat into biogas or animal feed just because we don't know how to cook tongue anymore.
Anyone who shops in the supermarket frequently has to choose between conventional local vegetables and imported organic vegetables. What would your choice be?

I would probably favor the local vegetables, also because organic should actually be standard these days. It's very important that you also go to the farmer's markets, to small, independent businesses or to a farm. There, I find the really exciting products – and the lovely stories behind them. Naturally that takes more time, but it's a pleasure.

What do you say to the argument that people just can't afford a lot of regional, organic fare?

I would gladly provide evidence that healthy, seasonal cuisine with sustainable products is not much more expensive than the standardized diet. Naturally, meat from a happy animal costs more – and rightly so. As long as we're prepared to pay more for a Gin and Tonic than a good cut of meat, something is fundamentally wrong. We should eat less meat anyways, but it should be fairly produced. And if I cook tongue instead of fillet, I've already saved money. A lot of very fine things can be cooked with inexpensive, basic food staples, if you're a little creative.

And how important is the way a dish looks on the plate to you?

I concern myself strongly with this question, as a matter of fact. I'm not a fan of unnecessary decorations that are inedible. I don't mean to say that aesthetic considerations are only superficial. The product is always at the center of my cuisine – my ideas emerge from there about how to approach the preparation and presentation. A fruit salad made of cubed fruits makes no sense to me. Rather, I'll cut a pear lengthwise into slices, for example, to show the natural beauty of the fruit. As the hostess of a supper club, I know that aesthetic doesn't stop at the edge of the plate. The whole ambience – of the light, from the music to the staff's wardrobe – has an influence on the experience of the guests.
My point of view is that cookbook authors and chefs have a responsibility: they influence how the rest of society cooks and eats.
Has your style as a hostess and chef changed?

Yes, previously I used to like to buy different plates at the secondhand shop and sew napkins out of old plaid dishtowels. I liked the idea of having many different place settings with their own stories. Now, I tend more and more toward classic clarity, such as white porcelain and linen napkins.

To finish, will you reveal what your most important kitchen utensil is?

It's completely clear: sharp knives and a large cutting board. Outside of that, a mortar to grind fresh herbs. Pre-ground herbs have less flavor to me. The same goes for nuts and you need a good cutter for them. Then an accurate scale, gauged measuring spoons and a meat thermometer. A razor-sharp mandoline for vegetables is also really important.
Thank you, Anna, for letting us visit you, and for the fresh raspberries from the bush in your garden.
For further info on Anna's and Catherine's cookbook – Zu Tisch – and her events can be found here. Also, make sure to check out the delicious seasonal recipes she created for FvF Cooks.

Photography: Yves Bachmann
Interview: Sandro Murchini