Dropping the guise of his myriad monikers, this mixtape from the industrious DJ and Reinhardt Music label boss, Alex Oxley, is a selection of personal favorites.
Seamlessly moving between genres from ambient electronic, to techno and post-rock, this mix is an exercise in musical gymnastics. Coming from the mastermind behind musical projects including Fleetmac Wood, the aptly named Fleetwood Mac tribute group. Living with his partner Lisa (together they make up Fleetmac Wood) in California by way of London, the DJ and producer has started his own label, Reinhardt Music and somehow manages to juggle all the different projects with finesse.
We spoke with Oxley about how he keeps the momentum going behind all his projects and FvF was lucky enough to be treated to a special mix from the intrepid DJ with choice cuts that are inspiring him now.
Tracklist
1

Intro (Anarchy in China)

2

Aphex Twin – Kesson Daslef

3

Rival Consoles – Walls

4

Frédéric Mercier – Spirit

5

Beyond The Wizards Sleeve – Diagram Girl (Beyond The Wizards Sleeve Re-Animation)

6

Death In Vegas – Witchdance

7

Le Carousel – Lose Your Love (PK Edit)

8

Luke Abbott – Modern Driveway (Jon Hopkins piano) (David Jorre Butterfly Dreaming Remix)

9

Dirty Three – She Passed Through

10

Beastie Boys – I Don't Know

11

Mattheis – Four Dimensional Echoes

12

Holden – The Caterpillars Intervention

13

De Ambassade – Wat Voel Je Nou
You have a number of different DJ aliases: Mister Sushi, Kaftan Discothequé, and the Fleetmac Wood project, but you also produce your own music as Duncan Whiteley?

Duncan Whiteley was actually one that I started in Berlin. I lived there for about six months and I just wanted something that was new and felt connected to Berlin. A kind of cross between techno, noise and experimental music. I've always really loved the heritage of music in Berlin and the whole attitude of trying something new and being free-spirited.

The early periods of techno were really fascinating. People would just use spaces where they could find them and the authorities were much more lenient and allowed that culture to develop. I find it exciting and important that movements like that exist. The Duncan Whiteley thing is a different side to what I do. I'm going to be picking up on that sometime this year. I haven't had much time to put into that as of late. But I'm feeling that I'm coming into that period again – where I want to push something more experimental.

How do you decide between the different personas? Like, when do you know it's time to perform as Fleetmac Wood?

It's all about going on feeling– what feels right at that time. The Fleetmac Wood thing is something that my partner and I developed while we were still in London and we started it just to try the idea out and it really connected with people. We've been running it since 2012 and it's become really successful. We've been touring a lot in the US, Australia, Canada, England and a little in Europe. That's a really interesting project. It's really taken on a life of its own, which is really exciting. We obviously thought that there's something there and some great interest in it so we've driven a lot of energy into that.
Alex Oxley and his partner Lisa, as Fleetmac Wood
What persona did you adopt for this mix?

It's the first mix I've done under my own name. I've really put some thought into it. This mix took a different path than I expected. Part influence, part recent favorites. Music I feel fully connected with. There is less of a focus on the mixing and it represents my tastes from across the board.

When you're DJ'ing under your different monikers, how do you select tracks? 

I'm really into a lot of synth music that came out in the '80s– Gary Newman, Human League and obviously Kraftwerk. I'm always interested in what's happening on the fringes of scenes and genres. A new project I've been developing over the past year or so is Kaftan Discothèque. That's quite focused on world music and looking for music in that area– plus looking for edits, remixes and new music that may pull world music in.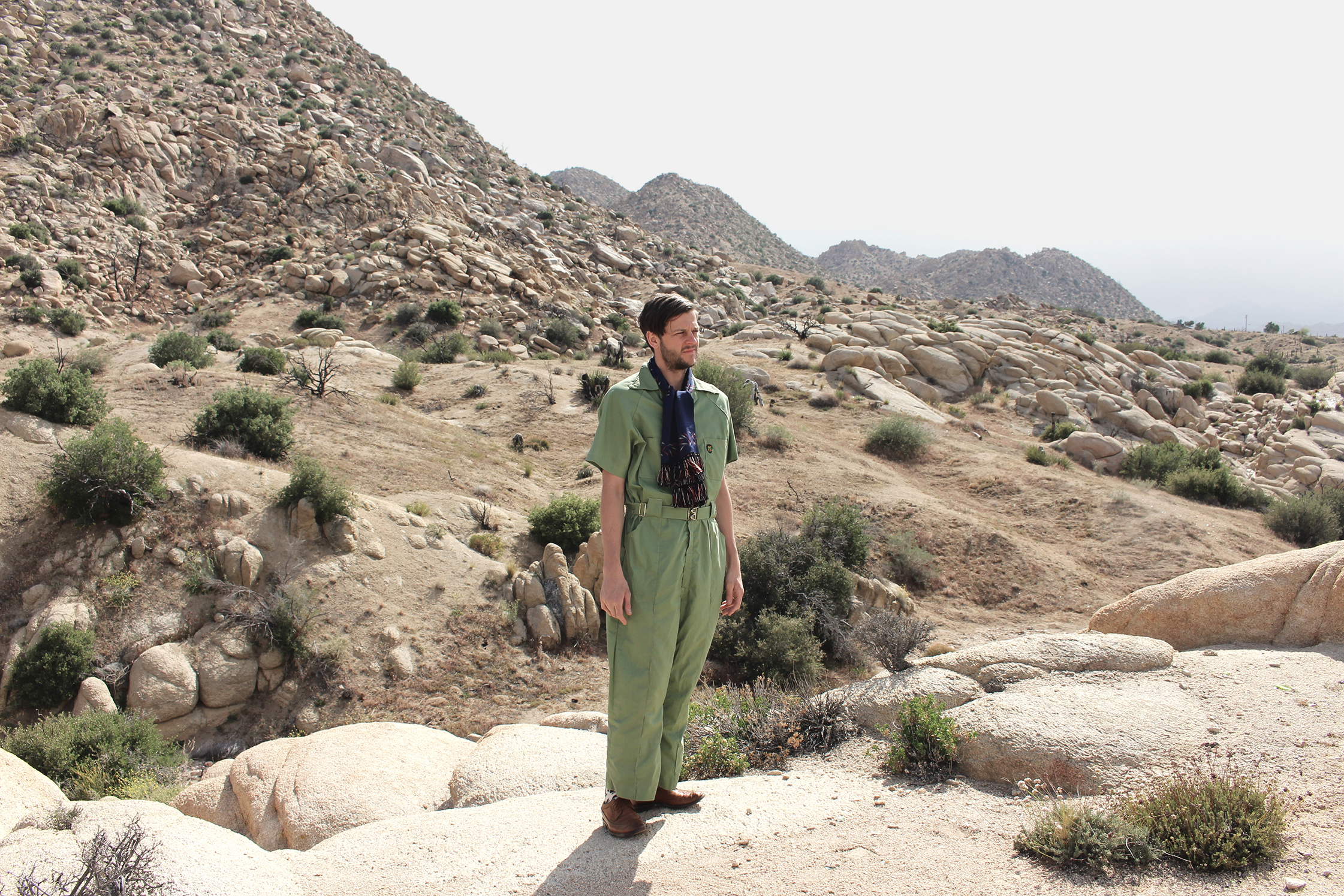 You've got so many projects going off at once– how do you manage that?

I've always worked in that way with music. I think it's exciting to have lots of things happening at once, working out how to split up my time and how much do I dedicate to each project. For me, I wouldn't just want to focus on just one genre and be restricted to that one area. It can obviously work really well, but I like so much different music but it's exciting for me to express myself in different ways.

You also have your own label, Reinhardt Music?

Yeah, the label has been really amazing, I've enjoyed working on that. I've wanted a label for a long time now but I didn't really have the energy or time to work out what it would be like. But moving to Los Angeles triggered it and it's been great. It's a slow burn so I'm taking my time to make sure each release is promoted correctly and that everything goes well. It's quite an undertaking to release a record!
"There's so much creativity in the desert, it's a great place to go to for inspiration by disconnecting from the city for a while."
When did you move to L.A. from London?

June 2013. It'll be 3 years in two months. It's been a really good experience. I've enjoyed coming to a new country and a new city after being in London and the North of England for a while. Just to have some different experiences has sparked a new creativity in me. Certainly getting the label moving. It's very exciting for me to be in California– it's very close to lots of other places so I've been traveling a lot, which is a great opportunity. I was in the desert this last weekend [for Coachella] and there's open feeling there– it's hard to explain. There's so much creativity in the desert, it's a great place to go to for inspiration by disconnecting from the city for a while. After the festival I went out to Joshua Tree.

What's in store for you and your various personalities and projects?

Reinhardt Music has another release out (hopefully) in June. It's an extended EP from a Romanian producer, Akim. I DJ'd with him 4 or 5 years ago when I was in Bucharest. We're putting out a four track vinyl record. Aside from that, more going on with Fleetmac Wood and Kaftan Discotheque as well, lots of exciting things. There's no signs of slowing down! We're all here for a certain period of time. So I'd like to keep working in the area that I love, which happens to be music.
Thank you Alex for your amazing tour through the musical spectrum, it certainly got us moving. Keep up with Alex's many personalities and Reinhardt Music on Facebook.
Text: Kevin Chow