At the very least, the subway should have air conditioning, right?
Summer in Europe tests the mettle of even the most eager and hardy tourists. Not only is the continent often awash in a blazing heat wave, but there is rarely any air-conditioned relief to be found. It's something that Nu Goteh just had to get used to when he traveled throughout Europe, and his FvF Mixtape recreates those sultry days.
The tracklist comprises highlights from his current go-to soundtrack, dancing between soul, rock and disco and pieced together in an audio timeline with each song representing a distinct moment.It also aims to capture the feeling of seeking comfort in the familiar. Amidst the rush of being in transit, seeing new things, tasting new food, hearing foreign sounds, everything competing for the attention of your senses, it's easy to become overwhelmed by the onslaught of sensations. Nu relies on the perfect travel soundtrack to calm his nerves in even the most stressful and hectic of situations. The framework for the mix was influenced by another tape he put together as a gift for a friend who moved to Berlin, but this second version has since taken on an identity of its own. Born out of Nu's journeys and what's playing in his ears these days, this Mixtape is a cool and trustworthy travel companion.
Ingredients (for 2 people)
FvF Mixtape #97 – Nu Goteh

1

Onda – Cassiano

2

Sly and the Family Stone – If You Want Me to Stay

3

Shuggie Otis – Aht Uh Mi Hed

4

Timmy Thomas – Why Can't We Live Together

5

Sheila Hylton – Lot of Love (Waxist Edit)

6

The Jackson 5 – I Want to be Where You Are

7

Talking Heads – Slippery People

8

Mary Clark – Take Me, I'm Yours

9

Grace Jones – Pull Up to My Bumper (Larry Levan Garage Mix)

10

Joubert Singers – Stand on the Word (Larry Levan Mix)

11

Skye – Ain't No Need (Unity Mix)

12

George Benson – Give me the Night (Kon Edit)

13

Rolling Stones – Miss You (Em Vee Edit)

14

La Charanga – No Nos Pararan

15

Michele – Can't You Feel It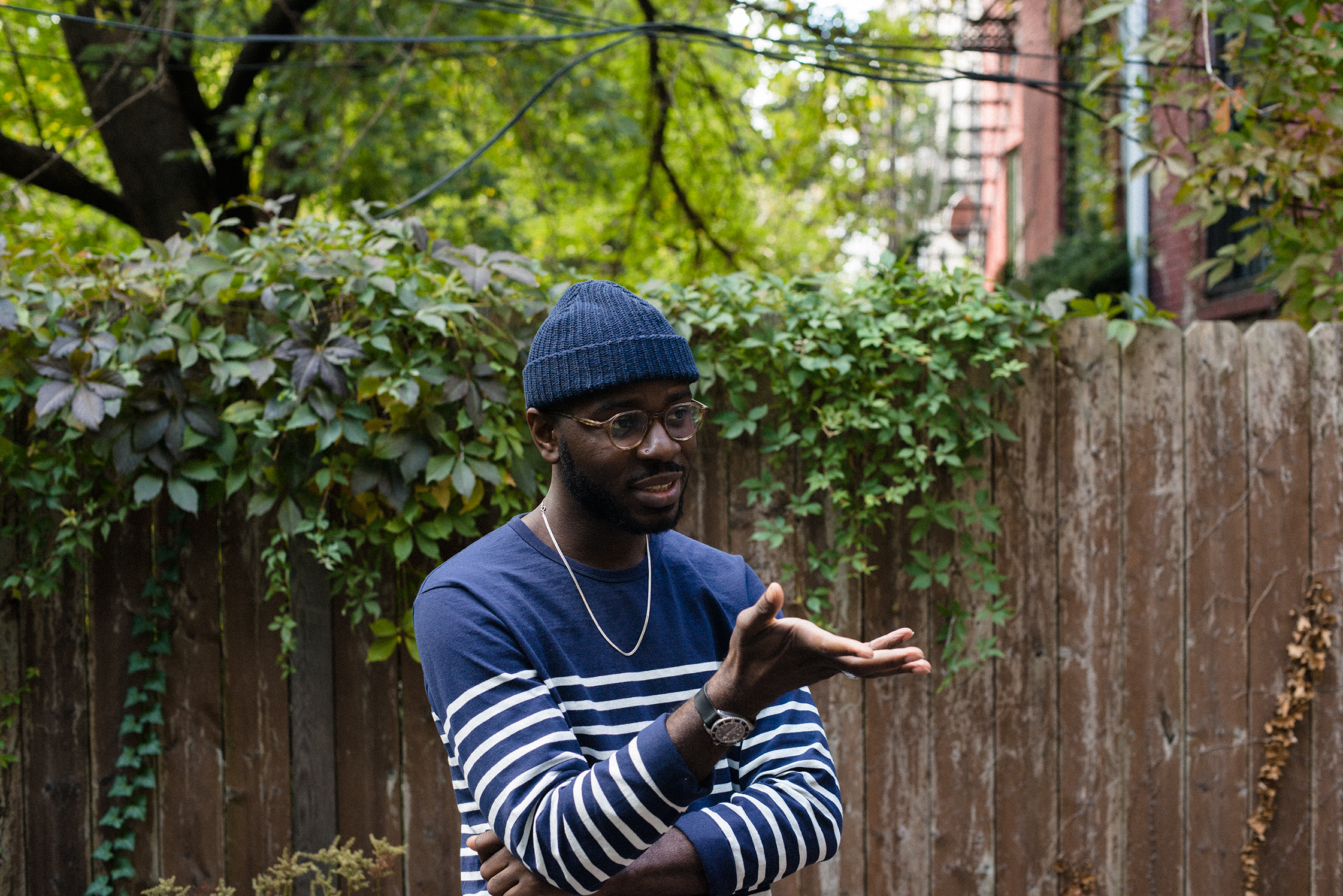 After leaving a marketing job and moving across the States from LA to Brooklyn, the DJ spent several months revelling in the professional freedom of being "funemployed" before striking out as a tourist. In his sojourn from Berlin to Amsterdam – by way of Copenhagen, Zurich and Paris – he sought musical inspiration in life on the road, rummaging through the stacks and crates of the best record stores and discovering hidden gems that aren't available stateside.
Nu's favorite Berlin record stores
The back garden at Nu's Brooklyn apartment is filled with lush greenery and muted light, making it the ideal spot to relax over a cup of tea. In conversation, the DJ is mellow and easy-going, but his extensive resume suggests otherwise – with current projects ranging from party series and gigs to collaborations and startups, it's easy to imagine him scoping the streets of European capitals for musical fuel for his diverse interests. Treading territory that spans forgotten classics, future vibes, and obscure selections, Nu prides himself on taking listeners through house, Afro-Latin rhythms, disco, dancehall, hip hop, and anything with a throbbing beat. What it comes down to: everything is fair game. He strives to play music that people know, but uses familiar crowd pleasers as a bridge to reconnect with unknown tracks from his treasure trove of records. His dancehall DJ background has taught him that it's all about juggling and responding dynamically to different situations and locations. At a recent gig in LA, he needed to adapt his style when a frustrated party attendee took him to task for clipping off tracks before they were finished – a common East Coast custom, but out of sync with West Coast tastes.
Among other passions, Nu has a weakness for podcasts. He says unabashedly, "If I was to consider my relationship with music as a marriage, then podcasts would be my worldly, well-spoken and knowledgeable mistress." Much like the man himself, his top recommendations span a range of genres and formats. "WELCOME TO NIGHT VALE" is a twice-monthly podcast in the style of community updates for the small desert town of Night Vale. Nu shares: "The episodes feature local weather, news, announcements from the Sheriff's Secret Police, mysterious lights in the night sky, dark hooded figures with unknowable powers and cultural events. Turn on your radio and hide."
Then there's 99% Invisible – "a tiny radio show about design, architecture & the 99% invisible activity that shapes our world. Each episode is a sound-rich deep dive into a single topic," says Nu – subway train graffiti, for example.
Also making the cut into the top three is astronomy and physics podcast StarTalk Radio, which Nu describes as full of clarity, humor and passion: "Captivating subjects—such as space travel, extra-terrestrial life, the Big Bang, the future of our Earth and the environment and breaking news from the universe— are all explored. In my favorite episode, Neil deGrasse Tyson explores the future of humanity with one of the men forging that future: billionaire entrepreneur Elon Musk. It's also co-hosted by Chuck Nice and guest starring Bill Nye."
Once he returned from Europe, Nu had just days to prepare for his latest project: a Master's degree in strategic design and management at Parsons. With this further education, he plans to look at ways of innovating our way of life, with a eye on evolution of design thinking, sustainable resources and entrepreneurship. Nu is also the creator of "A Little Louder," a multi-city party series that began in his hometown of Boston and breaks down walls on the dance floor. His goal and gospel, under the banner "come as you are," is to strip down club culture and reveal the bare elements of a dance party: music and people. "All are welcome who aren't afraid to break a sweat on the dance floor."