Multidisciplinary Indonesian artist Ariel Orah curates the latest FvF Mixtape, fusing a sound art piece by Alvin Lucier with tracks by the likes of This Mortal Coil and My Bloody Valentine.
You're a multidisciplinary artist whose work traverses music, art, and gastronomy. How did you come to be interested in so many different fields?

It just sort of happened organically. I began with music. I co-founded an experimental rock band called Vincent Vega in my hometown, Bandung, Indonesia back in 2005. We released two albums and did some tours which later on led to my first job as an announcer and program producer at a radio station. After that, I moved to a visual design agency and then a publishing company that focused on visual art books. Gastronomy came later, but has now become my focus. Last year I was invited to do a music performance at Motif Wein in Neukolln. They suggested I could do an Indonesian food pop up before the gig. This format then turned into Soydivision.
What inspired you to create Soydivision?

Soydivision began with an idea of provoking a discussion about the exploration and expression of identity through art and food. Our experiences (the Soydivision collective) both as foreigners and as long-time residents in a land that doesn't necessarily share the same characteristics with the one we hail from forced us to reevaluate our standing in a new society while retaining the aspects that consolidated our pre-formed identities. One of the most significant parts of this particular struggle comes from the different eating habits on one hand and the scarcity of familiar food on the other. Soydivision Berlin aims to be a performative and culinary interface for experimentation, in the hope that it will help us to make sense of the environment we live in.
Tracklist
1

Alvin Lucier – I Am Sitting In A Room

2

JMA – Velut Luna

3

My Bloody Valentine – Only Shallow

4

Senyawa – Di Kala Sudah (Replayed by Charles Cohen)

5

grau& – KOT//T

6

Coil – Careful What You Wish For

7

Wahono – Prambanan

8

Oknum – Janji

9

Throbbing Gristle – Something Came Out Over Me

10

Yennu Ariendra & J "Mo'ong" Santoso Pribadi – Bang Bang Wetan

11

Ravenative – Neukölln (David Bowie cover)

12

This Mortal Coil – Song to the Siren

13

Lilis Suryani – Genjer Genjer
"Our experiences in a land that doesn't share the same characteristics with the one we hail from forced us to reevaluate our standing in a new society."
As well as serving Indonesian cuisine, each Soydivision event features a collaboration with a guest artist. Can you tell us a bit about the people you work with to make the events possible? Do they all come from Indonesian backgrounds?

The people who are a part of the Soydivision collective itself are all Indonesian. There's me, Jan Knut Thedja and Ghaliz Filkhair Haris, who come from sound and music backgrounds, Nindya Nareswari, who is a light artist, Rizki Resa Utama who is a visual artist, and Bilawa Ade Respati who mostly writes scripts and takes a directorial role for our performances. But our wider circle of collaborators and contributors is very multicultural. In our next Soy and Synth event, there will be a collaborative sound and theatrical dance performance by myself and two Butoh artists from Japan and Sweden. Then, for our first trilogy of 'Empathy Suppers' this year, we collaborated with Borghildur Indriðadóttir, a visual artist and architect from Iceland who used the events to explore the topic of social media community guidelines and contemporary surveillance. Our current collaborator is Don Aretino, a Berlin-based Indonesian fashion designer and multimedia artist. His recent work has explored his identity as a gay Muslim, and this has informed the performances and installations he has contributed to our Empathy Suppers.
What's the difference between Empathy Suppers and Soy and Synth events?

The Soy and Synth format began with the idea of mixing Indonesian inspired casual dining with experimental music performance. Casual dining means we only serve one dish, there's no strict time that people need to arrive by, and that the event is in a very cozy natural wine bar and project space called Motif Wein. The performances are delivered by one of us from the collective as well as another guest performer. They are very collaborative and improvisation based. Alternatively, Empathy Suppers are longer supper formats normally consisting of a five-course dinner, and the work of an artist who collaborates with us—helping to select the theme, create site-specific installations, performances, and menu—across the course of a three supper long series.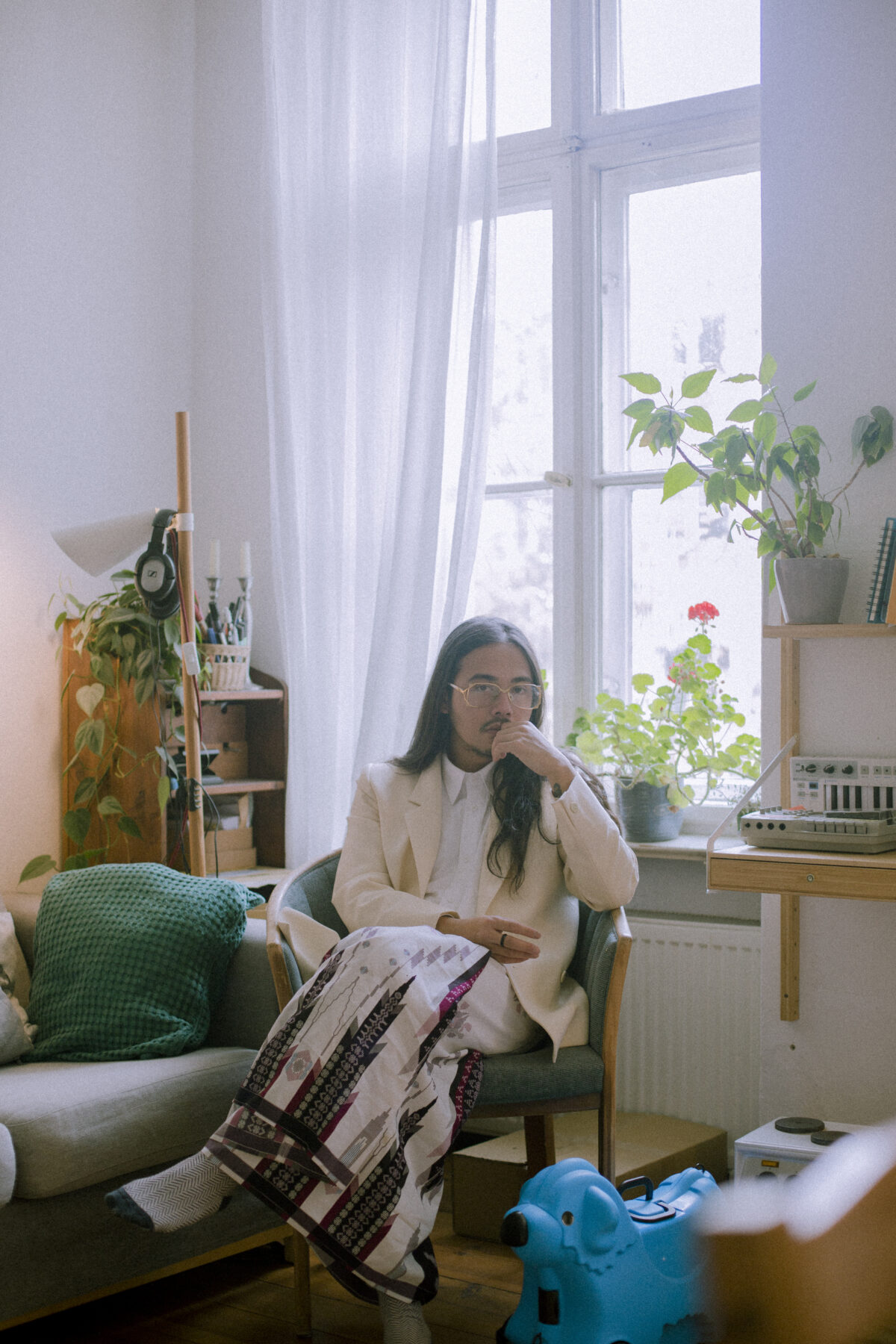 How did you select the tracks for this mixtape?

The mixtape is based on the themes of identity and memory. It begins with a sound art piece from Alvin Lucier that reappears later on. The piece has inspired me a lot in my sound creation process and determined my stylistic and technical direction. There are some classic songs in there such as My Bloody Valentine's 'Only Shallow,' Coil's 'Careful What You Wish For,' and This Mortal Coil's 'Song to the Siren,' as well as some songs by fellow Indonesian sound artists and musicians. There also some compositions of mine that I composed for different projects, and under different stage names (grau&, OKNUM, and ravenative).

The mix finishes with a special piece by Lilis Suryani called 'Genjer Genjer.' The song was on the soundtrack of an anti-communist film that was shown on the Indonesian National Television Network once in a year from 1967-1998, during the Soeharto era. The movie was used as Nationalist Propaganda for Soeharto's regime and portrays the PKI (the Communist Party of Indonesia) and communism as inherently evil. Every time I listen to it, it evokes such unpleasant emotions. It has such a powerful impact and perfectly demonstrates sound's inherent connection with human memory.
Ariel Orah is an Indonesian multidisciplinary artist working between the mediums of sound, visual art, and gastronomy. Based in Berlin, he is a founding member of Soydivision, a collective producing regular supper club events that showcase Indonesian cuisine and an array of artwork by recurring guest artists. To find out more about Indonesian artists based in Berlin, take a look at our profile on fashion designer Don Aretino, who is currently collaborating with Soydivision on their Empathy Supper series. Or, if you want to listen to more curated playlists from international artists, head over to our Mixtape section.