Setting up a music studio in the hills of Palaia, surrounded by 500 hectares of woodland, no cell phone service, and an hour's drive from any town may seem unwise, but for Jerome Hadey of Villa Lena, the remoteness spurred him and other musicians to create new and sometimes award-winning sounds.
It's been two years since we visited the Tuscan hillside retreat that is Villa Lena. Our inaugural visit introduced us to a disparate assortment of artists—Oliver Clegg a British painter living in New York, Nathalie Dewez a Brussels-based lighting designer, and Hazel Stark, the designer working with natural dyes from her London studio—not to mention many others. Year after year, the setting draws artists from all over the world, their common focus to engage in new works, both collaboratively and in isolation. All come from a variety of disciplines, and provide insightful workshops on their practise during their stay.
Opened in 2013, Villa Lena continues to develop and the ever-changing roster of artists spend their summers in-residence creating new works in the barns-turned-studios and an influx of cooks come to impart their culinary wisdom while making use of the sun-ripened produce grown in the kitchen gardens. Co-founder Jerome Hadey has been intent on expanding the vision he shares with partner Lena Evstafieva to include a fully operational music studio and in-house recording label. And this summer sees the launch of Villa Lena Recordings.
With a background as a music producer (previously at Universal Music) and a stint as tour manager for the Wu Tang Clan, Hadey is now focused on making his own music in his dedicated studio at the 19th century villa. He's just as passionate about inviting other artists, particularly new talent, to come to Tuscany and work with him. Once there, they can make use of the recording space and everything else Villa Lena has to offer—including the pools and new San Michele bar and restaurant designed by Fred Rigby. One of the first artists to take up residence was Benjamin Clementine who recorded his Mercury Prize winning album At Least for Now at Villa Lena: "We had the privilege to have him perform at least twice a week during that period," says Hadey.
Partnering with London-based Vinyl Factory, which encompasses a label, vinyl pressing plant, and venue in Soho, Hadey's first release for Villa Lena Recordings begins with his own EP, Never for Money, Always for Love, featuring RZA, J.Ceasar, Qendresa, and Michael Malih, with remixes by Loco Dice and Ninetoes. We caught up with Hadey while he was back in London to find out what we can expect from the newfound label along with a mixtape exclusively for FvF.
How did Villa Lena Recordings come about?

Villa Lena Recordings was the natural consequence of two things: Firstly, we have so many musicians in our artist residency who asked us if we could help them release some music. Secondly, I needed a label to release my own music. The idea has been floating in the air for a couple of years but had to be put on hold for various reasons. In 2018 the stars have finally aligned and it is happening.

Can you tell us about your background in music?

I've probably done every possible job you could think of in music. My first studio session was in October 1996 with a German hip hop band called Stieber Twins and a rapper from New York from a band called The Gravediggaz. After that I organized a few hip hop festivals called "Summer Sessions" on the French-German border in Strasbourg in the late '90s. Then to make a long story short, I did an internship for two years with Daft Punk and Ed Bangers Management, I was music supervisor with Hans Zimmer, executive producer on various projects with Rza, and tour manager of Wu Tang Clan—that was probably the craziest experience of all!

And what about your own musical output?

I released a first album about 10 years ago with a wonderful Berlin label called Sonar Kollektiv with a band called Outlines. We signed with Universal Music not so long after that and everything went downhill. The dream I always had to be signed to Universal turned into an absolute nightmare. It took me over five years to get out of the contract, a period during which I completely stopped making music.

And tell us about your new music – including your single: Never For Money, Always For Love. What can we expect?

In March 2016 I was diagnosed with cancer and initially given three to five months to live. After heavy surgery and a year of chemotherapy, I am fully cured and according to my oncologist probably the youngest person to survive the specific type of cancer I had.

During that period, I wanted to create something for my children, friends, and family in case things didn't turn out as well as they did. Initially, I thought about writing a book, but I quickly realized that what I wanted to share was emotions more than thoughts. So all I did between two sessions of chemotherapy that spanned just over a year was to make music.

Were you happy with the music you produced during those two difficult years?

The upcoming album is the result of that work. It is as honest as it can be, as most of the time I thought that this was going to be the last thing I would ever do. It was all made at Villa Lena with my closest friends who came to visit me during these difficult but surprisingly very happy times.

Never for Money, Always for Love probably sums it up in the best way. The music video was done by a former resident of ours, Niklas Adrian, with archives from Villa Lena.
Tell us about musicians you've had at the Villa Lena Artist Residency program.

There are too many to name them all, but the greatest story is probably the one of Benjamin Clementine who wrote his album at Villa Lena that won the Mercury Music Prize. He was almost homeless and came to stay with us for over four months. We had the privilege to have him perform at least twice a week during that period—what we didn't realize was that he was writing his album and testing it on us. Another amazing musician we had was Francis and the Lights. He came to stay multiple times and wrote large parts of his amazing album Farewell, Starlite at Villa Lena. Rza spent a month with us and used his time to score a movie, he made multiple concerts including an amazing guitar concert in our restaurant and a rap concert in the chapel of the villa that will be remembered by those who attended it for the rest of their lives.

Do you consider Tuscany to be home now?

With Lena, we are based between Tuscany and London, which makes a lot of sense as we are working very closely with Vinyl Factory and a London art space called The Strand. You need one leg to stand but two legs to walk or to run. Let's consider Tuscany and London as our two legs!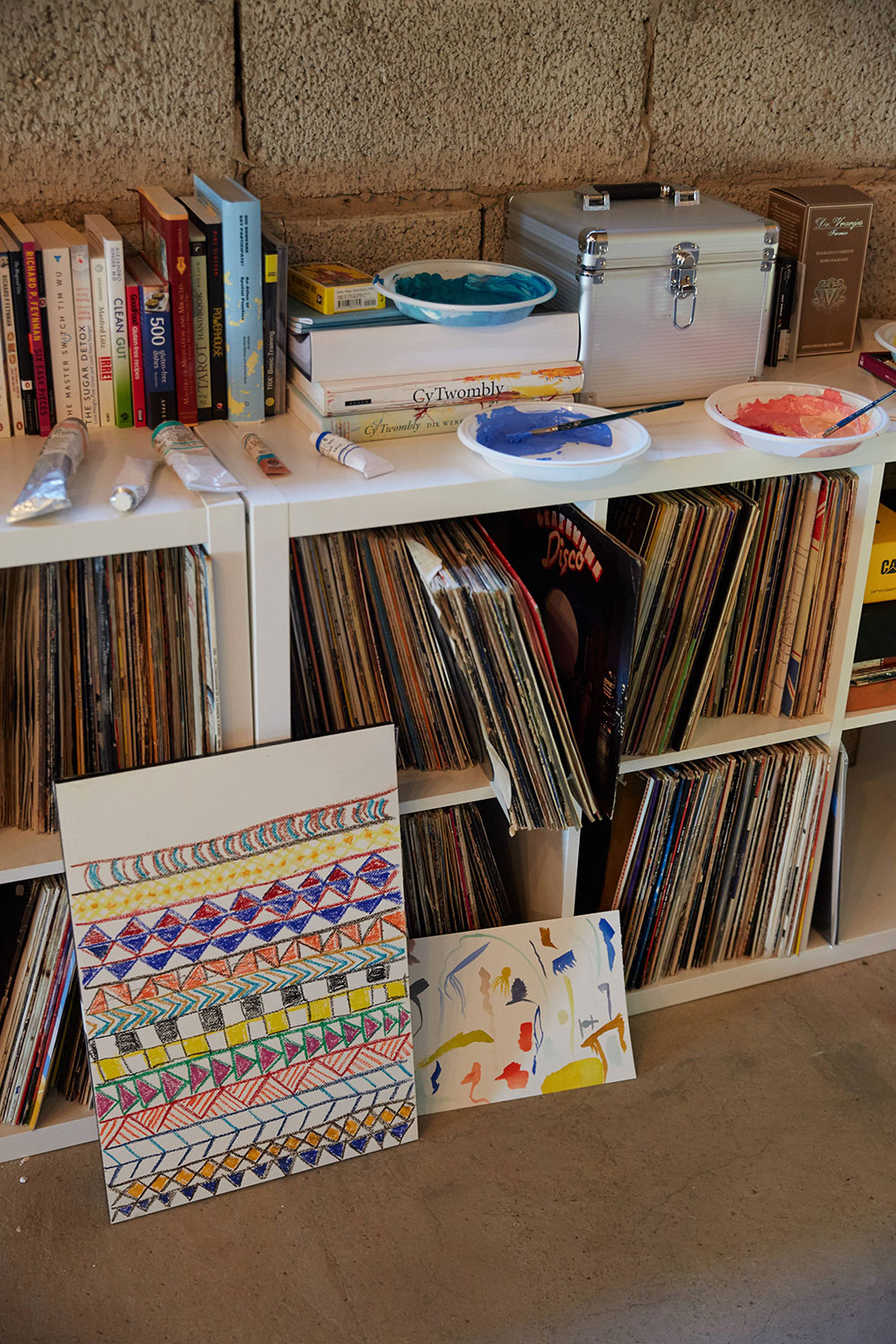 Describe this playlist to us.

As much as life is an unpredictable journey, so is music. My passion for music started with rap and more precisely with the song We Can Get Down from A Tribe Called Quest. This song started a crazy journey for me and the playlist is a summary of the various songs that opened new doors for me—from soul to funk, jazz, techno, reggae, rock.

What simply had to make it into this playlist and why?

We Can Get Down from A Tribe Called Quest because the day I listened to that song in September 1994 changed my life. It became instantly clear that music would be a fundamental element of the rest of my life.

What artists are currently on your radar?

There are two artists that are on my radar and I am currently working with both of them: J Ceaser and Qendressa, two young talents from London. They are both featured on my album. I feel extremely privileged to have met them, they have amazing talent and energy. I'm looking forward to seeing them grow into the incredible artists they already are. There is one other artist that really impressed me lately, his name is Magnus Chapple, a young British artist. Given the opportunity, I would love to invite him to be part of a residency in Tuscany here at Villa Lena. His music is very simple and powerful, exactly what I like today.

What can we expect from Villa Lena Recordings in the future?

After the release of my EP this summer, the album will follow on September 30th. After that I hope to release great music and visuals every month. The visual aspect of all the releases will be crucial, as you can imagine. So there will be a lot of interesting artworks coming with the music.

The label is a place of free expression with no boundaries, so the only thing you can expect from Villa Lena Recordings is very unexpected music. A great example for this is the upcoming remix by Loco Dice of my song Tomorrow featuring RZA from the Wu Tang Clan.

And, the only link between all the music and artworks is that at least some of it was made at Villa Lena, which means it is going to have a positive outlook on life.