Jamming out on Guitar Hero kickstarted Marla Kether's musicianship. The logical next step for her was to pick up an actual bass guitar. From her childhood bedroom in London Marla created her own stage, uploading bass covers to Youtube with the dream of becoming the next band member of HAIM. Suffice to say Marla Kether has come a long way from playing along to songs in her bedroom.

Honing her craft as a bassist, producer, and DJ; Marla Kether's passion for music has spurred her to explore rhythm and melody from an all-round perspective. Joining a spontaneous freestyle session alongside emerging jazz group Ezra Collective, Marla was thrust into the music world through playing bass on stages internationally with Yazmin Lacey. Yet, in the background of pursuing her instrumentalist career, there was an urge to expand her knowledge of sound through DJing and producing. Lockdown marked an era of returning back to her bedroom to nurture these practices. After being introduced to Saffron Records, an initiative dedicated to supporting women and non-binary individuals in the music industry, Marla's self-taught DJing and producing was elevated—further sparking her journey as a solo artist.
Needless to say, Marla Kether resembles a self-made artist whose grit has allowed for her to transcend from playing within the four walls of her home to making audiences groove worldwide. For FF Mixtape #178, Marla curated a mix of her personal faves that she admires on a professional and personal level for us to vibe to!
As someone who understands the intricacies of music from various disciplines: how do your different areas of expertise influence one another?

DJing and bass playing definitely feed into my production. A lot of my tracks and ideas start from a bass line and build on that groove, usually first with drums and percussion. I think very much in lower frequencies, so the melody and harmony parts (keys, guitar, synths, etc.) come much later. On the other hand, approaching production as a DJ means making your own remixes! I'm really into making mashups and edits to play out in clubs, particularly Jersey Club ones. They just hit differently. I probably underestimated how important having a sense of rhythm is in DJing, because it's not playing an instrument per se. But you need that sense of rhythm to guide you in the blends you make and the genres you journey through during a set. And of course it also helps a lot with beat matching.

What does rhythm mean to you?

To me, rhythm means feel. For example, anyone can clap out a 4-beat bar, but I think what distinguishes the haves and have-nots of rhythm is the internalization of the groove—regardless of how simple it is—and feeling the subdivisions. Like, understanding that you're not just clapping over and over again, but setting out a foundation for a groove.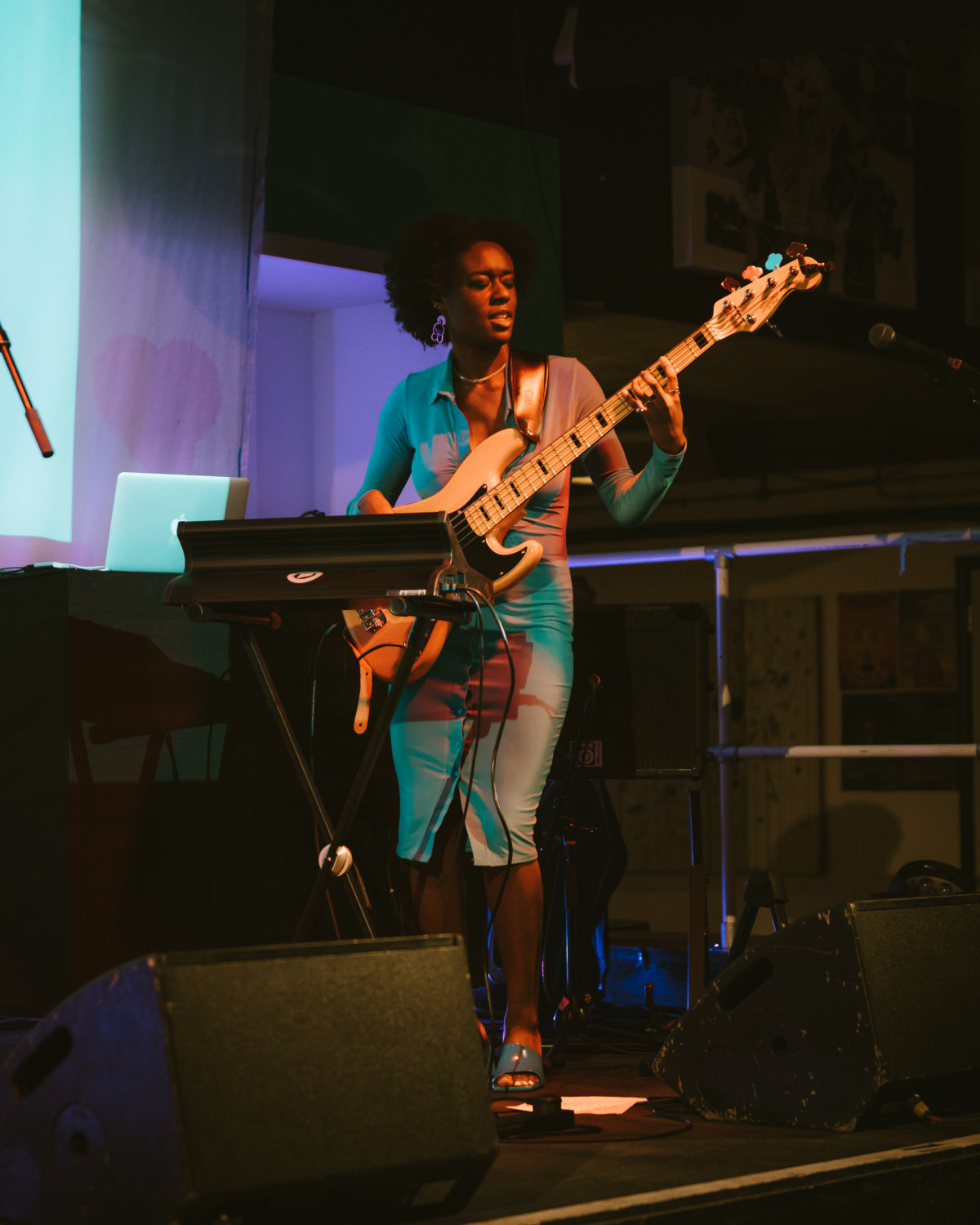 You have recently taken up producing under your belt as an artist. How do you approach composing music and what are the challenges you have overcome in creating the sound you desire?

When I produce, I'm usually inspired by some kind of stimulus. Sometimes I hear someone speak and the intonation or rhythm of the sentence sounds like it'd make a good loop. It's kinda similar to some of Steve Reich's stuff.Transcribing rhythmic speech to bass normally makes for sick hip-hop grooves. Sometimes the inspiration comes when I'm listening to records and I accidentally play it at 45 BPM instead of 33, or there's a scratch that causes a cool loop! The main challenge I think I still face is being limited by my knowledge of plug-ins. There used to be so many instances where I'd hear a song and be like 'okay, how do I make synths sound like THAT? Or make the keys sound like they're pulsating to the beat?' While I knew exactly how I wanted certain aspects of my tracks to sound, I had no idea how to express it or if the sounds were reproducible on Logic! Generally the more I learnt, the more confident I felt to just play around with audio FX. Becoming better at those elements is powerful; you become a lot clearer about what you're envisioning. It's like learning a language and feeling like you're finally able to translate your thoughts and get your words out.

You have performed on a plethora of stages from the crowds in Glastonbury to the dark and dingy yet intimate stages of Bristol. How do you approach your performance, and what energy do you yield from each space?

I think it depends on the performance; DJing is very different to bass gigs. When I'm DJing I usually arrive about an hour before my set time just so I can soak up the vibes of the room and gauge what the crowd's like. Also I want to hear what the DJ before me is playing because I'd HATE to play a repeat! If it's a quiet opening slot, I usually have at least one friend in the crowd who will be giving me life while I'm on stage. If not though, I'm still my own source of energy and gas; I started DJing in lockdown! 

With bass gigs I yield energy from my bandmates—during the show and beforehand backstage. The pre-show routine is important: I want to be backstage going through the songs in my head with a little bit of white wine at least 30 minutes before stage time. It's good to be with your bandmates then too, so you can share the excitement and gas each other up. 

As a self-sufficient DIY artist, what challenges and feats have you experienced?

Getting to a point where a track is basically done but you know that in order to take it to that next level, you need an element that you don't have access to. I think that's the main challenge when you're fusing electronic sounds with live instrumentation—and Splice (sampling software tool) can only get you so far! It's why I'm so lucky to have Saffron's support now, funding the release of my first two singles and giving me guidance with funding applications. Both singles desperately needed live percussion recorded but I didn't have the money to pay a session player; their backing meant I could breathe some new life into my demos and reassured me of my potential. Additionally, having a clear timeline for artwork, promo, and releases, and knowing that the end was actually in sight helped me work harder.
What does the future for Marla Kether look like?

The future looks unbelievably exciting!!! I'm preparing to release the 1st single from my upcoming EP in November on Saffron Records. In terms of session work, an Oscar Jerome track I recorded last year is coming out on his new album 'The Spoon'. The track is called 'Hall of Mirrors ft. Léa Sen', I've not actually heard the final version so I'm really excited for this release! My good friends Sam [Jones] and Léa are on the track; recording with them in the studio was such a lovely experience. My playing will also feature on Yazmin Lacey's latest project… I'm not sure how much I can talk about that but brace yourselves girlies!

Alongside studio sessions, I have tours coming up with Obongjayar and Loyle Carner, who's the newest addition to my roster. I'm really excited to start working with him and the band, and am eternally grateful to Avi (booked-and-busy MD for Obongjayar, Loyle, BERWYN among others) for hooking me up!
"I think what distinguishes the haves and have-nots of rhythm is the internalization of the groove— regardless of how simple it is—and feeling the subdivisions"
How else do you express yourself aside from your music?

Honestly, I'm a big talker and an even bigger Twitter-er. I've been on the platform since 2009, so since I was 10; my account has been through a lot. It's been a Zayn Malik stan account, a Vampire Weekend stan account, a Strokes stan account, and there were probably some actors thrown in there too. But now I post about my music and gigs as I do on Instagram, whilst also using it to voice my opinions on whatever garbage reality TV show I'm currently watching. Also, I used to be good at art throughout school and want to get into life drawing, so watch this space.

As a collector of vinyl, what do you cherish about this process, and how does listening to vinyl compare to other forms of tuning into music?

Yeah, I'm proud to say I'm about five 12" records away from filling a Kallax hole… and bought a joblot of 200 7" soul, Motown and funk records on eBay a few years ago! The process of cleaning each single, listening (to see if I actually wanted to keep them) and then storing them into clean sleeves was so therapeutic. And it's by going through these 200 vinyls that I came across 'Love on a Two Way Street' by The Moments—before that I had no idea 'Empire State of Mind' was built entirely off a sample (to be fair, I hadn't really thought about the song in over a decade). I love clocking samples and the unexpectedness of the discovery is part of the reason I love vinyl. Of course, you can stumble across them on streaming platforms, but the feeling is incomparable to stumbling across one amongst the pile of hundreds of records you impulse-bought.
As a DJ and an individual who is constantly taking in music, which of your music discoveries have enthralled you most? 

Kuduro has and always will have me in a chokehold. The Príncipe label has my heart and I will forever be indebted to them. I'd like to re-enter my scratchcard era solely so I can buy its entire discography on Bandcamp. And maybe also to put down a deposit on a house in Bristol. There's also something about 'Bicho Homem' by Fafá de Bélem and 'Maria das Mercedes' by Djavan that means I can never ever get bored of them. I'm trying to get my Portuguese up so I can live in Brazil for a while and figure out what it is about their music that has me so enthralled.

Finally, how have you selected the tracks for this mixtape?

The mixtape comprises songs by artists that I love and respect on a personal and professional level! 
Marla Kether is a bassist, producer, and DJ based in London and Bristol. As a bassist Marla has played for a multitude of emerging artists from the UK scene such as Ego Ella May, Yazmin Lacey, Obongjayar, and Georgia Morgan Turner. Following her enrollment on the Artistic Development Programme with Saffron Records, she released her first track this May, an ambient composition inspired by Millennium Square in Bristol, commissioned by MSCTY. Succeeding this track will be her single from her debut EP, which is set to be released this November!
Make sure to follow Marla Kether to keep updated with new releases, events, and performances.
Photography: Jade Ayino and Giulia Spadafora
Interview and Text: Isabelle Moulding