Co-founder of Texas-based ensemble Balmorhea and longtime FF collaborator collates a mixtape (alongside partner Rob Lowe) serving as a "roadmap of influences" for their latest musical project The Wind.
Balmorhea—at its core, a duo between Muller and Lowe—is a genre-spanning, exploratory entity with artistic inspiration ranging from the jazz scene in New York to classical Baroque compositions. Here's what we learned about his transition from photographer to musician, the parallels between conveying his vision in both art forms, and the release of The Wind with the world's oldest record label Deutsche Grammophon.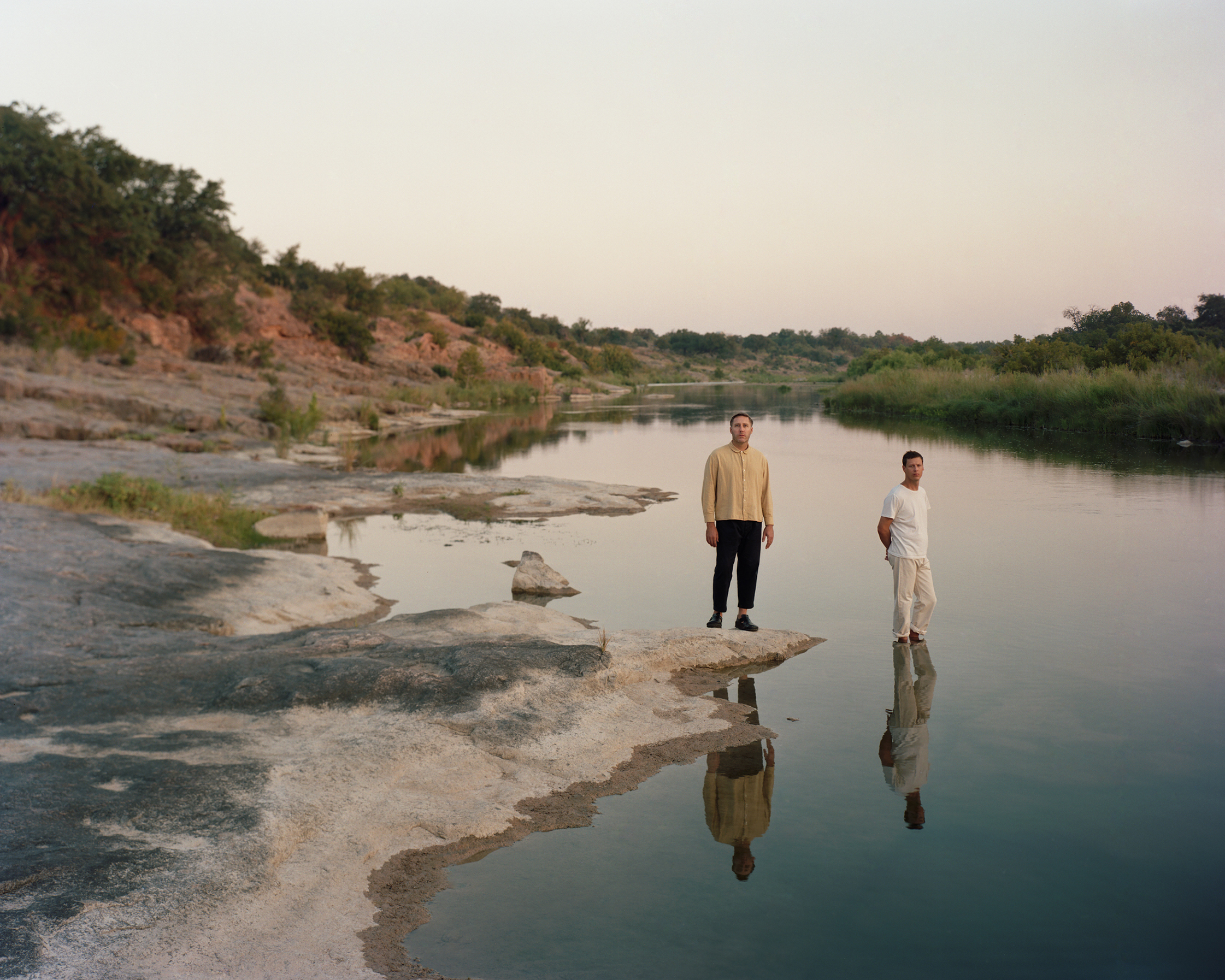 What is your first musical memory? What were some of the first tracks or artists you remember listening to?

My dad played folk songs on his guitar to my brother and I as young kids each night before bed. At home, there was a mix of classic rock such as the Beatles or the Rolling Stones, and older popular music like Buddy Holly, Ritchie Valens, and Santo & Johnny that my parents grew up with. For years, my mother played Paul Simon's Graceland on repeat and my dad had a wild card New Age cassette tape called Deep Breakfast by Ray Lynch. Those two albums stand out to me most in my memories.

What was the turning point in your transition from working as a photographer to working as a musician and composer?

In the past I'd always split my creative work between photography and music, piecing together photo projects between tours and writing. Starting in around 2016, the Balmorhea project began gathering more steam and demanding more attention, and I realized music was—and had really always been—my deepest creative passion and outlet.
In anything I make, I think I'm always trying to convey a feeling through sound or image; there is a true sensorial connection between the two.
Has your experience, working as a photographer, informed your work as a musician?

100%—there are so many parallels between composing a photograph and a song: balancing light and shadow, the presence or absence of negative space, focal points, fall off, etcetera. In anything I make, I think I'm always trying to convey a feeling through sound or image; there is a true sensorial connection between the two.

In terms of musical heritage, which of the cities you have lived in do you feel the closest to and why?

Jazz is, in my opinion, America's richest musical contribution to the world. When I lived in New York in the early 2010s, I hadn't yet fallen in love with the genre and its connection to the city. I wish I could go back now and really steep myself in the old clubs and record shops with the appreciation and knowledge I have now … someday I will!
There are some things we can do while physically apart, but the true apogee of our overlap is much richer when we are together in the same room discussing, writing, and playing.
Did the lifestyle changes prompted by the pandemic affect the creative process of your instrumental ensemble, Balmorhea? If so, how?

Balmorhea is a duo at its core. Rob and I (as Balmorhea) exist as a true partnership, both as musical collaborators and business partners. There are some things we can do while physically apart, but the true apogee of our overlap is much richer when we are together in the same room discussing, writing, and playing. When we aren't in the same place, we have to be very intentional and methodical in recording and documenting our individual ideas. Right now, we are writing and arranging for our follow-up to The Wind and have been meeting every few months to work on our demos. 

Balmorhea's latest album, The Wind, was released on Deutsche Grammophon, a historic record label commonly associated with classical music. How was the experience of working with Deutsche Grammophon different from that of working with other music labels?

Before we began recording for The Wind, we didn't have any contractual obligation to any label for its release. We had long discussions together and with our team about where this music could fit in and who our dream labels were. Deutsche Grammophon was at the top of that list. We'd recorded The Wind at Saal 3 at Funkhaus in Berlin, and while in town we had a meeting with DG. One thing led to another and it all fell into place. As the oldest record label in the world it is steeped in such a beautiful history with some of the most important music in history. It goes without saying that it's a deep honor and a dream come true to be on their roster, which spans from composers like Bach and Beethoven, to the new repertoire of progressive artists like Brian Eno and Max Richter.
The Wind experiments with brass, woodwinds, and organs among other things. What led you to explore the sound of these instruments?

After making many albums with a somewhat similar approach of instrumentation—guitars, pianos, strings and percussion—we really were yearning to explore other voices. With The Wind, we had created a body of work that more closely resembled a chamber ensemble with a more traditional and baroque-leaning energy. French horn, bass clarinet, pipe organ, harmonium and human voice were really clear choices to write for whilst holding on to the core signature of our sound, which will always revolve around piano and guitar. 

The songs you collected for us were all inspirational to the writing of the album. How did you discover these tunes?

The 'Wind Music' playlist was collated between Rob and I. We both combed back through the time when we were writing the songs on the album and pieced together a roadmap of our own influences—each piece in its own way something that was abstractly influencing us, or became a subconscious reference.

If this mixtape were a place or a landscape, what would it look like?

Believe it or not, this is a concept that I've actually spent time thinking about. Last summer, while trekking across the Southwest US between Texas and California, I created a playlist for the drive called 'Heat Haze On The High Seas,' which was comprised of songs that captured the visceral feeling of traveling through an expansive high desert (West Texas, New Mexico and Arizona) down into the lush Pacific; to embody that overlap between desert and sea.
Michael A. Muller, born in Austin, Texas, is a composer, musician, and photographer whom we have had the great pleasure of collaborating with throughout his career; witnessing his creative development first-hand has been a true privilege.
Alongside his role as co-founder of Balmorhea, Muller has released solo project Lower River, an ambient and deeply moving album that was conceived as an experimental journey of music and formed as a boundary-breaking sonic adventure. Muller was also featured in one of our latest profiles alongside his partner—author of Moonlists, and founder of creative studio Lucca—, Leigh Patterson, which allowed us to become privy to their artistic processes and uniquely intimate relationship. The images above were captured by Bryan Schutmaat.
This interview was produced as part of our Mixtape series, in which international creatives curate playlists of music that inspires them. Head over to the Mixtape section to find out more.