Converted from a former community school, this historic building goes back to 1911 and offers a blend of old and new, with an ornate exterior balanced by a light and airy loft design. The palpable sense of history is offset by clean lines and contemporary furnishings. Whether you're a family looking for a restful yet ideally situated base or a busy city dweller keen to become the best host in town, this versatile space, boasting four expansive rooms, can be catered to your every need.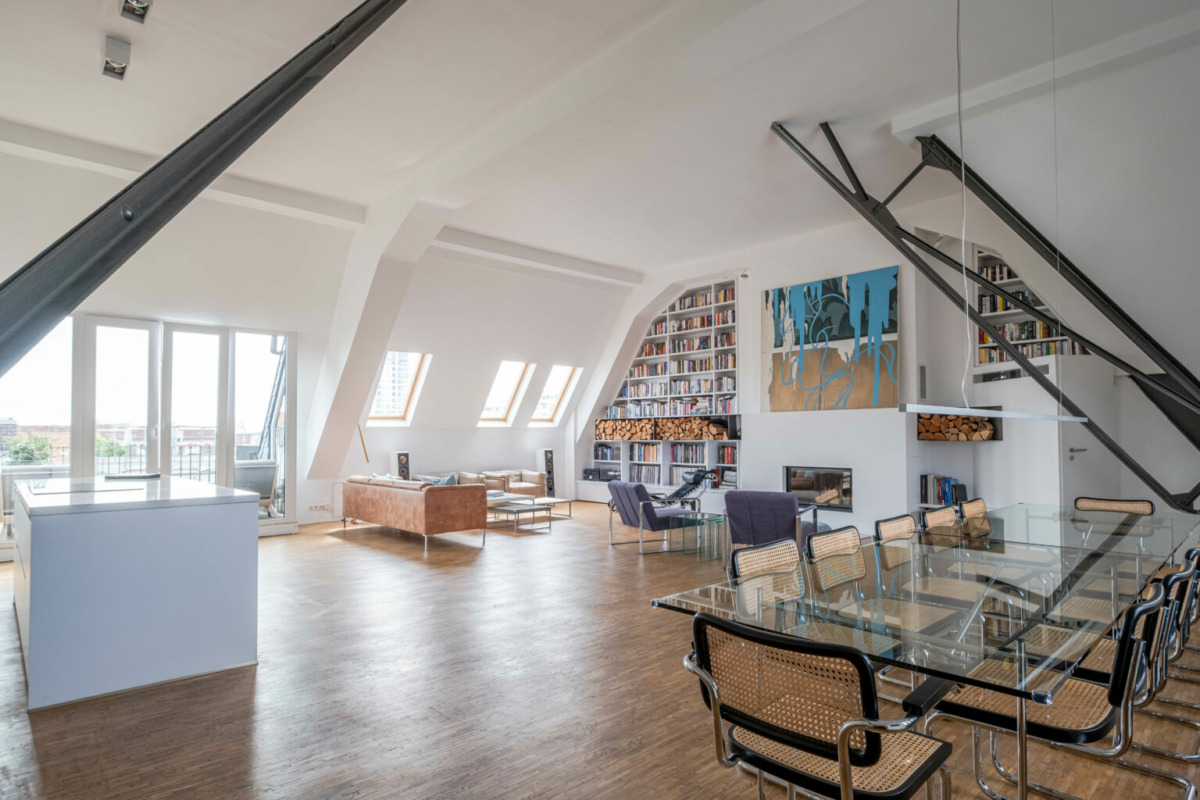 The high ceilings and commodious living and dining area create a welcoming atmosphere, perfect for entertaining. The fully fitted kitchen, featuring a sizeable cooking island, means the host is never far from the action. For quieter days of solitude, the coziness of the loft provides solace and contentment. Move from the warm comfort of the real wood fire to the stunning views from the east-facing balcony, and enjoy feeling part of the city from the comfort of your own home.
The impressive master bedroom, situated in the attic, has its own ensuite which includes a free-standing bathtub. A spare room in the east of the property can be customized as you so choose, be it for your child, an extra study space, or a guest bedroom.
From this apartment, you can step out of the tranquil privacy of the building's communal gardens and straight into the heart of Lichtenberg. A favorite among young families and creatives, the rich history of this eastern district makes it a perennially vibrant place to reside. A stone's throw from Friedrichshain, there are countless opportunities for both dining out and bar hopping, while the nearby Tierpark offers a much needed chance to get out of the city and breathe.