Snapping her fingers, Alexandra Dröner starts immersing herself in the pulsating beat of the electronic grime music emitted from her DJ console and monitors.
Rays of sunshine pour in, framing her sharp, innate movements with a cross of light. Her raw, unadulterated motions contrast the refined midcentury furniture of her Prenzlauer Berg loft apartment. Here, in her personal space, the stereo is the focal point: "It's a temple to me, a wonderful music shrine. I want to be able to sit down or stand in the most ideal position possible and listen to music," says Dröner. "For me, that's how music should be experienced at home—as a singular experience and not as background noise." Dröner wants to feel comfortable when listening to music; clarity and warmth are the most important elements to her—with a focus on midrange and bass rather than on extreme highs.
Dröner enjoys blending together a wide spectrum of artists and sounds; many are reminiscent of the mixes she created as one half of the DJ duo Sick Girls, others transport you back to the original tracks that were their buildings blocks. She mentions Morton Feldman, Arvo Pärt, and another of her favorite composers, György Ligeti. On this sunny morning, she puts on 'This is How We Walk on the Moon' by Arthur Russell, a song that deeply touches her over and over again. Russell, who was an American musician and producer, died of an HIV-related-infection in 1992. He was a key artist of his generation and, to Dröner, her grief over this loss is embodied in this song—as is the excitement about the oeuvre that he left behind: "The simple beauty of the instrumentalization, the genius of this wonderful musician, the unfathomable sorrow. All that resonates in emotions of excitement and pain—the bittersweet. This is perhaps one of the most powerful feelings that music can evoke," she says.
"The seemingly naive notion of peace, love, and unity doesn't mean much more than being tolerant and open-minded. Clubs aren't just venues but safe spaces, where everyone shall act out his or her identity, where people meet with mutual respect and empathy."
According to Dröner, if you have experienced the special synergy created when sound and space converge, then it will never leave you: "This old ruin, its walls, the steel, the stroboscopes, the tangible sound and how it dripped from the ceiling. It was like art." At Tresor, it took years before they figured out how to create good sound. Most systems were simply overloaded by the low-frequency sub-genres of electronic music like techno, house, jungle, and drum and bass. In the early years of Tresor, the sound clattered in all corners. The quality improved rapidly over the years and culminated in the mid-'90s with the Love Parade parties, which brought rave culture to the streets and even caused local monuments like the Berlin Victory Column to shake from megawatt PAs installed on trucks and millions of ravers dancing in toe. This sound from Berlin eventually became a mass movement and the last great youth culture of the 20th century.
"Bass is the physicality, the physical manifestation of music."
But Dröner liked the kind of techno that was more complex and sometimes had the courage to leave space. "Like Jeff Mills, how he swiftly moved a few fingers and suddenly the ceiling went up." The straight bass drum in four-four time dictated the sound in most Berlin clubs. For Dröner, the only escape was to look ahead. She was searching for new sounds—punchy sounds, with a special bass. Challenging sounds.
At the beginning of the noughties, Dröner spent a lot of time at WMF, one of the most influential clubs at the time. WMF made room for new technological influences. Laptops and complex visuals played an increasingly important role. The rooms were treated better and the bass, especially, could be heard with more precision and accuracy due to these technical developments. "The WMF was extremely underrepresented in the Berlin club narrative. But it was here that the whole thing became more ambitious and diverse again. Style was incredibly important for the rooms at WMF. The music enlarged the rooms here—there was something special about it. Space was defined completely differently than at Tresor or E-Werk."
In 2004, Dröner got her first grime record as a gift. "It was like the first time I heard 'X-101.' All my hair stood on end, my whole body vibrated, it was pure power. I thought that was incredible." Shortly after, she met Johanna Grabsch, with whom she created Sick Girls. Through their uncompromising eclecticism, Dröner and Grabsch became ambassadors for club sounds that stood up to the strict dictates of straight techno bass drums—from UK bass to grime, dubstep, and Brazilian radio Carioca. "Nobody played this music, so we decided that we could do it ourselves. We also wanted to be visible as women and live our feminist values."
Bass continues to play a central role in Dröner's musical cosmos. "Bass is the physicality, the physical manifestation of music. Aside from the cliché that in the '70s at a rock concert the flare pants had to flutter, I find this whole body reaction exciting," she says. "The music thus becomes a body in itself. Bass is something round for me. I still get the same feelings with a wobble bass as if you were giving a toy to a four year old. It's not an intellectual reaction. Sometimes a fat bass is just awesome. You can almost lie in it!" At home, she argues, it should however be precise and clear and comfort the listener. "This is where I want to have space to think and listen with my head rather than my body." Still, this musical indulgence doesn't overshadow a certain obstacle to her enjoyment. For a moment, Dröner removes her fingers from the needle. Her movements slow down. An unexpected picture of the women whose body usually absorbs every soundbite.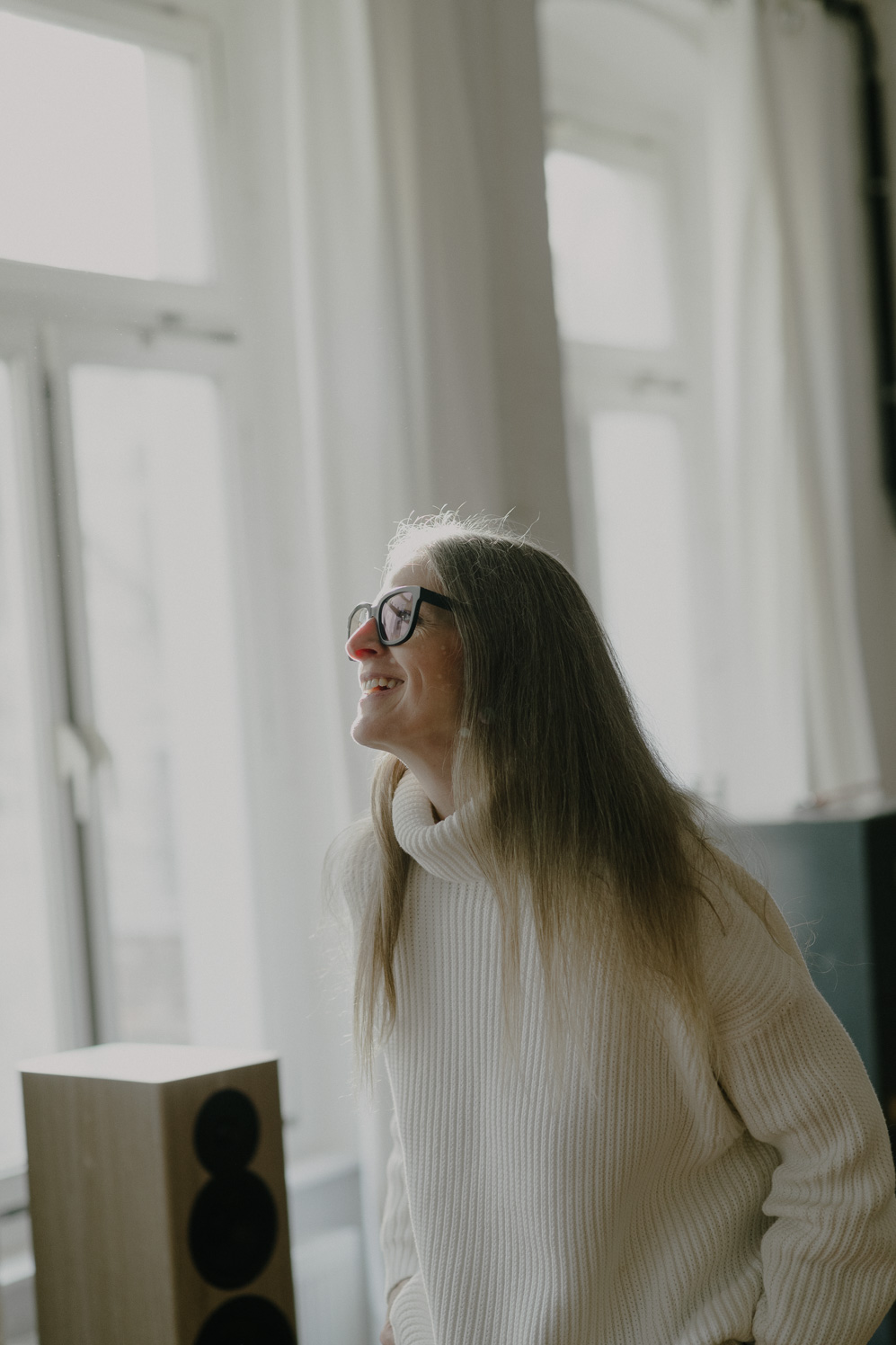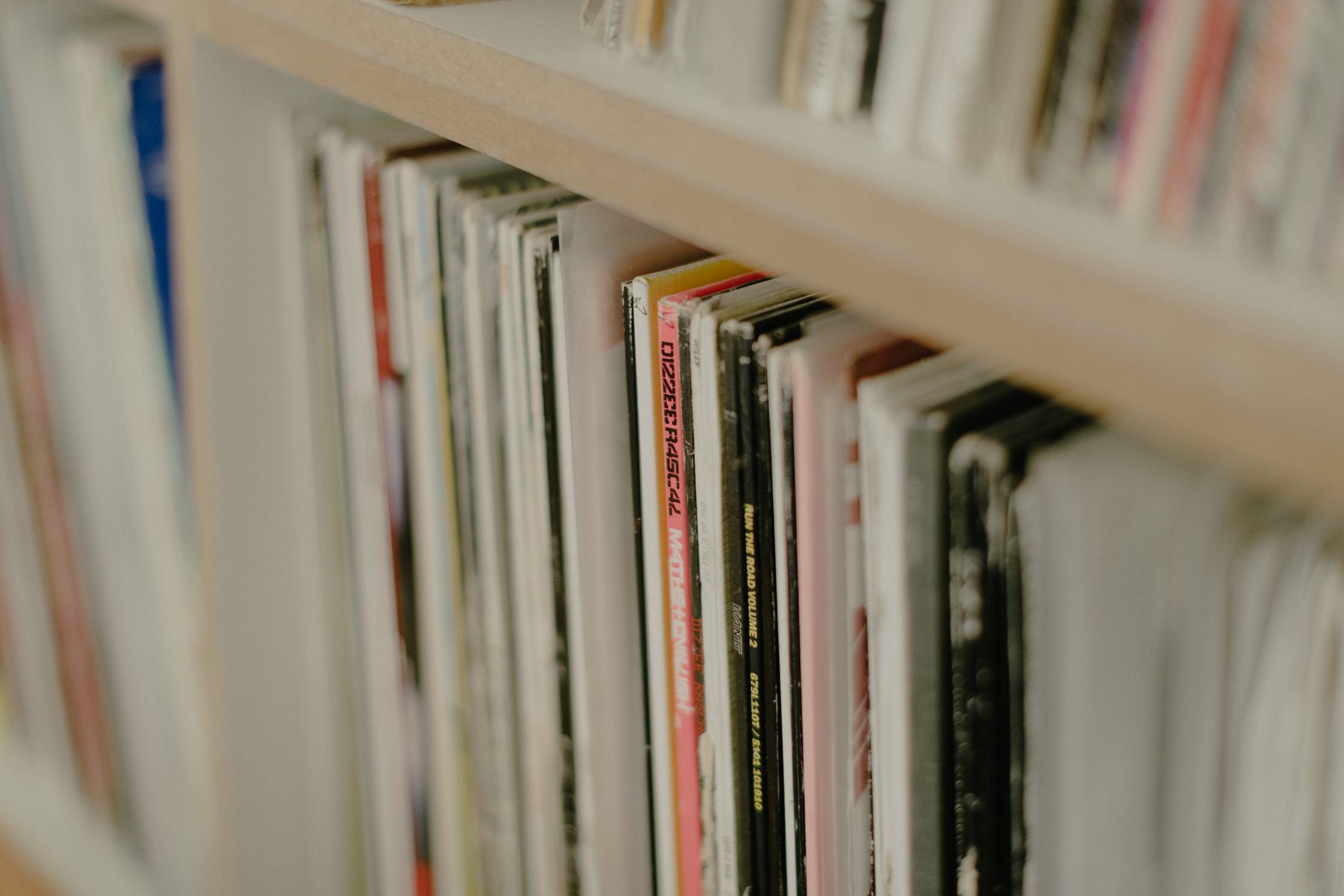 Dröner has been living with tinnitus for almost 15 years, which has a huge influence on her daily life. She ascribes the condition to years of club life and emotional stress. Tinnitus means that music is heard differently. "I can't do what most people do—listen to headphones on the subway or while jogging or at the office—otherwise my tinnitus will get worse. When I DJ, I have to use hearing protection. That's why headphones are rarely an option for me." It may hold her back from visiting friends' concerts, but not from praising the values of the club culture that socialized her: "The seemingly naive notion of peace, love, and unity doesn't mean much more than being tolerant and open-minded. Clubs aren't just venues but safe spaces, where everyone shall act out his or her identity, where people meet with mutual respect and empathy," she says. "I am glad to have been part of a historically important movement, but also don't long for 'the golden old times.' I generally look towards the future and seek out the new."
The art of listening—that's what Dröner is interested in—when she and her boyfriend turn their entire apartment into a large sound installation. "You can play an ambient record on the smart bathroom radio or place other soundscapes and sources on monitors and stereo, so you can wander around the apartment and something interesting always happens," she says. Though Dröner spends less of her time in clubs nowadays, her life remains inspired by music's ability to incite intense physical and emotional responses. While you may also find her pursuing sounds from beyond the confines of the DJ deck—at nearby Weissensee Cemetery, when the silence is met with the rustling of trees and the sounds of gardening; under railway underpasses where she likes to shout as in one of her favorite movies, Cabaret with Liza Minelli—she still thrives on the eclectic beats that shaped her musical career. Rhythms that make you want to get up, raise your arms, move to the beat, and simply get lost in.
The Art of Listening is a collaboration between Freunde von Freunden and the Danish speaker manufacturer Dynaudio. Both combine the passion for sound, music, and genuine pleasure. The series also features Copenhagen-based sound anthropologist Holger Schulze and an upcoming portrait of Scottish fashion designer Nicholas Daley.
Text: Ji-Hun Kim for FvF Productions
Photography: Robert Rieger for FvF Productions