"I'm up here," she cries, her voice echoing down the worn and dilapidated stairwell.
I bound up the stairs and am greeted by a smiling dark-haired woman, who's standing at the door. "Come in," she says, and the door clicks behind us, muffling the sounds outside like an air-lock. Welcome to Agnese Kleina's personal habitat, a sumptuous collection of paintings, clothes, bookshelves, and antique furniture.
"Friends say it's like a museum in here," she says, moving over polished wooden floors. "For me, it's just how I like it." Her friends aren't far off the mark. On the wall to my left is a large white cabinet, its contents hidden behind a velvet curtain; it used to hold manuscripts in the Latvian state library. Agnese slides back the shade and voilá: rows and rows of costume-like hats. A prominent figure in the Latvian fashion scene, she's famous for her inimitable array of footwear and hats. But as a celebrated journalist and publisher, it's the incisive mind found under those hats that Agnese is truly known for.
This portrait is part of our ongoing collaboration with ZEIT Online, who presents a special curation of our pictures on ZEIT Magazin Online.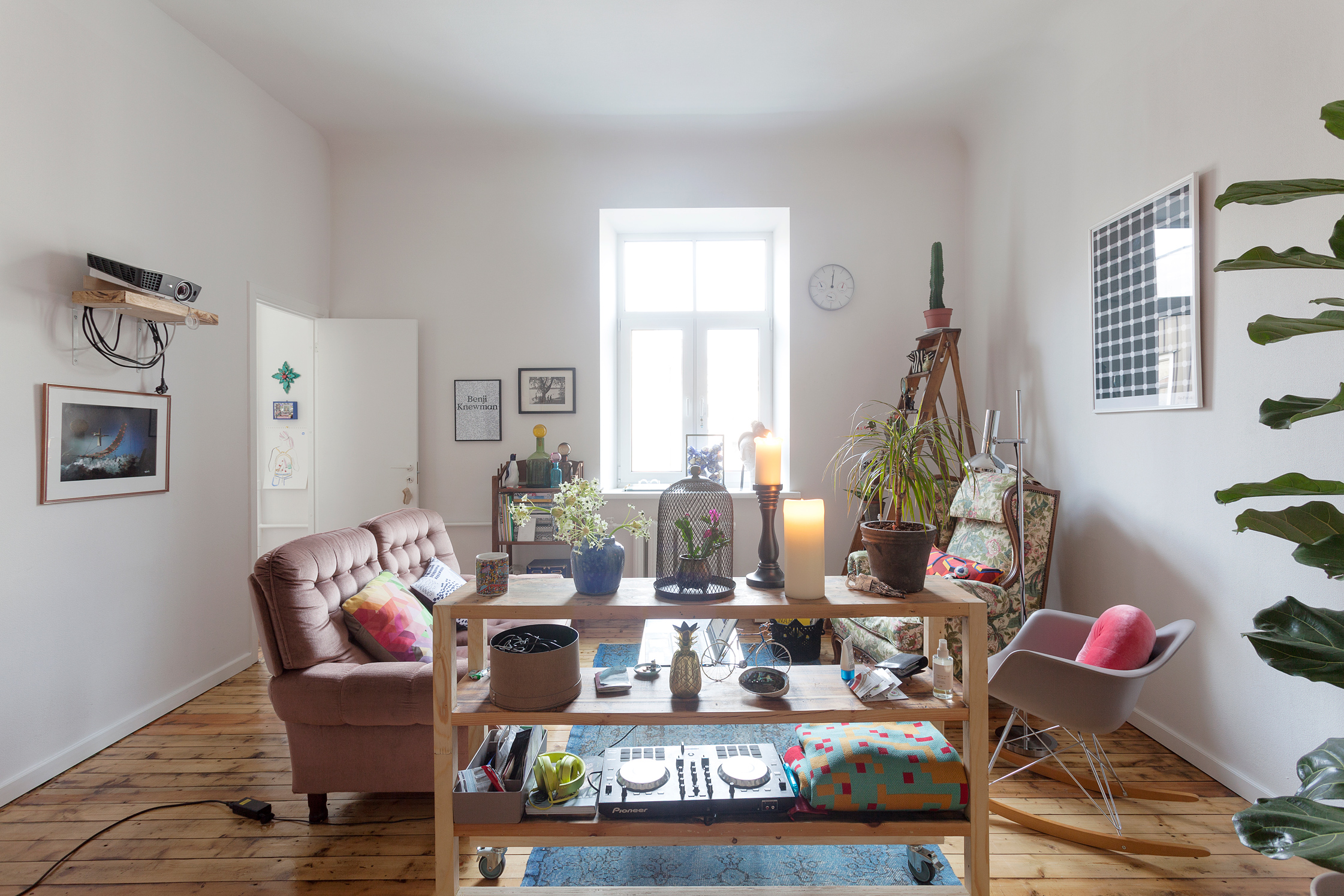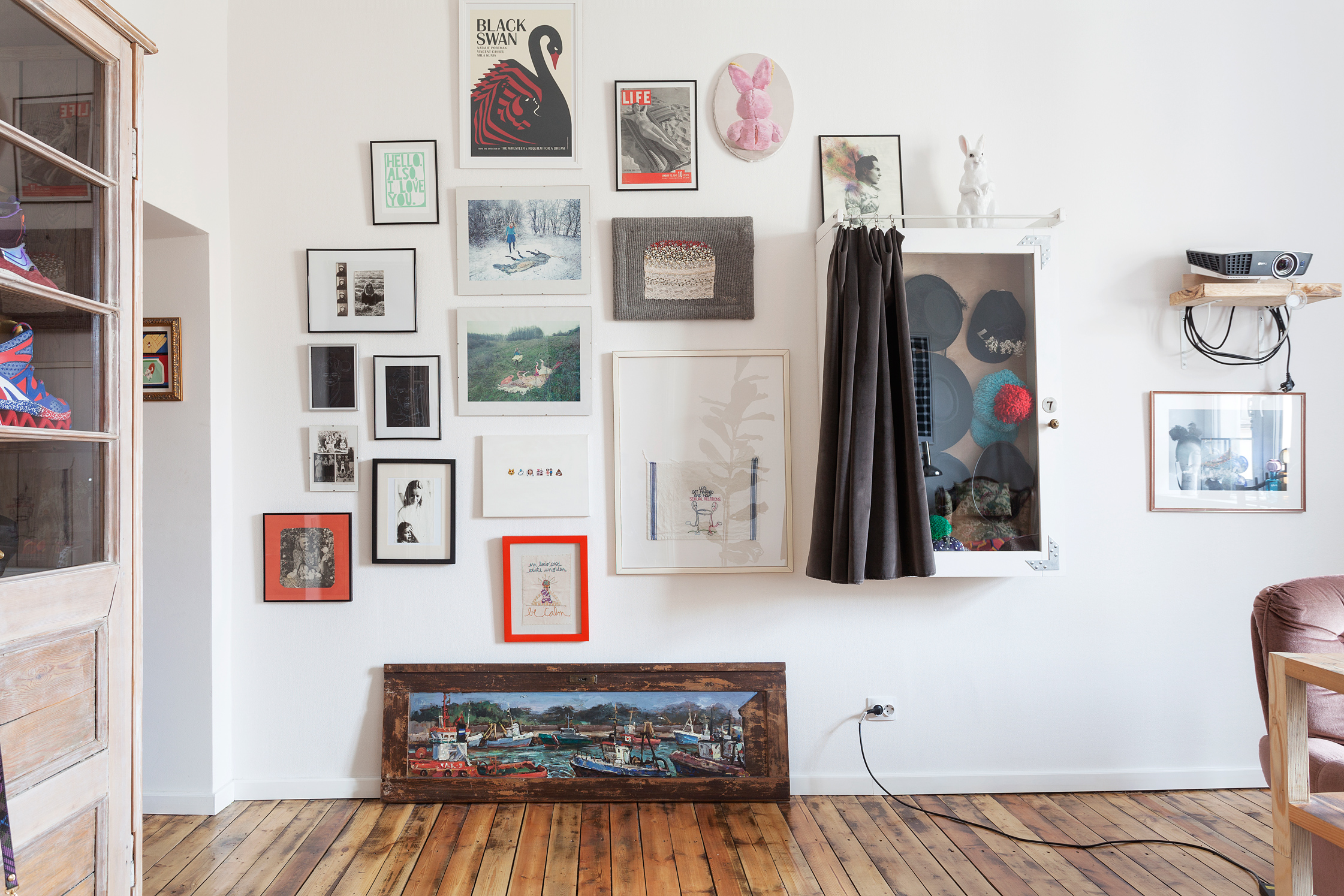 We inspect another cabinet, this time filled with shoes. They sit behind glass like a connoisseur's whiskey. "They're all sneakers now. I used to be more into heels but I had a comfy lifestyle back then," she says. "I had a monthly pay. I was sitting all day in the office. Now I'm self-employed, running around meeting people. There's more hustle — and I like it that way."
Agnese is talking about her latest venture: the independent magazine Benji Knewman. It's a bilingual publication, sold in 22 countries, and is based around an enigmatic persona: the titular 30-something man "from a place where they speak English." He has Latvian roots and uses the magazine to reconnect with his past. "We have two goals," Agnese explains. "To tell the Latvian story, and to make a space where people can really be — who they are, and how they are."
"I believe as long as you can communicate use the language you want."
Latvia has a small population and a unique language. Its history is marked by repression and ideological struggle, so sharing its story is a difficult task. Agnese however, in publishing Benji Knewman, has met that challenge head on. As the chief editor, she organizes a team of 30 contributors. "They're all around the world. Latvians living in London, for instance, or elsewhere abroad. Also just people that get in contact who have the right story to tell. In the end it's about ideas," she says.
Many of which were taboo under Latvia's communist regime, which ruled until its collapse in 1991. "In those days, the press was closely monitored," she says, "though things changed towards the end. I looked through a copy of an old magazine recently, called Flame in English. It was published in the early 90s, and was really on the edge. It was the time of de facto independence. Everything was shifting. In one issue you had a spread discussing typical Soviet political ideas, such as Lenin and Marxism, and in the next was a real-time report from a discotheque. They were on the doorstep of something new."
Since independence, publishers in Latvia have found a new voice, but Agnese still faces setbacks. "That's a gay man on the cover," she says, pointing to an issue of Benji Knewman lying on the coffee table. It features an image of American Steve Grand, who became an overnight sensation as one of the first openly gay country musicians. "A topic like that is certainly new. But overseas Benji's just another product. Here, it's connected to my name — my reputation as a fashion blogger. Some people think it's too extravagant. In Latvia, people use the word 'hipster' for everything new. The local fashion label MAREUNROL'S are familiar with this. They did an interview recently and the headline was 'we like it that we are not understood.'"
For Agnese, being understood is important. That's why Benji Knewman's stories are printed in two columns, one for the original text, the other for an English translation. "To tell the Latvian story you need the national language, but the idea is for the world to hear us. The English translation is like a mechanical tool, there to help you understand."
"The main language is an international one: human language."
The latest edition, thick and glossy, contains personal accounts of the fall of communism, profiles of local architects, and Latvian idioms with literal illustrations. (Apparently, politicians "blow out ducklings" when they speak in empty promises.) Features like these shine a light on an unfamiliar cultural landscape, but Agnese's magazine also expounds more abstract and international perspectives — think days spent in bed or creative immigration. "Really, the main language is an international one: human language," Agnese says. "I want the magazine read because I know the ideas told there are not mine alone. They're told by many people and are useful for a wide audience."
The magazine's audience begins at home and consciously embraces Latvia's often overlooked Russian-speaking minority. "Russian is characteristic to parts of this region, so when we receive Russian pieces we leave the original," Agnese says. "We translate it into English but not into Latvian. The younger generation here doesn't know Russian; they speak English." It's difficult to overstate the importance of Russian-Latvian cultural relations here — an issue that goes to the core of Latvia's complex national identity. Back in the 50s, Soviet planners encouraged Russian immigration as a way to pacify Latvian nationalism. Dissidents were deported and their language and heritage were at times suppressed.
Since independence, and the financial crisis in 2008, the Latvian government has put more emphasis on national values. "The government is pushing Latvian for all the wrong reasons," Agnese argues. "A really old agenda that's like a broken record. Again? Latvians against Russians. I mean, really? Can we move on finally?"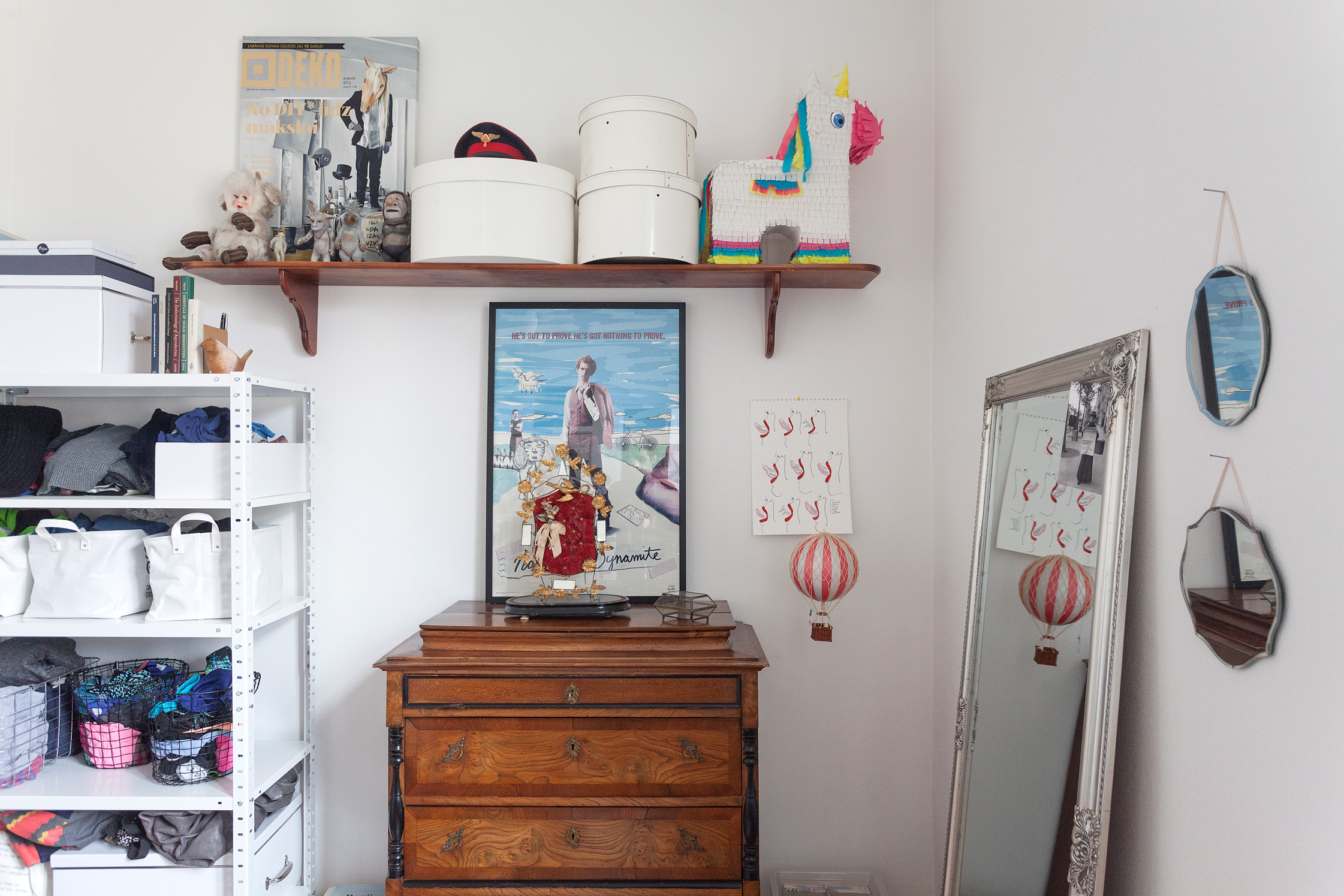 She's optimistic about Latvia's diversity, and proud of the Russian she knows (she was the last year in school to have Russian as a compulsory course). "I believe as long as you can communicate use the language you want," she says. "People are very similar, almost the same, anywhere they are. It doesn't really matter which language or traditions they have. One eats with a fork, one eats with chopsticks, but all people are anxious and want to be loved. They dream about things, they're afraid — it's universal."
"I didn't make it as a journalist by studying — I made it by doing"
She reflects for a moment, "I met a young Russian-speaking Latvian this summer (the young ones learn Latvian at school now) and we ended up conversing. He was speaking Russian, and I was speaking Latvian — we understood each other perfectly. It was just easier that way." Older Latvians aren't so sure. "It's a generational thing, of course. They lived in tense times — you see this deep down," she continues. "We don't really have those bleeding hearts. There are people though that were tortured or repressed, for instance, that forgive their enemies. It's easier that way, for themselves, not carrying this grudge til they die."
After high school, Agnese went to study journalism in Riga, but failed the exam and didn't get in. "I was crying my eyes out when I didn't get into journalism school," Agnese remembers, "but now I appreciate it." Plan B, "which wasn't a plan at all," was the Academy of Culture in Latvia, where Agnese studied French. "For four years!" she laughs, as we take a seat in the living room, Agnese perched in a throne-like chair. "I was studying the language and the culture, which is like a history of everything — art, music, religion," she says. It led to a new perspective, one that is evident in Benji Knewman today. "If you have the ability to criss-cross, and make yourself a hybrid of different fields, then you're better off, because you feel at ease in all of them."
We sort through a shelf of past publications: newspapers, books, and magazines — it's a lifetime of work, arrived at by unconventional means. "I didn't make it as a journalist by studying — I made it by doing," she says. "I started when I was 16, in my home town Liepaja, next to the sea. My mum's friend invited me to write a page for youngsters in the local newspaper. It was the whole back page, and I was given total freedom — one of my first pieces was how to make a friendship bracelet," she says, eyebrow raised. I take a note: "make friendship bracelet."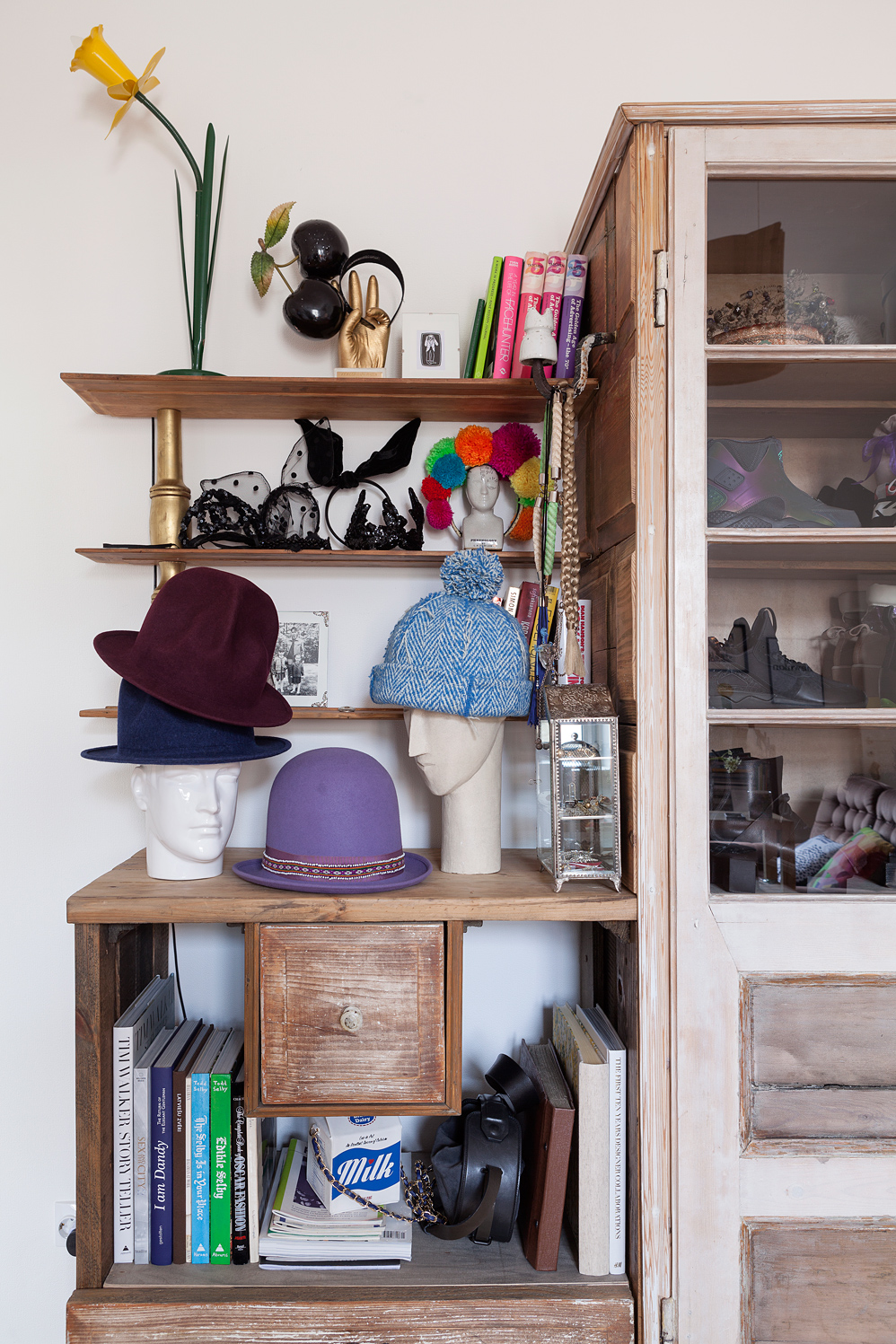 "I want the magazine read because I know the ideas told there are not mine alone."
Agnese wrote through her studies, hoping to cover her rent and break into journalism. "I started at the bottom," she says, recalling a litany of poorly paid jobs which included opening letters at a local kid's magazine. They were posted in by children for a weekly contest, and contained cryptic messages scrawled across the page in felt-tip or crayon. Deciphering those notes led Agnese to a role with Santa — no, not a delusion brought about by inhaling crayon dust: Santa is Latvia's oldest women's magazine. "It's a household name here in Latvia," Agnese says. "I was the youngest member of the team, so I was given the opportunity to write about things like the internet, gadgets, and worldly matters. I searched for my own topics, ones I'd really like to offer, to make it a wider look than cooking and make up."
It was around this time that Agnese started blogging. She was well connected and knew the city like a family home (she co-wrote the Riga city guide for Wallpaper*). "When blogs here were just getting started, around 2009, I was one of the first who picked it up," she says. The Latvian fashion scene was experiencing a revival, and Agnese was profiling local labels. "New Latvian stores and brands were booming and people came to my blog to learn about them," she says. "At the same time, I was posting pictures on my own, wearing those labels. I've always been, and still am, a big fan of Latvian designers." That's where the crowns and caps came in. We try on a jumbo-sized mountain hat designed by Vivienne Westwood and once worn by Pharrell. "A picture of a girl wearing weird clothes — that's more interesting for some people than journalism," she shrugs. "So people started calling me a fashion blogger."
"A picture of a girl wearing weird clothes — that's more interesting for some people than journalism."
Her sense of style paid off in 2010, when she took charge of the Latvian interior design  magazine DEKO — which probably explains the formidable furniture crowding her apartment. "Most of it is custom made or refurbished," Agnese says, pointing to a ladder which was also acquired from the Latvian state library. It used to aid librarians stretching for a book. Now it's a support for candles and pot-plants. In a way, it's emblematic of Agnese: constantly reinventing herself. She's just come back from a weekend of filming, where she presented a series on national television about traditional Latvian dress. It's been a natural progression for Agnese, from journalism, to publishing, to television.
Perhaps it's related to the way of life in Riga. "It's a small scene here and it's easy to meet creative people," she says. "[The artist] Andris Vitolins and I, for instance, live in the same building. I saved his door code on my phone the first time I met him. Now that door code is mine." It seems like Agnese has codes for the entire city, as she's always looking for the next collaboration. When I ask her what her plans are for the future, she pauses and twists a loose lace that's hanging from her shoe. "Let's just say… I'll keep that under my hat."
Thanks, Agnese. Your bilingual magazine brings people together and shares the Latvian story with the rest of the world. Check out Agnese's blog for more inspiration, or order a copy of Benji Knewman online. A special thanks to Reinis Hofmanis for making this interview possible. 
Riga is full of creative people just like Agnese. Read more from the Latvian capital. Magazines like hers play an important role in the digital era. Find out more about this fascinating medium.
Interview & Text: Jack Mahoney
Photography: Reinis Hofmanis