The shop front of Evangelia Koutsovoulou's culinary herb and spice business, Daphnis and Chloe can be smelled before it is seen. Located beneath the Acropolis and Philopappos Hill in Athens on an open tree-lined street, the soothing aroma of essential oils from her suppliers permeate the light and airy space.
Like so many young Greek people, Evangelia exudes a refreshing sense of self awareness and a no-bullshit attitude. She speaks in a discerning and humble manner, illuminating the realities of her life in Athens and the evolution of the now famous Daphnis and Chloe herb company. The very beginning of Evangelia's journey into herbs and spices—whilst no doubt informed by her upbringing—began organically. Influenced by location, timing, and a chance encounter with an Italian friend, her story and the subsequent success of her business remind us of the value in following your gut, in taking risks and in embracing the unknown.
This portrait of Evangelia was created in collaboration with Werde. Together, we visit women whose creative work deals with natural themes. Visit Werde online to see the recipe Evangelia created to showcase the herbs and spices of Daphnis and Chloe.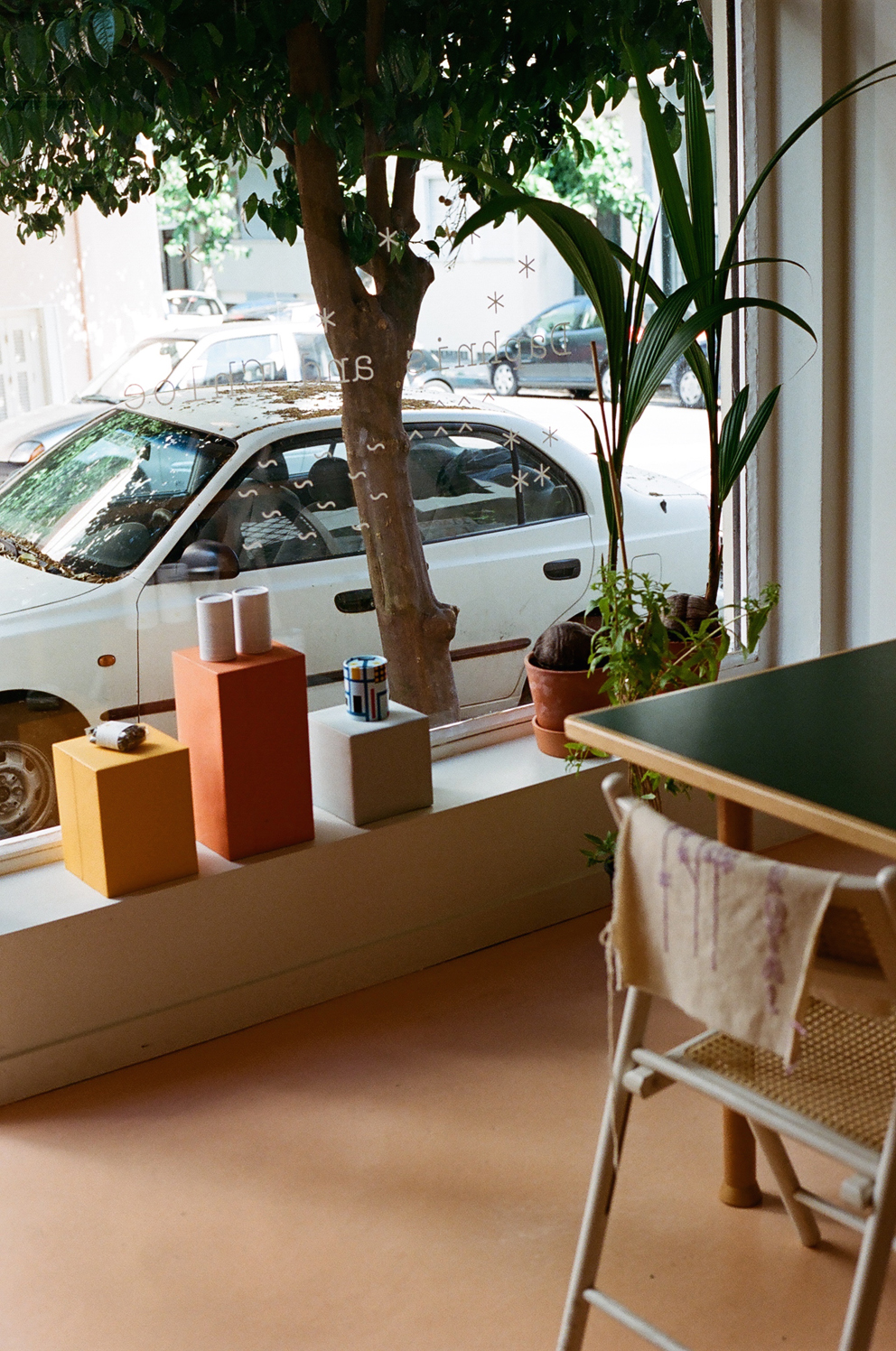 Evangelia grew up in a small town in central Greece and spent much of her time in the countryside. "My father loves the mountains, which for me as a kid was very frustrating because my friends were going to the beach and we were going to the mountains." Her family were always particular about produce and ingredients. "You could call them food snobs but we were just eating really simple food. Greek food is always simple by definition." Evangelia moved to Italy when she was 17 to study and worked in lifestyle journalism in Milan for a number of years. On moving to Italy she found cooking with friends to be the most organic way to further educate herself, finding Italian food to be more complex and sophisticated than what she had grown up with. "Studying in Italy I found that my university friends actually cook really well, they make really good pasta and they take their coffee seriously. So this has become a part of my life organically, being kind of picky around these things."
It was this social and sharing environment, centered around quality food and produce, which accidentally led Evangelia to discover her curiosity about Greek herbs and their culinary potential. "There was this old lady in a village where I spent all my summers as a kid who was harvesting oregano from the mountains and selling it to make a living," she explains. "It was a classic in my family, we have always bought oregano from this lady, and when I brought this to Italy my friend was always asking me to bring her some."
"I felt I had discovered this whole world in Greece, it was like this hidden world of spectacular culinary herbs!"
Evangelia's friend became obsessed with the oregano she was bringing from Greece, which led her to question "Why does an Italian care so much about my Greek oregano?" It was this single thought that inspired her to begin research culminating in her own company, Daphnis and Chloe.
"I felt I had discovered this whole world in Greece, it was like this hidden world of spectacular culinary herbs!" Produced in small quantities and sourced from remote locations, Evangelia has worked to develop a range composed of herbs and spices which are "traveling out of their origin for the first time". Like so many creatives, fortuitous discoveries and the appeal of the 'road less traveled' are what kept Evangelia interested and inspired the huge life change that was her return to Greece. "When I told my father I was going to leave everything behind and come back to Greece to start a herb and spice business he told me I was crazy, but I knew I had to pursue it."
Evangelia's decision to move to Athens and found a business in the wake of the financial crisis may have appeared risky, especially for someone who was growing in her job and had carved out space for herself in an already difficult industry in Italy. But for Evangelia, once she had begun there was never any doubt in what she was doing. Athens was the best place to run a business that dealt with Greek culinary herbs and Evangelia's passion, drive and success reflects the psyche of so many young Greek people who refuse to be defined by a crisis not of their making.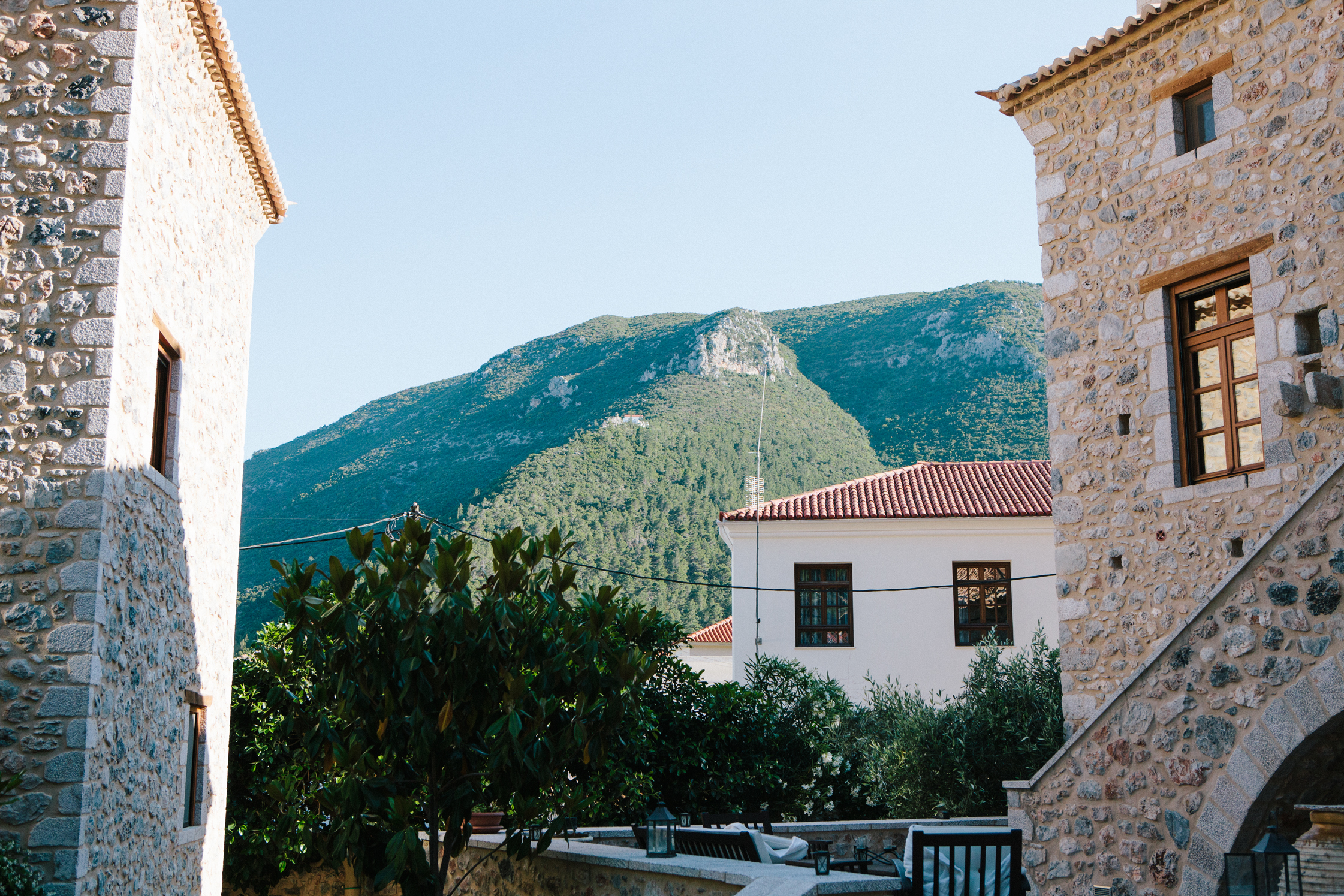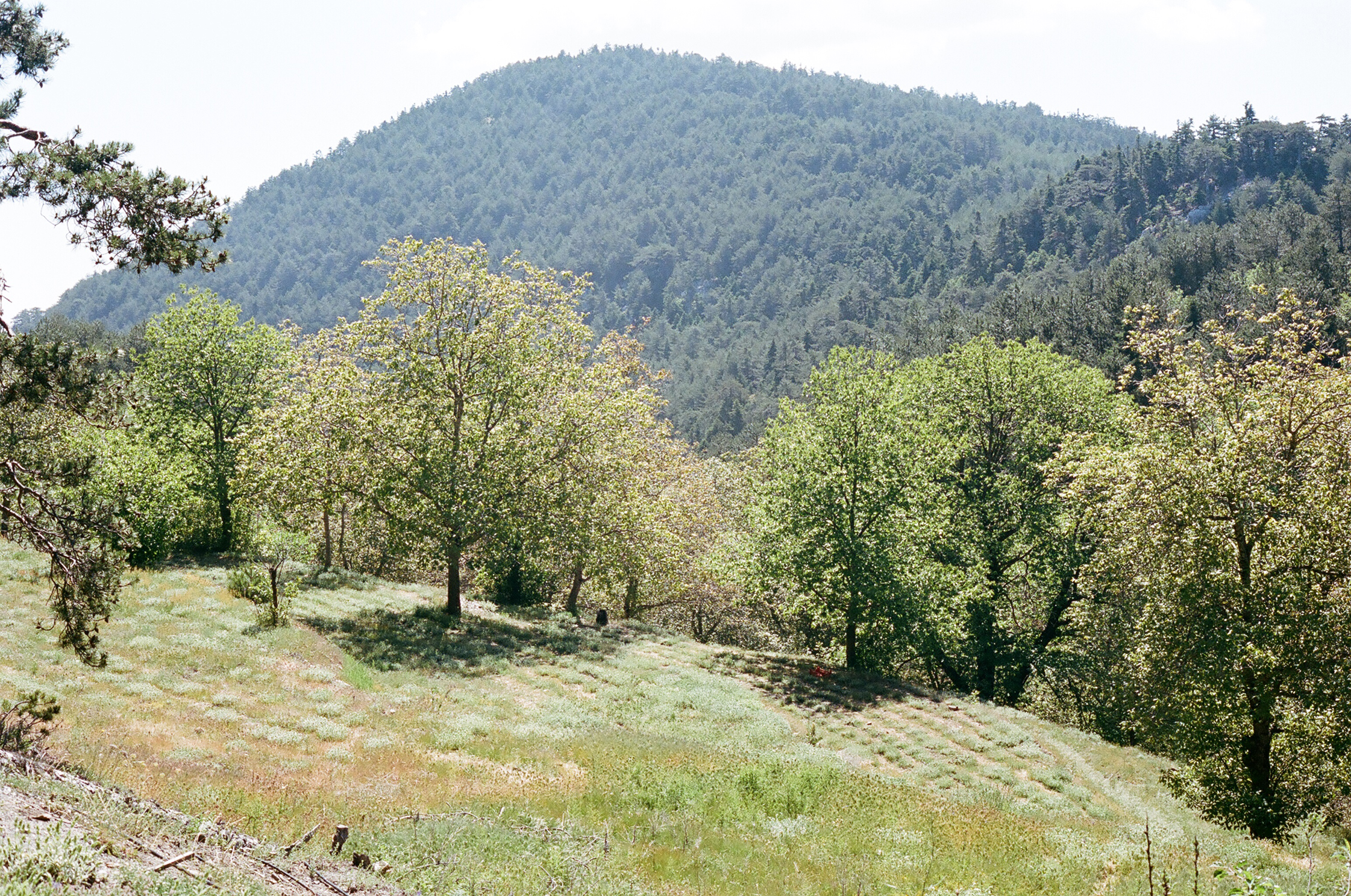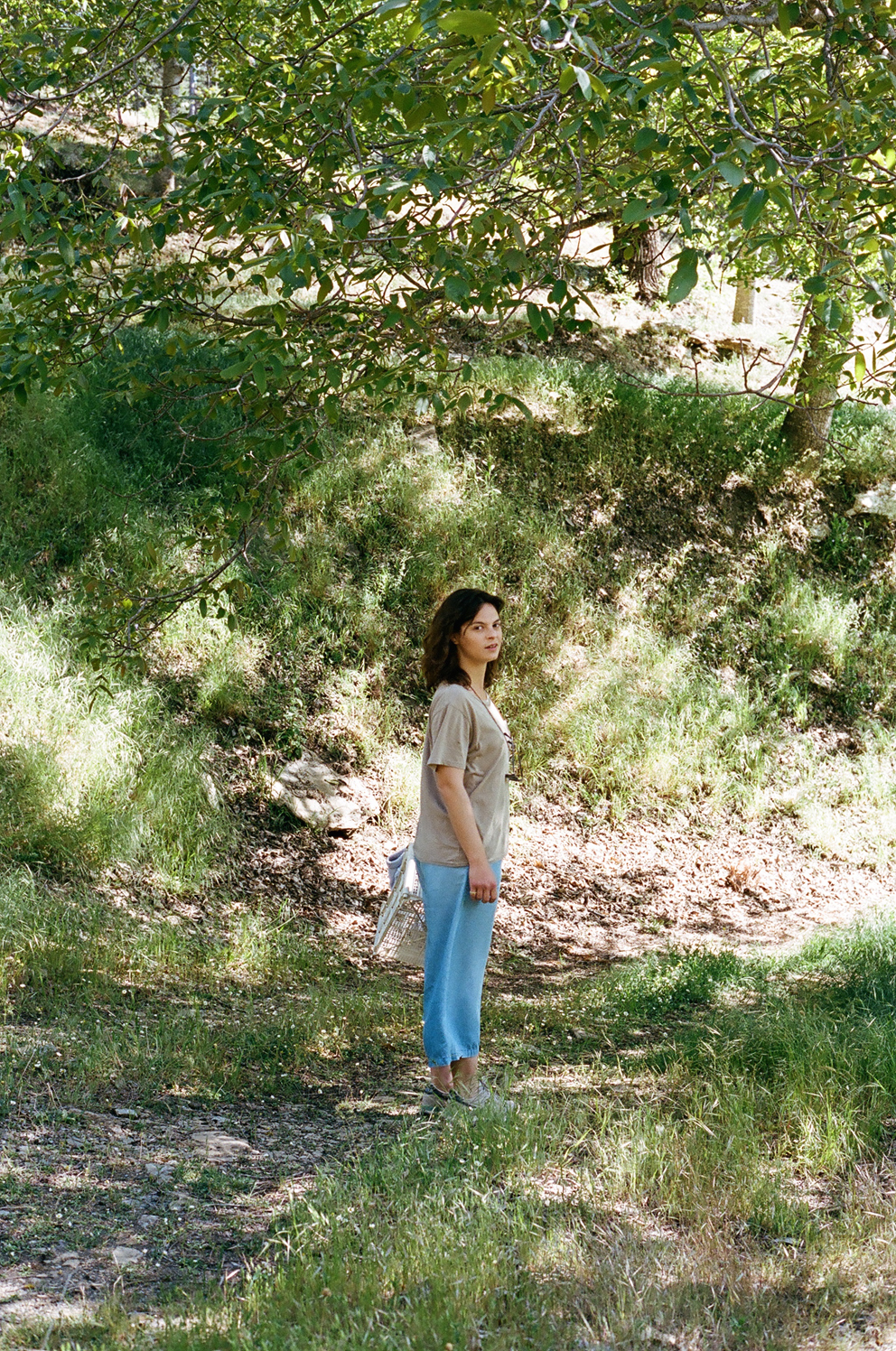 "We spent the night at Leonidio, a beautiful picturesque village at the foothills of Mount Parnon," says Evangelia. "It's a blessing that through my job I get to discover places like this: not 'tourist destinations' in a conventional way, but still worth visiting."
In the day-to-day running of Daphnis and Chloe, Evangelia deals with a range of harvesters in remote locations around Greece, a process requiring an intimate knowledge of the landscape, weather, farming and communities. Her self-described obsessive research skills, as well as a strong contact base of friends and family, have helped her to seek out the highest quality herbs and harvesters. She maintains different kinds of relationships with suppliers, some of whom have been surprised to meet a young woman at the head of the business, and some of whom have become like family. "In terms of sourcing our produce, its human relations," says Evangelia. "Through this job I have learned to negotiate—you have to put water in your wine, to let things go, and to step back sometimes. Things might not work out exactly as you have imagined them, and you have to make peace with this idea."
Chance and timing not only ruled the beginning of Evangelia's herb discoveries, but they now dictate the way she harvests her herbs and spices and their culinary qualities. There is no way of controlling the weather or the climate, and Evangelia has learnt to embrace the indeterminacy that comes with working in this environment. "There are so many things when you are working with natural products that you cannot plan because there is someone else or nature doing the planning for you," she explains. Working in an area that requires constant attention to natural processes and organic materials has influenced Evangelia's attitudes and approaches to her daily life. "When you are dealing with herbs you learn things about the natural cycle of the seasons and it's inevitable that this influences your life somehow. It comes naturally when I go to a shop, it comes naturally to cook with ingredients that are pure and good, knowing exactly where they come from."
The best of the Mediterranean from the shelves of Daphnis and Chloe
Greek Mountain Tea

Chili Flakes

Oregano

Thyme and Greek Mountain Tea

Thyme flowers

Thyme
An increased proximity to nature and to the countryside have been some of the major perks of Evangelia's career change. She enjoys waking up early to see the sunrise, something that she would never do with her previous job. Even when she is not in the countryside, Athens is a city with a wonderful climate. One of her favorite things to do is to finish work when it is still light and walk up on Filopappou hill to feel the breeze.
"We are still at the beginning somehow and there are so many steps in what we are doing and the way we are doing it," she says of the business. "I don't see myself as a herb expert, I see myself as someone who loves herbs and is very curious about learning more about herbs," she adds modestly. But if you have cooked with her 'Oregano from Amorgos' you will beg to differ. For Evangelia, her business represents a state of continual learning and improvement. Growth of Daphnis and Chloe will never mean vapid expansion of the business, but instead the furthering of expertise, knowledge and the discovery of herbs. "It is not like we are doing something so original that nobody has ever done before, it is not nanotechnology, it is not pioneering in any way, it is just a very detailed, very specific thing. And today more than ever there is space for very specific things. And I love this because for me it has a very strong connection to how Greece used to be in its best years."
In the old commercial center of Athens, Monastiraki, you can still wander aimlessly down entire streets specializing in one particular product. There is a street of door handles, a street of glasses, a street of ropes and so on. Evangelia has been inspired by the dedication, expertise and specialization of these merchants. In a time where companies are continually generalizing, where parts of products are manufactured in opposite corners of the globe, where the seasons no longer dictate the food we see on supermarket shelves, there is so much beauty and sense to be found in the natural, in the organic, and in the specific. With Daphnis and Chloe, Evangelia invites us to celebrate the kind of detailed flavors our globalized existence so often causes us to miss.