Home is where the heart, hearth and art is. Funnily enough, a new Thai restaurant in Berlin's Potsdamer Strasse is combining all three.
Kin Dee is a five-way collaboration between Dalad Kambhu, the food-fixated fine artist Rirkrit Tiravanija, and restauranteurs Stephan Landwehr, Boris Radczun, and Moritz Estermann. It evolved out of a two-week pop-up at Stephan, Boris and Moritz's Mitte restaurant Dóttir, a process which began, fittingly, at Dalad's kitchen table.
"Me and Moritz were speaking about possibly doing a restaurant together, with me more so running the restaurant from the front end," Dalad says, before serving a dozen friends in Kin Dee's ochre-tinted dining room for the first time. "And I cooked for him at home. When he tasted my food, we met a couple of days after and he just said: 'I think you should be the head chef.'"
"I make food that's homey, because it is a taste of home." – Dalad Kambhu
Fast forward to the present, and he and Dalad are in fact opening a restaurant together. "We're serving 10 dishes—a set menu for the first month, just to get the kitchen running, and introducing a new format for sharing plates: Thai-style food, where you're not just ordering two-three small plates, but where you don't have to have the whole fried fish or salmon ceviche yourself, but you come with friends, and you enjoy sharing the meal." This tasting menu includes beef salad, soft-shell crab, an apple salad, an amuse of chilli nuts with pickled kohlrabi, slow-roasted pork belly, whole fried fish with tamarind, and sous vide crispy duck massaman curry, a herby salad of brussels sprout tops and saute seasonal vegetables.
Raised in Thailand in a foodie family, Dalad lived and worked in New York through her twenties, studying, modelling and working in restaurants: starting front of house, and moving into the kitchen. Now 30, after a stint cooking under her aunt's tutelage in her Paris restaurant, Dalad is the head chef at Kin Dee, in a city she has only lived in for 10 months. It's backed financially by Stephan and Boris, whose other properties include Berlin eating houses Grill Royal, Le Petit Royal, Pauly Saal and Einstein Unter Den Linden.
"An artist came to talk at the pop-up, and she said 'Your food is Thai, but it doesn't look Thai. It has Thai soul and it's very homey, but also very elegant,'" says Dalad. "That's similar to who I am and perhaps how I want to be : I make food that's homey, because it is a taste of home. I want the flavor to be how I grew up eating, but I also want it to be beautiful and interesting, too. You want to look at it for a second, or think about it before eating." Laughing, she adds: "[But] it's not too serious, and not too heavy. It's not the type of food you need to sit straight-backed and eat with a fork and knife. If you want to reach and grab it with your hands, you can. The chilli paste that we make in house is very colorful. But spilling it is fine with us!"
From the farmer's market straight to the restaurant
Grabbing ideas and ingredients from the farmers market in Charlottenburg
Kin Dee sits on a number of culinary fault-lines: each one of which has created a challenge. The first is the oldest in the restaurant business: the line between fine dining and casual eating-out. A second, perpendicular one, runs on national-cultural lines, and is especially particular to Berlin—a city where everyday eateries are cheap, frequently excellent, and often Asian. Fine-dining, until very recently, meant French or central European, cooked bistro-style, in the French tradition. A third is a very modern one: how do you make authentic-tasting food, using locally grown and sourced ingredients, when you're half a world away from where it traditionally comes from.
Kin Dee is emphatically not a fusion restaurant. Yet the recipes from the pop-up onwards have made ample use of German ingredients, from smoked trout to root vegetables. "There are things you can't compromise on when you make Thai food: kaffir lime, lemongrass, galangal, Thai red chilli, cilantro and so on," says Dalad. "You just have to get this from Thailand, and we get this from a great local importer. Pastes in Thai cusine are almost like cheese to the French, there are so many kinds—green, red, massaman, jungle, burnt chilli— they are the core flavor of most dishes and we make it all ourselves in-house." Sharing suppliers with a group of high-end restaurants means that costs can be kept low. Meat and fish are all as organic and local as possible. Though the expected a la carte will have vegetarian options, for now the tasting menu is Thai traditional style which means a mela compose of various form (a saute dish, a curry dish, a soup, a fried dish and a dipping sauce dish), something that Dalad puts down to the fact that the Thai never eats too much meat, and tradition of vegetarian food, mung sa virat, or vegan, jay is eaten for religious rather than culinary reasons.
"Why would you eat a papaya salad that flew for 12 hours or more? It makes no sense." – Dalad Kambhu
"There's a lot of people who get very dogmatic about super-regional cooking in Berlin," says Moritz, who is also general manager at Grill Royal. "Which is fine, but we're not entirely like that: and we couldn't be. At the same time, we're trying to use products that are from here—I don't want to fly in ingredients if we don't have to." This does mean making adjustments to Thai standards: apple shredded or cubed in place of mango in salads, swede chopped in curries where others would import sweet potato, or Japanese mushrooms used alongside German regional varieties, served raw, crisped, or pickled.
Dalad agrees: "Why would you eat a papaya salad that flew for 12 hours or more or eat a kohlrabi that had driven for an hour? It makes no sense!" For inspiration, Dalad visits the Karl August Farmers' Market, looking at the seasonal vegetables on offer. One challenge of making fresh, seasonal Thai food in northern Europe is that there's only so much you can do with the root vegetables that grow during winter, meaning that some travel from the Med to the table. "There's swiss chard from Italy: bright green, red, yellow, it's gorgeous. I didn't want to use bok choi that had been traveling for so long, so why not use this, sauté it and serve it beautifully with garlic and chilli?"
Creating the Perfect Compositions
Taste trials – and painful errors – in the kitchen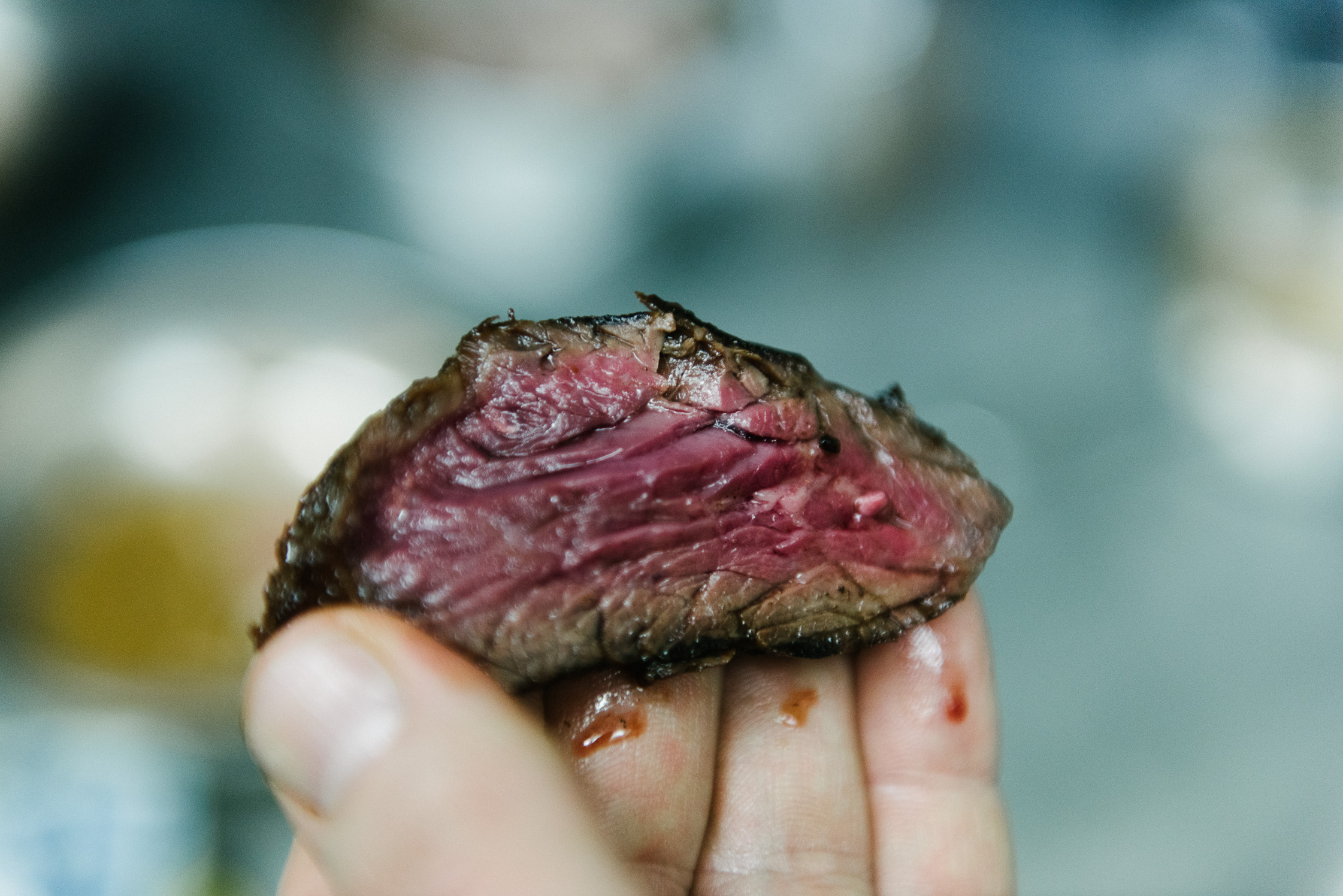 During the menu-testing, this threw up a challenge. For Moritz and Dalad, a stumbling block was how to make the concept of locally adapted Thai food fit with a German palate used to a standardized approach to Thai eating. "If I have one fear, it's that people won't come with an open mind. What we're doing is new: there's no Thai sculptures in the corners: it's how the Thai people themselves eat, as much as is possible in Germany. It's a process of learning: that Thai food is not just Pad Thai."
Ironically, she says, cooking in Thailand itself is far more dynamic than many eaters of Thai food would have it, arguing that western diners can come to Thai cooking with a false sense of what qualifies as authentic. In Thai cooking, the pastes, herbs and oils serve as the core flavor profile, but above that, ingredients and techniques are far more flexible than many western people might realize. Dalad remembers visiting plantations in Northern Thailand where avocado was used instead of papaya in salads. "And here, people would not think that's 'Thai'! On the menu is a massaman lamb shank, which people now eat in Bangkok, but here, we questioned whether people see it as 'fusion' food, which it's absolutely not!"
Sharing is Caring with Kin Dee's Small Plates
Ten delectable dishes are at the heart of head chef Dalad's menu
Dehydrated organic vegetables

Puffed pork skin

Replacing Thai mango with German "Elstar" apple

One of the most basic ingredients in Thai cuisine: red onion
"In Thailand, the richest people will pay 10 cents to eat soup by the roadside, but it will be the best fucking soup you've ever had in your life." – Moritz Estermann
In contrast to Germany, where a distinction between cheap eats and starched tablecloths still hold, Thailand has a very flat eating scene: "My mother would take me to hole in the wall places under a bridge: total 'whatever' places, where it's not comfortable at all, but they have the best noodles in town. She'd even take me out of school early to take me there, just for fun." This was something that Moritz witnessed firsthand, when he visited Thailand with Dalad. After they decided to turn the pop-up restaurant permanent, they spent two weeks visiting and eating, around Bangkok, the surrounding countryside, and the southern islands. "I flew out from grey Berlin last November, and basically ate 10 meals a day," he says. "Dalad showed me what she liked, and I gave my opinion about how we could make it work in Berlin. What's striking is that in Thailand, the richest people will pay 10 cents to eat soup by the roadside, but it will be the best fucking soup you've ever had in your life. And when you go to the finest restaurants, it's the same flavor profiles: it was really crucial to understand that."
Building Kin Dee on Schöneberg's Lützowstrasse
The space was transformed in a few short weeks, keeping it real yet modern. No starched tablecloths in sight.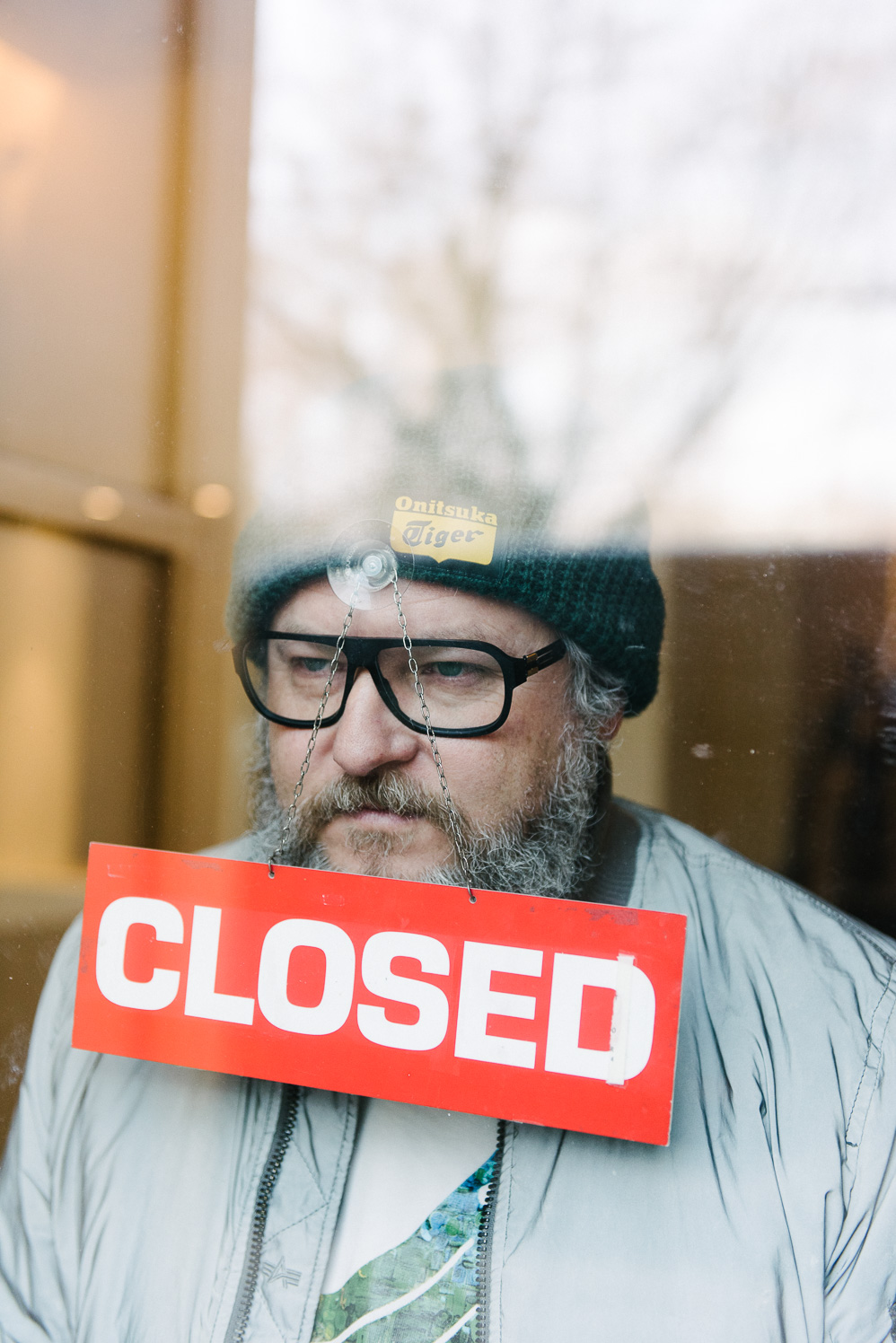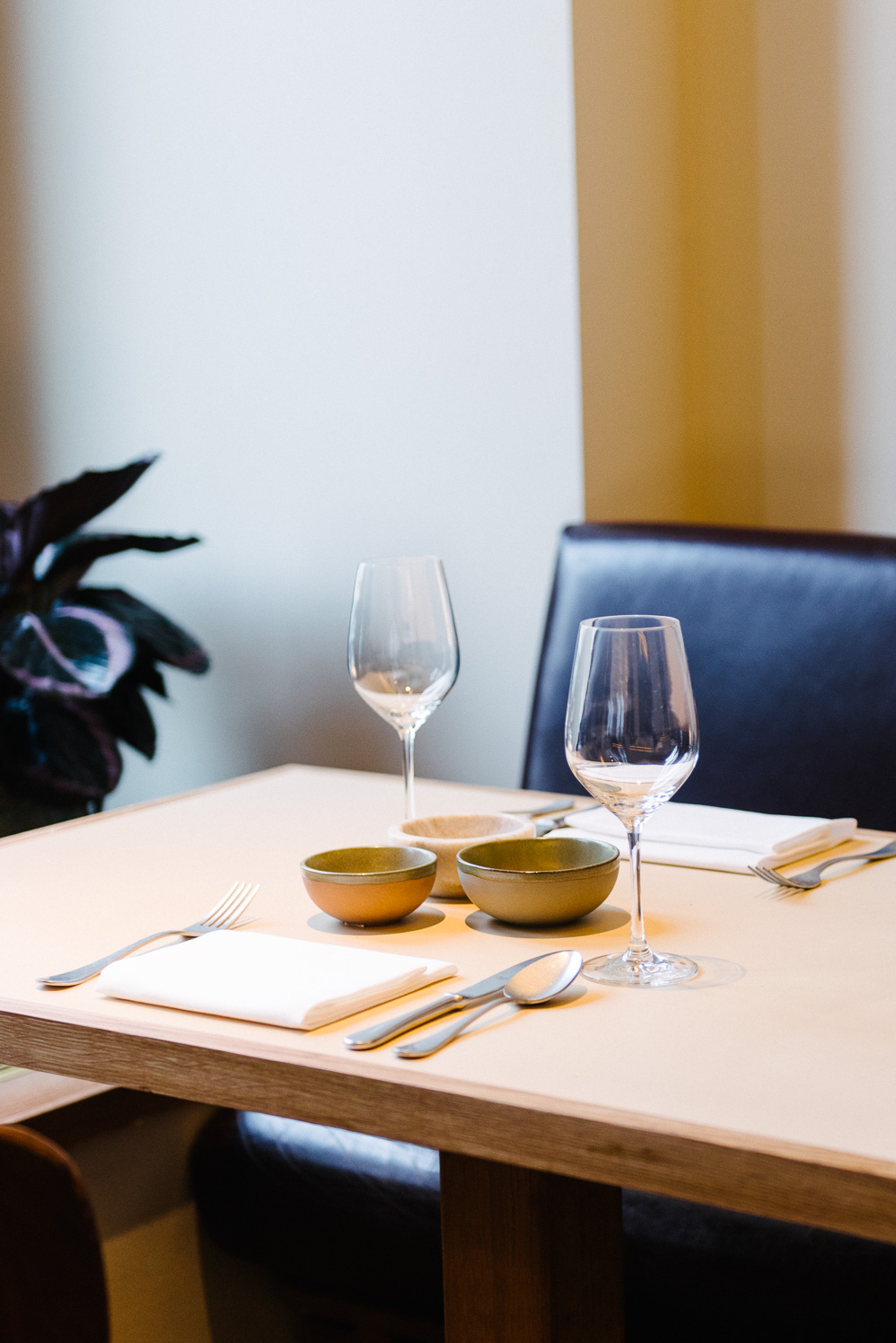 If the early February weather on Schöneberg's Lützowstrasse is more cold-and-samey than "Ko Samui", the area has at least some nodding recognition with the more rough-around-the-edges joints Moritz and Dalad describe in Thailand. The area it inhabits, on a wide street off north Potsdamer Strasse is something of an edgeland. It's close to the eastern edge of the borough to be far from the traditional alte Schöneberg, but not close enough to Kreuzberg to feel the warmth of that cheerfully ragged quarter. Rather, it's hemmed in by the city's red light district one street to the south, and the anonymous expanse of the Kulturforum and diplomatic district immediately to the north.
Yet, as with so much in Berlin, peripherality is a power source, not a drain. It's the area where Joseph Roth's legendary cafe rubs shoulders with an importer of fine Middle Eastern goods, a cluster of modern art galleries, and a shop selling Catholic blessings. Over the road, a Syrian Orthodox Cathedral stands opposite an Acne Studio store. "The area has been up-and-coming for a long time," jokes Moritz. "And it's going through an unusual process of development, because unlike other areas, it's not driven purely by people moving here, so much as galleries and other institutions opening, so is still kind of terra incognito."
Among the area's gems was Edd's, a Thai restaurant which built up a cult following over its nearly two decades on Lützowstrasse. It was known as one of the very best in town, until its owners moved back to Bangkok, leaving a hole in the culinary map—and a vacancy, which needed filling. When the outgoing owners mentioned to Stephan that they were selling up, the group knew they had their location. All that needed doing was putting their stamp on it. This involved finding space in the small back-room kitchen for modern machines like a larger fridge and sous vide: Dalad jokes that there's not quite enough space for all the chefs, and their equipment in the cooking room. The famous steamed fish from the pop-up is off the menu until room can be found to hold the machine that makes it.
Moritz explains more about what needed to happen front of house: "We wanted to respect its 17 years of work, but it was in need of renovation, so we made some readjustments. We changed lights so that they focused on the tables, gave it a workable bar. These were relatively minor changes, but ones that were very important to us—ones you wouldn't realize you were realising. There's nothing worse than those locations you feel you are always running around in Mitte, with nothing made to be enjoyed. It's investor gastronomy, and it's just weird. Build a restaurant that's real, that has always been our approach." The tables, in wood finished with linoleum by the company's tischler Christoph Will, conceptually match the cutlery, in new but unpolished silver. "Like the food, this is about being modern, but not for the sake of it."
Kin Dee as part of Berlin's gastronomic network around Grill Royal
"I'm from New York, where things happen fast! I love to work" – Dalad Kambhu
These renovations were still taking place up until the last minute, with the bar only installed the week before opening. When the guests arrive, Rirkrit's work on the walls is still resting on blue packing foam. It's been a sprint of a restaurant renovation: it's gone from an idea to a venue to an opening in little over six months. "I'm from New York, where things happen fast! I love to work," Dalad says. "We didn't want to wait longer. But also, this is the sixth restaurant of Stephan and Boris's, so can skip all the mistakes that have been made before."
Plating and Prep with Head Chef Dalad Kambhu
Finishing touches and pre-planning in the Kin Dee kitchen: Dalad inspects her brussels sprout tops before serving
"Rirkrit said 'Let's cook together.' By the end of the week, I was running the kitchen." – Dalad Kambhu
The restaurant marks the latest entanglement of Rirkrit's art with eating. A Thai installation artist who has used food as a basis of commentary on the contemporary condition, he has released cookbooks, opened pop-up restaurants at Art Basel and turned the opening of the Paris Triennale into a 12-hour tom kha kai banquet. Dalad and he met, as fortune would have it, at Grill Royal on her first visit to Berlin five years ago. "He's a pretty amazing chef and I started to be a student to him, outside of school," she says. "He said 'Let's cook together,' and he opened this amazing kitchen upstate, in Hancock. By the end of the week, I was running the kitchen." After they worked on the Dóttir pop-up, this is their first permanent restaurant.
Pride of Plates
The fish and meat dishes for the ten course tasting menu
Service Please!
The pre-opening friends-and-family dinner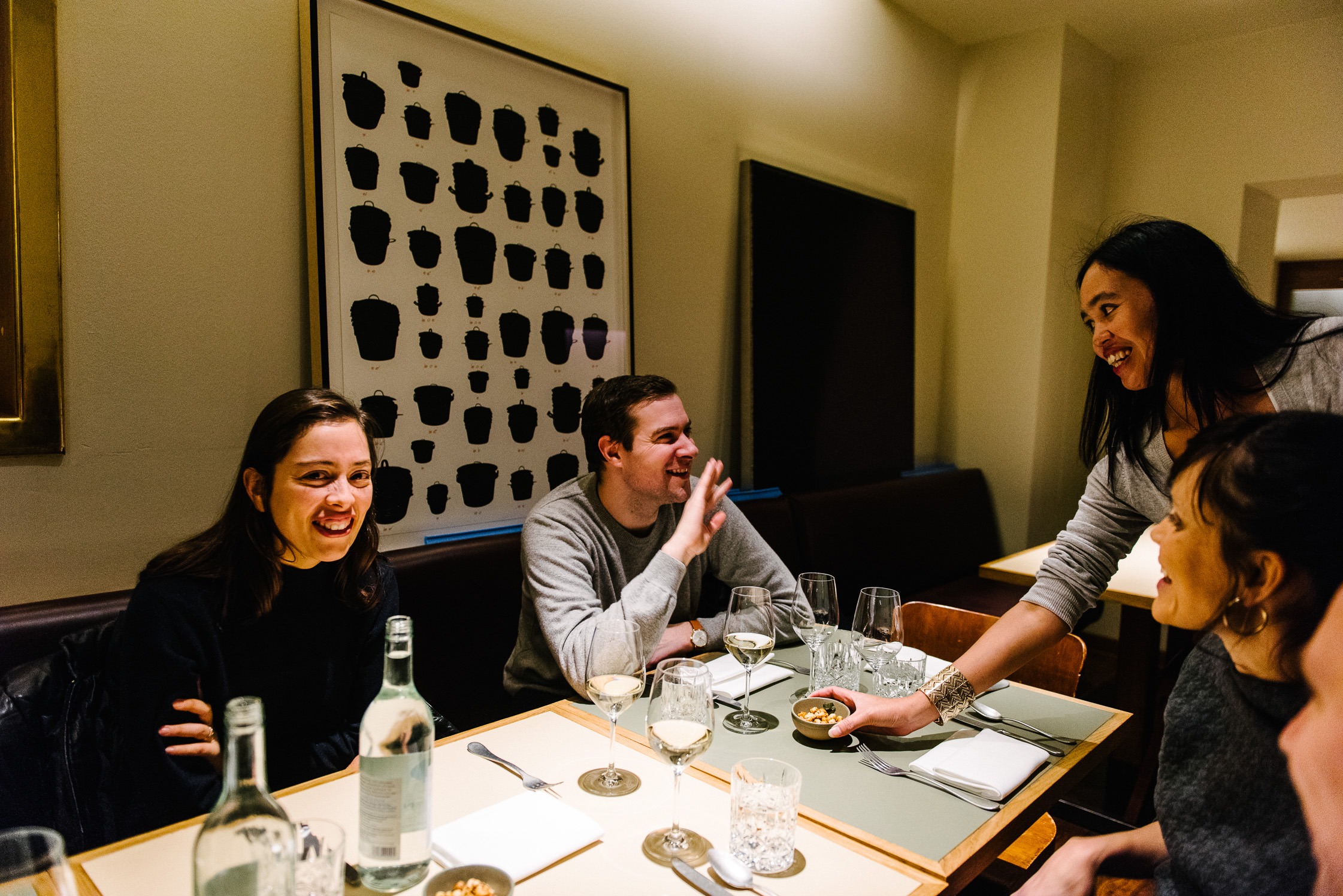 The night of the launch, Dalad is excited, but measured. "I've leant a lot about pacing myself. No chef can do their job without passion for it, so of course I'm emotionally invested. But it's very important to manage emotions," she says as friends start streaming in out of the cold. Champagne is opened, and the guests mingle with the staff in the gold-hued room before the food starts to come out.
She's been working "24/7" in the months leading up to the launch, and will be working 60 hours-plus per week for the foreseeable future. But she's keen not to repeat past experiences of chronic overwork: "I have put work before self, health and life in the past in New York. It was the cliché of running restaurants—working from 10am to 4am, then back in again the next day. At a certain point, no one cares about food, they only care about the party. Amazing people, amazing times, but not something you can control. You need to keep health and mind, and once you lose that, you have nothing. Every woman can do any man's job, but is it easy for our body? No. Psychical work can be very hard. Sometimes I wake in so much pain. But I'm still in my thirties, and it's manageable. Cooking is still very rewarding, and this is an opportunity I need to take."
Thanks, team of Kin Dee,
For giving us a behind-the-scenes look at your opening. For updates, check Kin Dee's Facebook Page or their website.
If you want to find out more about the people creating this delicious food, follow them on instagram: Dalad, Moritz. Also check out Stephan, Boris and Moritz's other restaurants, Grill Royal, Petit Royal, Pauly Saal, Einstein Unter den Linden and Dottir. Read more about Dalad's former Pop-Up restaurant here.
Really like Kin Dee's interior? Find out more on Rirkrit here and Rehberger's art here.
This story is co-published with The Gourmand. Take a closer look at Kin Dee's food on their homepage.
Read more stories from Berlin on FvF and follow us to the world of foods in our FvF Cooks section. Bon Appetit!
Text: Charlie Robin Jones
Photos: Robert Rieger