The two brothers James and David Ardinast never intended to enter the restaurant industry. Today, they belong to a movement that is changing the cityscape of Frankfurt.
James and David Ardinast are sitting in the courtyard of Frankfurt's 25hours Hotel, not far from the city's central train station. Until about ten years ago, the surrounding neighborhood had a reputation for drug deals and was known for its red light district—a place where you certainly wouldn't expect a new wave of restaurants to emerge. Nevertheless, here on Niddastrasse, the brothers have established themselves as part of the 25hours Hotel with Chez Ima, the restaurant they opened in 2010. The brothers began serving foods that were completely unprecedented in the city at that time, namely "a fusion of our American-Israeli roots and our favorite dishes from Germany, like Wiener schnitzel," says James.
"Two and a half years ago we did a pop-up restaurant at Club Michel during the Weeks of Jewish Culture, along with Israeli chef and restaurant owner Yossi Elad. That's when we knew things were going to change." This encounter gave them some momentum and inspired the rebrand of Chez Ima into Bar Shuka, the concept of which isn't just following the trend of Israeli cuisine, which has been circulating the world's kitchens since Yotam Ottolenghi's Jerusalem cookbook. The brothers have always included their Israeli-American roots into their food and concepts, but Shuka has taken that influence and distilled it into its purest form. "We want you to feel no difference between eating in Tel Aviv or in Frankfurt, from the culinary experience down to the feel of the place," says David. The two fly in Yossi Elad once a month. He has been successfully running Machneyuda in Jerusalem and Palomar restaurant in London. "It's important to us to be authentic," adds James.
For upwards of 16 years, James and David have been turning Frankfurt's gastronomy scene around. They've also come to be known as the Ima Brothers. In 2002 they founded the Ima Multibar on the famous Freßgass, an upscale shopping street in Frankfurt's city center. There, one could enjoy flatbread and dips reminiscent of the laffas and pitas of the Israeli Arab world. In 2006, near the main train station, they found a place for their burger joint, Ima Kitchen. In 2010 they opened Chez Ima at the 25hours Hotel, and in 2013, the Maxie Eisen Deli & Bar opened on Münchener Straße. Each of their shops reflects their Jewish-American roots, but in this deli, they focus solely on pastrami. At Stanley Diamond, their most recent addition, they've been serving upscale German and regional cuisine since 2015. If that wasn't enough, they've taken on yet more work by establishing a creative consultancy for the food service industry with their agency IMA.
The brothers had never actually planned to build something up together, and certainly not something in the restaurant business, though their grandparents owned pubs in the Frankfurt district of Höchst and their parents (their father from Israel and their mother American) ran the first burger joints in the Main-Taunus district. "Our grandfather said, as long as he lives, no one is allowed to go into the restaurant business ever again," says James with a laugh.
After finishing his hospitality studies in Boston, James returned to Frankfurt, and David went to Berlin after spending some time in London. The concept for the Ima Multibar came about shortly thereafter. They took the burrito, a "wonderful carrier," and put all their ideas into it. "We wanted to take upscale fast food, today known as street food, and make it home-made," explains James. The Ima Multibar was a smashing success.
But it's not just personal success that drives them. "We want to help develop Frankfurt with our concepts," says David. Anywhere seemed to be better than Frankfurt in the '90s. The time they each spent in other cities had been enormously influential: "Every Frankfurt citizen has to leave the city to learn to appreciate it," says James.
Frankfurt has gone through some positive changes in recent years, partially due to innovative gastronomic concepts. There are "a lot of good guys" here, as David says. Those good guys include Anton de Bruyn of Emma Metzler, Dennis Aukili of Chairs and Mehlwassersalz. There is also André Rickert, whose cooking earned him a star for the Restaurant Weinsinn. These are concepts that could work anywhere in the world, say the Ardinasts. And the bar landscape is one of the best in Germany. James and David also love the authentic regional cuisine with its ebbelwoi (apple wine), handkäs (regional sour milk cheese) and ribs. They still go to traditional pubs in Sachsenhausen or Bornheim regularly.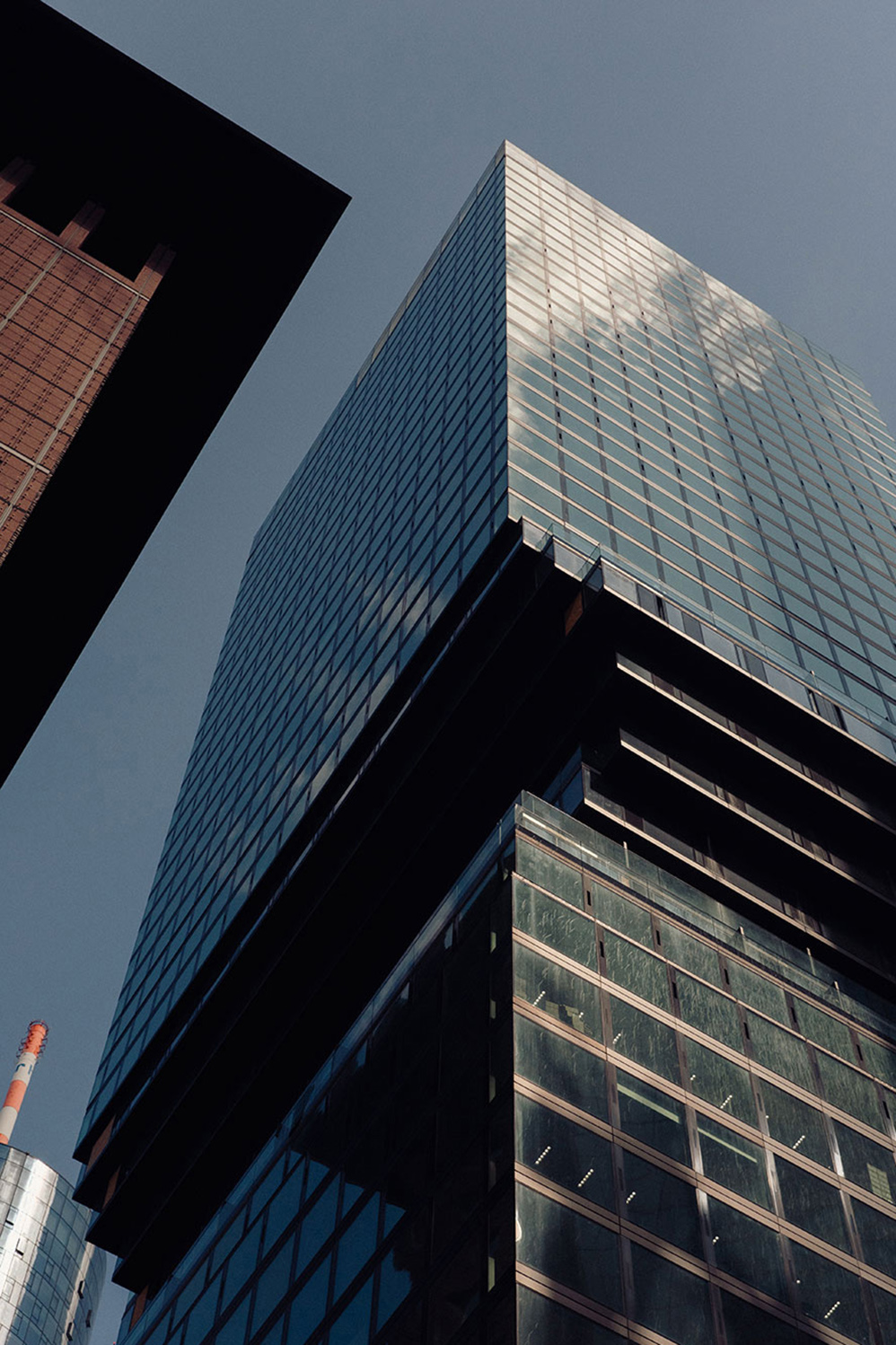 The two work together like Swiss clockwork. "We sit across from each other in the office and see each other seven days a week." David oversees the business operations, managing a staff of 100 people. James handles the marketing, new business and conceptual side of the agency. They are "always exchanging ideas." The recipe for success? "We are on the lookout for niches, things that don't exist yet." When they saw that burger shops were opening everywhere, they closed their own. The question of how much gastronomy business Frankfurt needs, and above all what kinds, keeps the Ardinasts constantly busy.
But business is becoming more and more demanding, "because it changes how we consume, how we perceive things, how we communicate," says James. The brothers are asking themselves the big questions: How long will this system continue? Will Europe have a future? What happens through new progressive thinking? "Because of our roots, we see certain developments more critically," says David. They see their own entrepreneurial activities as political. Everyone is welcome in their shops, that's the principle. Therefore "friendship" is written on the wall in Ivrit and Arabic in Bar Shuka. Sure, the Ardinasts do not have all the answers to the big questions in the world, but in their own world they can take small steps that may make a difference.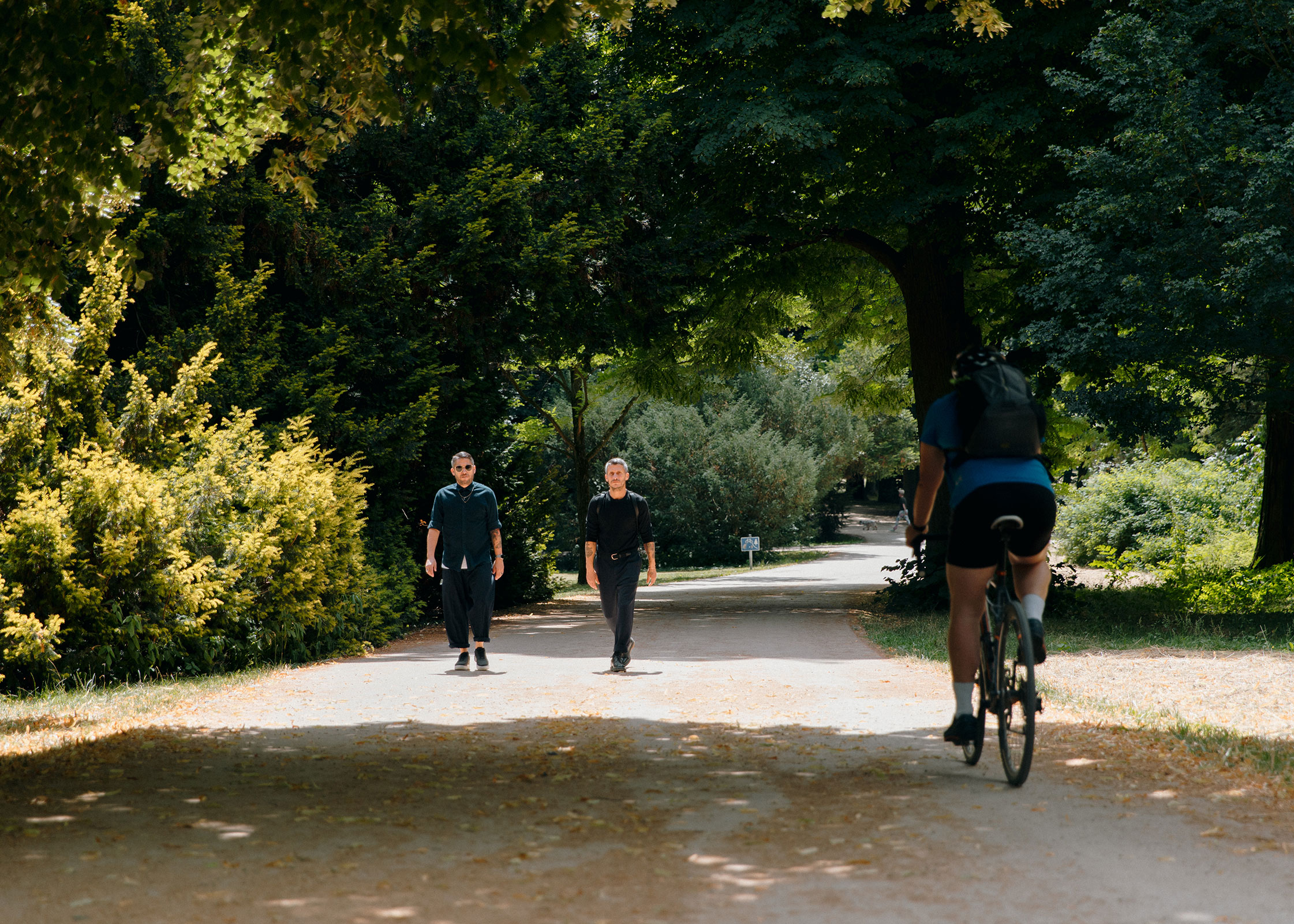 They are putting more of an emphasis on using regional meat. Maxie Eisen, which started as a pastrami place, increasingly offered vegetarian dishes. The brothers have also changed their personal diet. "We don't eat meat during the week. We must change our way of thinking and acknowledge that we live in a world where we should be considerate of each other," says David. For years they have maintained this attitude in their Ima-clique, which consists of friends, employees, regulars, colleagues, family and their children. "The community is important. How we deal with each other, how we communicate with each other," says James. "Whether you're an artist, a homeless person or a CEO, everyone is welcome. And everyone gets a piece of the cake."
James and David Ardinast are the creative duo behind numerous Frankfurt eateries, including Maxie Eisen, Stanley Diamond and Bar Shuka. They also do creative consulting for local brands.
This portrait is part of our ongoing collaboration with German fashion brand Windsor, as part of which we have also featured Helsinki-based designer Tero Kuitunen and entrepreneur Lupe Garcia.
Text: Martina Metzner
Photography: Raimon Haindl