The home and studio of visual artist Carmen Maria Traud, better known as Carmi or "Frau Grau" is nestled up in the eaves of a typical Berlin apartment building. While she's lived all over Berlin, it's Kreuzberg, with its endearing contrasts, that has her heart.
"I like living in this part of the city because it's vibrant, there are so many different people here, old Berliners, young party people, kids. When I go down to Kottbusser Tor station the Späti [corner store] man waves and says hello to me, yet Kottbusser Tor itself is so bleurgh—I like it, it's lovely and rough."
Carmi grew up in a small town in Hesse and first came to Berlin in 2002. "My mom always says that whenever she wanted me to be well behaved as a child, all she'd have to do was give me a pen and paper." She went on to study industrial design and in her years after graduation involved herself in graphic design and illustration in a range of mediums.
Carmi's work is decorative—nature is a strong motif, as are geometric shapes. She doesn't overcomplicate it, "My leaf drawings are more illustrative rather than artistic. When people ask, 'Oh but what do you mean by them?' I tend to say, 'Well, you need to work out what it says to you.' For her, drawing the lines and leaves is therapeutic. Her memorable plates, meanwhile, started out as a present for a friend, and grew from there. "Painting plates is very old-school, but this is my kind of new interpretation. My granny always bought plates back from her holidays. And my mother was like, 'Really? Another plate.' Now it's my turn, I guess!"
These colors run riot in her studio—every surface is laden with a full spectrum—tubes of paint, markers, pencils. "I shared a studio a while ago, but I really like to work alone. I find it difficult if others can see the process of my work, I like to keep it private." The artist, however, has a cheery antidote to her solitary work practice, "Making art and drawing a lot is a very lonely business since my studio is at home and I thought, 'I really need something social.' Two of my friends work at a kindergarten nearby, so sometimes I do a bit of graphic stuff for them, activities or go along on trips."
While Carmi loves to work quietly from her Kreuzberg space, her main source of inspiration comes from stints further away from the city. "In 2013, I was invited for a year's residency on the island of Sylt, so I would be back and forth between here and there every month. I was so inspired by the stones everywhere and the lines in the sand at the beach," she enthuses. "I need to always be changing locations, and then come back to 'my little castle' with new experiences!" Carmi leafs through a stack of works, showing us the watercolour series that arose from this with their special coloring. In addition to her home is also an archive—she pulls out works to show us: records designed in San Francisco, canvases for Alfa Romeo and the hand-painted unu scooter, adorned with graphic vines, parked in her cosy studio—"My knees are blue from painting it!"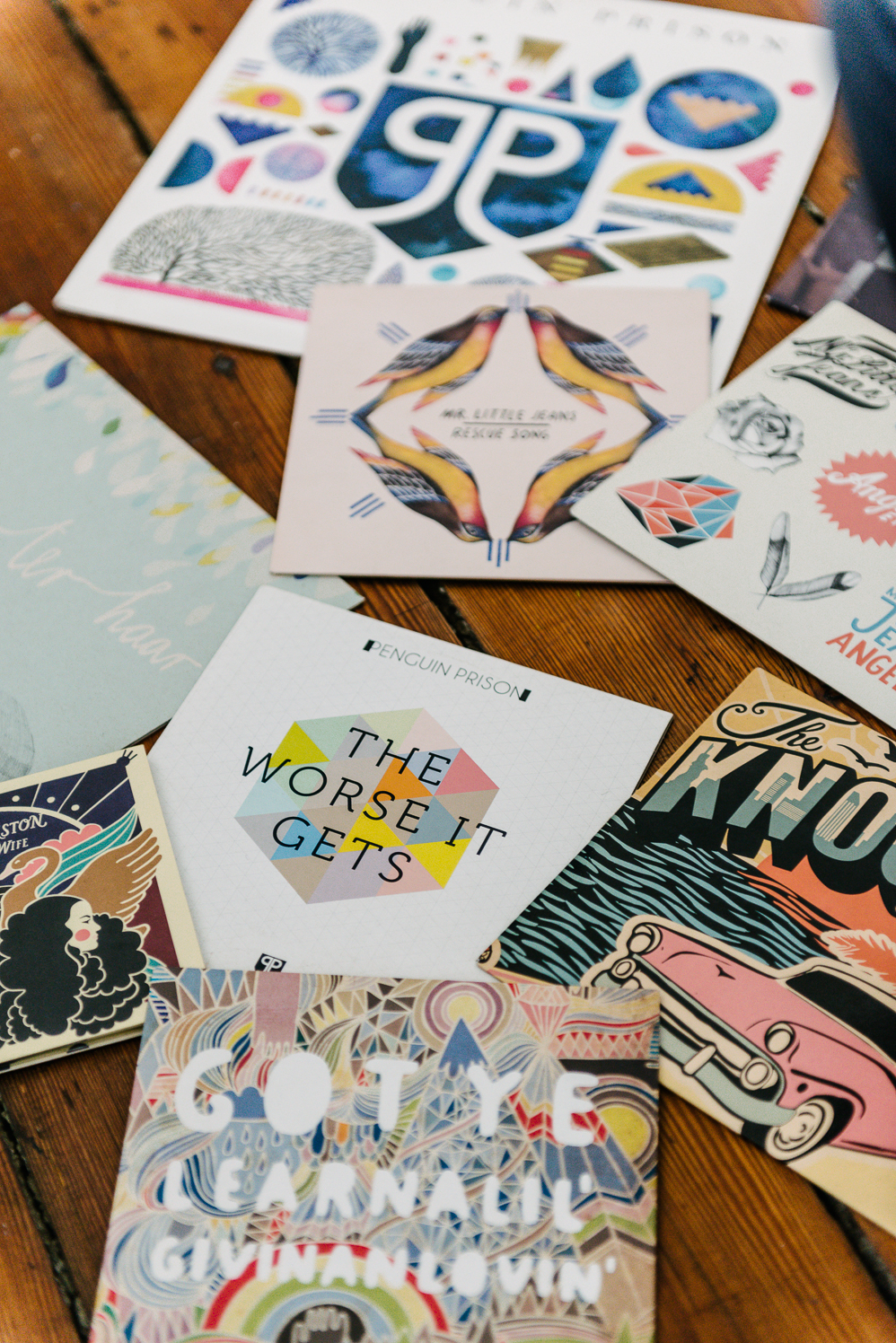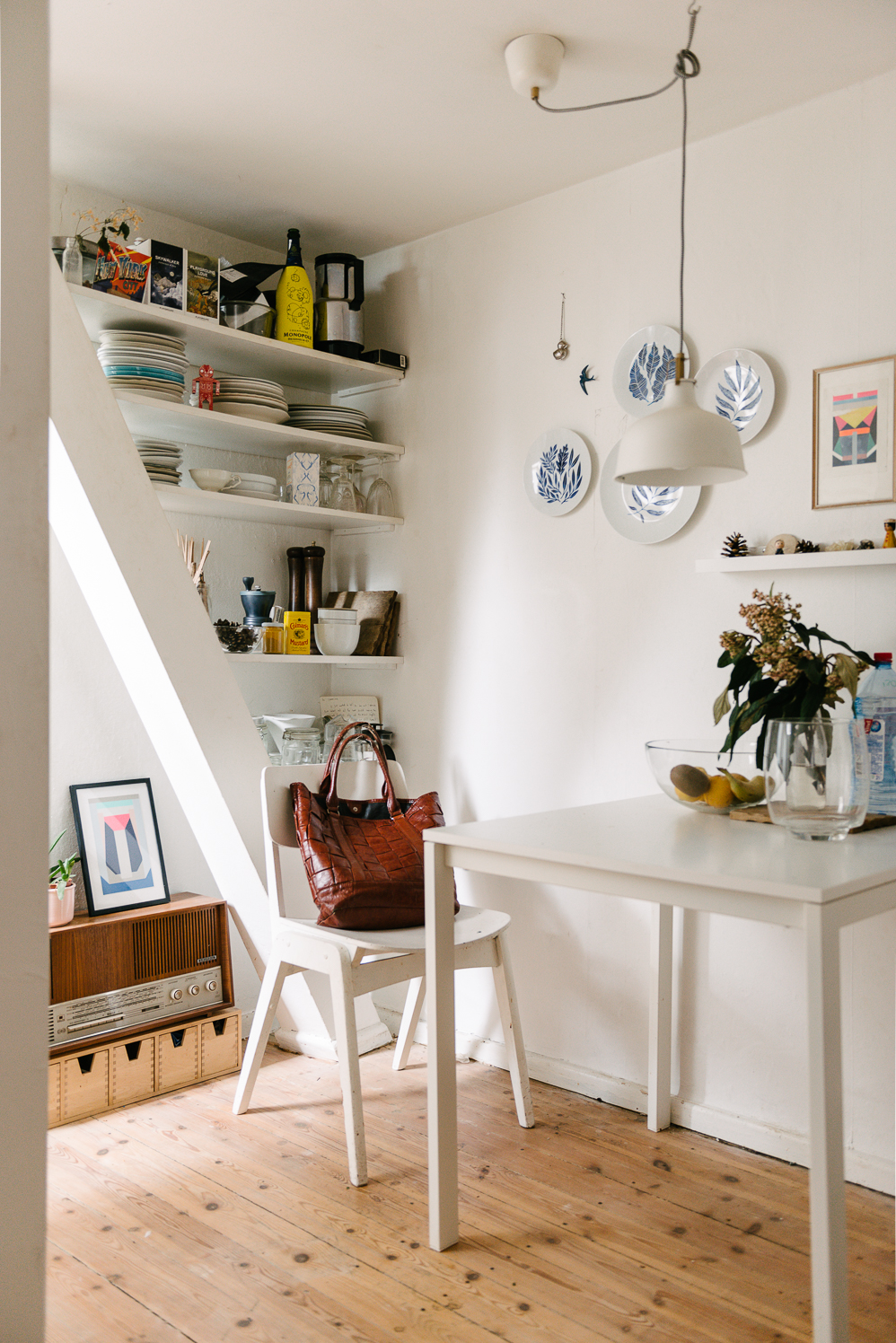 Mapping out the neighborhood
The daily brew: Nano Kaffee
We cross the road from Nano Kaffee, where self-confessed caffeine addict Carmi buys her beans and daily brew. It's another routine that confirms Carmi's description of  friendly neighborhood—she knows the owner from the local kindergarten, and he sends a familiar greeting our way as we enter.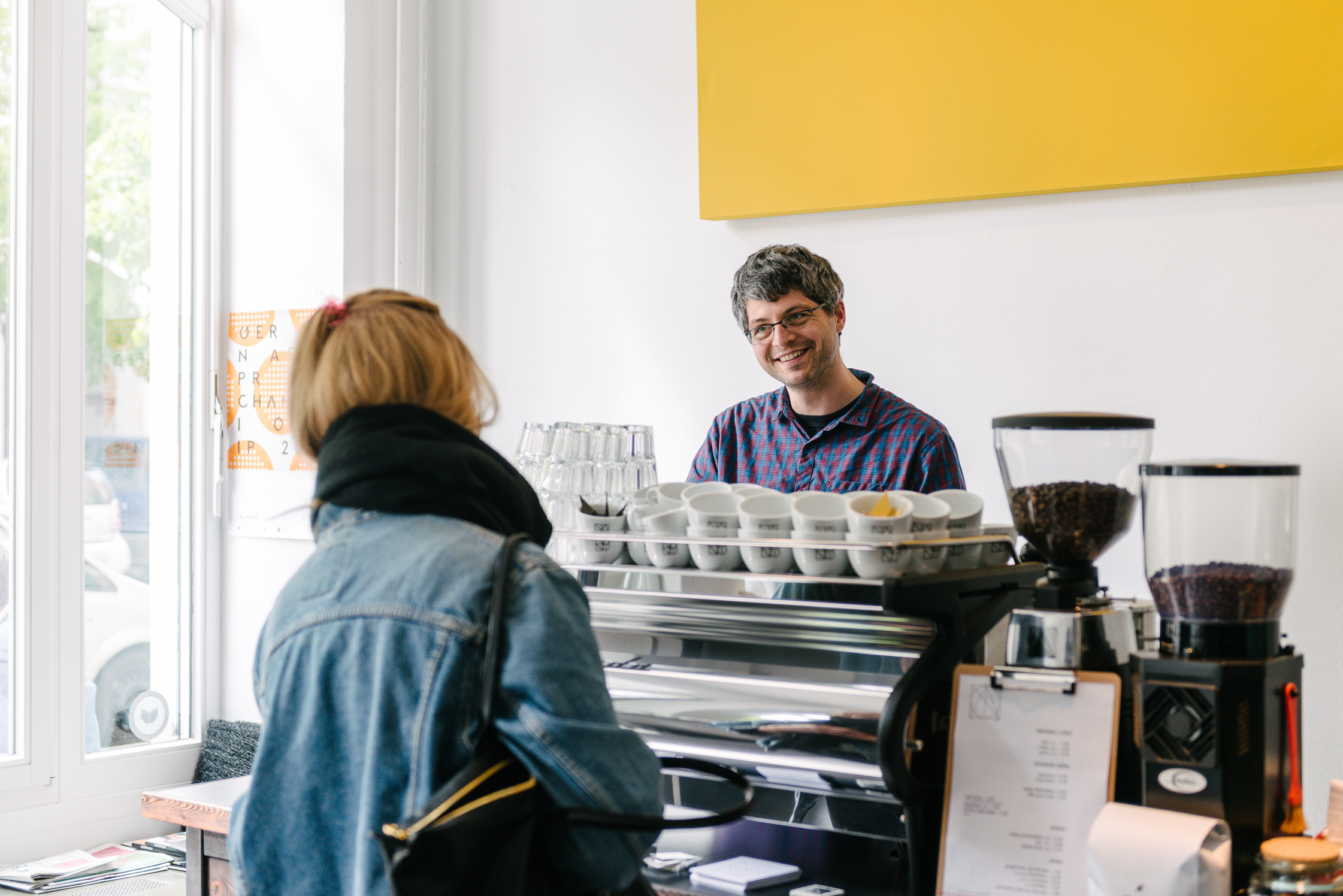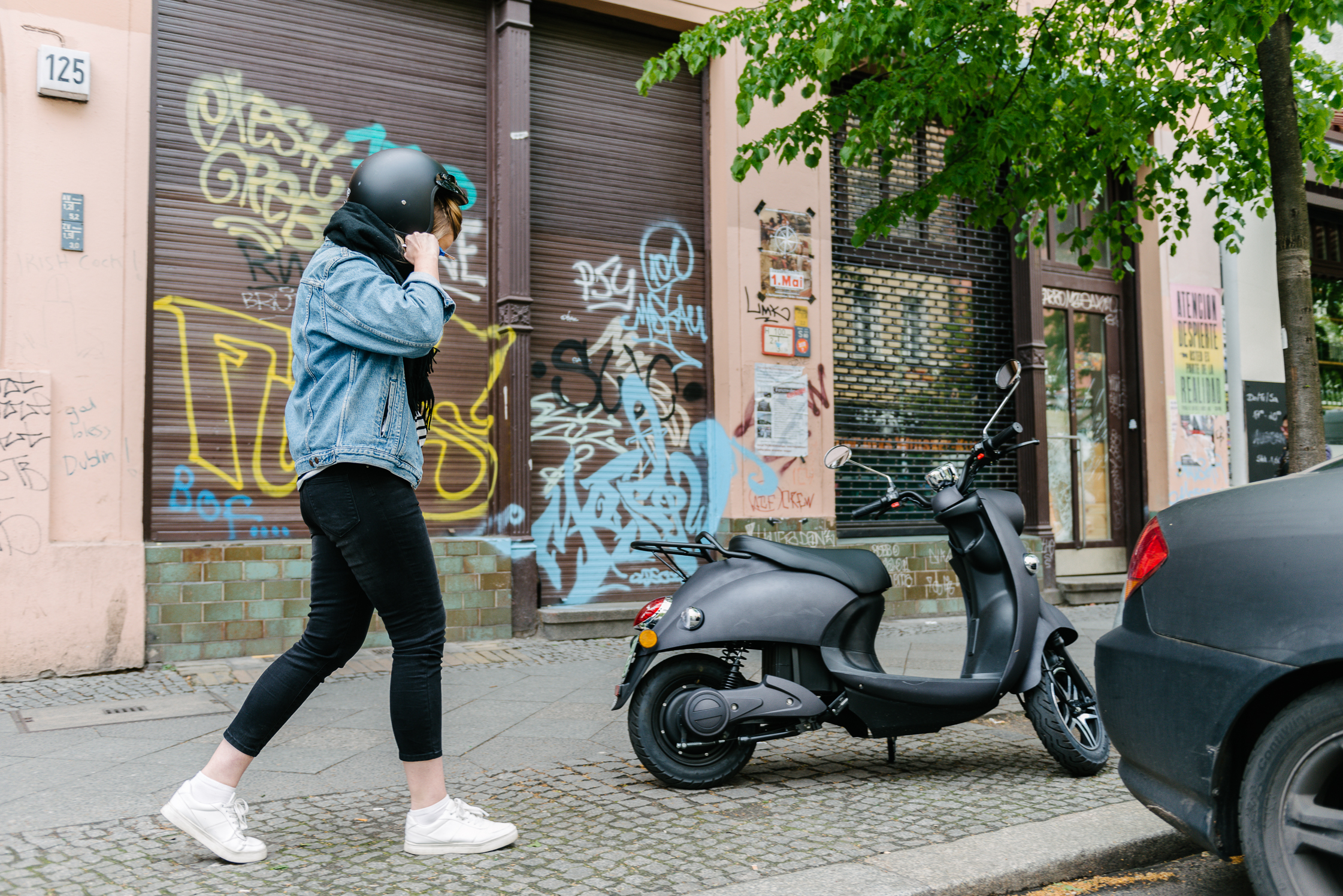 A quiet corner: Engelbecken Park
A short ride from Carmi's apartment is Engelbecken Park, her favorite place to stroll to and break up her work day. "It's a historic place," explains Carmi as we walk through the garden path to the vast pond that lies in front of grand, St Michaelis Church. In the 19th century, a canal flowed along the same path, feeding into the Spree river and in more recent history, it lay between the East and West during Germany's divided years. The latter is clear today, in the swathe of boxy post-war apartment blocks that lie to one side, and the calm residential streets to the other, whose pre-war building still retain some original features. Again, Carmi's beloved contrasts are at play.
Old charm: ORA
Next, Carmi takes us to ORA at nearby Oranienplatz. Two years ago, the erstwhile pharmacy was converted to a bar. The renovation largely held onto the original interior and fittings, so as you sip a cocktail or sample a cake, you do so in the atmospheric, dark-paneled setting, next to shelves lined with glass bottles and labeled squared drawers.
For Carmi, the location holds special significance. "I used to love coming to the pharmacy here. It was run by this wonderful couple who had been there for years. They were so sweet every time I'd go in and get a script filled. In a way it's been strange to see it change, but it's such a nice place to hang out at, and they've kept so many of its features."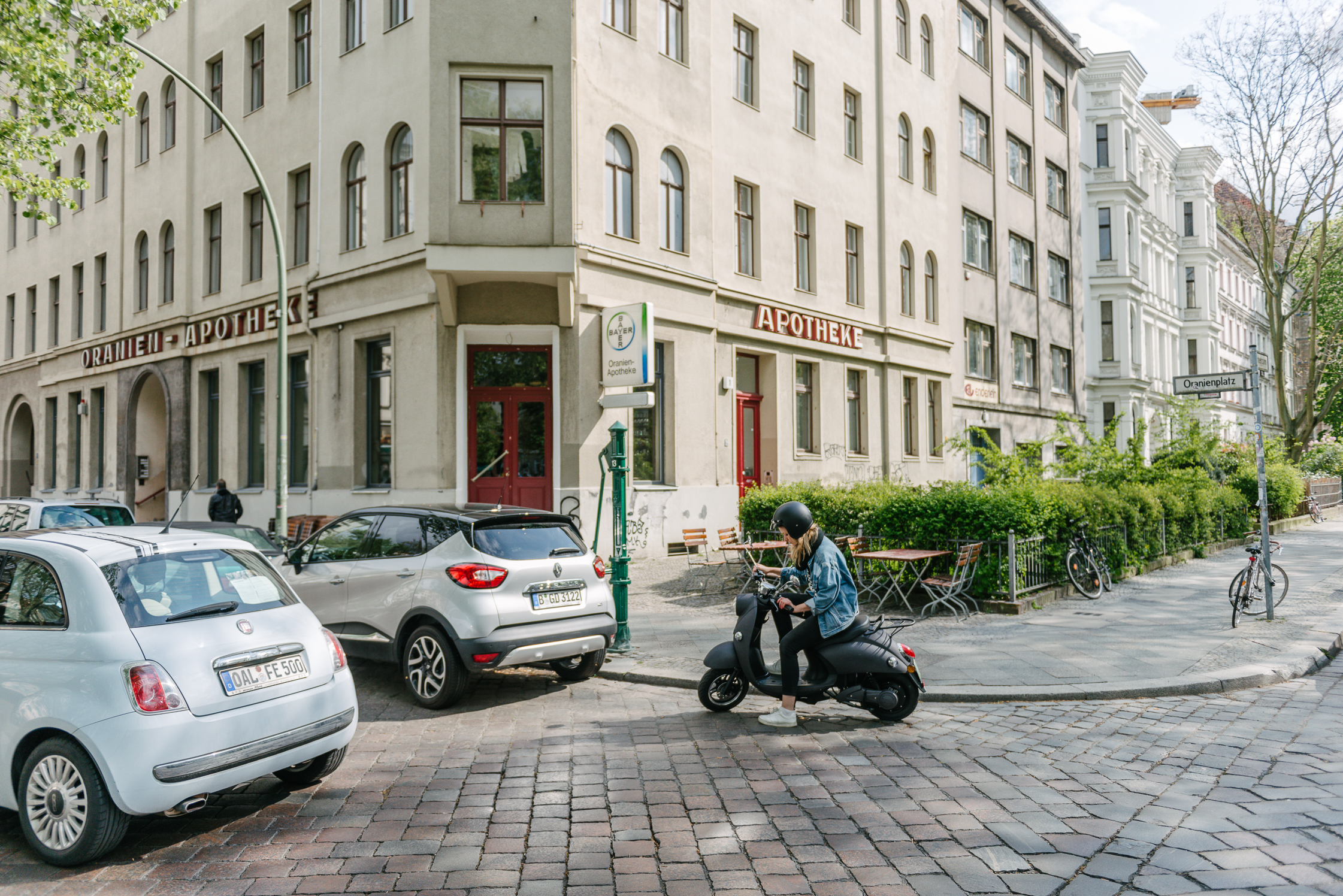 Thanks, Carmi, for showing us your home and letting us preview your bespoke unu scooter, which you can find out more about here. We loved seeing the best of your neighborhood. A big thank you also goes to Arun Markus from Studiolo Berlin for making the connection.
This tour around Kreuzberg with Carmi is part of our collaboration with unu – the smart electric scooter. Together we'll be exploring Berlin with locals, getting the inside scoop on the local hotspots. 
Interview and Text:Ruby Goss
Photography:Daniel Müller