With every bite, Oaxacan cuisine transports you into Mexico's indigenous communities and a few thousand years into the past.
In the rural town of Nejapa de Madero thick, grey clouds and heavy rain create an apocalyptic-like atmosphere. Swarms of insects fly in the air adding to the foreboding disquiet of this southwestern region of Mexico. "These are chicatanas," says farmer Manuel Lorenzo, who has lived in the Oaxacan region all of his life, as he grabs an ant with wings the size of his little finger.
Chicatanas are a delicacy in Oaxaca. Outside of their season, the ants are an expensive commodity, with the price for one kilogram going up to 1,500 Mexican pesos, or 75 euros. According to Lorenzo, they come out of the ground only once a year during the third rain that hits the region. "They will be out at around three in the morning," he adds. The next day, Lorenzo wakes up at five o'clock to collect half a bucket of chicatanas near a pond by a community hospital; he knows the surrounding nature of his hometown like the back of his hand.
The coastal Mexican state is home to over 15 indigenous groups. Some of them, such as the Zapotec community, date back over 2,500 years. Their main source of income is harvesting corn, beans, and many different kinds of fruit. In addition, almost every local occasion revolves around food. It is integral to every ritual imaginable, from preparation techniques that make up a number of hidden rituals to communal events, such as weddings, baptisms, funerals, inaugurations of new roads or days-long fiestas. Food in Oaxaca is also spiritual, playing a fundamental role in the celebration of nature.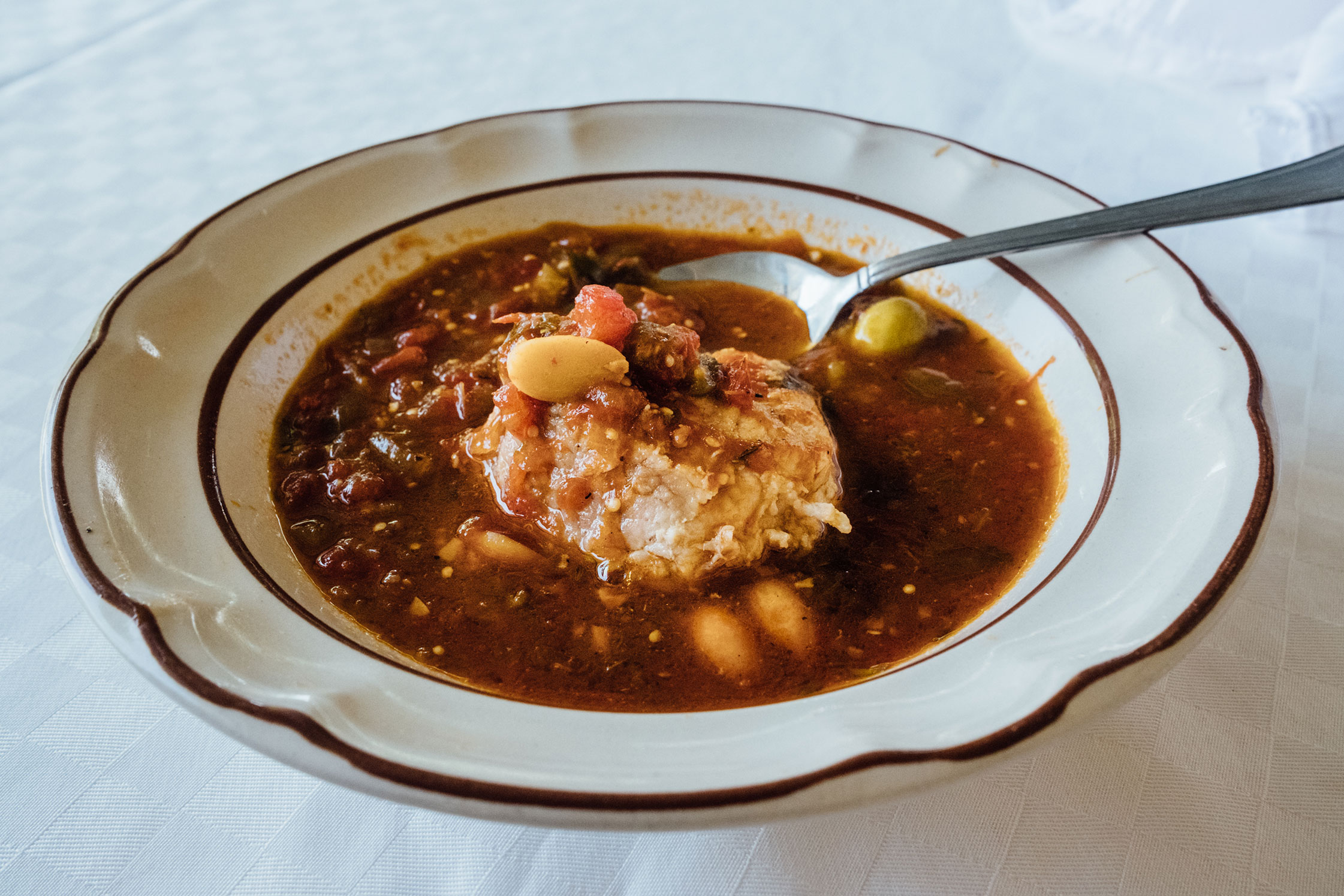 Lorenzo's wife Catalina Hernández Morales has spent her entire life cooking and selling food. Every year, the first batch of ants excites her anew. "First, I have to wash them properly before toasting them on my comal," she says. As she talks, Hernández Morales cleans a big disc of an old tractor that she will use to cook the ants on an open fire—alive. "Every cook uses his or her own recipe. Some boil them first," she explains, stirring the insects that start to lose their wings and tiny legs. She picks one of them to see if they are ready. Their flavor is similar to pork rind; very fatty.
A few more minutes and the chicatanas are ready. In the meantime, Hernández Morales grinds two kinds of chilli peppers—morita and puya—with garlic and prepares small, green tomatoes, called miltomates. All these ingredients, together with a pinch of salt and some water create the sauce that everybody in the house shares and enjoys with fresh handmade tortillas. "Seasoning is the great secret of Oaxacan cuisine, and I love cooking with organic ingredients from our region," she says. Some ingredients are endemic to the state, such as certain kinds of chilli peppers. Mexico's staple food, corn, was domesticated from teosinte by indigenous Oaxacans about 10,000 years ago.
"Before, there were more cooks in the village; now, we are only two left. If we do not want to share, who will cook in the future?"
Citlali Garcia, a trained chef from the outskirts of Oaxaca City, prepares mole negro with four friends and her mother, who brought Garcia up by herself. To make ends meet, Garcia worked in the kitchen of a local food vendor when she was young. To prepare the dish, they are using a total of 27 ingredients. It's not an uncommon picture; the thick, black paste is sometimes made of more than 30 ingredients and can employ several women for several days when made in a traditional way. A fusion of age-old ingredients, indigenous knowledge, and colonial influences, it is, out of all Oaxacan specialties, the main meal at important events in many villages.
Chilli is the main ingredient for mole negro—six different kinds of chilli peppers, to be exact. They are cleaned of their seeds, which are put on a pan to be burned into ashes, which Garcia will later use to flavor and color the mole. The strong, hot aroma fills the air in the kitchen. Garcia's friends start coughing, a sign for her to remove the seeds from the stove. "They say that if you cough when chilli seeds are being toasted, there is something evil coming out of you," the Oaxacan adds with a smile. She lights the seeds again and improvises by adding mezcal, a local alcohol made of different kinds of agave.
While chillies are cooked in water to soften, Garcia toasts the majority of the ingredients on a dry pan: tomatoes, onions, unpeeled garlic, a plantain, an apple, and a yolk bread. Various kinds of nuts follow, including almonds and raisins which are not native to the Americas. It's hard work: Back in the day, women would kneel on a metate, an oblong stone on which materials are ground using a smaller cylinder stone, and hand-grind the beans and nuts. "Kneeling is a ritual; a symbolic thank you to Mother Earth for giving us all these gifts," Garcia explains as she demonstrates how to use the metate.
Nowadays, women usually bring their ingredients for mole negro to local mills. Citlali uses a blender to grind cinnamon, clove, rosemary, and other spices to achieve a desirable flavor when cooking the dish with added Oaxacan chocolate and broth, a stage that is significant to its unparalleled taste. Before colonization, indigenous people favored turkey to eat it with; today, Oaxacan mole negro is usually served with chicken.
Every local community has its own long-established cook. In the small village of Rojas de Cuauhtémoc, it is María Luiza Araceli Canseco Mendéz. Last year, she attended an event in Oaxaca City where chefs present traditional creations, dressed in historical clothing from their regions. "Once I finished primary school, I asked my father where to continue studying. He told me that I was a girl and that I would end up in the kitchen anyway, so I need not study," Araceli Canseco Mendéz explains. She reluctantly accepted her destiny and immersed herself in Oaxacan cuisine, mostly through her grandmothers. "My father brought my food to perfection; he was very demanding," she recalls as she stirs her estofado picadito, a traditional sauce of Rojas with a savory-sweet taste. She is about to serve it to the representatives who came to inaugurate a new street in the village. "I cook for free for the community. It is a service," she says. "It is also a lot of responsibility as I have to know how much to cook so that everybody can eat. I feel very satisfied when people come and ask for the second round." Araceli Canseco Mendéz is committed to passing down her knowledge by teaching local girls. "I have never been an egoist. When they ask me for recipes, I always share them. Before, there were more cooks in the village; now, we are only two left. If we do not want to share, who will cook in the future?"
While in the villages women still outweigh men in the kitchens, in Oaxaca City more and more men seek to become chefs. "Before, men worked outside. Due to migration to the US, there are more male chefs. The work in restaurants there is very hard so they search for men to employ them in the kitchens. And once these men come back to Mexico, they know the techniques, tendencies, and they open up their restaurants," explains Daniel Giovanni García Díaz, the head chef and owner of Casa Taviche who studied to be a chef at the University of Puebla.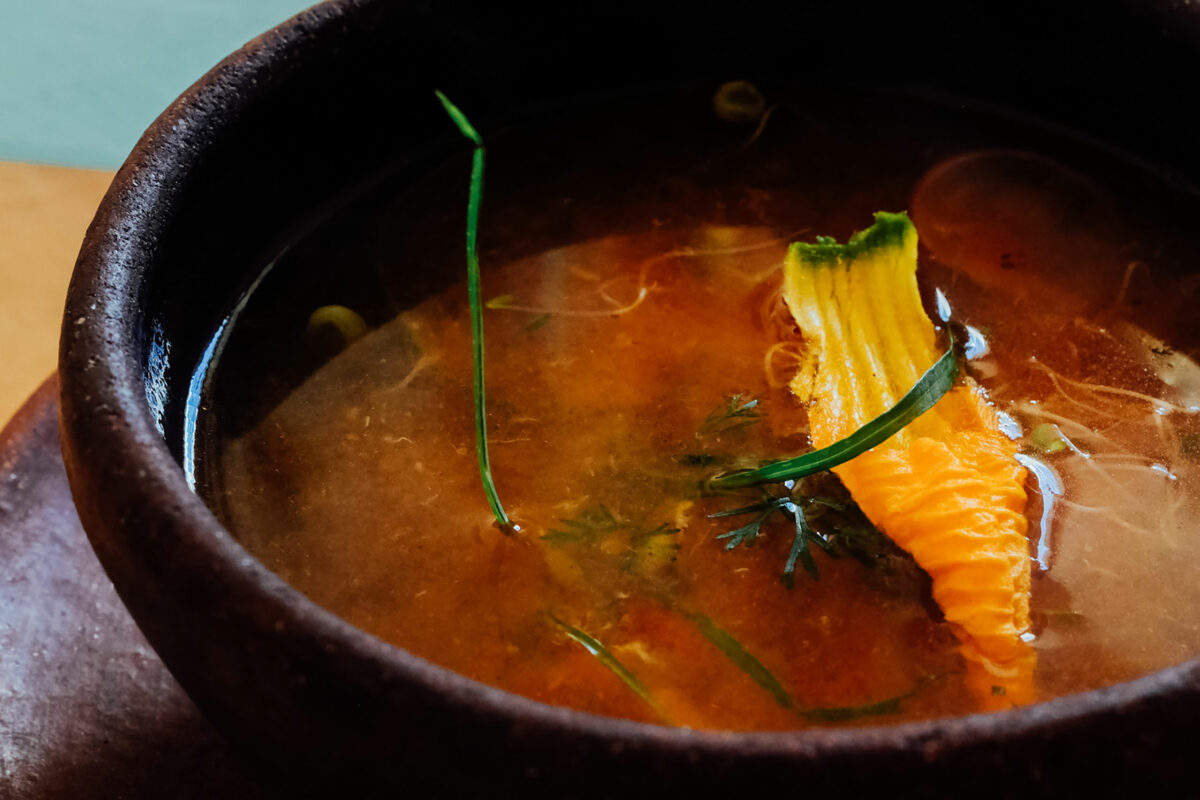 García Díaz's restaurant is decorated with vibrant pastel hues, giving it a lively and warm atmosphere that mimics the vibes of the city with its multicolored houses and constant cultural events that make one feel included. Casa Taviche, like many other restaurants in the city, is keen to bring back indigenous dishes. García Díaz established his restaurant with the idea to cook like his grandmother did and regularly travels to rural communities, asking traditional cooks and elderly people to reveal their insights. "It is specific for our restaurant to prepare meals that are rarely known. Sometimes I don't even know them myself. For example, we serve a soup called masa de gato—thickened by sweetcorn that has a little bit of canela and a pinch of sugar. It is a little sweet and perfect for vegetarians or celiacs," he explains. The chef purchases most of his ingredients from female vendors at a local market. They usually live in surrounding communities and only sell what grows in their own gardens or fields.
At Casa Taviche, the urge to reconnect with indigenous roots is revealed in the same itself: Taviche. "The name stands for a chilli that is fairly unknown. It's our way to acknowledge it and spread the word about it," García Díaz says. Cooking traditional meals and having in mind all the rituals and links that surround them, for many Oaxacans means to go back to their roots. They are doing it well and they will happily take you with them.
Listed as a cultural heritage by UNESCO, Mexican cuisine is connected to numerous indigenous traditions and cultures. The Mexican state of Oaxaca in particular thrives on its rich cultural history and its connection to food, being home to some of the country's oldest cooking traditions. Want to read more about local cultures? Explore our travel section. For more FvF portraits from Mexico, see here.
Text: Magdaléna Rojo
Photos: Noel Rojo