The empowered indigenous women in Southern Rajasthan fight for change for the greater good of their families and the local community. We met three women who stay in their villages while their husbands migrate, speaking to them about what migration means for them and their families and how they fight for their rights.
Indigenous people in India, Adivasi, as they are collectively known, have been losing their natural environment, namely the forests. In Southern Rajasthan, the consequence of a lost livelihood is male migration. Women who stay behind face discrimination as well as heavy workload. Yet, they also become empowered.
Decades ago, indigenous people in Southern Rajasthan used to live in the very forests that provided them their livelihood. However, since colonial times, they have been forced out of the forests. Back then, a state monopoly on timber was introduced and the largest state of India has been going through deforestation due to commercial activities as well as the increased demand for firewood. India has more than two hundred Scheduled Tribes and they constitute about eight percent of the overall population. Many of them are under the threat of eviction from their natural environment.
Basanti Devi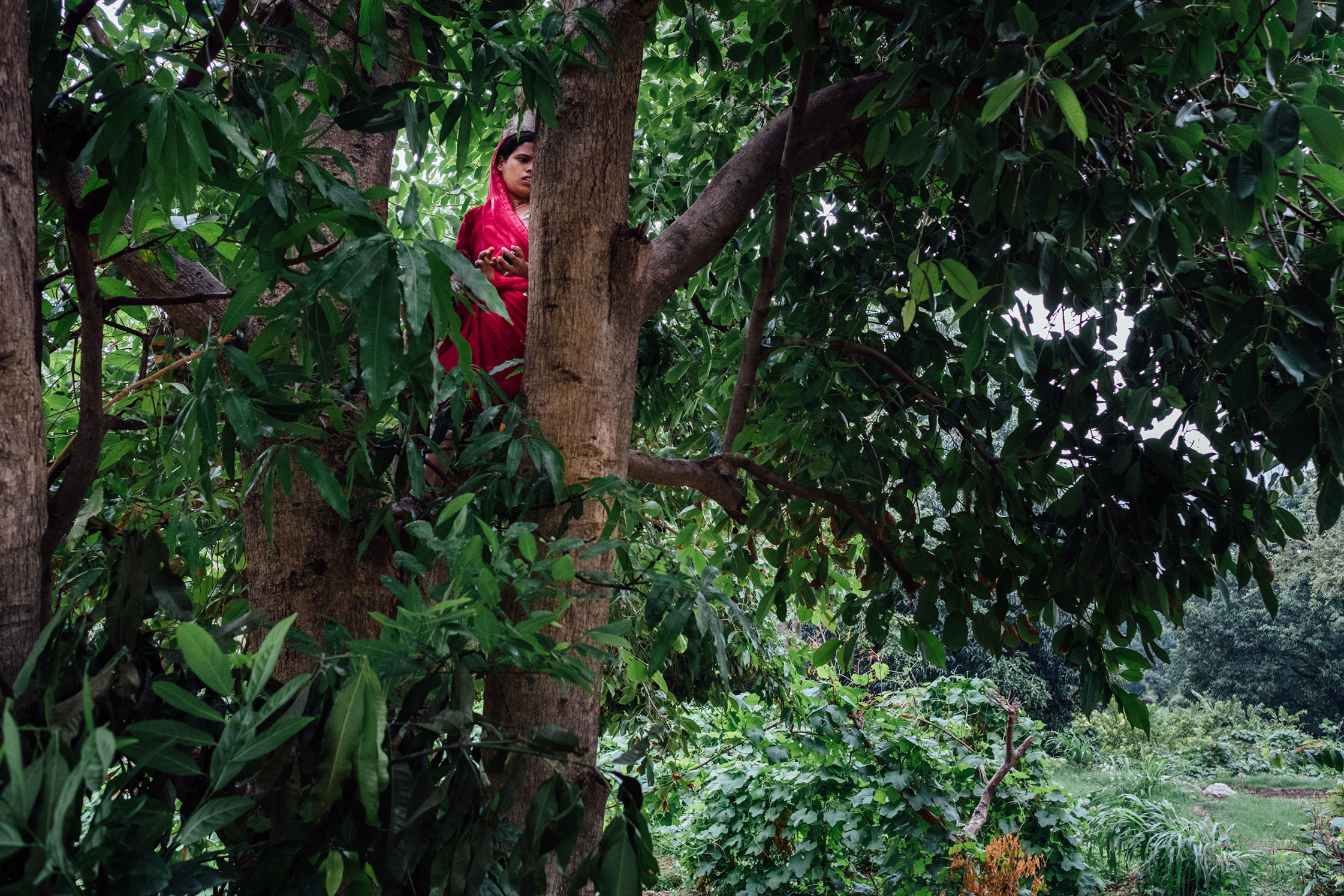 Twenty-five-year-old Basanti Devi walks through narrow paths in between the fields near Kah Kawera village. She passes by a local temple where monkeys jump over her head, swinging between the canopy of large trees. Basanti takes off her flip-flops and bows her head in front of the closed entrance gate, holding her palms together in front of her chest. Then she continues towards her field, covering her face with a veil every time a man or an older person passes by. A thing that married Adivasi women in Southern Rajasthan in India have to do, otherwise the community considers them disrespectful.
Once Basanti reaches the small piece of land where her family grows their crops including corn, bitter cucumbers, and ladyfingers, she does not hesitate a second and climbs up a tall tree to pick up plums. Her bright pink sari doesn't limit her movement. "I used to see people in my village climbing the trees so I wanted to try it myself," she says. Basanti not only climbs trees, she is also the most educated Adivasi woman in the village where she married, even though she only finished 12th grade.
Sitting on the floor of her home, a tiny, windowless, dark room where the majority of the family's day-to-day activities happen, she shows us the jewelry around her ankle that her husband, Jiva Ram, gave her before marriage. Basanti married as soon as she turned 18. Her parents chose Jiva for her when she was only ten. Arranged marriages are common in the rural areas of Southern Rajasthan, and so are the marriages of girls. "If you want to get your son married, you need to give some jewelry to the bride's family. That might sound progressive in India where the custom of dowry is widespread, but it is not. You are literally buying labor power," says sociologist Priyanka Jain from the non-profit organization Aajeevika Bureau. These social norms are one of the reasons why girls often do not study and drop out of school.
But for Basanti, she wanted to study further. "I applied for college but my husband canceled the exam. He is not educated himself and he does not know the importance of education. He told me I had to work," she says, recalling how the economic situation won over her studies. Basanti decided to make her dream of becoming a teacher come true anyway; with the help of a local organization that pays her a symbolic salary to teach indigenous girls.
In the afternoon Basanti walks through her village's winding paths, calling her students for class. "I focus only on girls because the dropout rate for girls is higher and they also have more responsibilities at home," she says. Once the girls gather in the one-room house, they sit down on the floor, using little plastic stools as tables and look up at their teacher who is spelling the alphabet and repeat after her.
Apart from the desperately high poverty levels among the Adivasi people and child marriages being a common practice even nowadays, stigmatization of the Adivasi is another reason for low education. "Accessible education is not of high quality because the areas are remote and teachers are not willing to provide quality education," Kamlesh Sharma from Aajeevika Bureau says. Even though constitutional and other policy changes have been made in order to include the Adivasi in the educational system, they still experience exclusion.
Lakshmi Bhil
Lakshmi Bhil married Ashok Bhil from Saklal village when she was 17 years old. She saw her husband for the first time on the day of their wedding and right afterwards, she moved into his village, a common practice amongst the Bhil family. "My husband has been migrating throughout our marriage. There are very few job opportunities in our area so he needs to search outside," she explains, sitting on a simple wooden bed on the porch of their mud house.
The destruction of the environment always affects impoverished people first. After losing their forests as they were not able to declare ownership of the land, the Adivasi in Southern Rajasthan had to search for a new livelihood. "They turned to agriculture, but they are not historically farmers. Moreover, all the good land is taken by the upper castes," Jain states.
Ashok and Lakshmi have their few small pieces of land. Yet, growing crops is challenging due to deforestation, poor soil, and global warming. "Erratic rain is the main challenge. People grow their crops but nobody knows when the next rain will come. The chances to lose entire crop yields are high," explains Sharma.
Southern Rajasthan is located in a monsoon region where it has become increasingly difficult to predict rainfall. Some farmers have switched from rice to corn because of the water shortages. Yet, Adivasi families cannot live off agriculture alone and migration became a survival strategy three to four decades ago.
Ashok works in construction and usually sets up a tent right where he works, as he's not able to pay for rent. Around 400,000 mostly male migrants move seasonally from Southern Rajasthan to the more industrial, neighboring state of Gujarat to work in construction, the textile industry, or in hotels and restaurants. Circular migration is convenient for employers as it reduces their costs. "Migrants usually do not get contracts so that the employers can fire people at any time and do not have to pay welfare costs for their employees," Kamlesh Sharma explains.
While Ashok works for a miserable salary in the city, Lakshmi stays behind and takes care of everything around the house, fields, animals, and children. "I wake up by five o'clock in the morning when our buffalos start making noise. I have to feed them. That is when I start working. I prepare food for the kids and I clean around the house. I go to the field twice a day. We eat three times a day, any kind of roti, dhal, and milk," Lakshmi says. She also needs to walk to the well for water. And she sells ghee and buttermilk from their three buffalos and three goats.
The majority of Adivasi women in Southern Rajasthan spend most of the year without their migrating husbands, facing work overload and health issues that come with it, such as anemia. Women and children are often under-nourished.
Pushpa Devi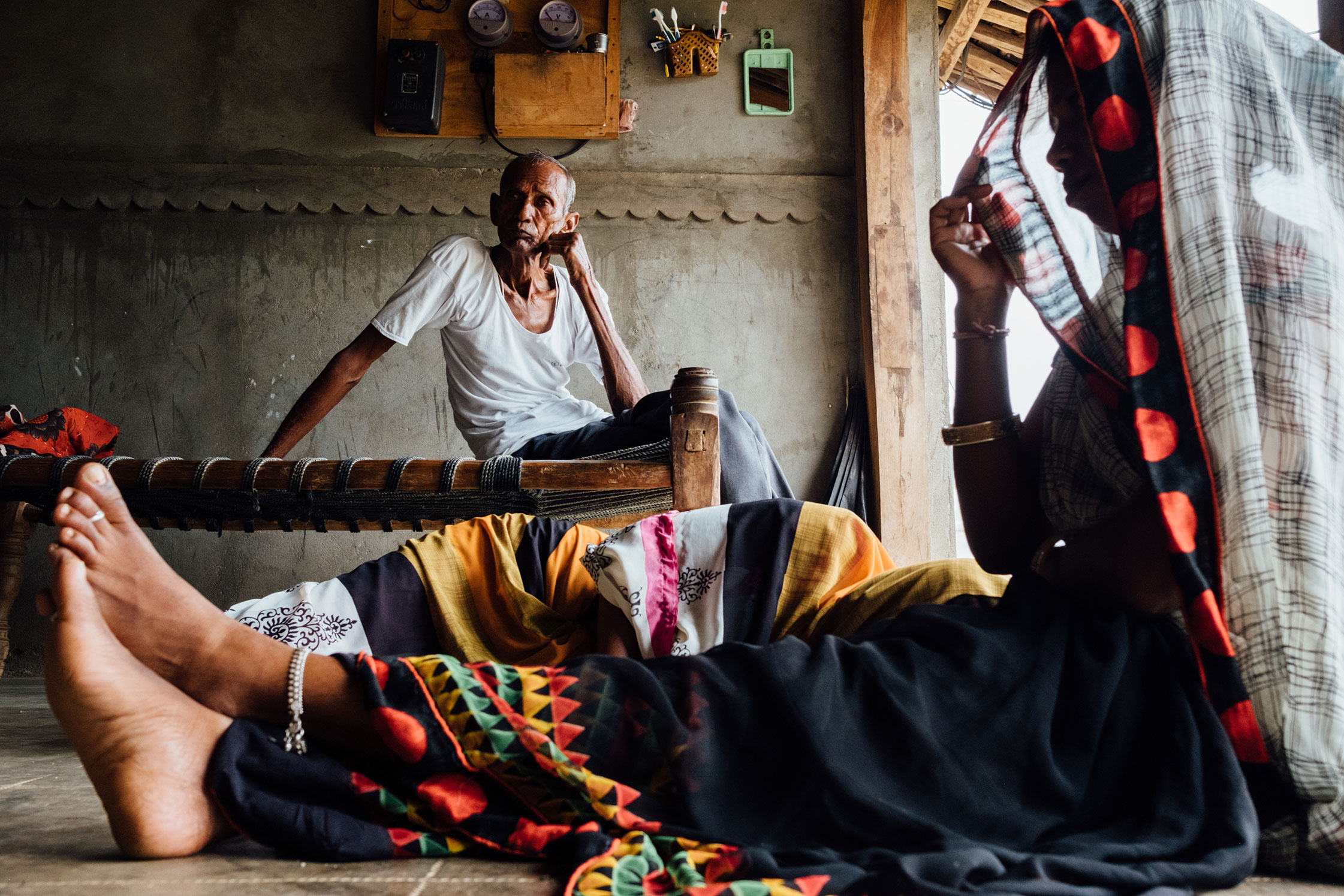 Thirty-year-old Puspha Devi, also from Saklal, refused to marry the man her parents had chosen for her; she did not eat for three days because he was much older than her. In the end, as a fifteen-year-old girl, she had to agree. Now, Pushpa has three sons and she also takes care of her father-in-law and the fields, while her husband works in a textile factory in Dubai.
Pushpa's place has two big rooms. In one of them, she prepares fresh chapatis three times a day; another one is used as storage and a place for the family's cat to hide. Life, however, happens mostly outside, on a clean concrete porch where wooden beds serve as chairs and a hammock overlooks their village. "We are a family, but we live our lives in different places. He goes out because he wants to earn money but then I eat my food here, he eats his out there," Pushpa sighs, sitting on the porch and watching the stunning view of the village and its lush rolling hills.
Yet, staying behind and having more responsibilities, including speaking in public or dealing with government officials, many Adivasi women become more empowered as a side effect of migration. "Women make certain decisions that they are not supposed to do in the presence of men. Women's mobility and exposure also increases," Sharma says. Apart from working with migrant workers, Aajeevika Bureau has programs for women who are left behind. They create solidarity groups for women, Ujala Samooh, where they learn about their rights and to demand what belongs to them.
The government provides rations for the poorest families, such as wheat, sugar, and gas for cooking. These are crucial for the Adivasi people, however officials from local government offices often exploit women who come to pick up the rations. "For government officials, villages are places of powerlessness because the men are gone. Women are illiterate and they have very little experience with being in public places," Jain explains, disclosing that panchayat representatives often keep part of the rations to sell, pretending the network is down or blaming database errors when women come.
Pushpa is a leader of one solidarity group and she was also getting five kilos less of wheat than what she was entitled to, and irregularly. "I talked to the ration dealer and asked him who from our family was not written on my card. I knew he could see it on his computer. I made him put my father-in-law there," she says.
Priyanka Jain admits that women's empowerment provokes changes in their family dynamics: "Some men do not allow women to go to the Ujala Samoohs, others start helping at home. If a person who used to be silent and bearing unequal burden starts speaking up, then the quality of their relationship is very important (in how the dynamics change)."
"When I told my husband the story of the rations, he said: A lot of times, single women get treated like you did, not everybody can defend themselves like you were able to do," Pushpa recalls. Lakshmi also demanded more kilos of wheat for her family and Basanti participated when women went together to talk to ration dealers. Both were successful.
These interviews were conducted within the long-term global project Women Who Stay that Magdalena and Noel Rojo established to bring attention to the stories of women who are left behind after their male family members migrate. You can follow the project on Facebook or Instagram.
We have covered a wide range of stories in India, from featuring musician and teacher Nawab Khan in Jodhpur to Vijendra Chhipa, the founder of Bagru textiles.
Text: Magdalena Rojo
Photography: Noel Rojo