There are two camps in architecture—those who believe a shape should derive from the construction's logic and those who bend logic into submission with their idea of the perfect shape.
It's the old debate of whether form or function comes first, only that nowadays, some may call it constructivism versus sculpturalism. But real life tends to be less black and white than theory, and ever so tellingly the walls and furniture in architect Steffen Werner's apartment are often gray. Having studied both sculpture and architecture at the Academy of Arts in Munich, Werner finds himself in between both disciplines, constructing spaces with a sculptor's eye.
It is this eye that recognized the potential of an attic in Munich's Maxvorstadt in 2010—then still an inconspicuous 1980s apartment, dark and awkwardly built. "The most important job was to guide daylight back into the space," Werner says. "It needed to be open and airy." Just a few elements were thus allowed to stay: disposing of all unnecessary walls, Werner slid in a central core unit containing the bathroom, arranging everything else around it in a circular manner and using the existing timber struts of the original roof structure as a grid to organize the space. This resulted in 150 open-plan square meters—a challenge to daily-life considering he has three kids. "We definitely have an acoustic problem," he admits, before laughing. "But I like that it's all one room, there is no such thing as a hallway."
"I'm into materials that are valuable and age well. You just wax and oil them, that's all."
Apart from the roof supports, the only other remnant of the old apartment is a piece of a roughcast wall, cut out with an angle grinder. "It's supposed to look like a sculpture, like a mural relief," he says, again speaking with a sculptor's voice. Adding to this contemporary take on site-specific interior design, Werner predominantly used traditional and local materials for the rest of the apartment: all marble was broken off in the Jura Mountains, "just around the corner" from Munich, and the huge floorboards are all made of domestic oak, a wood he likes to work into his furniture as well. "I'm into materials that are valuable and age well," he says. "You just wax and oil them, that's all."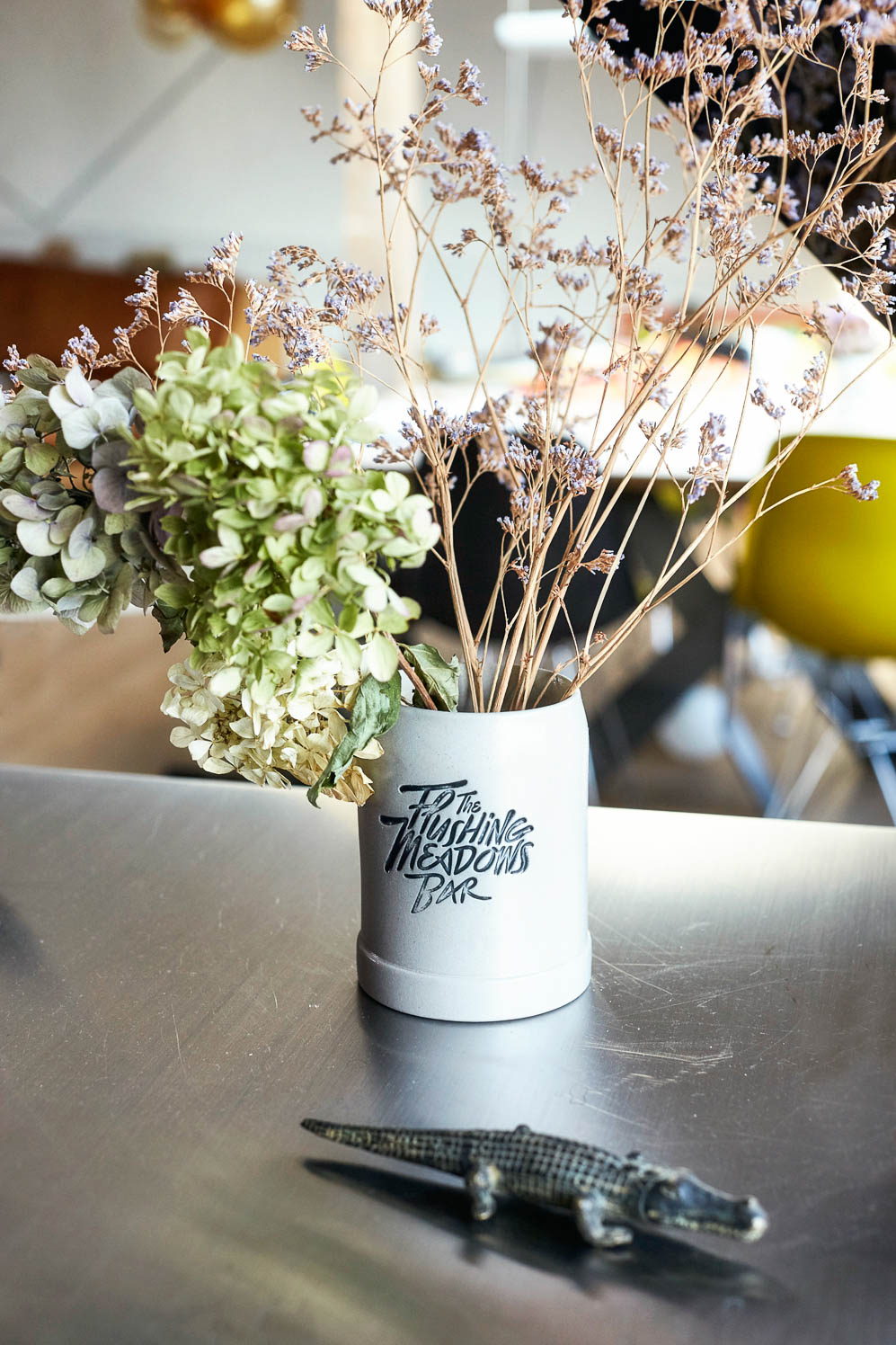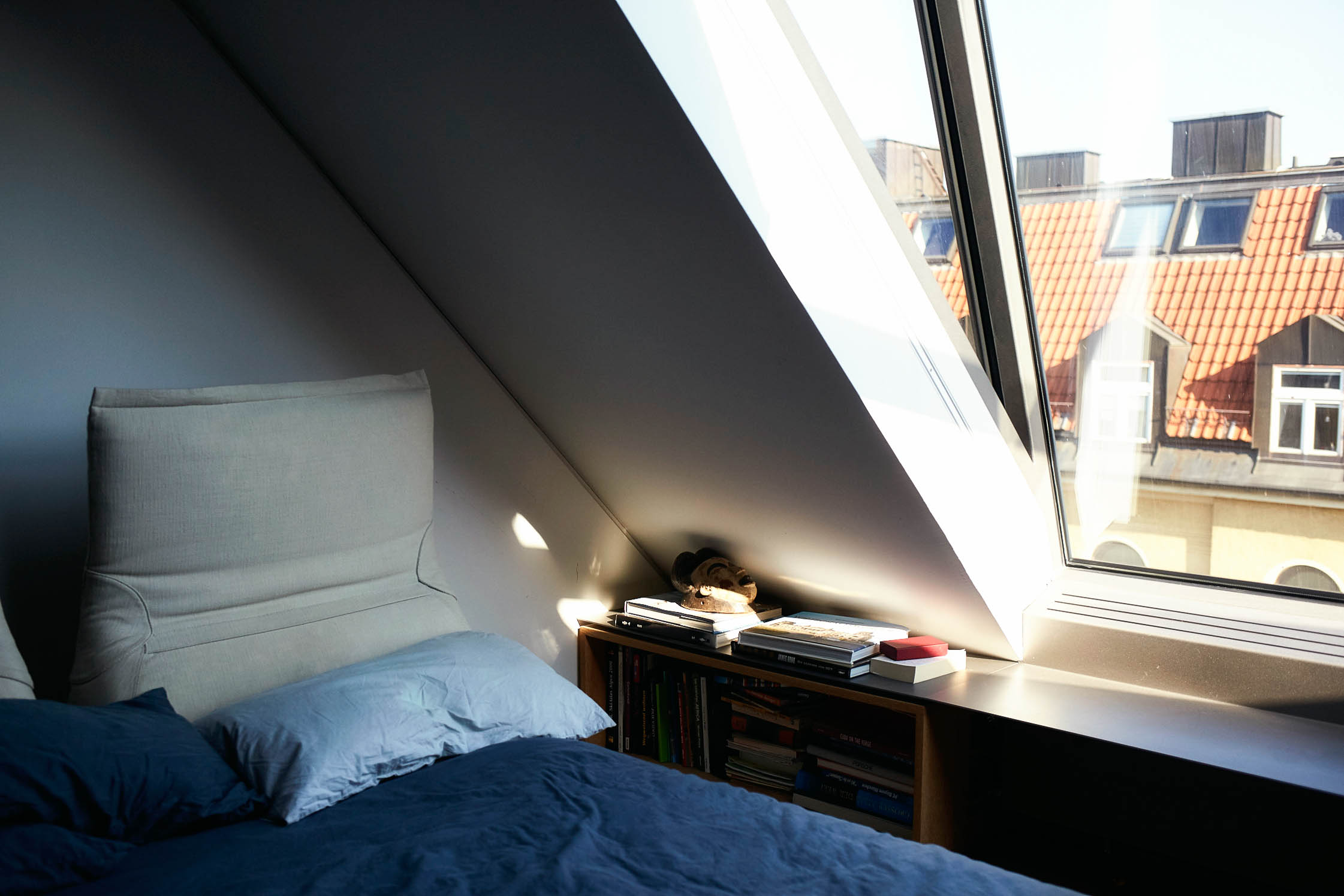 Well, not strictly. Steffen Werner has also made a name for himself as the architect of some of Munich's most chic addresses—including the Bob Beaman club, restaurants such as Cantine Cantona, the James T. Hunt bar, or the much-acclaimed Flushing Meadows hotel—together with his longtime business partner Sascha Arnold. Both have been known to come up with the most extravagant ways of applying materials, even when conserving the old: the copper walls of the Flushing Meadows elevator, for instance, once belonged to the bar of Edmoses, their first club that is now closed. It seems as if by being their own employers and their own clients, Werner and Arnold have solved the problem that keeps most architects in check—doing what they love without compromising their aesthetic vision nor their checkbooks; a dream scenario whose beginnings go back some 20 years when Werner and Arnold met Munich's nightlife fixture Niels Jäger during their studies. Jäger, who worked as a bartender and bouncer at night, is now responsible for the communications of all joint ventures that today run under the label A / J / W. It is rumored that Munich's living hospitality legends Kull & Weinzierl had their fair share to do with their first encounter two decades ago and they have supported them ever since.
Made in Munich: Inside Arnold / Werner's Designs
"Shapes have to speak for themselves, then you don't need anything else."
Today, all kinds of gastronomic endeavors are part of their common universe, as well as the architecture practice Arnold / Werner and a graphic design office called fantomas, with a dozen employees each. "We pride ourselves with being a one-stop shop for design," says Werner. "We're able to deliver a project from the very beginning to the very end"—be that a whole building, a piece of furniture, or just a business card. Their client list reads just as diverse with everyone from A.P.C. and Adidas to Dallmayr or Bayern Munich enlisting their services. "We're in the great position of being able to choose projects depending on what we like to do," says Werner. "And luckily, we don't have just one style. We determine the style from scratch with every new project."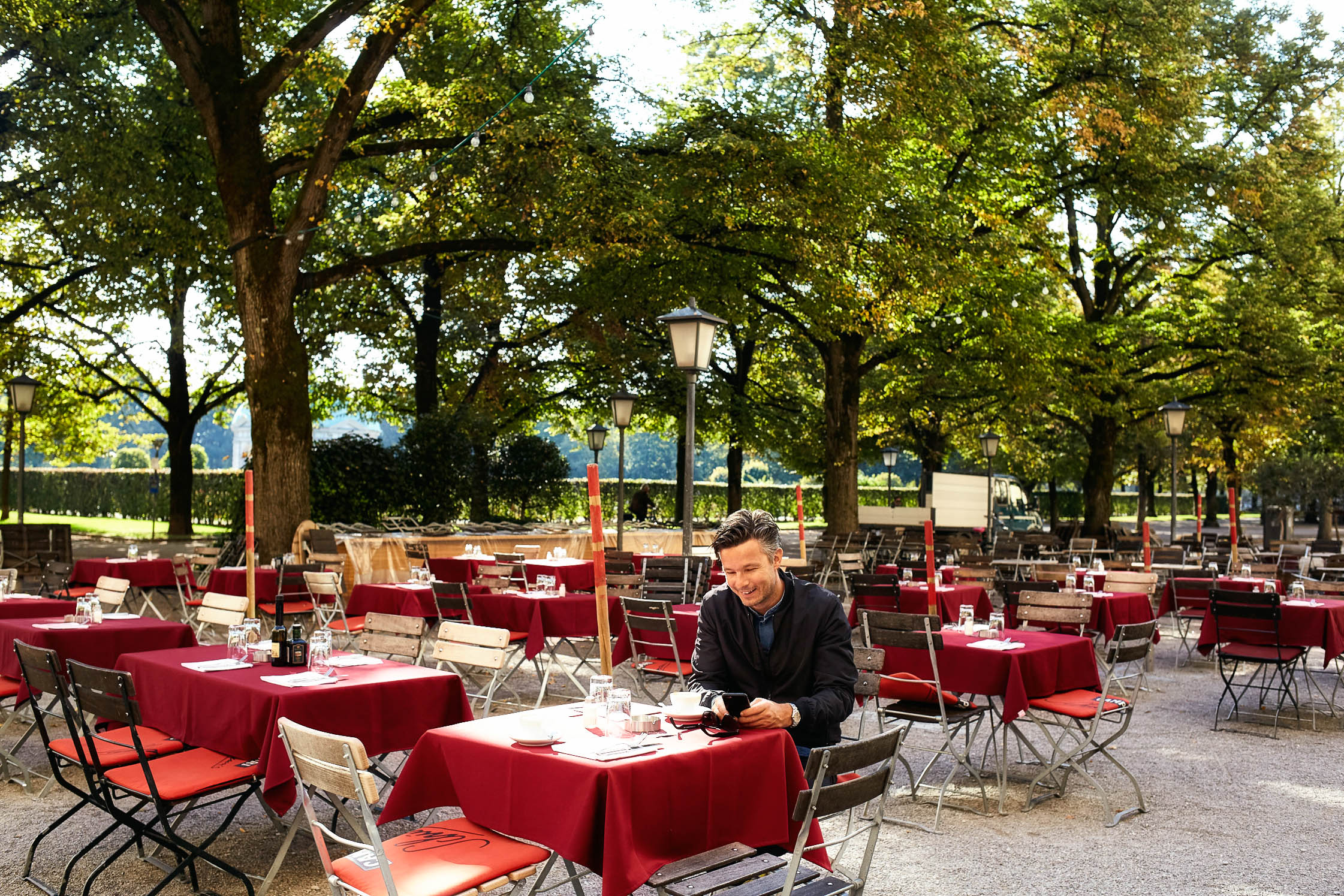 One thing, however, has remained constant over the years—his grasp of numbers. As the managing director of Arnold / Werner, he has always been at the financial helm of all their ventures. "It sometimes sounds like mere administration," he says, "but doing business is also an art"—an art that has given him plenty of rope to create exactly the space he envisioned for himself. Looking at his attic loft, the legendary polygonal design of John Lautner's Goldstein Residence in Los Angeles comes to mind. "Absolutely," Werner agrees. "It's one of my favorite buildings. Shapes have to speak for themselves, then you don't need anything else." The 1960s vibe of the famous residence that resounds with the tanned leather and triangular shapes of Werner's own penthouse, can also be found in the architects' other project, such as the Lippert House that features an impressive geometric ceiling structure.
Polygonal designs seem to be a leitmotif in Arnold / Werner's work, which may be one reason the duo have felt attracted to attic conversions in the past, naturally coming with triangular sections and allowing for an interplay of constructive and monolithic design. With a spectacular view being an attic loft's most distinctive feature, Werner pays special attention to views. In order to illuminate his apartment, he employed custom-made dormer windows, and throughout his portfolio of work, you are struck by the frequent use of panoramic openings designed to make the most of the respective building's environment—be it the city, the mountains or a lake.
Short project descriptions on the Arnold / Werner website even include the benefit of watching some of Bavaria's most beautiful sunsets—proof of their local patriotism but also of the significance Werner ascribes to a special lighting atmosphere. In order not to forgo said sunsets in his own apartment, he even went as far as installing Parsol mirrors, dissolving the edges behind his windows. "It doubles the setting sun and then there are no blind spots," he argues. Add to that materials that are homogenous and bear reference to their surroundings, such as an alpine chalet with plywood furnishings, and you're not far from getting to the bottom of Werner's design philosophy—even though he maintains he has none.
Spaces and just how they fit into their structural surroundings as sculptures will keep him busy in the years to come—with the surroundings almost always being Munich's. "I moved to this city when I was 20 years old and I still love it," he says. "I just love being in the English Garden in summer or in the mountains in winter. The quality of life is just fantastic. Sure, it can seem a bit provincial at times," he admits. And then laughs, "but we have a beautiful airport too."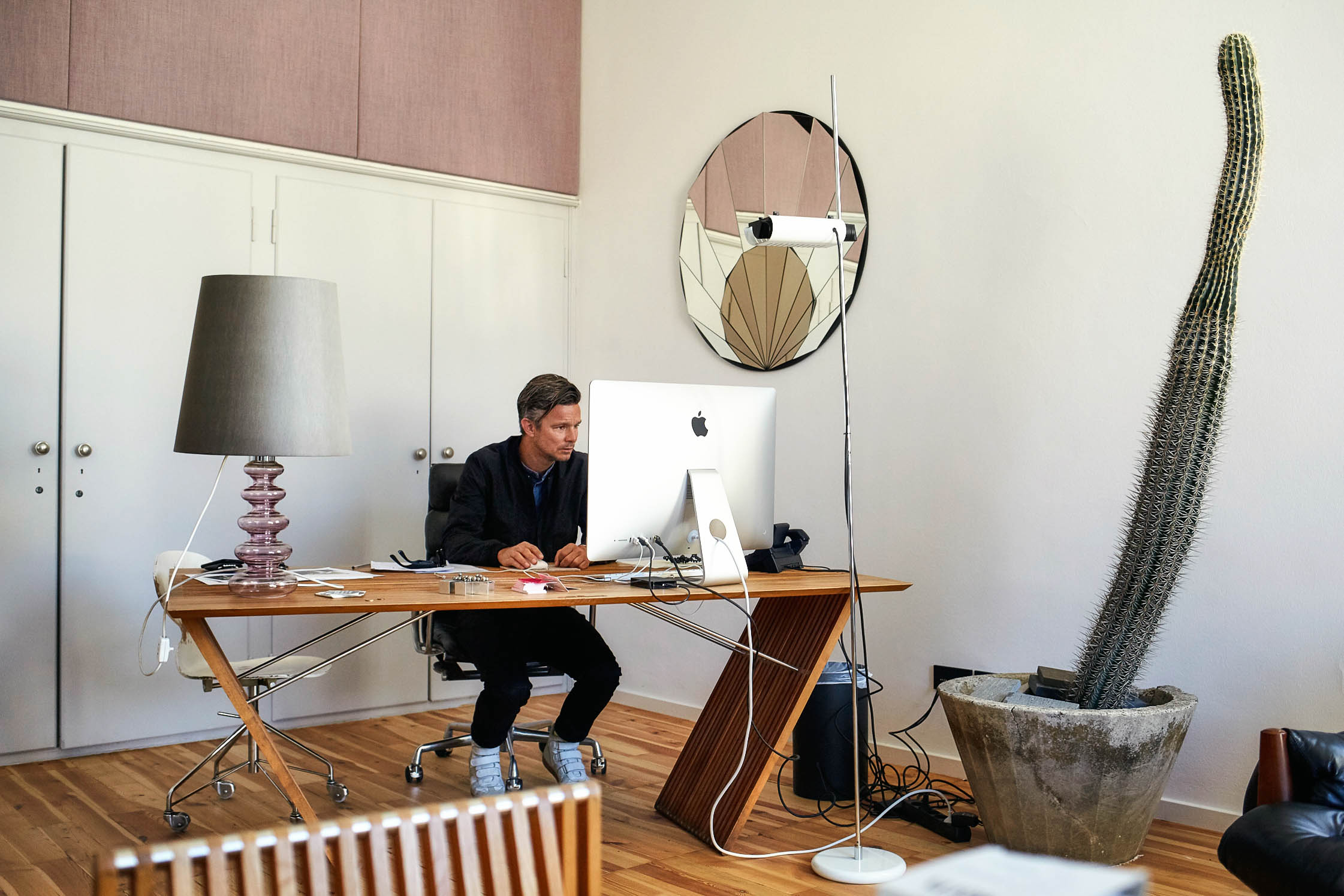 Thank you for sharing your take on architecture with us, Steffen.
Find out more about Steffen Werner's work on Arnold / Werner's website.
FvF is lucky to be part of the jury of this year's AD Design Award. Architect Steffen Werner is one of five nominees for the Awards' category 'Self-Designed Spaces'. Readers can vote online for their favourite self-designed space from 30th September through to 19th October.
Text:Charlotte Wiedemann
Photography:Conny Mirbach