Restaurateurs Uri Triest and Sascha Bewersdorff met by surprise through a mutual acquaintance, but quickly realized that they shared a vision for a new venture — a chance to find "the real deal" in their professional lives.
Their passion project, Restaurant Ross, is a modern interpretation of an old-school guesthouse that opened to immediate success, climbing within weeks to the top of the online Berlin restaurant ratings. They, alongside chef Markus, set up in the kitchen of the FvF Apartment to treat us to a lunch of their seasonal specialties.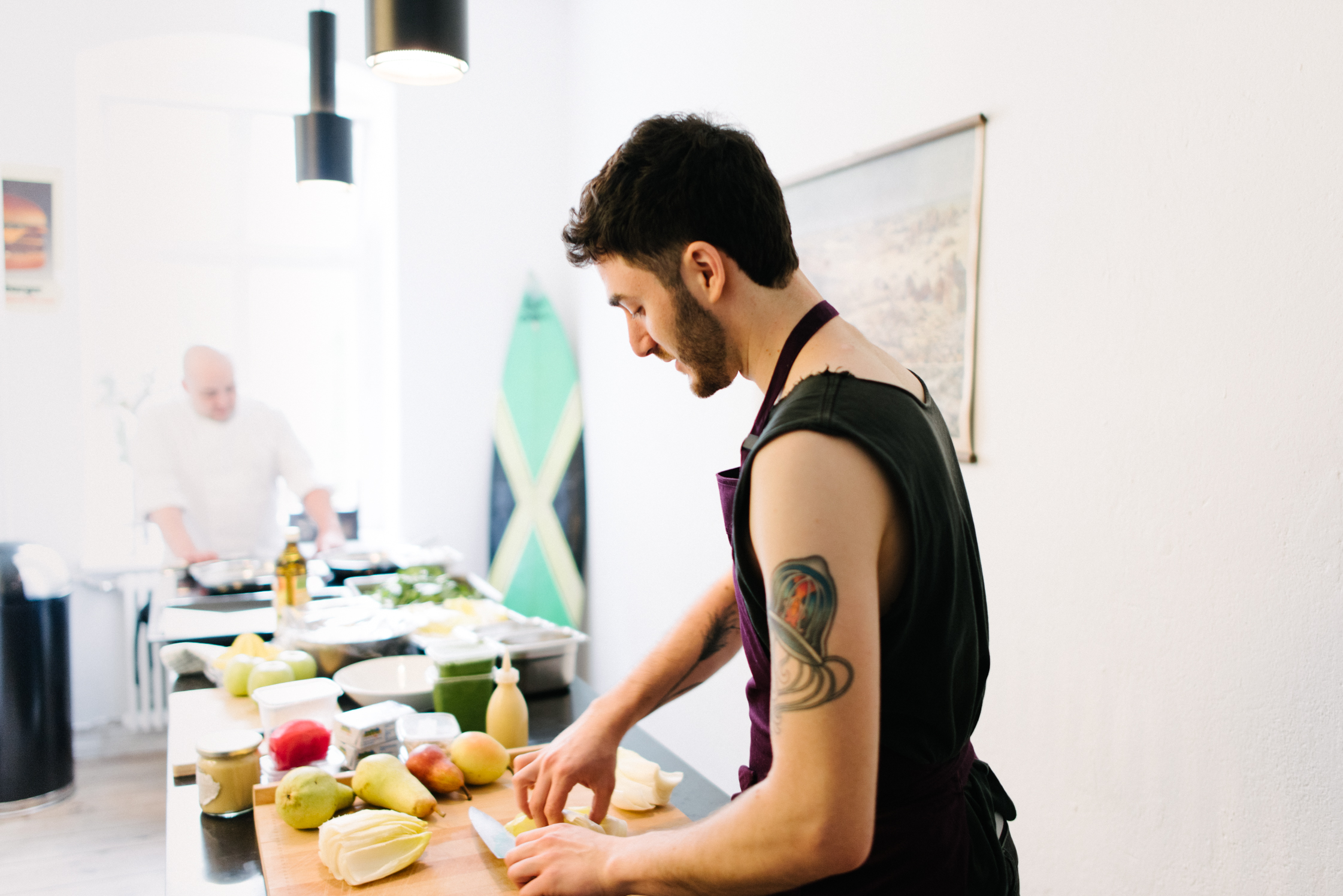 In our post-internet society, with its unprecedented access to information and ideas, Uri's proclamation that "fusion is dead" has a prophetic ring. The concepts that rocked the culinary world in the 90s have accelerated; fusion of multiple cuisines is now nearly par for the course. What interests the cooks at Restaurant Ross is the way techniques and gastronomical knowledge are spreading in the information age — they call their food "shared cuisine." Uri is careful not to brand his dishes with cultural labels and remains adamant that the details of the recipes aren't important, but rather, the end results.
Despite careful preparation, which started at Restaurant Ross the day before our team lunch, the chefs don't strive for perfection with their creations. Instead, they believe that compromise is necessary for invention — for example: their restaurant's kitchen, which Uri describes as "the smallest in the world." Working under restrictions like these provide the catalyst for their line-up of innovative dishes. As the team took their seats for lunch, the tantalizing smells filling the Apartment didn't give many hints about what we were about to enjoy, but we didn't have to wait long until the plates began to emerge. The three-course meal began with a warm chicory salad — lightly braised, drizzled with pear vinaigrette and daintily topped by a slice of cheese toast, filled with melted gouda.
Chicory Salad with Mini Toasts
Ingredients
Braising liquid

1

Olive oil

2

5 shallots, sliced

3

1 tbsp salt

4

4cl pernot

5

200ml white wine

6

200ml apple juice

7

1 tbsp whole grain mustard

8

1 sprig thyme

9

3 sprigs tarragon

Chicory

1

20 white endives, trimmed and halved

2

Braising liquid

Cheese toast

1

Tramezzini

2

Honey

3

Dijon mustard

4

Aged gouda, grated

Pear vinaigrette

1

1 tsp dijon mustard

2

1 tsp whole grain mustard

3

1 tsp honey

4

2 tbsp braising liquid

5

Black pepper

6

walnut oil

7

Lemon zest

8

Lemon juice
Method
Braising liquid
Heat oil, saute shallots with salt and deglaze with pernot. Add everything else, plus 300ml water and reduce by half, strain and reserve.
Chicory
Braise covered in oven for 20 minutes.
Cheese toast
Spread mustard on both sides of the bread, and honey on one. Sear bread on the side without honey, then sprinkle gouda on top and melt under salamander.
Pear vinaigrette
Mix all ingredients together and stir briskly to emulsify.
Presentation
Alternate braised slices of endive with pears, endive leaves and herbs. Top with pear vinaigrette, dijon, walnuts, and finish with cheese toasts.

The cooks experimented with a new main course that may make an appearance on their next menu, which changes quarterly: braised octopus, resting on roasted potatoes and accompanied by quail eggs, slices of chorizo and a spinach-parsley puree reminiscent of pesto. Uri left the octopus tentacles whole, which he admitted was intentionally done to challenge us to eat adventurously. Restaurant Ross aims to introduce its guests to the unknown. Earlier in the day, host Sascha told a story of one special table during the previous evening's dinner service — a group of women from Scotland who surrendered to the chef's recommendations and savored everything they were served with open-minded enthusiasm. It's guests like these, Sascha said, who inspire the team to be interested in the people who come through the door of their restaurant. "It's not just a job anymore," he smiled.
Braised Octopus with Roasted Potatoes and Chorizo
Ingredients
Octopus braise

1

Octopus

2

Carrots

3

Celery

4

Celeriac

5

Onion

6

Parsnips

7

Parsley stalks

8

Bay leaves

9

Garlic, halved

10

Rosemary

11

Thyme

12

Black peppercorns

13

1 tbsp allspice

14

Salt, as needed

15

4 lemons, halved

16

Red wine corks (if available)

Garnish

1

Goat's cheese

2

Olive oil

3

Fried chorizo slices

Spinach­-parsley purée

1

300g spinach

2

100g parsley

3

Lemon zest

4

Ice cubes

5

Salt

Roasted potatoes

1

1kg potatoes, peeled and halved lengthwise

2

30g butter

3

Olive oil

4

1 dry chili

5

1 sprig rosemary

6

1 sprig thyme

7

1 clove of garlic, crushed but kept whole

8

5 shallots, sliced

9

1lt fish stock

10

Salt

Chorizo Eggs

1

100g chorizo, peeled and sliced

2

200 ml cream

3

1 sprig thyme

4

1 sprig rosemary

5

Quail eggs, 1 per portion
Method
Octopus braise
Place all but the octopus in a pot, cover with water and bring to a boil. Temper the octopus inside and simmer on high for 20 minutes. Then reduce heat and simmer for another 30 minutes. Remove from heat and allow octopus to chill in the braising liquid. Strain, reserving the liquid. Remove head but keep tentacles inside poaching liquid until ready to use.
Roasted potatoes
Saute chili, garlic, herbs, and shallots in oil and butter. Add potatoes and cover with stock. Bring to a boil and then reduce to a gentle simmer. Cook until the potatoes are soft but still retain their shape, about 10 minutes.
Chorizo Eggs
Saute chorizo, then add first thyme and rosemary, then cream. Separately, cook quail eggs in boiling water for 2 minutes and 20 seconds. Peel eggs. Let the chorizo cream reduce by half, then strain and toss in the eggs just to rewarm.
Spinach­-parsley puree
Blanch greens for 20 seconds and chill in ice water. In a blender, mix quickly with lemon zest and 4 ice cubes to prevent from warming. Season with salt as desired.
Presentation
Arrange potatoes and top with octopus. Alongside, add puree, chorizo eggs, goat's cheese and fried chorizo slices and top with olive oil.
After tucking into the succulent octopus and clearing our plates, it was just a short wait until dessert arrived. Typical of Restaurant Ross's style, the sweet crumble combined a variety of textures and flavors, pairing both tart raw apples and soft baked ones. The room went silent as everyone spooned up mouthfuls of ginger whisky ice cream and drizzles of toffee sauce that crowned the whole dish.
Apple Crumble with Whisky Ice Cream
Ingredients
Roasted apple mixture

1

Green apples, peeled, cored, and quartered

2

1 tsp cinnamon

3

4cl whisky

4

Juice of 1 lemon

5

50g brown sugar

6

30g butter, soft

Apple salad

1

Green apple

2

Lemon juice

3

Parsley

Toffee sauce

1

100g brown sugar

2

200ml cream salt

Ginger whisky ice cream

1

500 ml milk

2

500 ml cream

3

200g egg yolk

4

200g sugar

5

1tsp cinnamon

6

5cm ginger, peeled and sliced

7

8cl whisky

Crumble

1

200g flour

2

130g butter

3

30g white sugar

4

20g brown sugar

5

Cinnamon

6

Lemon zest

7

Salt
Method
Roasted apple mixture
Mix all ingredients together and roast at 180°C for about 15 minutes.
Ginger whisky ice cream
Whisk half of the sugar with egg yolks until pale and fluffy. Meanwhile, mix the rest of the sugar, cream, milk, cinnamon, and ginger and bring to a boil, stirring occasionally. Strain the cream from ginger, and add to egg yolks while whisking. Continue cooking for about 5 more minutes, until the mixture thickens slightly and ripples can be formed. Add whisky and freeze in an ice machine.
Apple salad
Mix all together.
Crumble
Sift all ingredients together except for the butter. Add butter and blitz in pulses until crumbly, but do not over process. Bake at 175°C for 12 minutes. Using a fork, crumble down any big lumps, and bake for 3 more minutes until evenly brown.
Toffee sauce
Melt sugar in a heavy-bottomed pan until a relatively dark caramel is formed. Slowly add cream and whisk until fully incorporated. Finish with a bit of fleur de sel.
To Uri, homogeneity in food is not only unrealistic, it takes the excitement out of cooking. He knows that the staff of their fledgling restaurant have a lot to learn, but they relish the responsibility — "Every time you plate a dish, it's a new story."
Thank you, Uri, Sascha and Markus, for cooking for us and daring us to sample something new.
More about Restaurant Ross can be found on their website and Facebook page.
Text: Stephanie Taralson
Photography: Robert Rieger