For our November Breakfast series, we've invited successful food blogger Marta Greber from What Should I Eat for Breakfast Today? along with her husband Tomasz to join us at the FvF Apartment and whip up a variety of Sunday breakfast recipes that will get us through the last autumn month and make our mornings a little bit more palatable.
A stroll around a farmers' market is enough for a bit of cooking inspiration if you're stuck with using the same ingredients over and over, as you pass by everything that's in season and at its best form.
Colors, scents and the odd fruit sample turn the experience into many people's weekend ritual to release their inner cook. For our third November breakfast, Marta wasn't really sure what kind of recipe she should go for so she headed to a good old and reliable farmers' market. Once there, she found herself face to face with a stack of plump ears of corn that, in her eyes, were begging to become something before the end of their peak. Marta didn't hesitate, corn meant sweet and all she needed to go along with it was the salty touch she's constantly hankering after in the midst of being pregnant. In the kitchen, the ancient maize grain were to meet the rich and salty nature of French goat cheese in the form of pancakes.
Ingredients
For pancakes (about 12):

1

2 ears of corn

2

1/2 of a small zucchini

3

1 cup flour

4

1/2 cup water

5

1 egg

6

2 tbsp cornmeal

7

salt and pepper

8

oil for frying

For serving:

1

goat cheese

2

poached eggs

3

or a few slices of smoked salmon and handful of spinach
Apart from the main players – corn, zucchini and cheese – Marta decided to top it all off with a breakfast staple: poached eggs. Here's where the tricky bit comes in as we've all had our share of failed experiments with poaching those oval protein bombs. Even though it's statistically impossible, it seems like every person has their own method along with the myriads of tips that exist online. Half of those tricks don't work and the other half turn out to be successful once every five attempts or only if you hold the mastery of a Michelin-starred chef. Marta's experience with poached eggs has been quite similar to this but all it took for poaching perfection was a trick she learnt from a 9-year old boy. Her friend's son told her to simply use a bit of plastic wrap, butter and a glass. Now Marta swears by this technique which is very simple and always delivers.
Method
For the poached eggs, Marta has a fail-proof trick: On a clean surface, lay a piece of plastic wrap and brush its center area with a bit of oil. Then use a small glass as your holder and lay the wrap on top of its rim with the oiled area at the center of the glass. Use your fingers to gently push the wrap in the glass so that it forms a nice basket for your egg. Break your egg inside the part of the wrap that droops in your glass and then tie the wrap's edges in a knot. Now, you must have a pouch with your egg in. Boil some water in a pot and when it starts to bubble drop your egg pouch in. Cook for 3-4 minutes.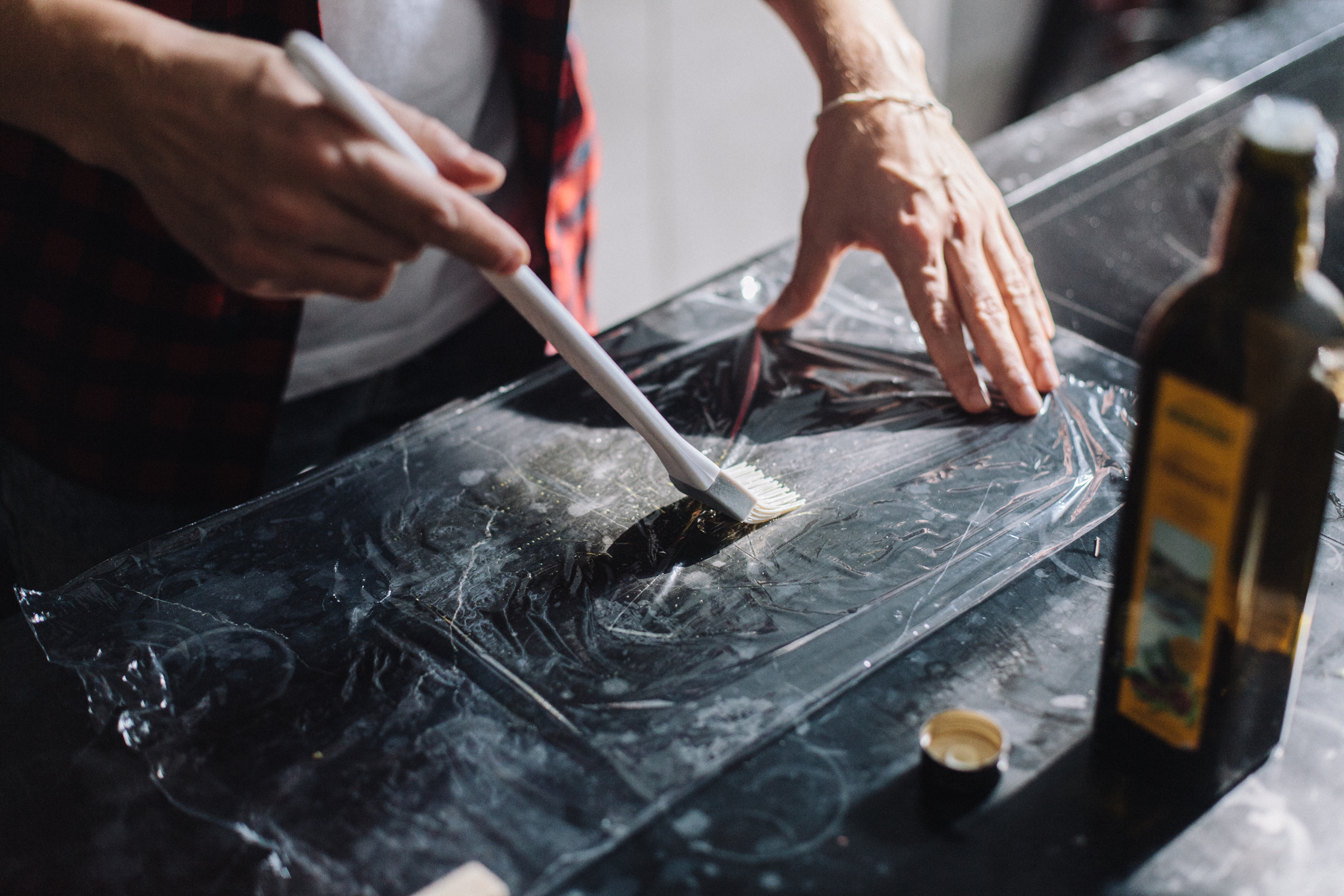 Cut off corn kernels, dice zucchini and heat 1 tablespoon of oil in a frying pan. Once the oil is hot enough, drop in the corn and zucchini and fry for few minutes until they get softer. Set aside and let the vegetables cool down.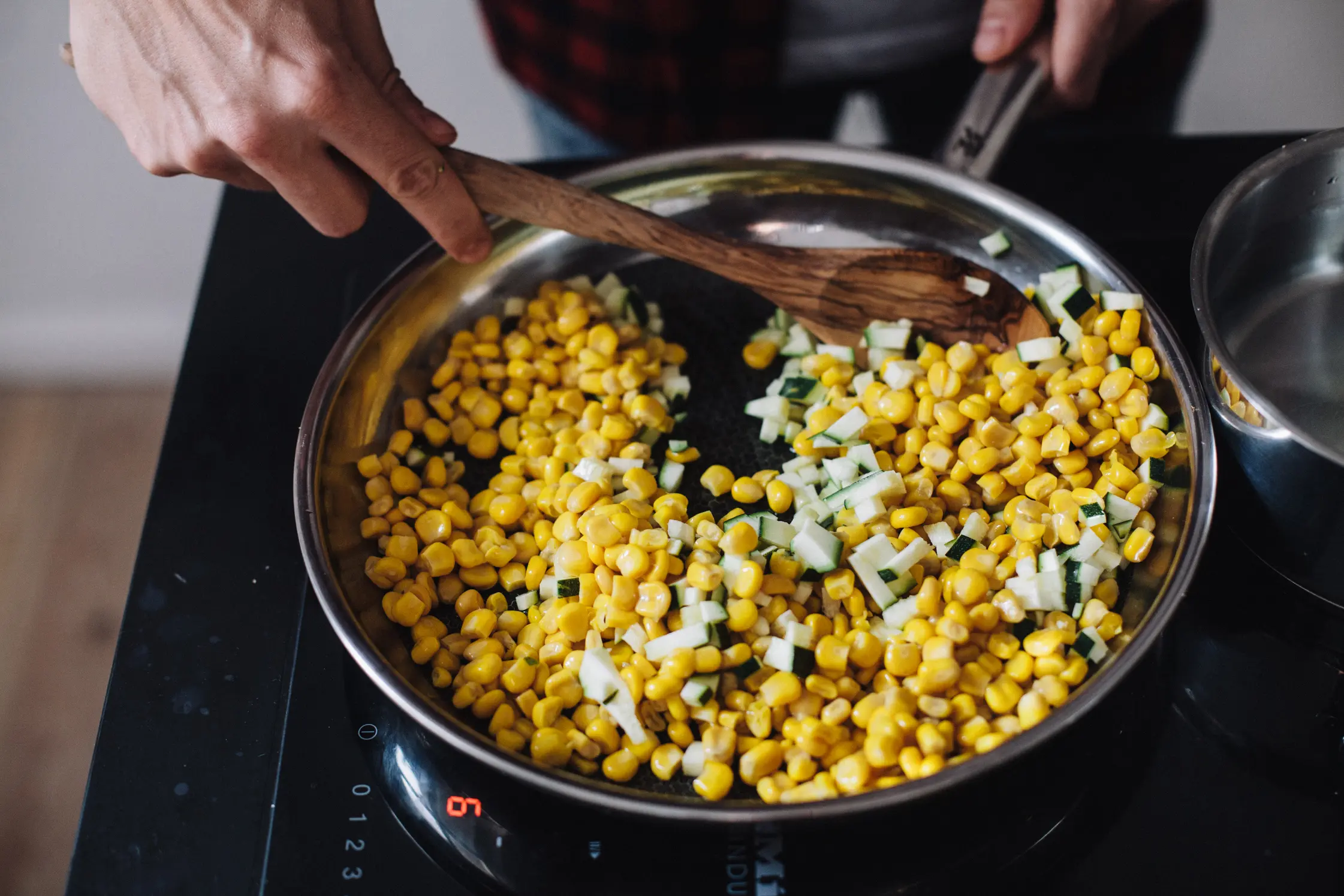 In a bowl mix the flour, water, egg, cornmeal, salt and pepper until they're well combined. Add the corn and zucchini mix and fold them in the pancake dough.
Now you're ready for frying the pancakes. Add oil into a frying pan and use one generous tablespoon of dough for each pancake. Start frying one side of each cake and then flip it over. When both sides are crispy and golden, your pancakes are ready to take out of the pan.
Serve the pancakes with slices of goat cheese and a poached egg on top. Alternatively, add slices of smoked salmon and a few spinach leaves. Feel free to play around with your toppings as anything goes depending on your taste.