Right on time for the holiday season, we've invited Berlin's favorite pastry chef Cynthia Barcomi for a cozy baking afternoon at the FvF Apartment. Cynthia prepares her favorite childhood treat from back home in America: Linzer Bars.
Little did young Cynthia know that what she thought to be the invention of her American great-grandmother Cora, actually has its roots in Austria. Linzer Torte is even said to be the oldest cake in the world, since a recipe that dates back to 1653 was found in the town archives of Admont, Austria. But, like the name implies, it was in the Austrian city of Linz where the traditional "Hausfrauen" recipe evolved into a mass-produced delicacy. From then on, the cake made its way across the globe and into Cynthia's great-grandmother's oven.
While observing Cynthia's preparations, one immediately notices that she is a well-seasoned professional: baking live on TV on a regular basis means she is used to measuring, mixing, explaining and chatting at the same time. A multi-tasker in full force, she moves quickly around the kitchen as her experienced hands make no superfluous movements. Only when the result leaves up to her expectations, she eventually takes a seat with a cup of coffee to enjoy her warm reward.
For this recipe, you will need certain baking equipment: a hand mixer or kitchen machine and a pastry bag with a rippled nozzle.
Ingredients
For a 23 x 23 cm baking pan or a 12 x 36 cm tart pan, you need:

1

180 g flour

2

1/8 tsp ground clove

3

¼ tsp cinnamon

4

200 g ground almonds

5

125 g sugar

6

the grated zest of an untreated lemon

7

½ tsp vanilla extract

8

250 g soft Butter

9

2 eggs

10

1 jar (340 g) of raspberry jam

11

powdered sugar for decoration
Method
Place the flour, cloves and cinnamon in a bowl and add the almonds, sugar, vanilla and lemon zest. Mix on low speed with a hand mixer. While doing so, slowly add the butter and eggs. Don't mix for too long: "It's important to keep the dough quite liquid, because eventually you'll need to squeeze it through the pastry bag."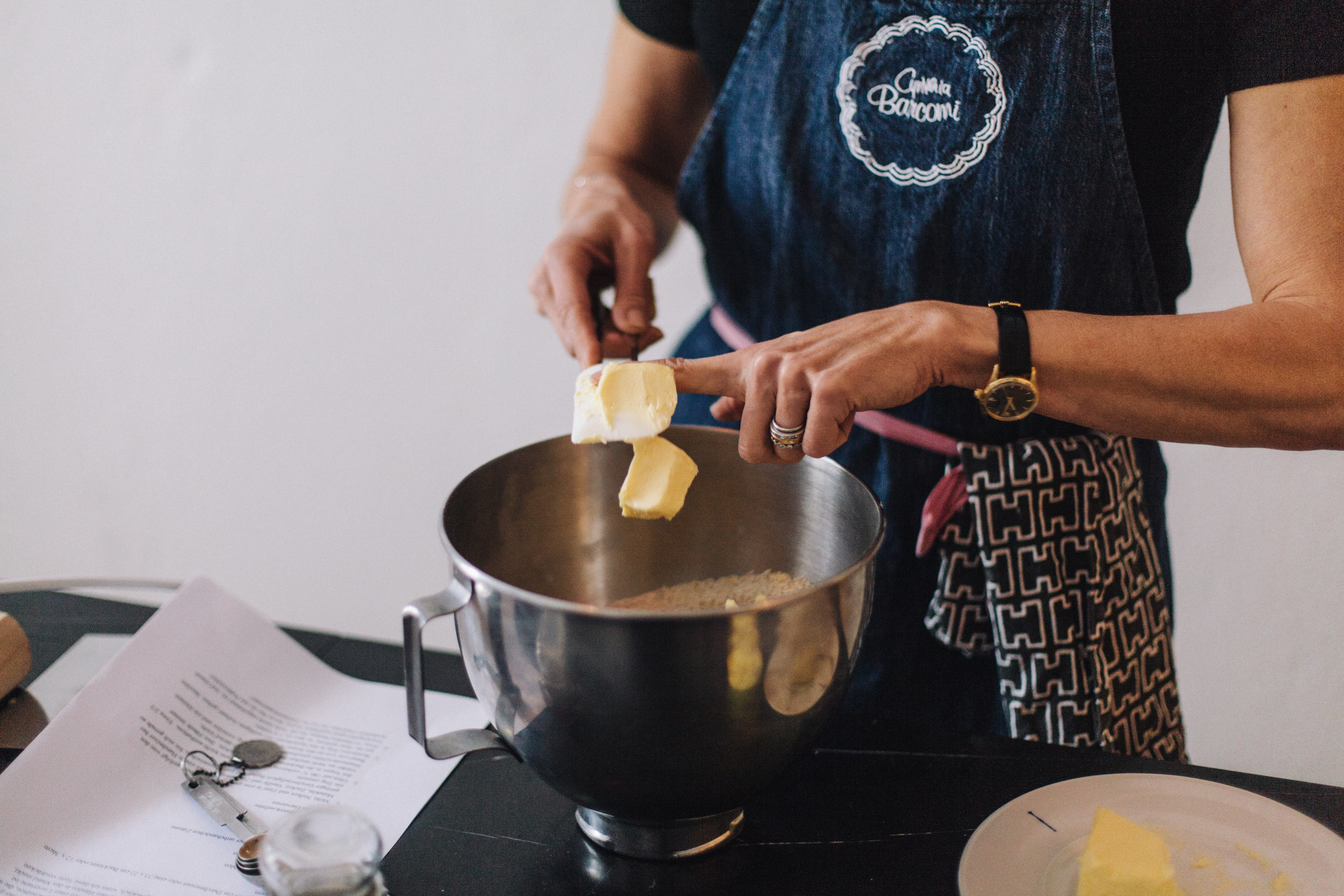 Preheat the oven to 180°C and butter the tart pan. Then, separate one third of the dough and spread the other two thirds evenly in the the tart pan. "The typical Linzer Torte is round, but my great-grandmother always made bars instead of triangles. I simply assumed that habit," she laughs. There is no need in rolling out the dough beforehand, but make sure to dust flour on your hands repeatedly to avoid the dough sticking to them.
Spread the raspberry jam evenly on the dough, leaving a space of one centimeter around the edge. Throughout the long history of the Linzer Tart, the choice of jam varied. For Cynthia, raspberry is the only option. "I have also come across Linzer Tarts with loganberry jam," she recalls, which is a cross-breeding between blackberries and raspberries, that was discovered by coincidence in California and is now well established in American food culture. In the European version, redcurrant jam or any other thick jam is commonly used.
Finally, squeeze the last third of the dough with the pastry bag with the rippled tip onto the cake, and form three big X's.
Put the tart in the oven for about 30 minutes, until the tart gets a golden-brown color.
Leave it in room temperature to cool down before decorating it with powdered sugar, otherwise it would be drawn in. Enjoy!
Many thanks to you Cynthia and to your daughter, Esmé, for preparing these delicious Linzer Bars with us in our FvF Apartment. Also, a big thanks to Allyouneed for the fresh ingredients.
Revisit her home with FvF and find out more about Cynthia and her self-designed kitchenware on her website or Facebook page.
This article is part of our cooking series FvF Cooks, find more episodes in our archive.