Served on wax paper, at small crammed stalls, good tacos require no glamor. They're unapologetically simple in all their mouth-watering glory. 
While on our quest for artisanal mezcal and its origins, we came across food markets and a cornucopia of tantalizing smells. As we made our way through food stalls, adroit and confident street vendors made taco preparation seem like child's play. No superfluous movements are made in the altars of authentic street food. Sizzling pans, munching sounds and a good portion of relaxed conversations set the soundtrack to the theatre of street food where tortilla is king.
Originated in pre-Hispanic Mexico, tacos and other tortilla concoctions used to be working class staples as women would prepare them for their husbands who worked in the fields and mines. Almost every region boasts its own specialty and, thus, variations of the dish are nearly endless. From vegetables, to meat and fish, and other more sophisticated delicacies, fillings and methods of preparation vary widely.
No wonder Mexico is considered to have one of the most extensive street food cultures in the world.
Tacos Placeros in Colonia Roma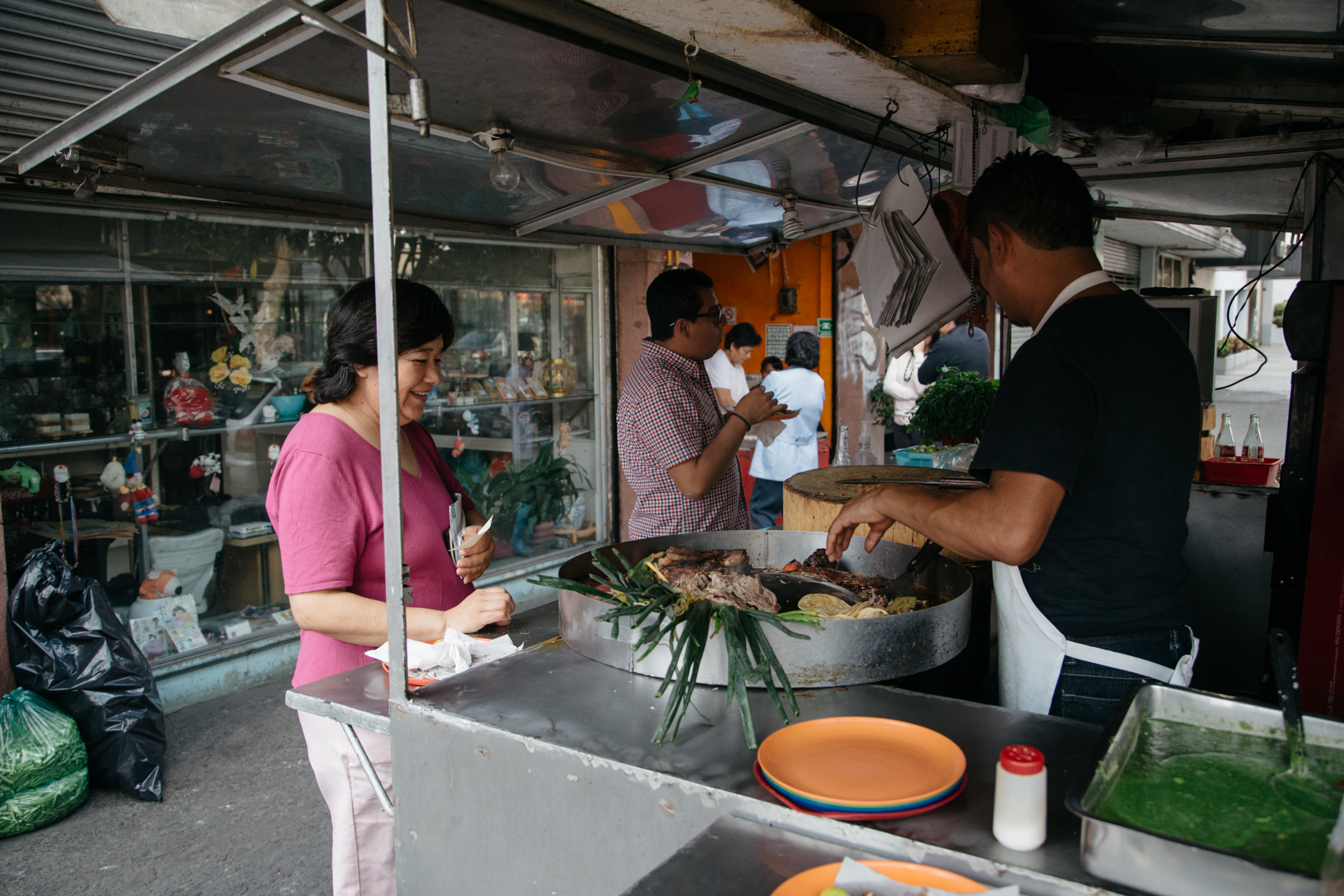 Many people call this place in Colonia Roma, Tacos Placeros. Here, different types of meat are chopped up on a wooden block and then stir-fried on a hot oval plate. One can enjoy the different types of meat separately or mixed together in a taco campechano.
Tacos de Bistec in Matatlán
At the Los Danzantes distillery in Oaxaca, one of the men working there brought his grill and taco cart to make simple food for everyone. The owners held a gathering for all the workers and we joined them for a quick meal of tortillas with beaf steak, cilantro chili peppers and onion.
Tacos de Birria in Colonia Roma
Tacos de Birria is a go-to place for everyone who lives in the Colonia Roma neighborhood. They specialize in birria, a spicy dish from the state of Jalisco that features marinated goat meat, tortillas, onions and lime.
Looking to make your own tacos? Find a great recipe prepared by Gabe Jaffe for our Mezcal & Tacos tasting night. And if you're curious about our trip to Oaxaca in search of good mezcal, read our article here. For more culinary inspiration visit our FvF Cooks.
Photography: Dylanne Lee
Text: Effie Efthymiadi