Fresh fish with hand-picked vegetables from the garden was Anna Pearson's main idea for this recipe. For the Swiss cookbook author, cooking begins with the ingredients.
This is why we meet Anna at her local fishmonger, Grieser, in Meilen near Zurich. She places four whole whitefish in her shopping basket, a bottle of Verjus – a juice pressed from underripe grapes – and two bottles of Räuschling from the local wine-grower Schwarzenbach. At the market, and then in her own garden, Anna picks vegetables, fresh thyme and savory for her seasonal lunch.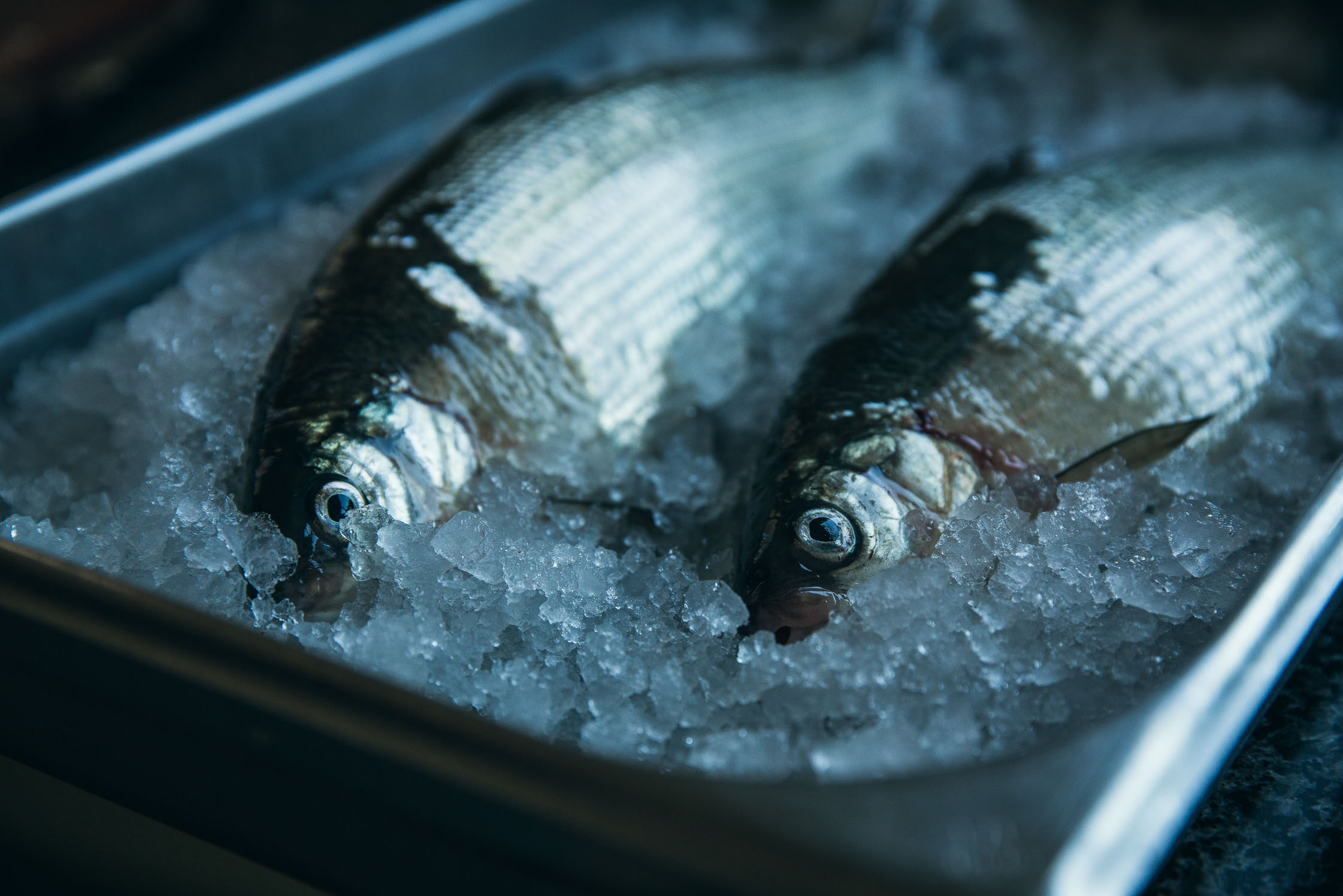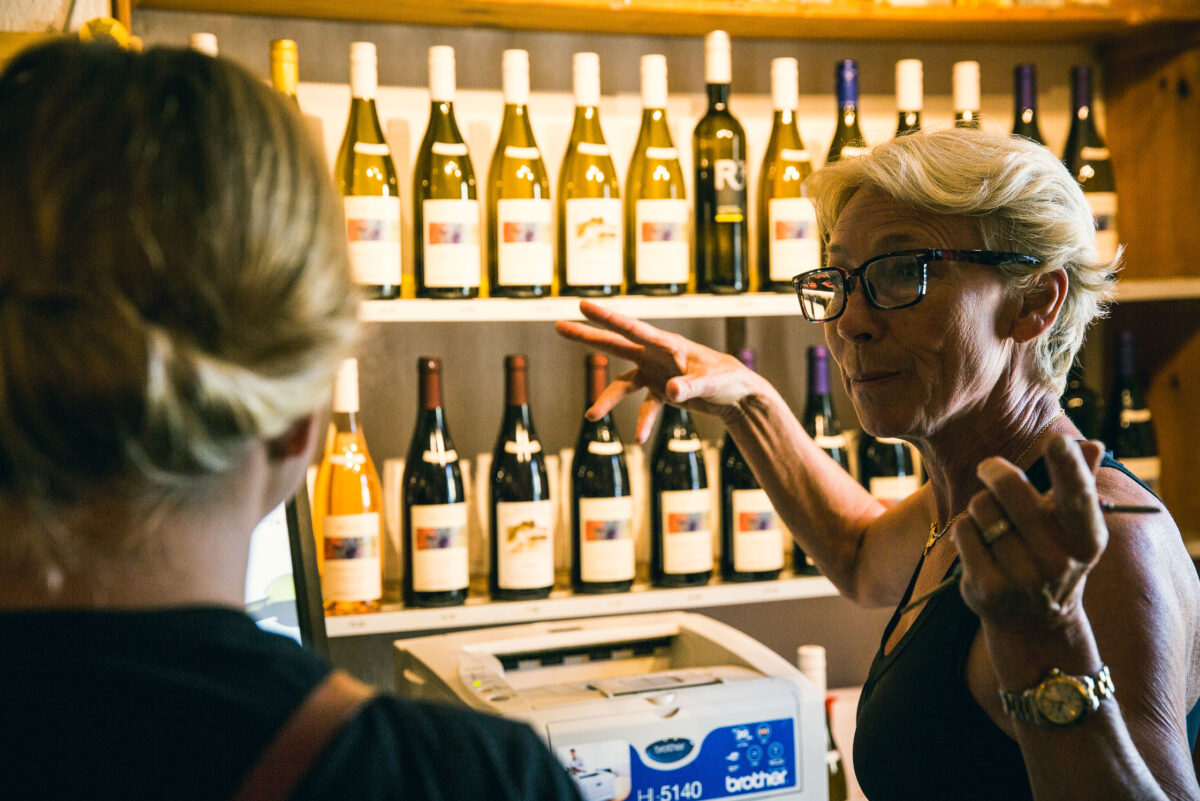 Passionate about the slow food movement, she wants her concoctions to reflect the place she lives in. For this reason, her recipes are adaptable to any region and season. "Alternatively, you can use any saltwater fish for this one. In winter, just replace the tomatoes with olives and roast a head of radicchio with lemon juice and olive oil."
Anna wants her food to be honest, simple and without frills. This is also evident in her very first cookbook Zu Tisch. To her, cooking is a matter of concentration. "When you watch cooking shows, it seems to be normal for chefs to talk while cooking. This doesn't apply to me," she says as she turns to focus on the fresh whitefish in silence.
With the white wine chilled, and the parasol open to keep the sunshine at bay, we sit down for our meal. From the sitting area in Anna's garden, we enjoy the picture-perfect view of lake Zurich, where the whitefish were caught in the morning. Anna tells us that she always prefers to use whole fish: "A whole fish feels more natural to me than a filet. It is also more flavorful and tender."
Roasted whitefish with cherry tomatoes, green bean salad, and garlic crumbs
Ingredients (for 4 people)
Fish

1

4 whole whitefish or fish of choice (descaled and gutted)

2

Approx. 2 dl Verjus (juice of underripe grapes)

3

2 handfuls of cherry tomatoes

4

A few sprigs of thyme

5

4 cloves of garlic

6

Salt, pepper

7

Olive oil

Bean Salad

1

600 g green beans

2

2 tbsp. Verjus

3

3 tbsp. olive oil

4

Salt, pepper

Garlic Crumbs

1

1 tbsp. butter

2

4 tbsp. (homemade) breadcrumbs

3

A few sprigs of savory

4

1 clove of garlic
Method
Place the fish in a deep dish, sprinkle with salt and pour over the Verjus. Cover and marinate in the fridge for about 2 hours. Make sure to turn it over once. Place the fish onto kitchen towel to remove excess liquid (you can skip this step if you didn't use Verjus).
Line a tray with baking parchment, place the fish on top, rub with olive oil on both sides, and add salt and pepper. Stuff the fish with sprigs of thyme. Spread the cherry tomatoes and lightly crushed garlic cloves over the fish. Preheat the oven to 200° C and bake for about 15 minutes until the fish is tender but still juicy. Serve with Fleur de Sel and good olive oil.
Prepare the green beans and cut them into pieces. Cook in well-salted water until tender with a crunch. Drain and put into an ice bath so the beans keep their color. Drain and place onto kitchen towel to dry.
Combine ingredients for the dressing (if you don't have Verjus, replace it with 1 tsp. of lemon juice and 1 tsp. of white balsamic vinegar). Dress the salad a few minutes before serving, salt to taste.
For the garlic crumbs, melt some butter with a bit of olive oil in a small frying pan, add bread crumbs, roughly torn savory leaves and one crushed clove of garlic. Turn crumbs until golden, and salt lightly. Sprinkle the crumbs on the bean salad just before serving.
In Anna's kitchen, there is no room for frills. The crispy crumbs are added for extra texture, not for decoration. Mostly, Anna cares about quality – preferably using produce straight from her own garden: "If my plum tomatoes weren't perfectly ripe, I'd use something else instead."
Thank you, Anna, for this delicious lunch and your hospitality. More of Anna's recipes can be found in her cookbook Zu Tisch.
Hungry for more? Explore all our FvF Cooks stories.
Photography: Yves Bachmann
Text: Sandro Murchini