For Joey Passarella, head chef at Kreuzberg deli Louis Pretty, cooking has been a family affair from the start—focusing on hardy soul foods.
Joey himself grew up eating Italian food. "My family's Italian. My grandfather was a chef as well and had a restaurant," says Joey in his New York accent, as he hovers over the Irish flank steak he's preparing for the FvF team lunch.
Louis Pretty's signature dishes don't directly build from chef Joey's cultural heritage. Instead,  the deli's calling card, succulent pastrami sandwiches, are sourced from his memories, growing up at the heart of the Empire State. It's unsurprising, then, that the Jewish-American institution Katz's Deli was a favorite snack point, having gone to school just around the corner.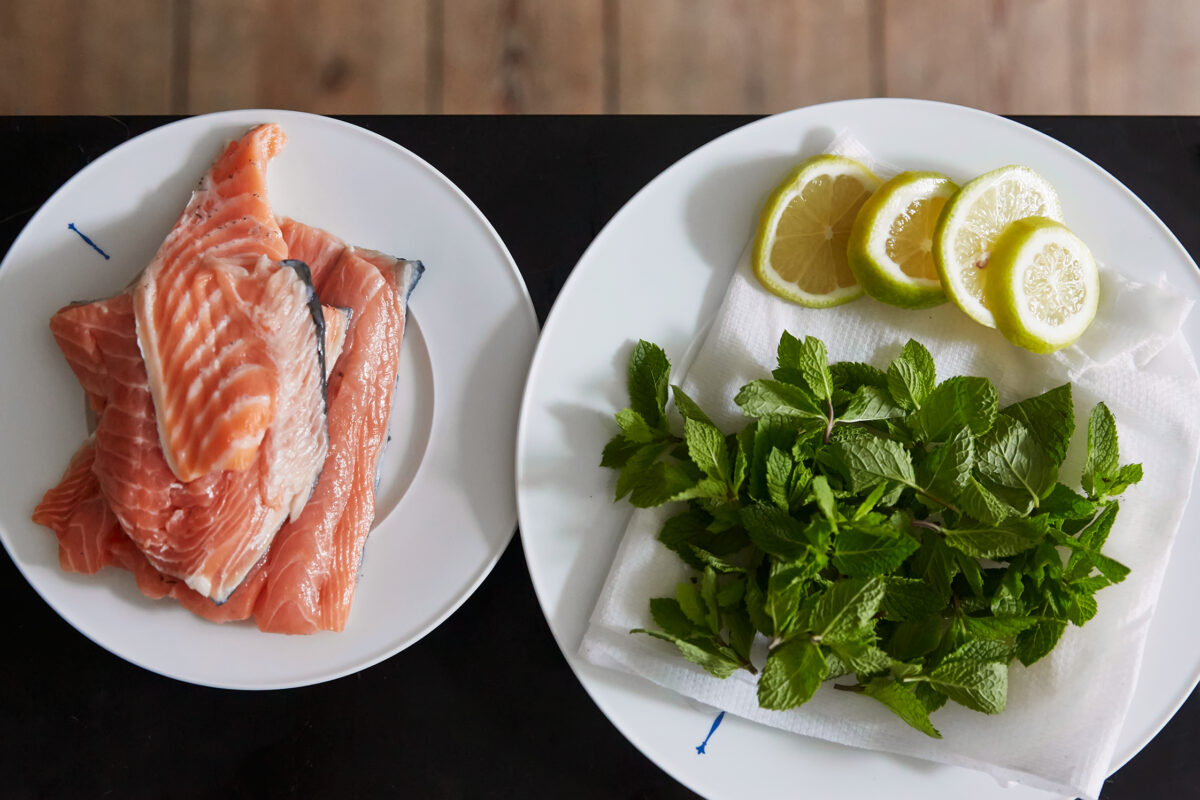 Since then, Joey has made his rounds through the culinary circuit, working among other posts, as a sous-chef of the German embassy for the UN, where he prepared mostly his new home country's dishes. Having made the move over for his German-born wife, it was a welcome cultural induction of sorts.
When pastrami is done right, as it is at Louis Pretty, it offers a simple pleasure. Yet, the process of getting the brisket to that point is arduous, running for four weeks from start to finish. This includes sourcing the perfect meat, brining it in a mix of herbs and spices, smoking it, and steaming it. By the end the beef takes on that signature color and juiciness.
Though Louis Pretty also offers "Jewish penicillin"—restorative Matzah ball soup, the menu is inspired by New York's multicultural mix, "It's all these cultures in New York, they're always mixed constantly, we have a different style of things." The decadent Chimichurri sauce that is drizzled atop the steak, is just one example.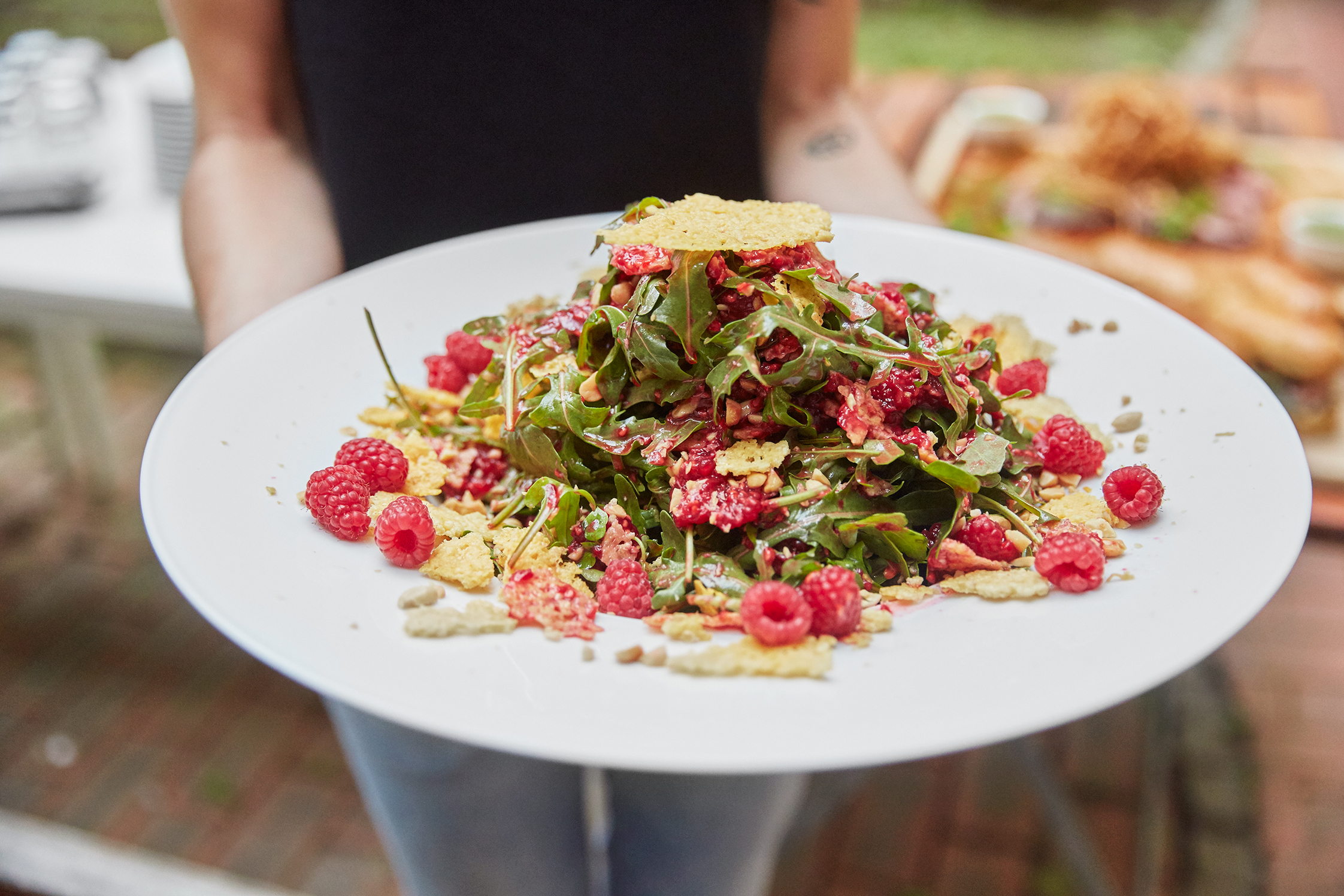 The menu and flamboyant color palette of the interior of Louis Pretty come together as a nod to 1930's American gangster style—even the name itself is a references to a key figure of Chicago's little known Jewish Mafia "Kosher Nostra." Not all covert is the kitchen, designed to be fully visible to frequenters curious to watch the assembly of their meals.
The crowd in the Kreuzberg alcove is made up of a motley bunch—perhaps even more so than the typical bohemian crowd drawn to the area. "There are a lot of musicians and artists, Highsnobiety is around the street from us," shared Joey.
Expanding on deli-style, the salmon sandwich seemed a nod to the classic lox bagel while the just-flamed flank steak was an outdoor treat. As a seasonal finish, dessert was flambéed peaches dolloped with rich chocolate mousse.
Salmon Sandwich
Ingredients (for 15-20 people)
1

Brioche

2

1 salmon filet

3

2 tbsp Maldon sea salt

4

2g pepper

5

1 lemon

6

10ml oil
Method
Preheat the oven broiler. Rub the salmon with the above ingredients. Roast on a sheet pan for 20 minutes. Cool and flake the meat off the skin. Add toppings of fried capers and friese.
Flank Steak
Ingredients (for 15-20 people)
1

5kg flank steak

2

20ml oil

3

150g butter

4

A bunch of thyme and rosemary

5

3 cloves of garlic
Method
Put the oil in the pan which is on full power until it's hot. Add the flank steak and fry from both sides for 3 minutes, add the butter, thyme, rosemary and garlic, then turn down the heat to half power, take a spoon and pour over the steak for another 5 minutes with the herb-butter mix, take the meat out and leave it to rest for at least 15 minutes and season with salt and pepper to taste.
Chimichurri
Ingredients (for 15-20 people)
1

200g parsley

2

100g cilantro

3

100g oregano

4

30ml red wine vinegar

5

50ml olive oil

6

1 jalapeño

7

2 garlic cloves

8

Salt to taste
Method
Blend all ingredients in a mixer—easy.
Thanks, Joey Passarella, for hosting a delicious lunch for us. And many thanks to Vöslauer for providing refreshments. To learn more about one of our favorite sandwich delis,Louis Pretty, visit their online home. Alternatively, drop by in person for their dinner specials or Sunday brunch.
Photography: Michael Wickham
Text: Alice Bardos