"The goal was just to make some really good booze." Finding himself between Chicago and prime moonshine country in rural Illinois, Brenton Engel founded Letherbee distillers and with it put original liquor styles back on the menu.
Taking a break from city life in Chicago, Brenton went roaming through rural Illinois, finding both a change of pace and a newfound passion. "I became interested in distilling while living on a farm in the countryside. The lifestyle there was all about self-sustainability. We grew food, raised animals, and made beer and wine. Distilling moonshine (usually a high proof home brew liquor) was an extension of this lifestyle," he says. When the time came to settle back in Chicago, he transplanted his newly honed skills of older liquor styles to local bars, learning on the job. "As I began to bartend, I became intensely interested in gin and in using herbs to make all kinds of bitters. The moonshine had become quite popular in some circles of the service industry, so I thought it might be a good opportunity to turn my love of distilling and my love of botanicals into an actual business."
"As a curious drinker, you always want to try whatever is in the dusty old bottle tucked back in the dark corner of the bar."
And so began Letherbee—though not without a little help from friends and Chicago locals, "Most importantly, the community never hesitated to buy bottles for their homes, bars, and restaurants! It takes a village to raise a child and my child is a distillery," says Brenton. Beginning with their Original Gin, Brenton and the team at Letherbee went on to bottle a house selection of seasonal gins, barrel-age absinthe and liqueurs.
Today, Letherbee's drinks are all a part of the growing trend of the young drinking the old. It's a throwback to the production methods of a slower era, and one that Brenton hopes moves against the "craft" trend by keeping true to the original spirit of the drink. One such case is Letherbee's Bësk, their house variant of Malört, a bitter Swedish Schnapps-type liqueur. While it's an infamous shot downed in Chicago bars—a literal hangover from Swedish immigration—it's perhaps little known abroad. "Some folks in this community have maintained a passion for traditional bitter liqueurs. As a curious drinker, you always want to try whatever is in the dusty old bottle tucked back in the dark corner of the bar," he says affectionately of the discovery.
It was a curiosity of sorts that brought them to set up in Berlin. "I've visited the city every year since I was 17!" says Brenton. In 2015 the Letherbee Fountain opened up in Mitte, Berlin. It's "our HQ, showroom, gallery, event space," says Brenton. Similar slow-production sentiments are growing here in Berlin, a city heaving with independent ventures, and there are parallels between the two cities. "The most important commonality between Chicago and Berlin is that they are both cheap enough for young artists while being exciting enough for young artists. But Berlin is quickly becoming the cosmopolitan capital of Europe!"
Chicago native and bartender Celina Marie Dzyacky, who Brenton met while working at a farm-to-table restaurant back in Chicago, mixed up clean and classic cocktails for a seasonal FvF gathering in Berlin. On the menu were unfussy concoctions like "Corpse Reviver," a blend of 48% proof gin and barrel-aged absinthe with a lemon twist. With a team on the move, Celina's mid-drink admission: "Traveling inspires you to bring together new ingredients" is perfectly logical. Her own creation the "Thai Derby" a melange of genmaicha infused Letherbee, star-anise-honey syrup, lime, and angostura is just one of the results. Travel is certainly a note carried through the spirits, many of them steeped in rich, savory undertones from the botanicals, harkening back from Brenton's time on the farm—including juniper, coriander, cardamom, and cinnamon.
As for the next branch to sprout from the distillery, "We're building a little space in an old storefront across the street from my apartment," says Brenton, "I think we're calling it the LetherB&B. It will be a cozy hangout to throw parties, and put on shows. We gotta keep working up this Berlin-Chicago connection!" Seems like we've had just a small taste of what's to come.
Hello, Bësk
Ingredients (for a single serving)
1

3cl Letherbee Gin

2

4cl white vermouth

3

2 tbsp Letherbee Bësk

4

2 dashes of grapefruit bitters

5

1 rocks glass and a single cube of ice

6

For decoration: A twist of grapefruit peel and a sage leaf
Thai Derby
Ingredients (for a single serving)
1

6cl Genmaicha Black Tea-Infused Letherbee Gin

2

4cl lime

3

2cl honey syrup

4

Dash of Angostura Bitters

5

Decoration: A pinch of cinnamon and an edible flower

6

Shake in a cocktail shaker, double strain and serve up
Letherbee Southside
Ingredients (for a single serving)
1

6cl Letherbee Gin

2

3cl lime

3

2cl sugar syrup

4

3-4 sprigs of mint

5

Splash of soda water

6

For decoration: A sprig of mint and a lemon peel twist

7

Shake in a cocktail shaker and double strain over ice into a collins glass
Pimm's Gothic
Ingredients (for a single serving)
1

Muddle a slice of orange in the bottom of the glass

2

4cl Letherbee Fernet

3

Crushed ice to fill the glass

4

A splash of spicy ginger beer

5

2 drops of lemon oil

6

For decoration: Cucumber slice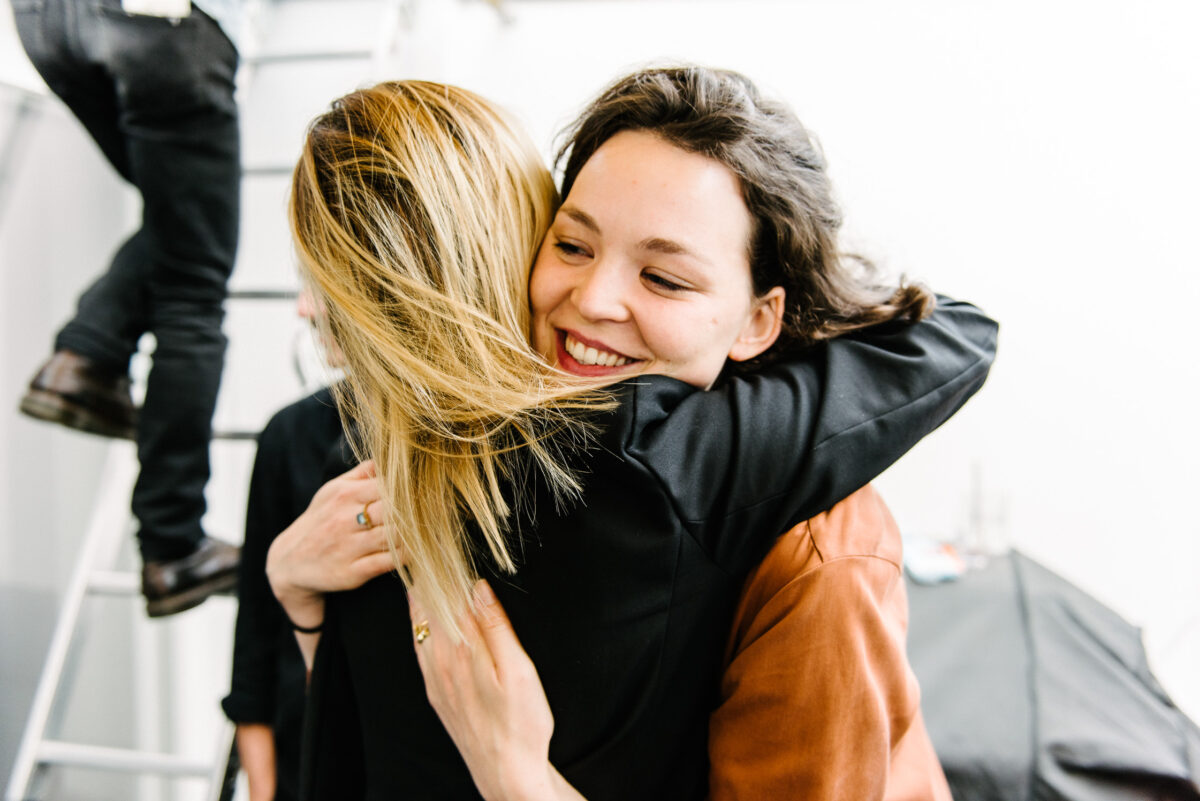 Thanks, Letherbee Distillers, for hosting an exciting shindig for us—'prost' Celina and Brenton! To find out more in German, visit their online home and learn more about our favorite spirit producer Letherbee Distillers Germany. For more recipes and food stories from around the world, see our FvF Cooks archive.
Photography: Robert Rieger
Text: Alice Bardos