Like red wine spilled on cream colored cloth, the dark cherries in these muffins stain the pale sponge with ruby juices. For the third instalment of our Afternoon Tea Series, we're going for gluten-free Banana Cherry Muffins – a vibrant twist on a much-loved classic.
For many the smell of freshly baked banana bread is synonymous with a well-deserved cup of tea and afternoon time-out. For Laura and Nora it is an important part of their working day: "If you are having a stressful, busy day, then we think it's really important to take time out to enjoy something delicious with friends." Having already perfected this tea-time favourite on their blog, Nora tells me they were keen to give it new lease of life: "We wanted to do something different with our favorite banana dough to give it a more fresh and fruity edge." And with these Banana Cherry Muffins they've done just that. The soft ripeness of the bananas against the tanginess of the cherries achieves this perfect balance between sweet and sour.
But there's more to these muffins than their juicy flavors – they are also gluten-free and made with rice flour, Laura and Nora's go-to baking ingredient: "We love to bake with rice flour because it just always works so perfectly, whatever the recipe." It is in moving away from the traditional banana bread loaf that Laura and Nora could also experiment aesthetically: "We never usually make muffins, but the banana-bread dough works so well as individual cakes and we knew we could make them really beautiful." Finished with lashings of pink mascarpone frosting, shavings of white chocolate and hazelnut brittle, they are certainly show-stopping, and the epitome of tea-time indulgence.
Banana Cherry Muffins & Cherry Frosting
Muffin Dough

1

4 ripe bananas (middle size)

2

80g butter (room temperature)

3

2 eggs

4

160g rice flour (or regular flour)

5

120g cane sugar

6

2 tsp tartar baking powder (or regular baking powder)

7

1 dash salt

8

1 vanilla pod

9

200g frozen cherries

Cherry Frosting

1

200g mascarpone cheese

2

50g cherry jam

3

30g cream cheese

4

10g icing sugar

Topping

1

White grated chocolate (use a knife to grate from a chocolate bar)

2

Hazelnut brittle
Method
Muffin Dough
Preheat oven to 180°C (top/bottom heat). Beat the butter, sugar and a dash of salt, then stir in the eggs. Mix rice flour, salt and tartar baking powder and sift in 3 portions to the butter-sugar-egg mix and stir in. Purée the bananas and add together with the vanilla seeds to the dough – mix thoroughly.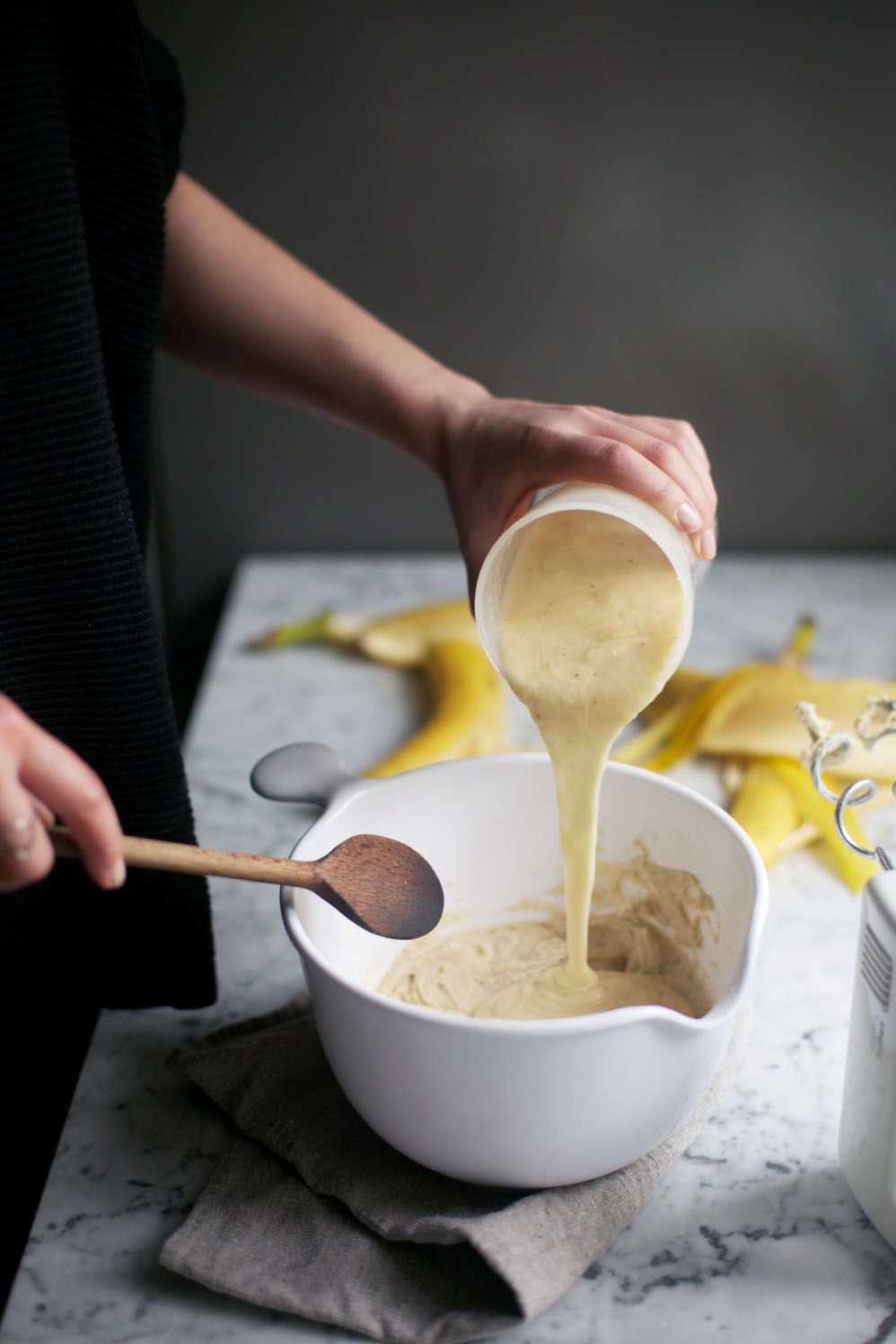 Fold in the frozen cherries. Line a muffin tin with muffin cups and fill the dough into the cups. Bake the muffins at 180 °C for 30-35 minutes, then take them off the muffin tin and let cool on a cooling rack.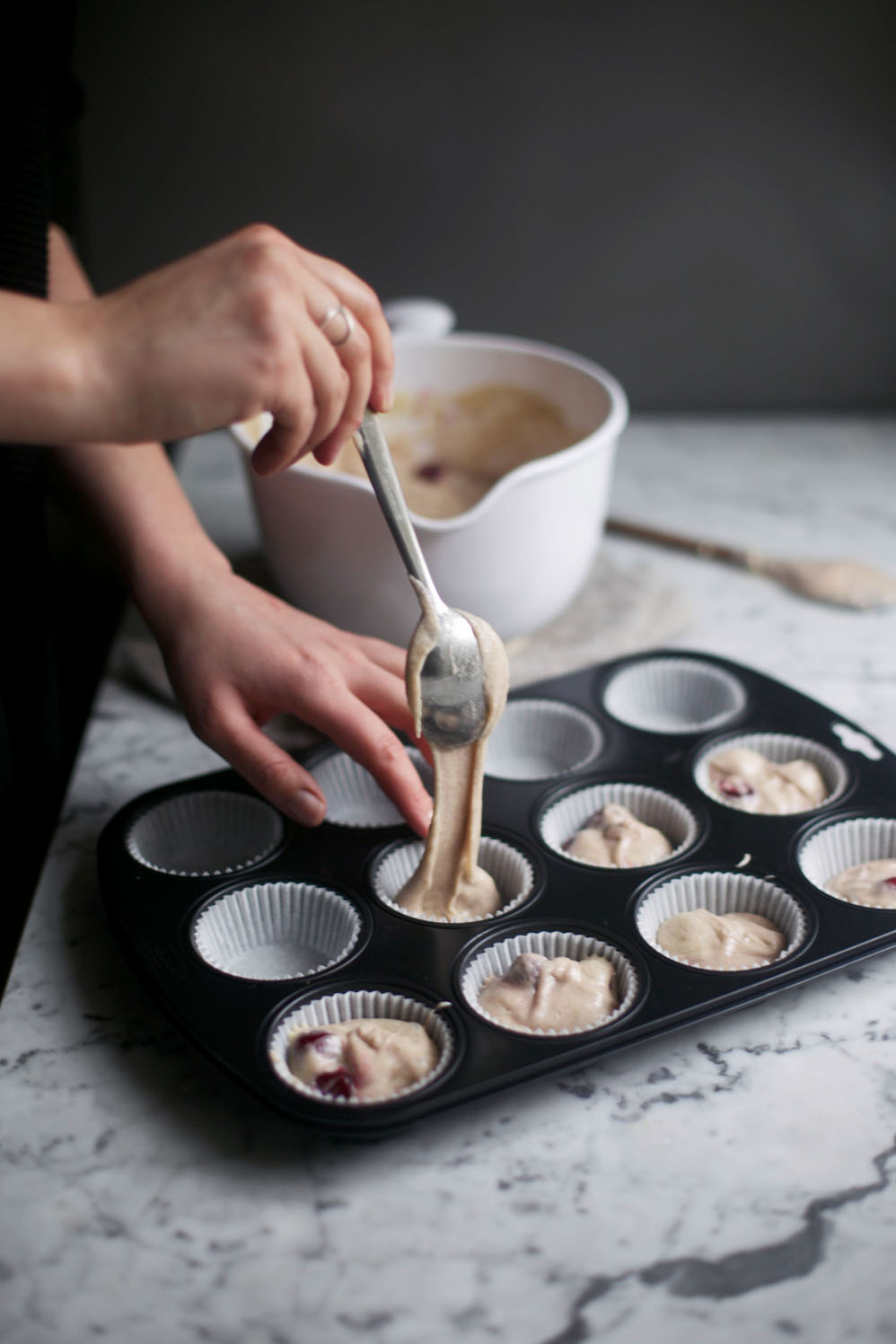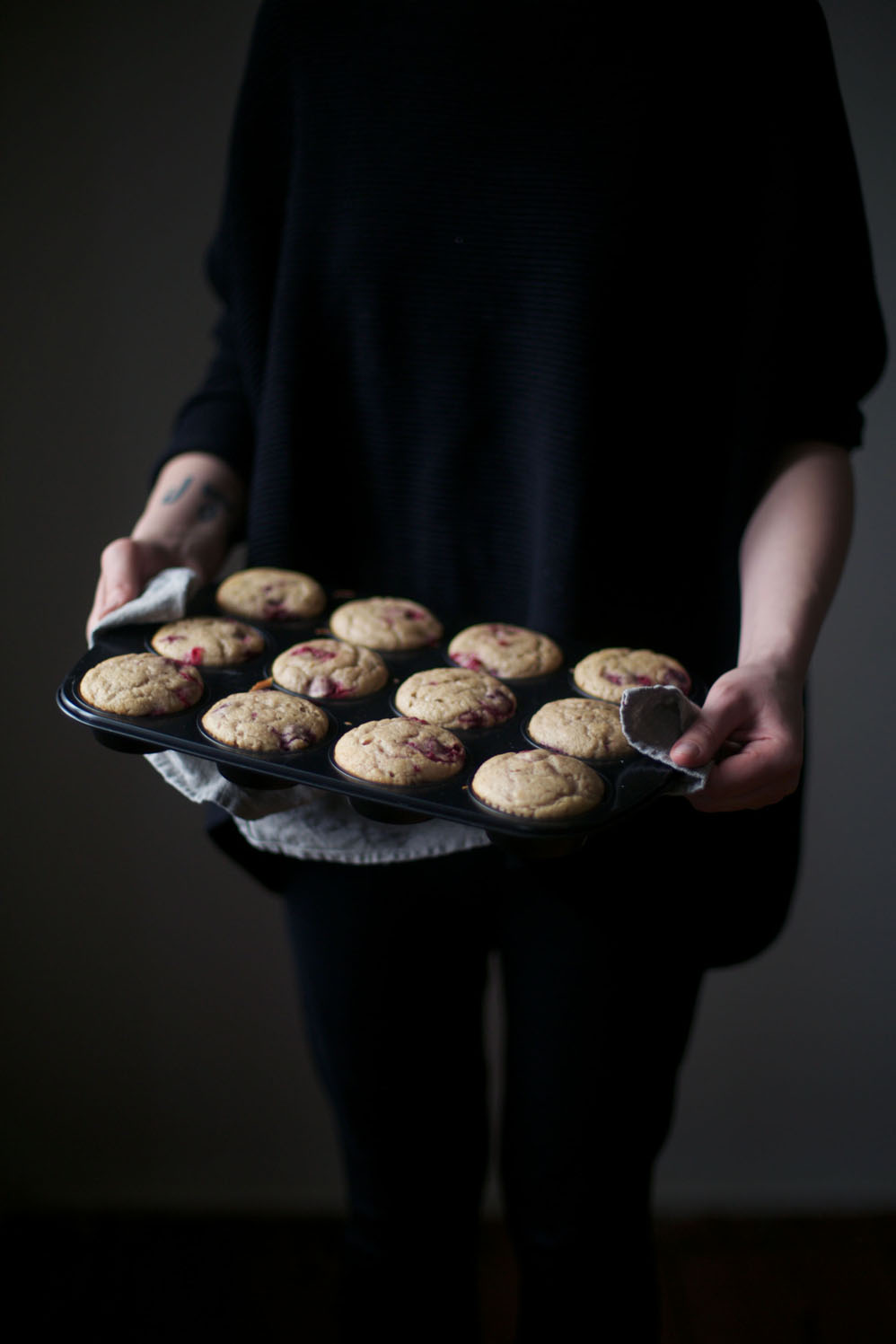 Cherry Frosting
Mix the mascarpone, cream cheese and icing sugar together, then stir in the cherry jam. Fill the frosting into the decorating tube. If the frosting is a little too soft, place it in the fridge for a short time to make it easier to work with. Then, using the decorating tube, frost the muffins and sprinkle some grated white chocolate and hazelnut brittle over it.
Thank you Laura and Nora for these tasty muffins!
Afternoon Tea is a series of four recipes – have a look at the previous ones: a gluten-free Berry Goat Cheese Cheesecake and a Lemon & Zucchini Cake. Visit all of our FvF Cooks episodes, from sweet to savory and everything in between. For our previous culinary series, try out our Breakfast and Lunch dishes.
Photography: Our Food Stories
Text:Emma Winterschladen