As media landscapes rapidly accelerate and deep fakes threaten to disrupt all kinds of truths, it can be hard to find commentary that gives us a nudge towards a positive outlook. Yet, German magazine Die Epilog does just that.
With the first issue published in 2013 in Weimar, Germany, Die Epilog intended to make cultural theory and practice accessible. As new graduates with Masters in Media Theory from the Bauhaus University, Weimar, former publisher Mads Pankow, editor in chief Fabian Ebeling and one of the art directors Viola K. Steinberg found there was a lack of accessible and positive commentary on shifts in popular culture, politics, and socio-economic issues. Societal sections in German news outlets were, at the time, publishing articles that were pessimistic in tone, displaying dismay of a fast moving media landscape.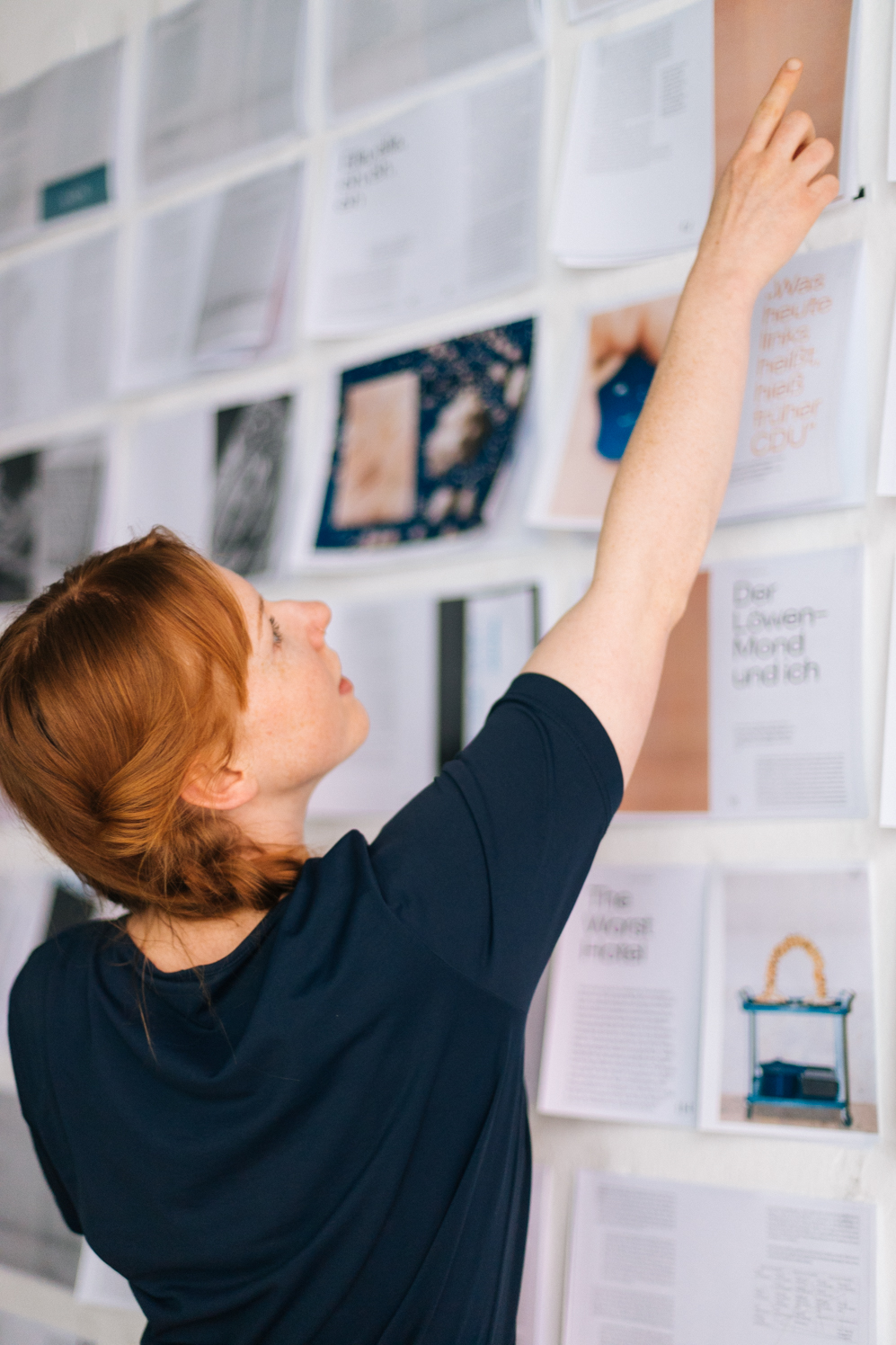 "We wanted a counter approach," says Ebeling. "One that critically observes what is happening, but instead of whining about it, draws something positive from it," he adds. By looking at moments in history where media formats were replaced by new ones, Die Epilog comment on the longer term effects of media shifts in society, rather than on their immediate effects. Each issue provides a forward thinking approach, focusing on one topic which is responded to from many different perspectives and through different formats from poetry to discursive essays, interviews and photo commissions. The stringent demands of print deadlines provide a perfect restriction for a range of issues from resignation, re-enchantment, protest, humor, generation and irrelevance. "Each magazine is monothematic and we figured the strength of a print magazine—in comparison to the digital publication—is that you have a beginning and an end," says Ebeling.
The Bauhaus University, Weimar, and the city itself, was the perfect incubator for Die Epilog. With a long history of interdisciplinary theory and practice, the college brings together young designers, cultural theorists, photographers, architects, and civil engineers, creating a cross-pollination of practices and a fruitful space for play, experimentation, and collaboration. "I found myself being able to just try things, like a playground, with all these like-minded people around me. We just started the magazine as a process of trial and error," says Steinberg. Even the name is a playful grammatical error. In German the article for 'journal' is female, yet 'epilog' is male. Therefore, Die Epilog blurs German linguistic norms and questions the very language it is written in from the get go.
"We just started the magazine as a process of trial and error."
Initially based out of Weimar, the magazine started with an ambitious plan to print four issues a year. In the years that followed the team moved to Berlin and took the magazine with them. With a change of scene – and publishing cycle, the magazine is now an annual – came a change in form. As editor Steffen Greiner puts it "The format has changed from a traditional magazine style to a smaller book-like format. Each issue we define is now on the shelf for the whole year, and has to be sustainable for us to develop it." Now in its seventh year, the team has grown from a core of four people, to a fourteen strong team working part-time throughout the year, alongside a large pool of dedicated contributors.
"It made us look more into the daily lives of people in our generation, what they think of the future, what their plans are."
The eighth issue of Die Epilog is a reaction to political turbulence and how it affects micro planning on an individual level. It was partly triggered by disputes in German government, a clear right-wing shift in society and more populist than constructive plans to improve integration of different cultures within Germany: "As politicians were scrambling and fighting in 2018 we asked ourselves what their plan was and if they knew what they're doing by poisoning the political climate like that. It made us look more into the daily lives of people in our generation, what they think of the future, what their plans are," says Ebeling
The cover of issue #8 was shot by Cologne-based photographer Frederike Wetzels

Tools of shaping plans: Philotheus Nisch, a photographer from Leipzig contributed a photo series.

Photo series: Philotheus Nisch

Photographer Max Siedentopf contributed his series THE WORST HOTEL.
What started as a magazine, has now also become a series of events for Die Epilog, which attempt to disseminate content and critical theory in different ways. From readings, game shows and radio shows to live performances, Die Epilog continues to expand. Having recently formed an association, the magazine is becoming more than just a printed object. As a community of creatives grows around the magazine, a societal commentary is being developed that is critically constructive, accessible, and doesn't take itself too seriously, but just seriously enough.
Die Epilog is an annual magazine based in Berlin. Issue eight, Große Pläne—Wird schon schiefgehen is available in German in all good independent magazine stores in Berlin and beyond now. Can't find a copy? Buy one online here. Editor in Chief Fabian Ebeling is currently a freelance editor and contributor to Freunde von Freunden.
Text: Sophie Rzepecky
Photo: Jenny Penas