In Berlin, a significant number of female players are making noise as singers, DJs, event organizers, writers, and activists, creating new spaces, and, in doing so, changing the game.
The music scene is a domain in which women have traditionally been on the passive side of things: as muses, as fans in front of the stage, or as groupies. There have long been amazing women involved in front of, behind, or next to the stage. It's time for gender balance to be introduced to festival lineups, for the gender pay gap to close in creative industries, and for women to take executive positions at major labels and established music magazines.
Hoe__Mies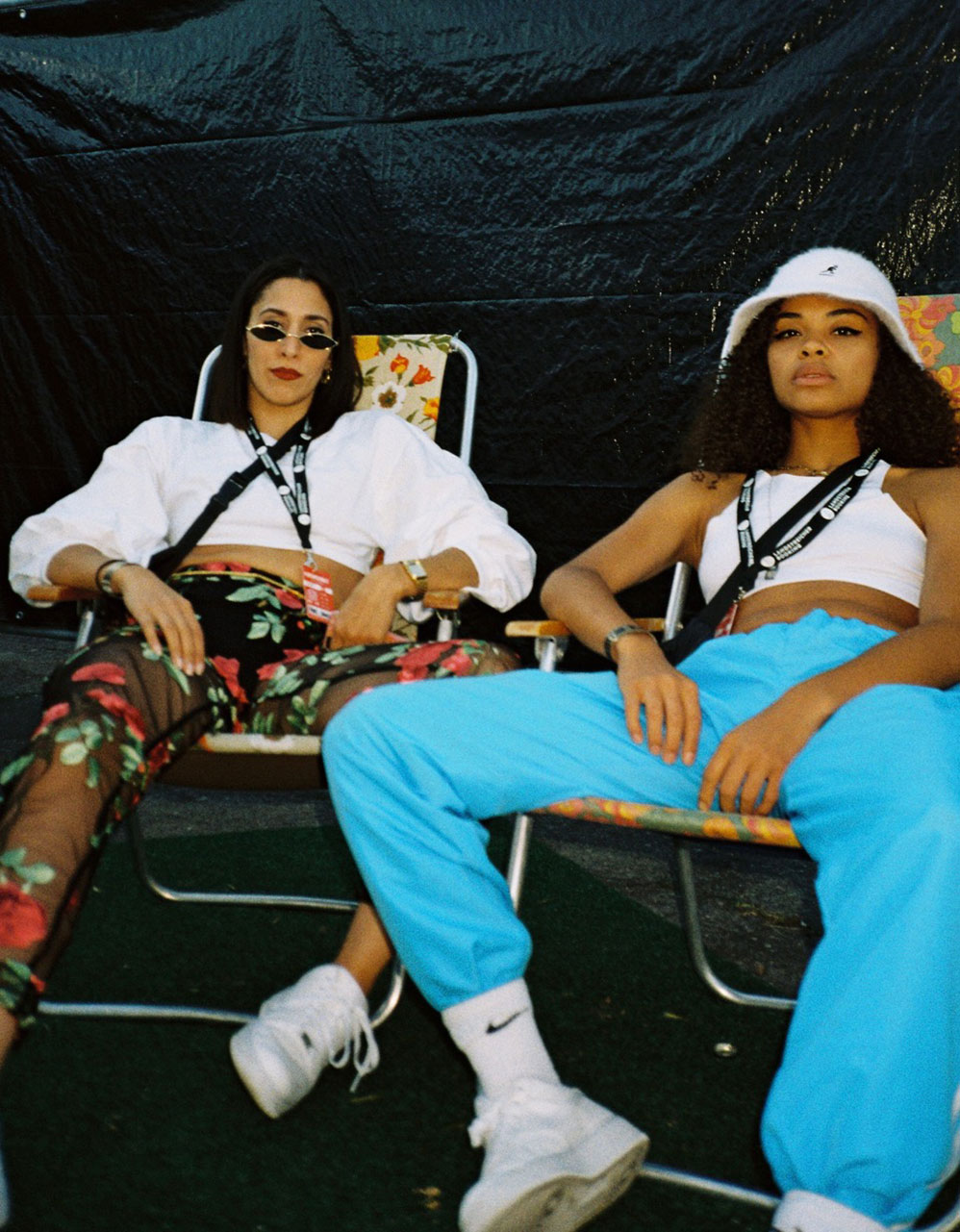 A series of parties as a social statement: Lucia Luciano and Gizem Adiyaman organize events that serve as alternatives to the male-dominated hip hop scene. Parties for women, the queer community, people of color. Not only are they successful in realizing this aim, but they're also polarizing opinions.
What drove you to start your own party series?
Luciano: We simply noticed that there was something missing on the hip hop scene for us. As a woman, you can't enjoy nightlife as you may want to. Wearing the wrong clothes can be a direct invitation to be misunderstood. We found that annoying.
Adiyaman: Exactly. When you go out, you should be able to let your hair down. You should be able to express yourself however you want—without any restrictions or fear.
So you're using your events to create a safe space within the city's nightlife?
Luciano: We are always working to create safe spaces, but of course we cannot make any guarantees. The decisive factor is always having a certain amount of consideration for the people around you. At Hoe__Mies parties, you look after one another and make sure that everybody feels comfortable.
You started out with your project around two years ago. Did you receive a lot of backlash?

Luciano: In our circles, we always had support and primarily positive feedback after the events.
Adiyaman: Whenever something new is started, there will always be sceptical comments. At the beginning, we were told that we would have to book some male DJs, otherwise nobody would come to our events. That turned out to be wrong.

Absolutely. You guys are unbelievably successful at the moment—and currently on tour as a support band for Bilderbuch. How did that come about?

Adiyaman: I was playing an event in Vienna, and Maurice [the lead singer of Bilderbuch] also happened to be there. He really liked my set and contacted me. Before that, I didn't really know Bilderbuch that well, but on their invitation I played at their after-party. And at some point came the invitation to join them on tour.
Lucia: That was very different to playing at a club. We have to host and engage with the crowd in a very different way. But it works and is a lot of fun.

So Hoe__Mies has been more than just a side project for a while now?

Gizem: We both work more or less full-time on the project.
Lucia: It's not just about DJing and the parties. We've now also become a platform for other female artists. Sometimes we are even contacted by bookers who want recommendations from us about female or queer DJs they can book for their events. We also have more projects planned for Hoe__Mies this year.

Unfortunately, female artists still do not seem to have proportionate visibility.

Gizem: Absolutely. But it's more about the fact that the entire infrastructure in the business and scene is male dominated.
Lucia: In our public playlists, we make sure to present primarily female and queer artists.

In addition to music, you also raise your voices for other things that are important to you. Together with journalist Salwa Houmsi, you fought for the immediate cancellation of gigs scheduled in Germany by R. Kelly, who was facing allegations of sexual abuse.

Lucia: We stand up for what's important to us. Black women deal with different forms of oppression in their lives, and are often not visible—we wanted to show solidarity with these women who were and are R. Kelly's [alleged] victims.
Gizem: You can also notice that things are happening in the business in that respect. Previously, musicians enjoyed a certain amount of immunity. That's changing now; people are more conscious of these matters. However, a petition can't do everything. We have to go further.
Jayda G
Jayda G's earliest musical memory is seeing her father sat among stacks of CDs in their living room, recording mixtapes for long road trips. In her home country of Canada, car journeys can easily take several days. In the car, they listened to her father's favorite disco, soul, and R&B classics while mountains and forests passed by outside. It's therefore no wonder that she later studied environmental and resource management—and became a DJ. "The connection between music and the environment is the essence of what I grew up with," Jayda says.
It was a logical step to address the subject of climate change in her debut album Significant Changes, released in March 2019, with house beats you can dance to. "I produced the album at the same time as I was completing my studies, where I was dealing with the health impacts of chemicals on orcas by the coast of Vancouver." That's why on the ambient track, Orca's Reprise you can hear whale song, and in Misty Knows What's Up, she samples the biologist Misty McDuffee, who has spoken in court about protecting marine life. Is the escapist dance floor the right place for political statements? "You can't run away from the environment," she exclaims. "If people are in a positive state of mind and more open to these issues when confronted with them, they might resonate better."
But Jayda G doesn't want to preach; instead, she primarily wants to bring positive energy back to the club scene, which often takes itself too seriously. In 2016, she moved from Vancouver to Berlin, and has played somewhere in Europe almost every weekend ever since. During her DJ sets—where she mixes Grace Jones with Diana Ross, and disco and tropical beats with soulful house bangers—Jayda G will be the one dancing the most. With her hymn of empowerment Move to the Front she encourages women to come to the front during her sets and break through the wall of "fist-pumping bros," which is how she jokingly describes the homogenous groups of men on the dance floor.
As a woman of color in a male-dominated DJ business, Jayda G knows that she needs to set an example. As such, the best kind of validation for her is when women and people of color feel empowered and represented by what she's doing. "Once, after a set, a woman said to me, Seeing you up there being yourself gave me the power to be myself. That was the biggest compliment I could receive."
Perel
A blonde female bodybuilder poses in a glittery bikini and bridal veil, in front of an industrial wasteland with a hammer in her hand. Annegret Fiedler, aka Perel, who is sitting next to her in the dust wearing a bright red jumpsuit, sings: "Soll der Teufel mich doch holen, es ist längst zu spät!" (Let the devil take me, it's already too late). At the same time, she stares maniacally into the camera, giving a look that Nina Hagen would be proud of. The video for the song Gold und Silber (gold and silver), for which Perel lent her vocals to the New York post-punk artist Curses, looks like an absurd scene from a David Lynch film. At the same time, it perfectly illustrates how difficult it is to determine what the musician from Saxony actually does. That's because Perel is a DJ, producer, singer, and performer—usually all at once. She likes to take to the microphone during her DJ sets to improvize, sing, and whisper ecstatically over pumping electronic beats. "I can understand people who ask, What on earth is she doing up there?"' she says. However, she has always found strict pigeonholing and labels to be boring. "If I describe myself as just a DJ, that ignores about 70 per cent of what I do as a musician."
When she was growing up in the Ore Mountains, the trained vocalist tried everything from church choirs to punk bands, wrote her own songs, and, at some point, realized that she didn't need a band to create her sound, but a good digital production software. "If, like me, you have been involved in different bands and projects for a long time, it can be very liberating," Perel says of her epiphany. That was in 2008.
Perel wanted to make it as a professional musician. In 2010, she moved to Berlin and sent demos to countless labels, but never got a response. Just when she thought she had completely failed, she wrote the two songs that would change her life: Die Dimension (the dimension) and Alles (everything). She sings melancholy lyrics in German over a dark mix of minimal wave, industrial, and '80s synth pop. The deep timbre of her voice has already earned her the nickname Techno-Knef, refering to the famous German singer Hildegard Knef. "Both songs are snapshots, written and produced at a time when I was suffering from deep-seated fears about my future. Fears relating to the overall global situation, but also those relating to my personal situation."
She certainly had few concerns about her career afterwards. The electro-punk label DFA Records, launched by James Murphy of LCD Soundsystem, released her debut album, Hermetica, in 2018—the New York label's first German signing ever. Perel made it onto Best Album of the Year charts, and was considered to be one of the year's best newcomers. "DFA definitely opened the doors to another world, one in which I'm lucky enough to be able to tour all over the world and get to know inspirational people and locations." Last year, she played around 100 gigs across the world. In her DJ sets, she mixes contemporary house and techno with old classics—so perhaps it's no coincidence that she chose the slogan Hits Hits Hits for her merch T-shirts. And why did she recently move from Berlin, the techno capital, to Amsterdam? "I thought it was time for something new." We can certainly expect more new things to come from her over the coming years.
MADANII
For her band, Madanii, Dena Zarrin writes about the dark hair on her arms and about the razors she removes it with to fit in. In her latest music video, she is shown bound, facing the camera, and surrounded by soft pastel tones and gentle pink. Her Iranian heritage, her own identity, bondage fantasies and aesthetics—Madanii marries all of the above. Understated, intensive, and hypnotic. In doing so, Madanii challenges the audience—and draws attention to their own viewing habits and prejudices.
Your look—both on stage and in videos—is sometimes rather extreme. Where do you draw your inspiration from?
Zarrin: I like to playfully blur the lines between things that seem antithetical: foreigner/German, Orient/Occident, free expression/modesty, fiction/authenticity.
What kind of reaction do you want to elicit from your viewers?
All of the concepts referred to are associated with stereotypes and trigger something within the viewer. In addition to aesthetic appeal, I am most interested in creating moments of discomfort, which people would ideally engage with in a retrospective and reflective way.
That seems to have been successful in your video for the song Holes/Mvnia. When you think of bondage, you tend to think of latex and leather. Instead, Madanii draws its viewers into a beguiling world of glitter and pale pink.

We wanted to play with expectations in an active way. After all, what is normal? However, we also wanted to create a sense of the surreal, which is why we chose this color palette. In terms of content, it's about showing that we are all bound in certain kinds of corsets—society encompasses all of us. During the course of the video, I loosen the knots—a process of liberation.

Does this reflect your own story?

Definitely. My family comes from Iran and people can tell that by looking at me. It's not that I feel foreign in Germany, but my cultural background follows me wherever I go. For me, growing up also meant dealing with my own identity.

A grant from Musicboard Berlin allowed you to visit the Iranian capital, Tehran. What role did the month you spent there play?

It wasn't a cliché homecoming story or anything like that. But it was surprising to suddenly be somewhere where my look fitted in and I spoke the language. At the same time, I also realized that my German identity and how I grew up have also played a considerable role.

Do you express that through your music as well?

Yes. With Madanii, we like to push the limits. We like to challenge. My time in Tehran will certainly also be reflected in my next songwriting sessions. We already have an EP planned for this Autumn.
No Shade
There's a lot more behind the expression "to throw shade" than a simple insult. Shade is a slang word that originated in the queer Latino scene and was first made known to the public in the documentary Paris Is Burning, released in 1990. In the film, director Jennie Livingston profiled the New York drag scene of the 1980s, where the subculture of vogue balls allowed for the recognition that society had otherwise denied it. It seems to be no coincidence that the Berlin-based DJ and artist collective No Shade references this. Founded around two years ago, its 17 members aim to increase the visibility of women and non-binary people in the DJ business.
"The initiative was taken due to a clear gap and need for it in the local scene in Berlin," explains No Shade member Ves Holseter, referring to the homogenous DJ scene that, even in a city as diverse as Berlin, is still mainly dominated by white cis men. "Our philosophy is to provide an opportunity and a platform, contribute to even out the balance, and bring different identities together through collaboration." In concrete terms, that means that No Shade sees itself as a mentoring programme for aspiring DJs. That's why the lineup of each of their regularly scheduled parties supplements well-known headliners with two slots reserved for newcomers. To prepare the emerging DJs for the task as well as possible, No Shade offers a month long training program, where experienced mentor DJs offer guidance with live hardware and software, and also pass on personal wisdom during private DJ sessions.
However, Ves is not under the illusion that the many excellent and diverse DJs will get rid of the homogenous all-male lineups on their own. "A 50/50 quota shouldn't really be necessary, because the DJs and quality are already there. Yet people tend to stay in their own box. So until the industry opens its eyes, maybe it could use a push in the right direction." No Shade wants to give the industry precisely this push. It is also especially important to the collective to ensure that the artists' performances are given more than just immaterial recognition. The DJ gigs that newcomers book are all paid. Ves hopes that the public and the industry will be more prepared to pay female and queer artists better—the gender pay gap doesn't stop at the party scene, unfortunately. Above all, Ves also hopes to see an increase in diversity among booking agents, managers, and journalists, and "more collabs than competition"'. In other words, no shade.
Hoes__Mies, Katinka Brundiers of Zwergstadt, Jayda G, Perel, Madanii, and No Shade are making waves in Berlin's music scene. For more female tastemakers, check out our Mixtape with Gurr Band, or our profiles of musician Perera Elsewhere, former Alexandra Dröner or music booker and promoter Melissa Perales.
This feature was originally published in the 17th issue of Companion. For the full version, pick up a print copy at your nearest 25hours Hotel.
Text: Silvia Silko and Laura Aha
Photograpy: Franz Becker, Farah Nosh, Norah Heinisch, Colin Audette, Nas Connie