It's been a pretty busy year at FvF. We've been working hard to deliver the most interesting stories to our readers so we decided to treat ourselves to a day off from work to eat, unwind and just hang out as a team without having to compulsively check our emails.
We started the day off with a brunch in the FvF Apartment whipped up by the good people from The Future Breakfast. We've eaten food from The Future Breakfast at Markthalle Neun and at Bite Club here in Berlin, so it was nice to try their eggs benedict in the comfort of our apartment. Like all of our guests, they loved working in our kitchen and we were really treated to something special.
After too many cups of coffee, a few rounds of poached eggs and some delicious french toast, we hopped on the U-Bahn to head for a surprise day trip to Tempelhof Airport. For those unfamiliar, Tempelhof used to be Berlin's airport, but after closing in 2008, the runway was turned into a public park. It's one of our favorite spots in Berlin but for many of us, the airport hangar at the far end of the park has remained a mystery.
Egg White French Toast
Ingredients (for 2 people)
Toast

1

8 slices of leftover sourdough bread.

2

Good-quality ice cream.

3

Butter for frying.

For the batter

1

2 egg whites

2

1 cup milk

3

pinch of cinnamon

4

1 tsp vanilla essence

For the Quince

1

1 quince

2

2 tsp brown sugar

3

1 pinch sea salt flakes

4

Juice from 1/2 lemon

For the Syrup

1

1 tsp sriracha (homemade or store-bought)

2

125g maple syrup
Method:
Thinly slice the bread. Put the slices in a hot pan without fat and add the brown sugar. Cook until the brown sugar begins to caramelize, but be careful not to burn. Then add lemon juice and stir until the liquid disappears. Finish with a pinch of sea salt flakes
To make the batter place all the ingredients in a bowl and whisk until well combined
Lastly, prepare the syrup by mixing 1 teaspoon sriracha with 125ml maple syrup
When everything is prepared, melt butter in a pan over a medium-high heat
Dip bread into batter and then fry on each side for a few minutes until light brown
Serve with ice cream, caramelized quince and sriracha-maple syrup
Team excursion to the secret spaces of Tempelhof Airport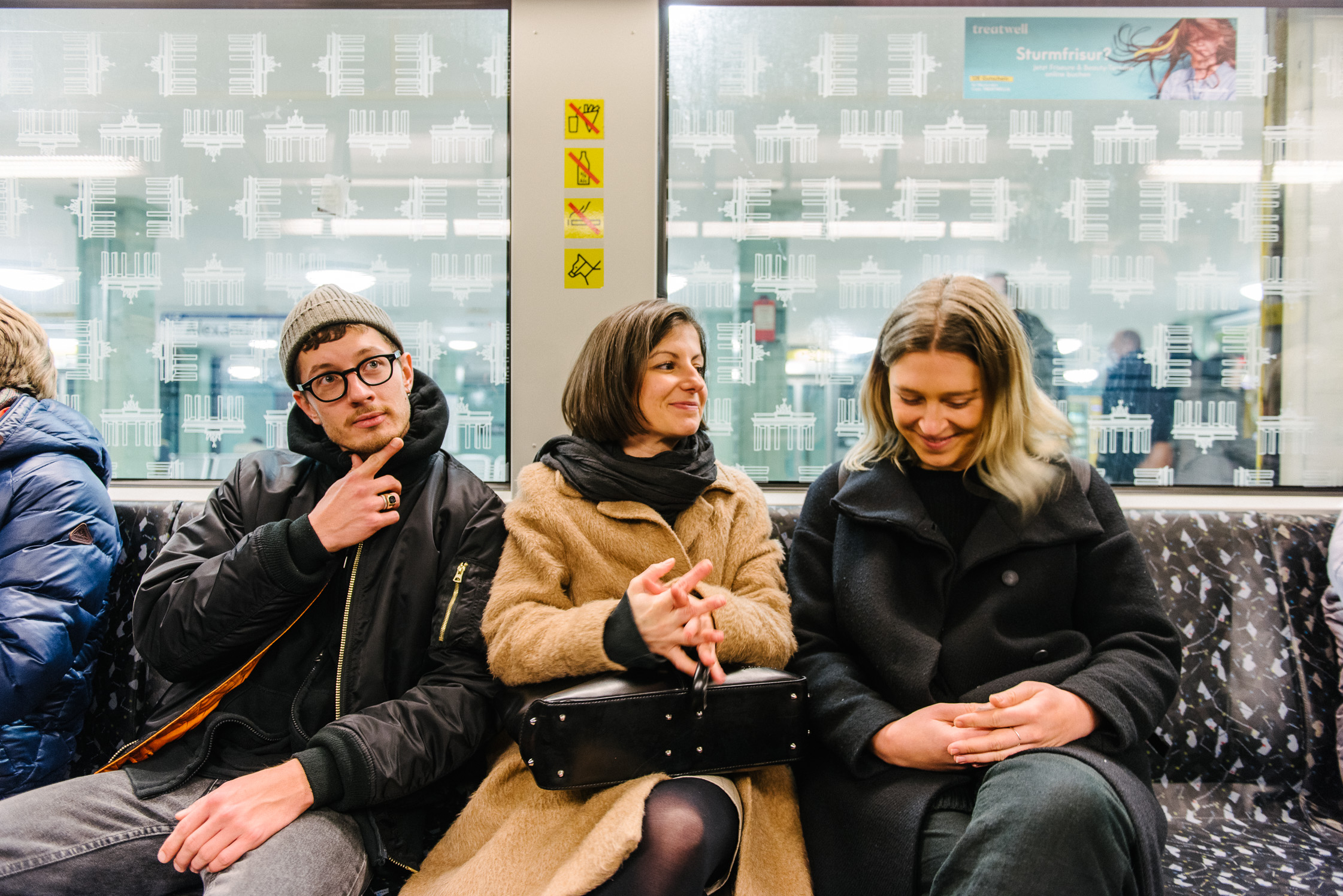 Our FvF day trip was a tour of the hidden rooms within the cavernous, 300,000 square meter former airport. Having changed hands several times over before, during and after the cold war, the building is rich with history. We got to see the basketball court and bowling alley where American GI's would catch some R&R, along with a massive "Candy Bomber" plane which would airdrop matchboxes of candy across East Germany.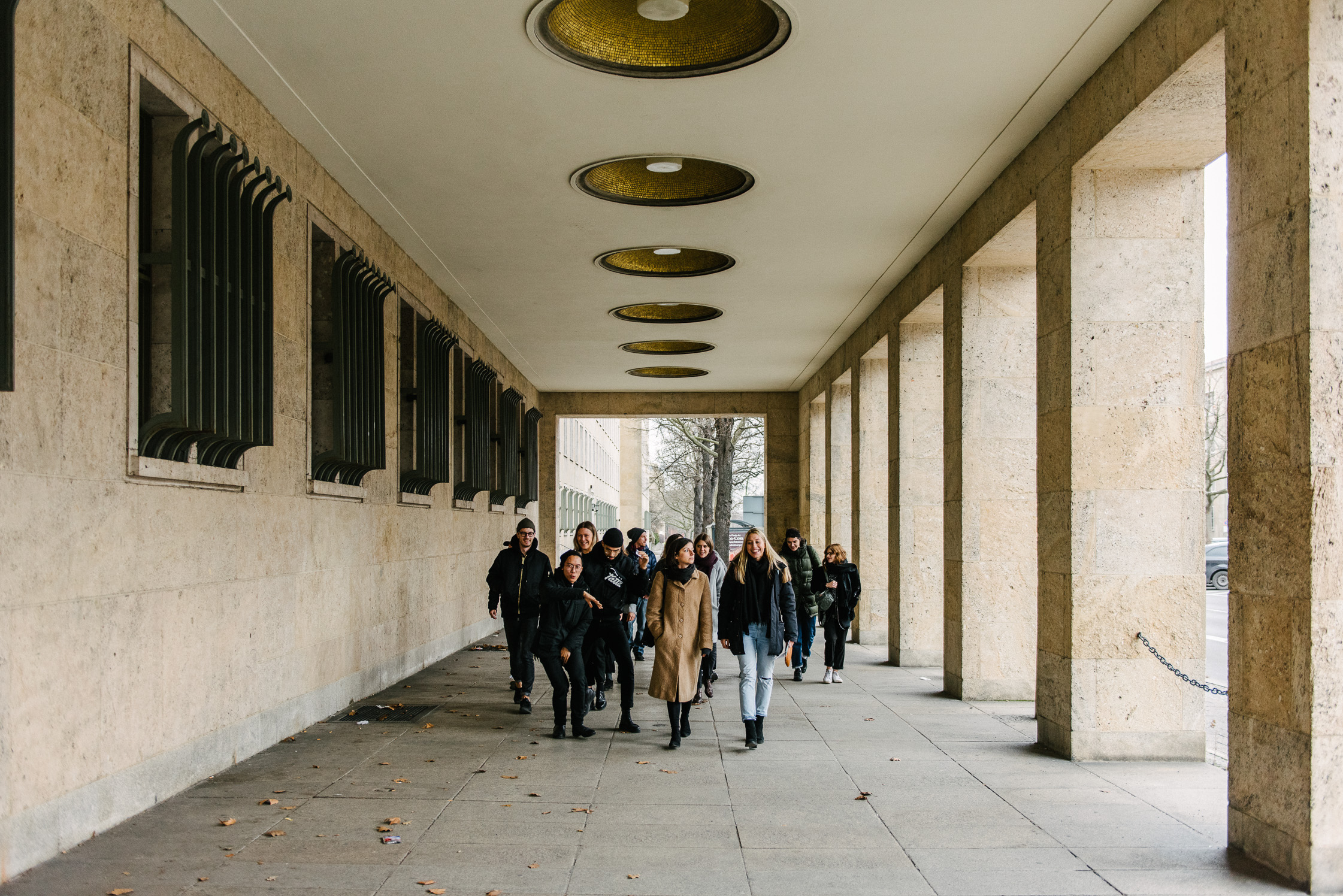 The former check-in area for Tempelhof Airport, eerily empty and calm since decommissioned in 2008.
The "Candy Bomber" plane used by Americans to drop little presents (chocolates and candies) over East Berlin. A plan concocted by US commander of Tempelhof, Gail Halvorsen as part of "Operation Little Vittles."
A massive hall designed by architect Ernst Sagebiel that was never opened and is preserved in a state of half-completion.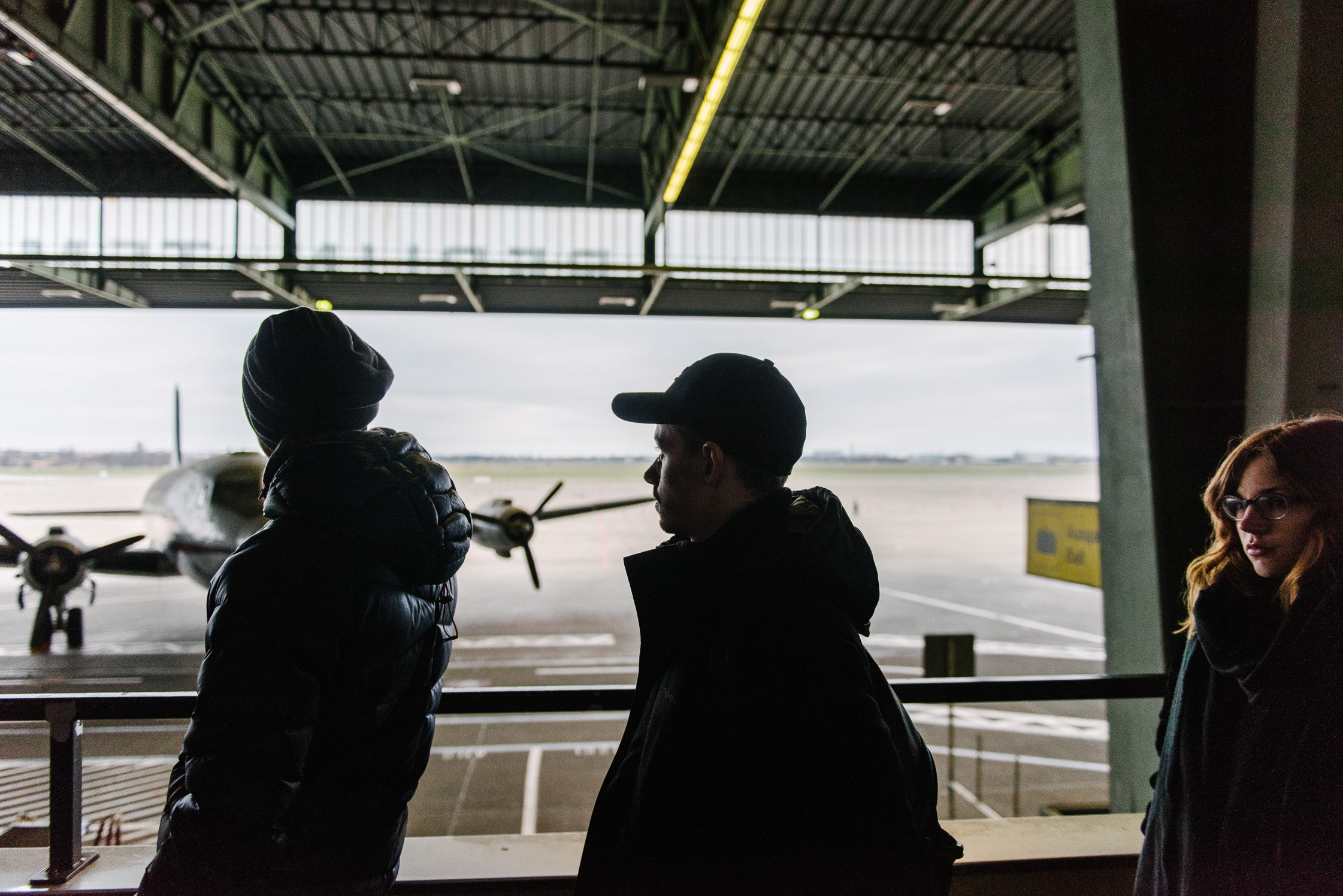 Christmas dinner and year end celebration at the FvF Friends Space
After the tour we hoofed it to Kreuzberg in time for dinner at the FvF Friends Space. This year we've had heaps of events at the Friends Space, including The Sooner Now, but on this night it was an event just for us. We sat at a communal table and were treated to some chili & potato pakoras from Mama Shabz, another Bite Club contender bringing Pakistani street food and pop up dinners with a western twist to Berlin. Her jovial personality was every bit as wonderful as her food.
After that, Mama Shabz's Aubergine Masala left a singe of spice in our mouths, quenched by the spice-infused cocktails from our friends at Diageo. The Curcuma Magic, with its curcuma espuma on top was definitely well-received, and helped keep the conversation fluid, fun and well away from the work-related. Then Mama Shabz dished out her Christmas Ladoo, we starting to feel festive and co-founder Frederik Frede (aka DJ Frederik Lamar), hopped behind the decks to play some of records from his collection as the party really began.
The rest of the night is a bit of a blur of dance battles, more cocktails, Destiny's Child songs and discreet smooching under the mistletoe. It was a wild night but going home with a nice goodie bag from Aesop made us feel a modicum of healthiness the next morning as we washed our hungover faces with ylang ylang infused creams.
It was a much needed break for the whole FvF team and we're recharged and ready to tackle yet another year of great stories.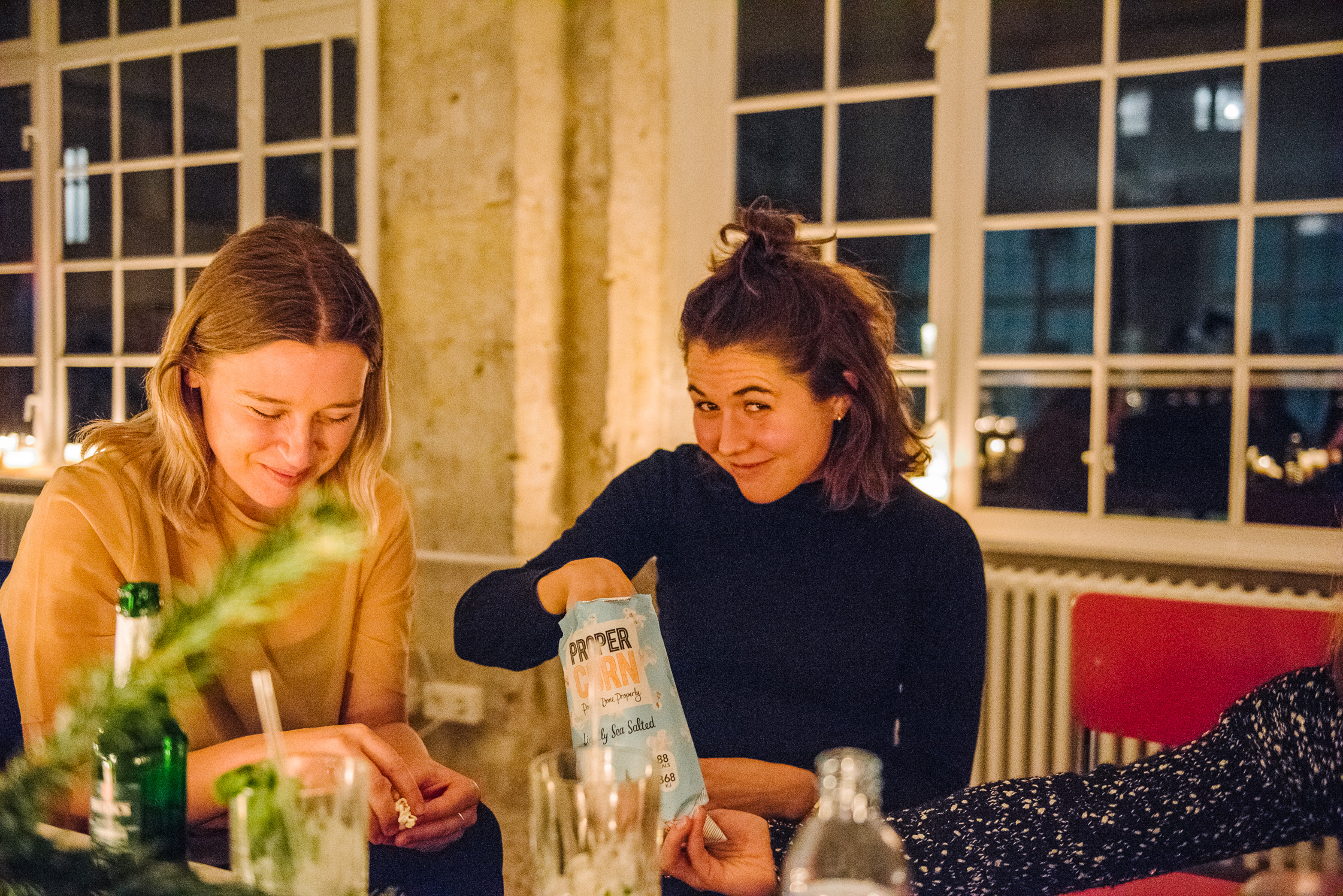 Mama Shabz Christmas Ladoo
Ingredients (for 20 Ladoos)
1

6 tbs of Ghee (clarified butter)

2

1kg Grated Carrots

3

1 cup of Coconut Flakes

4

100g Finely Chopped Cranberries

5

300g Condensed milk

6

8 pods of Cardamon

7

1 cup of Sugar

8

1 bar of melted Dark Chocolate
Method
Heat the 6 tablespoon of ghee in a heavy bottom pan, when the ghee is melted add the grated carrots
Stir the carrots from time to time to make sure it doesn't stick to the bottom of the pan, keep doing this until all the water from the carrots has gone and the carrots will now be a dark orange color
Add the condensed milk, cranberries, sugar, coconut, cardamon pods (make sure they are split in half) and stir all together
Let all ingredients cook together on a medium heat for 20 minutes. Make sure to stir time to time, so it does not stick to the bottom of the pan
After 20 minutes the mixture should have no liquid and stick all together, if there is still liquid let it cook longer until it is gone
Let the mixture cool down for a couple of hours
Use a dessert spoon to scoop out of the mixture and then roll with both hands until it's a perfect ladoo size ball
Roll the ball in coconut flakes and then drizzle the melted chocolate on top