On the Greek island of Santorini in the Aegean sea lies what is arguably the world's most beautiful bookshop, Atlantis Books.
It's a whitewashed villa built into the cliffs that looks out over a small village and a stunning, wide open bay. Inside are walls of books—obscure tomes next to beach-ready page-turners—and the American author who started it all, Craig Walzer. Craig's originally from Memphis, Tennessee, and first visited Santorini in 2002, during a break in the courses he was studying at Cambridge University.
"I went with my friend, Oliver. We were there for a week and did very little. We weren't active tourists. We walked to the restaurant each day and stumbled back from it at night. Playing cards, reading books, eating tomatoes, staring at the view—that was it for a week. It was great. Then we ran out of books. We had nothing to read and there was only this really shitty news-stand. We were like, 'Urgh, that sucks. We should totally open a bookstore!'"
A year later, they drove a van filled with sleeping bags and building supplies from Cambridge to Athens. They'd been told that starting a business in Greece was easy: you just get a permit and you're ready to go. "When we arrived, I went to the embassy and said, 'Ok. We're here. We're doing this,'" says Craig. "That's when I got a really swift kick in the head." Only one person in the group spoke Greek and there was a lot of paperwork. The bureaucratic hurdles they faced became the subject of Craig's 2012 TED Talk, "Artful lies and shelves of fiction", which focused on the white lies we tell in pursuit of our dreams. "We definitely doubted ourselves," he says, "but we told each other we could do it. At the end of the day, it was just a bookshop. We were all over-educated, young, dynamic people with a future ahead of themselves. We knew we could make it work." After a month of shuffling between government offices in Athens, Craig's confidence was low, but his faith was restored by the optimistic welcome he received on Santorini. "We got a lot of assistance from the locals. Some just thought we were silly, but others were really happy about our plan for a bookshop," he says. "They helped us find an empty space, donated materials, and showed us the scrapyard. That's how we built most of the store—you're on an island in the south of Greece; Amazon doesn't deliver here."
"The locals helped us find an empty space, donated materials, and showed us the scrapyard. That's how we built most of the store—you're on an island in the south of Greece; Amazon doesn't deliver here."
Now in its second iteration—the original space was sold by the landlord as a luxury apartment—Atlantis Books has become a vital cultural meeting-point for the people of Santorini. The staff host regular book readings and poetry nights, and are planning to open a gallery and artist commune nearby. For those who built Atlantis, the store serves as a welcome respite from the lives they could have lead had they stayed in their hometowns. "Growing up, Memphis was essentially a cultural desert where anyone with a little curiosity and education was raring to get out as soon as they finished high school," Craig recalls. "There was no comfortable place to just go and act like a real human being, beyond football games and the county fair. That stuff isn't for everybody. Some people there are really happy, but it's a place where people are happy when they fit in."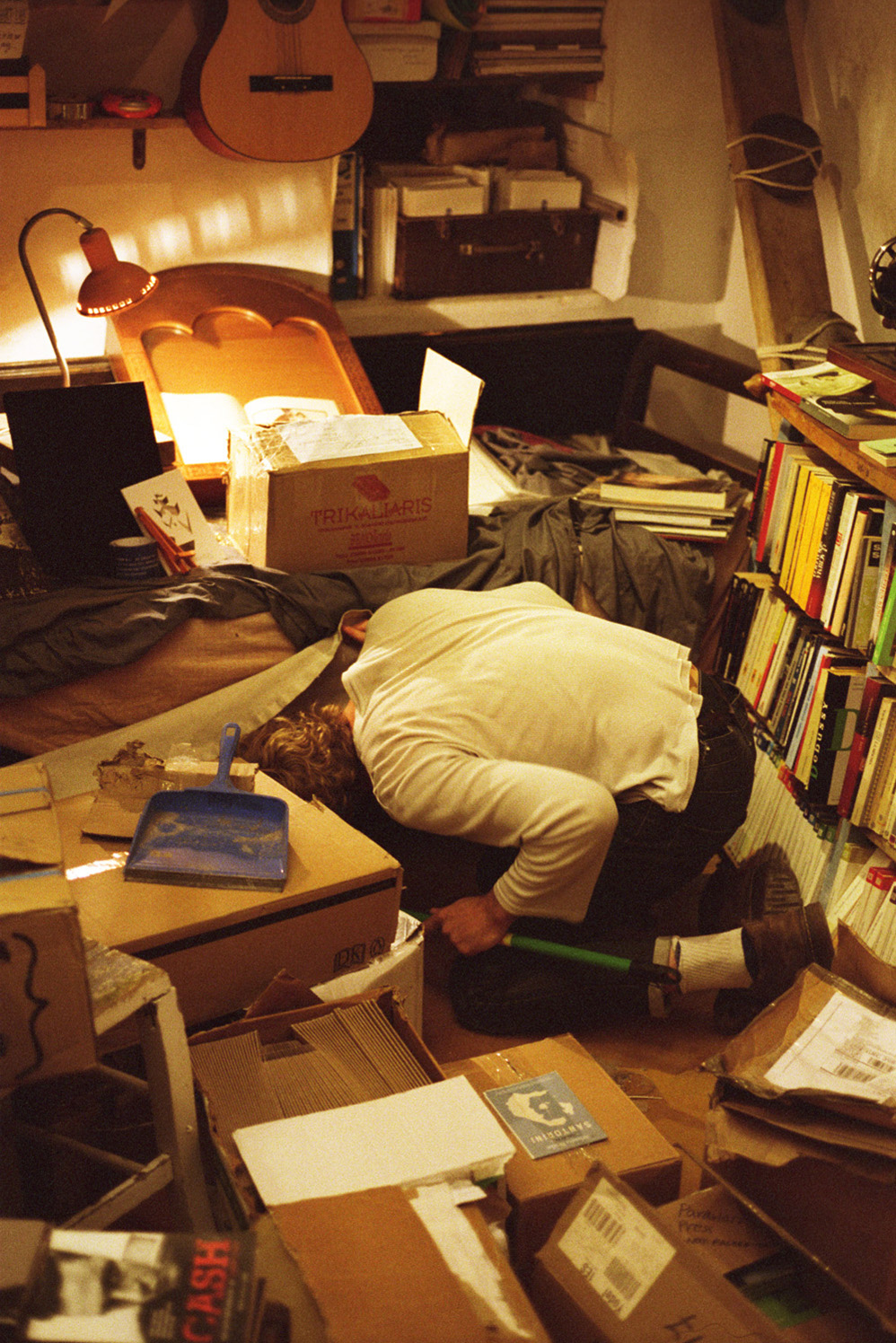 "When I start wondering if I'm missing out on real life, I remember that my friends are having the exact same feelings too, they're just not on an island watching a beautiful sunset. They're back in the city, commuting to work."
Thanks, Craig, For telling us your story and showing us the beautiful sights of Santorini. You can watch Craig's talk at TED Athens and find out more about Atlantis Books online. Read more from Greece, a country rich in history and  inspiring stories just like Craig's. 
Text:Jack Mahoney
Photography:Yannis Drakoulidis