Nestled in the Great Caucasus mountains that stretch for over 1,200kms and divide the Black and Caspian Seas with a series of snow-capped peaks, lies the bewilderingly beautiful country of Georgia.
Perhaps one of the most fascinating and complex countries in the world, Georgia, along with Armenia and Azerbaijan, form the south Caucasus that separates Europe from Asia—and, as a result, were popular ancient Eurasian trade routes. The Caucasus' lower slopes are home to the region's agriculture, prompted by fertile, mineral-rich soils and temperate climate—think green valleys striped with row upon row of grapevines, hazy yellow corn fields, and dense tea plantations. Post Soviet rule, Georgia has a thriving agricultural sector with many family-run small holdings produce quality product that is prided over vast quantity production. Arguably the second most important crop to the region is the grape. Winemaking has long been a tradition here (findings indicate as early as 300 B.C.) and age-old qvevri techniques using egg-shaped earthenware vessels are still used today. With such an abundance of produce readily available, Georgia's culinary culture is quickly gaining notoriety, and with that, a new contemporary scene is beginning to emerge.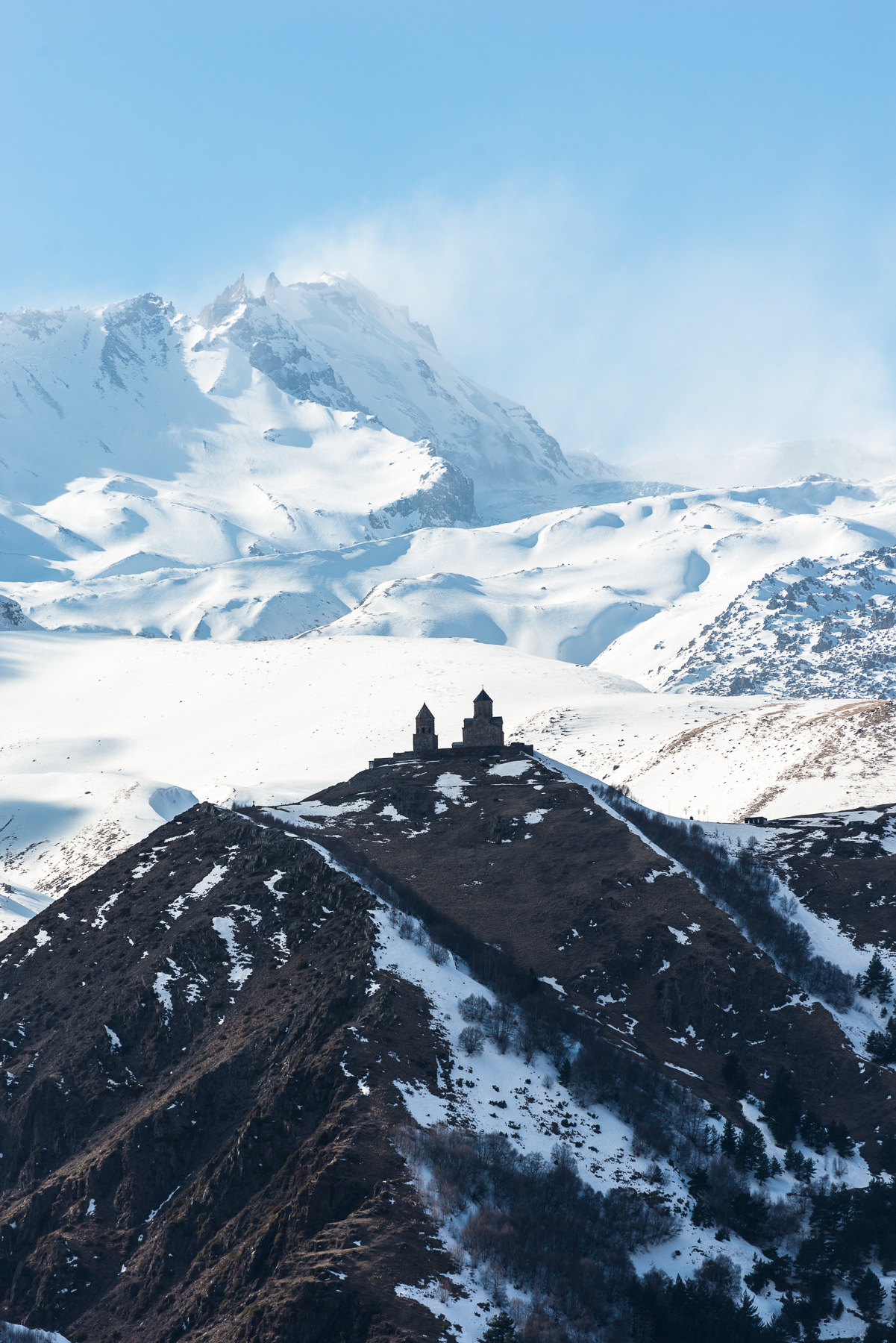 The capital Tbilisi is over 1,400 years old and sits on two hillsides that flank the Mtkvari River. The Old Town blends picturesque stone churches and forts dating back as far as the sixth century with a new architectural and social vibrancy. The burgeoning fashion and art scene (Tbilisi is home to two fashion weeks and several contemporary art galleries) has revitalized the capital and today, Rooms Hotels is an integral part of this modern, creative shift. As the city's first Design Hotel, Adjara Group Hospitality transformed a former Soviet-era Brutalist publishing house into a modern eight-storey residence—a beacon of Georgian heritage and simultaneously a catalyst for modernity.
"Georgia lies between Caucasus mountain ranges, for this reason the vast multicultural heritage of the region blended down thee valley over centuries, that's what shapes our food culture," says Giorgi Mindiashvili, head of food and beverage at Rooms Hotels in Tbilisi. "Culinary traditions of this country were formed with influences from all over the world, that's exactly why it is so diverse and colourful, we're really proud of it!" he adds. Rich in tradition and with influences from past rulers, notably Persia, Russia, and Turkey, the local cuisine is multilayered, passed along from one generation to the next.
"Back home in Georgia people don't tend to buy ready-made meals in supermarkets, most families actually cook at home," says Giorgi. "Everything is still grandma-made in most families and that's what makes it so special," he enthuses. While many western countries are now reassessing the merit of fast, processed food and shifting the value back to the basic principles of cooking fresh, local ingredients (thank you, Michael Pollan!), Georgian cuisine has never strayed far from these roots.
"Everyone [in Georgia] is totally proud of their food, what could be better than that?"
Participation at the Georgian table is an indulgent affair: meat-filled khinkali dumplings are paired with lobio, a red and white kidney bean salad, pkhali is a dish made with spinach and walnuts and often garnished with pomegranate seeds, all served before a roasted suckling pig arrives at the table with accompanying plum sauce. And then there's the sweet treats: a mainstay is churchkhela, a rope of grape must candy, akin to red licorice in appearance and texture, with walnut filling. The ritual of free-flowing local wine and endless courses of palate-pleasing, coma-inducing delicacies are an integral part of social interaction. Celebrations and feasts go hand in hand in this predominantly Christian country. And the most traditional of all is the Georgian Supra, a feast that can last for days, led by a tamada, or toastmaster. The seemingly endless menu with continual rounds of toasting and raising of glasses filled with local orange wine, consists of Georgian staples such as khachapuri (cheese bread), satsivi (a savory walnut sauce) and is concluded by copious amounts of chacha (Georgia's answer to moonshine and another homage to the grape).
A Supra in Kreuzberg
Collaborating with the team at Rooms Hotels, including their new German chef, Henry Zimmermann, we opened up our new FvF Space in Kreuzberg to host our very own Supra. "Every chef [in Georgia] is trying to improve these old recipes with small touches and the best ingredients this country can offer," says Henry Zimmermann, head chef at Rooms Hotels. "Ninety percent of food in Georgia is purely Georgian food. I really like that, it makes the people and the country very authentic. Everyone is totally proud of their food, what could be better than that?"
 "There are a few classic dishes that are encrypted in our DNA."
Supra Essentials
Bread — პური
Though recipes vary across regions, bread is a staple of Georgian cuisine and accompanies most meals. Traditionally, the loaves are baked inside a wood-fired clay oven called a t'one, that resembles a deep well. Using endemic wheat flour from organic fields, the bread appears in different forms regionally, from diamond-shaped to leavened discs. Perhaps the best-known Georgian bread is cheese-filled khachapuri, derived form the terms khacho (ხაჭო), for cheese curd, and puri (პური), for bread. "There are a few classic dishes that are encrypted in our DNA. Khachapuri is one of those dishes," explains Giorgi.
Chacha — ჭაჭა
The national drink is made of grape pomace (grape residue left after making wine), also called grape vodka. Clear and odorless, the potent tipple packs a punch with 40% or greater alcohol by volume.
Walnuts — კაკალი
One of the most distinguishable features of Georgian cooking is the use of Walnuts. Satsivi (საცივი) literally means 'cold dish' and is a walnut sauce featured in many recipes. Churchkhela (ჩურჩხელა), is the popular walnut sweet, dipped in grape juice and dried.
Wine — ღვინო
The oldest archeological traces of viticulture were found in Georgia (6000 B.C.) and many etymologists consider the word "wine" to be derived from the ancient Georgian word gvino. The tradition of qvevri winemaking is still practised in village communities using unique grape varieties, which are aged and stored in egg-shaped clay vessels. The fermentation in these qvevri (clay amphoras) has a prolonged maceration time and less sulphur. The unfiltered process produces an orange hued wine. And—the unique Georgian script is even modeled after the shape of the vine's curly offshoots.
The Feast is Served
Overflowing with traditional cuisine and obligatory chacha, the lavish evening hosted by Rooms Hotels and FvF was a modern homage to the Georgian Supra with creative friends, old and new. We held on to the Supra's code of conduct, and who better to bring the Georgian spirit than the duo who introduced us to the nation itself? Levan Berulava, General Manager of Rooms Hotel Tbilisi, served as tamada for the evening, leading the recurring ceremonial toasts while Valeri Chekheria, CEO Adjara Group Hospitality, played host.
Gebjalia
გებჟალია
Ingredients (for 6 portions)
1

1kg fresh sulguni (a firm Georgian cheese in brine)

2

1L 3.5% fat milk

3

200g sour cream

4

100g mint

5

Pinch of salt
Method
For authentic Gebjalia preparation, the most important thing is to choose the perfect cheese—fresh, whole milk sulguni
Pour milk in a deep cast-iron pan and heat up before it comes to boil
Slice sulguni thinly and place in warm milk stirring well with a wooden spoon until cheese is elastic
Remove from milk and form cheese into a ball then place on a wet chopping board to flatten out before it cools
Meanwhile chop a handful of mint and muddle well in wooden pestle adding a pinch of salt
Cover your flattened cheese with a thick layer of the mint and roll slowly into a roulette. Slice into 4cm pieces
For the sauce, mix sour cream with a dash of the sulguni milk in a serving bowl  and drop in the pieces of minty cheese— here you have the perfect Gebjalia!
Khachapuri
ხაჭაპური
Ingredients (for 6 portions)
1

500g flour

2

1tsp (each) salt, sugar, and dry yeast

3

2tbsp sunflower oil

4

150ml water

5

1 egg

6

600g sulguni (or other firm, brined cheese)
Method
Again, for Khachapuri preparation, the most important thing is to choose perfect cheese—fresh, soft Sulguni or any other firm cheese in brine, like mozzarella
For the perfect dough mix a teaspoon of salt, sugar, and dry yeast with 150ml of warm water
Add 2 tablespoons of sunflower oil and whisk in the flour gradually. Knead the dough well (by hand) for about 10 minutes, until it becomes elastic
Cover and put aside for 30 minutes to rise
Meanwhile, grate the cheese using a thick grater and add one egg. Mix well with your hands
After the dough has risen, place on a well floured board and roll out
Place cheese in the middle of the dough and fold in edges, twisting, flattening, and pinching the ends in tightly—it should resemble a canoe
Bake in the oven for 8-10 minutes over the heat of 200°C—enjoy while it's warm
Spinach Pkhali
ფხალი
Ingredients (for 6 portions)
1

1kg spinach

2

150g walnuts

3

2-3 cloves garlic

4

Handful coriander, finely chopped

5

Pinch of salt

6

2tbsp vinegar

7

1tsp baking soda

8

Pinch of paprika

9

1L water
Method
Bring water to boil in a large casserole dish, add spinach and a teaspoon of baking soda to preserve its color and boil for 3-4 minutes
Grind walnuts in a mortar and pestle, adding garlic, a pinch of salt and paprika
When spinach is boiled, drain well under cold, running water and chop finely
Stir the walnut mixture, vinegar and coriander into the cooked spinach and mix well with your hands
Form into small rounds and decorate them with pomegranate seeds
Thanks to all at Rooms Hotels for the outstanding introduction to Georgian cuisine and bringing these authentic flavors and recipes to Berlin for our first FvF Supra. For more information on Rooms Hotels and the region where these specialities originate, see here.
With additional thanks to our valued partners, Schwiliko, Axis Mundi, and Marsano for their great contributions to this celebratory feast.
Text:Andie Cusick
Photography: Daniel Müller & Robert Rieger
Video: Bryn Silverman