What a time to be alive! This year a reality TV star has been elected as president of the United States, Frank Ocean released a new album, Kanye West did a bunch of stuff and people were crashing their cars into trees trying to capture virtual reality animals on their iPhone 7's while hoverboard-riding took Zumba classes through instructional Instagram stories.
We know—it can be a lot to digest. At FvF we've been through quite a bit within the past year as well, but we've neatly packaged the best moments for you to sift through. We're continuing to be inspired by stories from our ever-expanding network of friends and have learned a lot about how to keep our heads up in our new, post-Brexit, post-Trump, post-Nickelback-tour 2016 world. Read on to find a highlight reel of FvF's best moments of the year.
There and back again, a year of travels for FvF
Where FvF staked their claim in 2016
This year we've planted an FvF flag on every continent (save Antarctica—though we're working on that), with stories in our favorite cities and a few new ones. We've got stories everywhere in between Seoul and Sunnyvale, Nicosia and New York—and we're going to keep exploring in the new year. Click the little arrow points on the globe to see stories from this year.
Our Favorite Features
Highlights from a year of highs
It's tough to single out favorites because we've met a lot of interesting people but these are these stories really stood out to us and we're still talking about them. From a report on the creative rumblings in Cyprus, a visual tour through Iceland to a visit with Marcel Dettmann—these were just a few of the high points.
Life on a Divided Island: The Urgency of Contemporary Art in Cyprus

Any Given Sunday: Berghain Resident DJ Marcel Dettmann on life beyond the decks

A Field Guide to Getting Lost in Iceland

In Broad Strokes: Illustrator Judith Carnaby draws the line between critique and practice

The not so secret life of Berlin's honeybees

Weaving Worlds Beyond Words: The unspoken meaning behind Amy Revier's sculptural garments
Collaborative stories
FvF's brand partnerships
Our storytelling style has always attracted the attention of great brands who share the same outlook. We've introduced some of the interesting personalities in our network through these collaborations and we're excited to see who we'll partner up with next. We caught some sun with Visit California, were treated to a delicious meal by the Norwegian Embassy and have continued exploring cities with MINI. We've also partnered with OTHR to meet some of the world's best designers and got acquainted with up and coming creatives with Ace & Tate. There are many more partners to name but these stories should give you a good idea of what we did in 2016.
Visit California

Siemens Home Appliences x FvF / Architect Simon Astridge on creating homes with an emphasis on everyday experience

MINI x FvF / A discourse on urban landscapes with photographer Noshe

Werde Magazine x FvF / Weaving Worlds Beyond Words: The unspoken meaning behind Amy Revier's sculptural garments

Norwegian Embassy x FvF / Christopher Haatuft, the Punk-Chef Godfather of Neo-Fjordic Cuisine

Gore-Tex x FvF / The city as the ultimate terrain: Jörg Haas takes on the challenges in fashion for urban spaces

OTHR x FvF / The Light Fantastic: Ini Archibong places his tech-focused designs into a mythical realm

Ace&Tate x FvF / Brick Magazine is flipping the script on hip-hop culture

unu Motors x FvF / In Broad Strokes: Illustrator Judith Carnaby draws the line between critique and practice
Our partners enable us to tackle bigger projects and tell stories in unique ways. We enjoy working with them to create something together that is unquestionably FvF. We're certainly going to keep exploring new ways to collaborate in the new year.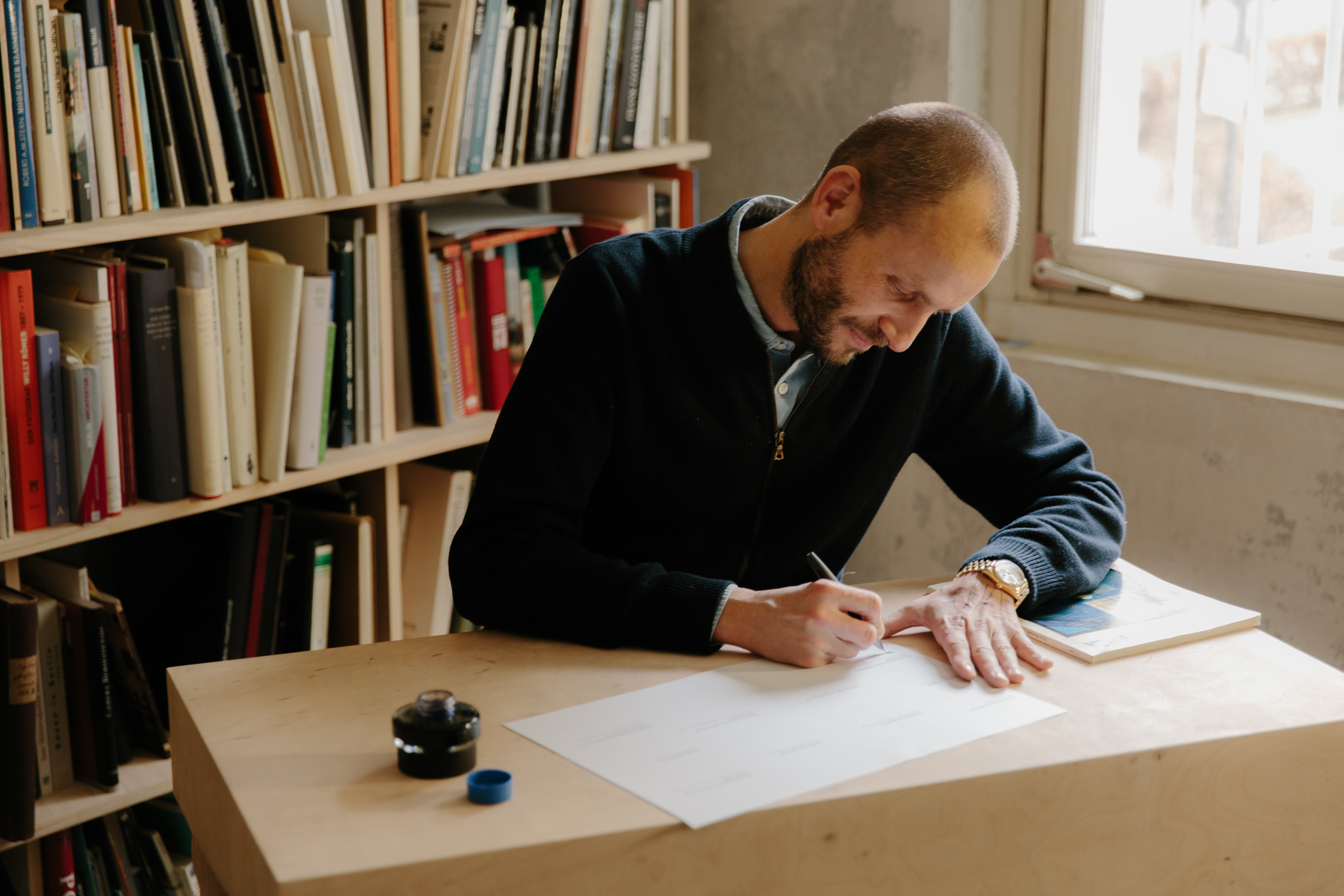 FvF in motion
Videos we've produced this year
We've continued to explore filmmaking this year and have made some interesting short films. Check them out below and get inspired by some of the folks we've been following around. Architect Simon Astridge showed us around the home he designed for himself in London, while Allan Spiegel invited us to the home he built himself in Sweden and Dylan Gordon gave us a taste of the California lifestyle.
Events at our new Friends space and of course, the FvF Apartment
Bringing the FvF network together in our event spaces
We're all about connections at FvF—meeting new people, making new friends and putting people in touch with one another. That's why we created the FvF Friends Space in Kreuzberg, here in Berlin: we needed the room to splash out, inviting friends within the network and to help that network grow. We've continued to host workshops and friends in the FvF Apartment, including Danielle Pender of Riposte Magazine and Alec Dudson and Andrew Bennett of Intern. With MINI we hosted the first iteration of The Sooner Now, our first creative conference exploring possibilities in urban living. We're really excited about future editions of The Sooner Now so keep your eyes peeled in 2017.
The Sooner Now Conference at the FvF Friends Space
Guten Appetit! FvF Cooks in 2016
Some of our favorite restaurants in Berlin and beyond
Some of our favorite chefs and restaurants were invited to come and cook for the FvF team, treating us to some yummy food and giving us the rundown on how they whip up their tasty creations. Candy on Bone's pulled pork and Louis Pretty's salmon rolls were pretty tough to top. Oh, and we also had our first FvF Drinks and got a bit saucy on the roof with some excellent cocktails concocted by Letherbee Distillers. We've also left the comfort of Berlin and have ate our way to the Tuscan and East London food scenes—with many more spots on the map to check out. Stay tuned!
Most liked Instagram images
The readers have spoken
Though we're a bit shy to admit it, we spend a lot of time on our phones—and Instagram is easily our favorite app. The readers have spoken and we've compiled a list of the top five most liked photos on our Instagram feed for 2016. As always, travel and interior inspiration topped off the list so we'll keep fueling your wanderlust and furniture fetishism.
Top 5 contributing Photographers
The world through a lens
Quality photography is our bag—and this year we've collaborated with some great photographers. From Yves' stunning portraits of Ini Archibong to all the work our in-house photo editor and photographer Robert Rieger has shot for us this year, we're up to our eyeballs in great content. These are our top photographers for 2016:
Our Favorite Mixtapes of 2016
Beats and pieces from the FvF network
Music is always in the background in the FvF offices—though since the new Frank Ocean album dropped it's been tough to make time for any other new music. The FvF Mixtape series has kept us in the loop of non-blonde music though, and this year we had some heaters on deck. Habibi Funk took us on a tour of the Arab Music World, and the Red Light Radio mix still keeps our bodies moving into the new year.
The number crunch
We're also happy to report that our network is still steadily growing, and we're reaching more fans than ever. We've got the numbers here for our mathematical readers out there to see just how far we've come since last year.
Facebook Fans: 143,280




Instagram Followers: 125,00




Page Views: 17,711,529




Site Visitors: 1,960,190
Thank you to all of our fans for sticking with Freunde von Freunden for yet another year. We couldn't be happier with all the stories we've produced this year and we can't wait to share with you all what's in store for 2017. We're going to keep pushing the boundaries of digital storytelling, meeting interesting characters and expanding our network. 2016 has been a wild ride and we're ready for a clean slate. Happy New Year!