At some point, all creatives face the same question: how do I make other people care about what I do? How do they communicate their excitement about their music, carpentry, needlework or watercolors to others?
While some artists may be content to produce their work in isolation, leaving matters of audience and exposure to posterity, most struggle with such prosaic issues at various stages in their career. "If you have an idea and execute it, that's still only half the work," says Gildas Loaëc, autodidact and talent hunter. Gildas acted as artistic director of French electronic duo Daft Punk during their early years and co-founded the fast-growing music and fashion label, Maison Kitsuné.
"Then you have to imagine how people are going to access it, or how you will move people with whatever it is that you have made. What is the story that you are going to put around it so that it touches people, so that they discover it and want to talk about it later with their friends?"
Creating stories is exactly what Gildas excels at. He does not once use the word "branding," though he likes to pepper his French with other buzzwords borrowed from English, like "organic". The company he co-founded, Maison Kitsuné, embodies the kind of attention to detail that has defined most of Gildas' career.
Maison Kitsuné's headquarters are tucked away in a quiet side street off of the Grands Boulevards, one of the main arteries of the French capital and a landmark of leisure and luxury with its wide sidewalks, slick, uniform facades and wrap-around balconies. Gildas' office is a modest room, cluttered with canvases and memorabilia he swears he is trying to get rid of. On the coffee table, a glittery plastic effigy of a shitting Japanese dog. Leaning against the table, a concert poster for a fictitious event that never happened.
Mixing the eclectic with the traditional, the unconventional with the established seems to be Gildas' specialty and what makes Maison Kitsuné stand out as a brand and ensure its own longevity. Born and raised in the westernmost tip of France, literally called "the End of the Earth" (Finisterre), Gildas is surprisingly shy for someone heading a company of 60 plus employees. Giving interviews is clearly not his favorite part of the job, as he cringes whenever asked a question and rarely finishes a sentence. The only time he stops shifting around in his chair is when he talks about his passion for music: as a high schooler, when he spent most of his time going to raves and producing a fanzine, and then as a 19-year-old, when he opened a vinyl record store in Paris and started hanging out with DJs and skaters.
"We're not into doing strict replicas, but somehow giving it a twist so it stays fresh."
If you ask Gildas, most of his successes so far can be chalked up to happy encounters: his record store is where he met the two French DJs who would later become Daft Punk and Masaya Kuroki, the Japanese architect with whom he would co-found Maison Kitsuné. "The idea—and perhaps it's selfish in some ways— was just to have fun and do what we like to do with our days anyway: fashion, music and style," Gildas says. Founded in 2002, Maison Kitsuné started off as a music label with a few jeans, cardigans and shirts. As time passed, the brand grew to include a wider collection of clothing as well as DJ nights, online streaming and cafes in both Paris and Tokyo. With its line of preppy blazers, shirts and knitwear, the fashion label plays off of the classic Parisian look: elegant minimalism and neutral basics. But for Gildas, it's important not to rest too heavily on any laurels.
"We play on references from the late '60s and early '70s. We like to take a film or a reference but then make it relevant to today. We're not into doing strict replicas, but somehow giving it a twist so it stays fresh," Gildas says of the general aesthetic guidelines for the brand. Staying fresh is one of his obsessions. The 48-year-old father of two never bothered going to university because he didn't have the patience for it. In a market where French fashion is dominated by large, established groups and smaller brands are often founded by business school graduates, this makes him stand out considerably.
The "Love Rises" collection from Maison Kitsuné
Gildas Loaëc and Masaya Kuroki were inspired by Hayao Miyazaki's film The Wind Rises for Fall/Winter 2016
"I have a clear opinion on many things without anyone telling me what I should think," he says as we walk through the Palais Royal, one of his favorite haunts in Paris. "I think I'm able to define fairly fast what makes something good, that is: what makes sense and what can move a lot of people."
While his co-founder Masaya heads up business operations in Asia, Gildas' intuition has lead him to seek out young musicians like the Australian band Parcels, collaborate with street artists like Andre and develop a new line of cafes. One of them is in the Palais Royal, with a summer terrace that leads into the palace grounds. Gildas likes to take visitors in through an unassuming backdoor to watch their astonishment as they discover the royal pomp on the other side.
"The Palais Royal are the most beautiful gardens in Paris. And it is said that Paris is the most beautiful city in the world, so here, we are in the most beautiful gardens in the world," he says, with some glee.
Music from Maison Kitsune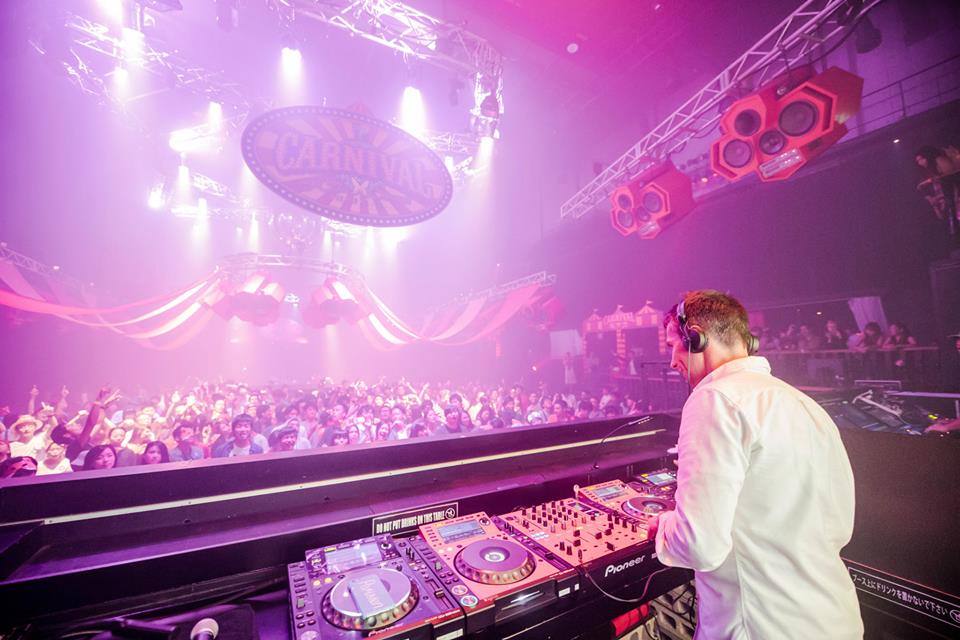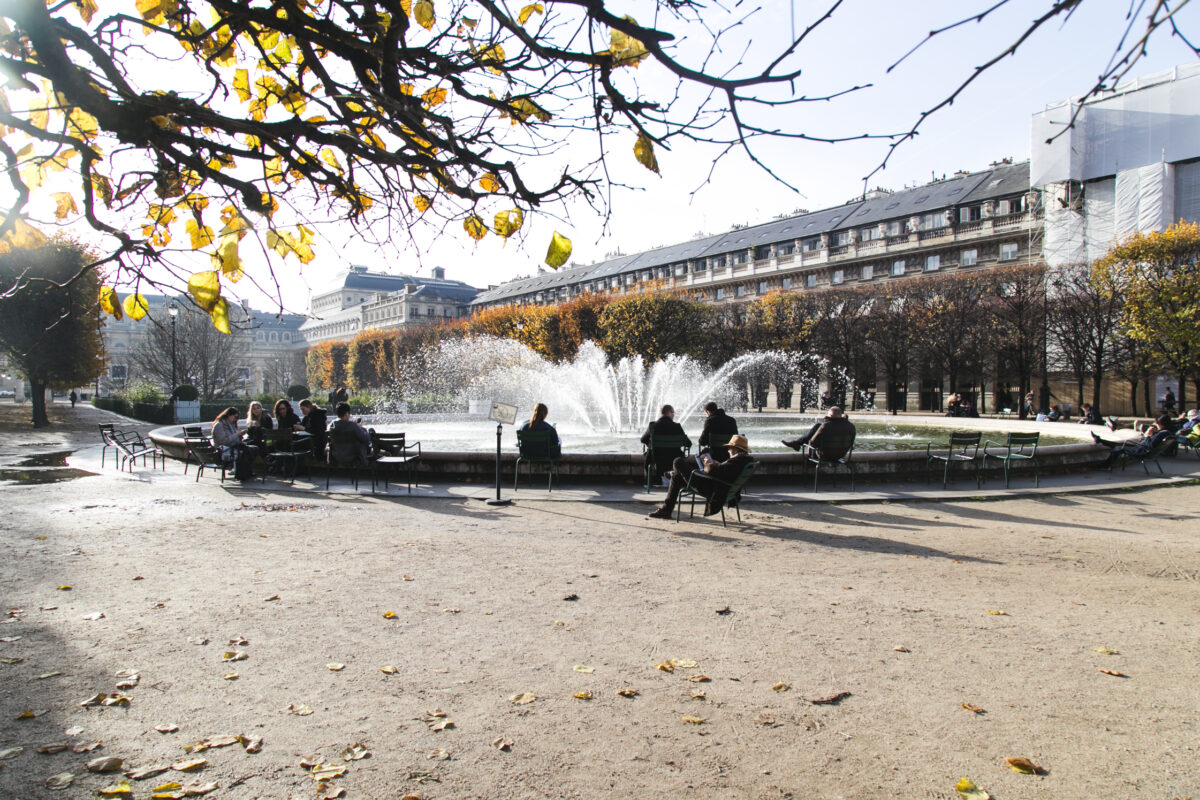 This seems to be the secret to Maison Kitsuné's success as a whole: taking risks, but also by mixing the traditional with the new, appealing to a wider audience. "If there's one thing I had to pick that we're proud of it, it's that: through our various activities, we've been able to touch a very diverse range of people. Without trying too hard, we speak to people between ages 15 to 65, whether they're streaming our music or buying clothes at a chic department store or getting a coffee."
It's clear when speaking to Gildas that music is not a marketing add-on to promote clothing; neither are the fashion items a spin-off of the music and the cafes are also their own beast. "To do things well, you need to do things one at a time," Gildas offers in a way of advice, "I learn about new things every day." And given his wide range of interests—this isn't a surprise.
Thank you, Gildas for speaking to us about Maison Kitsune and showing us your Paris. For more information on the fashion and music label, see here.
This portrait is part of our collaboration with USM Modular Furniture. See more of Gildas' home and other unique individuals we've profiled on the Personalities by USM website.
For more FvF stories from Paris, France, see here. 
Text: Anna Polonyi
Photography:Victoria Paterno