Oliver Lühr and Thomas Bentz like to clothe women – and this with great success. In 2011 both of them founded the label 'Achtland,' which is accompanied by the roaring sound of medial euphoria. Their style, which is a colourful and rich in detail ode to the confident, worldly woman, has impacted our contemporary landscape like an atomic bomb. Their created environment offers the perfect situation for establishing the label step by step. It grows steadily in Berlin-Kreuzberg, but the idea of 'Achtland' was born much before. Thomas and Oliver met during their studies in London. It was obvious that these two Germans would walk along a joined path from then on – as much as professional as private.
Living and working in perfect symbiosis – perhaps this excuses the secret gravity towards the lover's and their baby Achtland. Oliver studied at the renowned fashion college Central St.Martins, while Thomas has a degree in International Business. The creative and the economist simply complement each other. One can just see it. Both have conserved this beautiful boyish look, a warm blaze in their eyes, and a guiltless smile written on their lips; a healthy face colour. When they stand next to each other, the blonde Oliver and the dark haired Thomas seem to be incarnated materialisations of Ying and Yang: absolute Harmony.
Just like this, these two young men received us in their lofty Kreuzberg courtyard-studio, away from the exuberant Moritzplatz. During our time together we were able to look at their work process and accompany them on their daily routine for a short while. It's obvious that the boys of Achtland need input from the outside world. A small inspirational trip to Neues Museum and a stroll through Modulor, the designers' favourite shopping paradise, needed to be part of our refreshing rendezvous.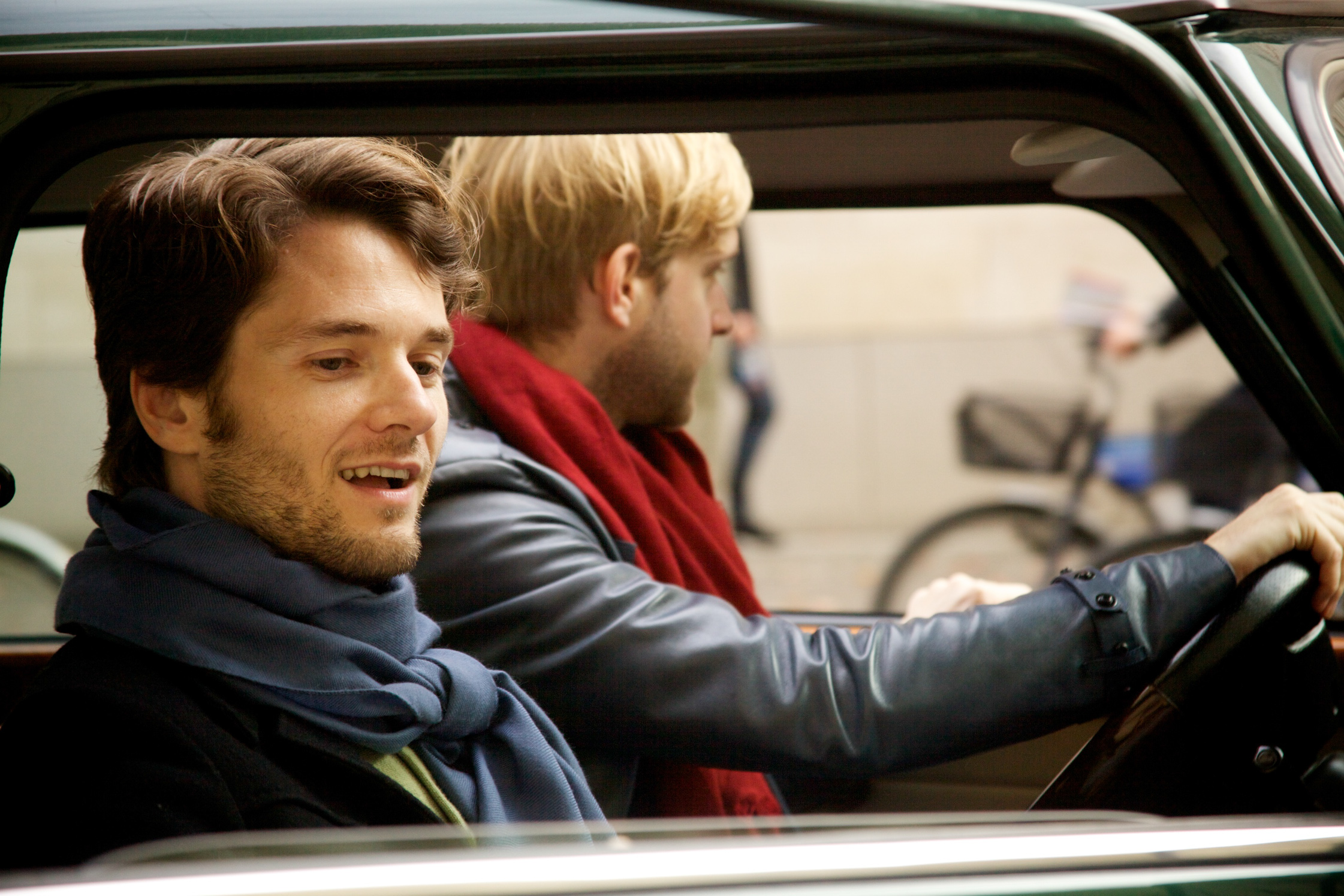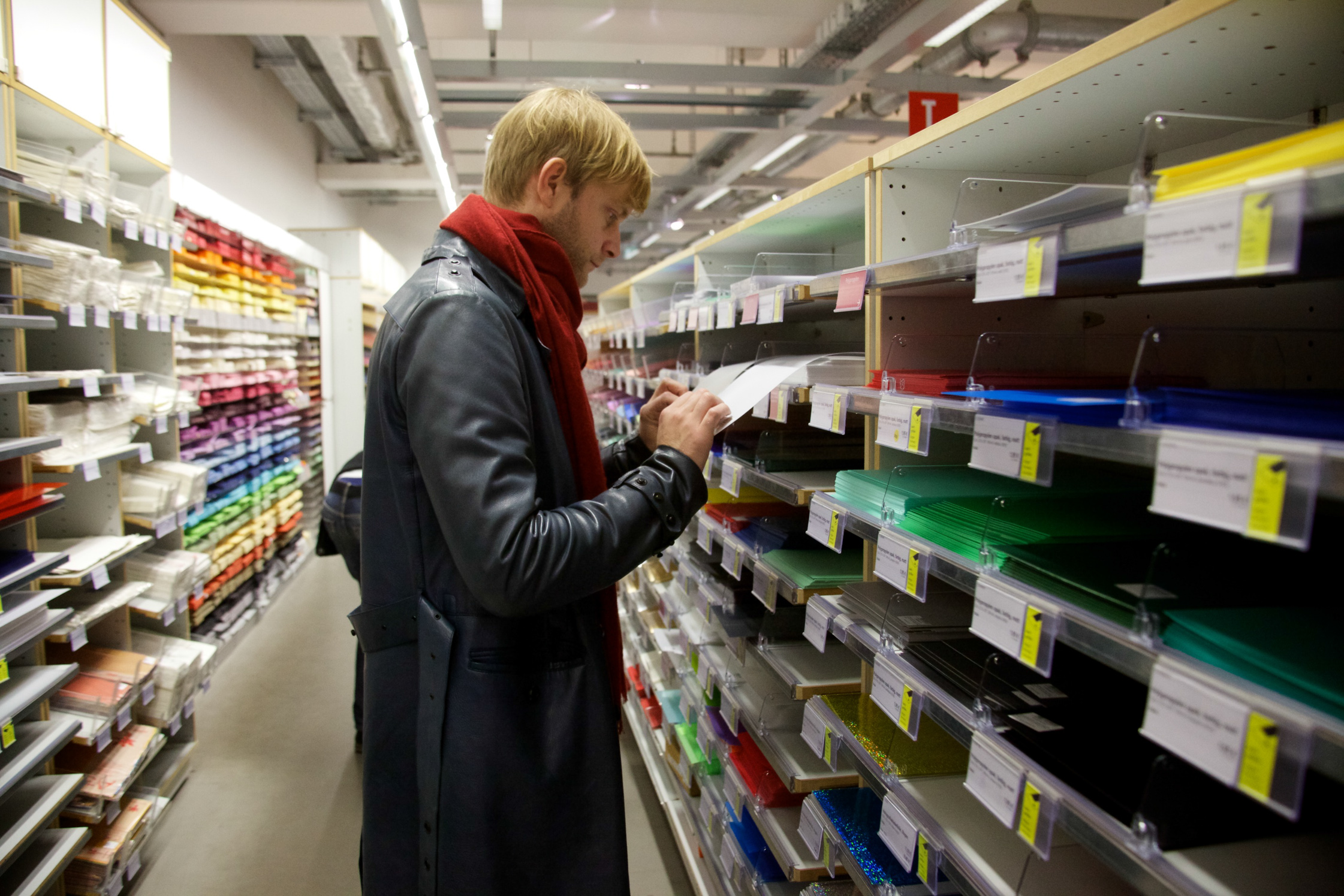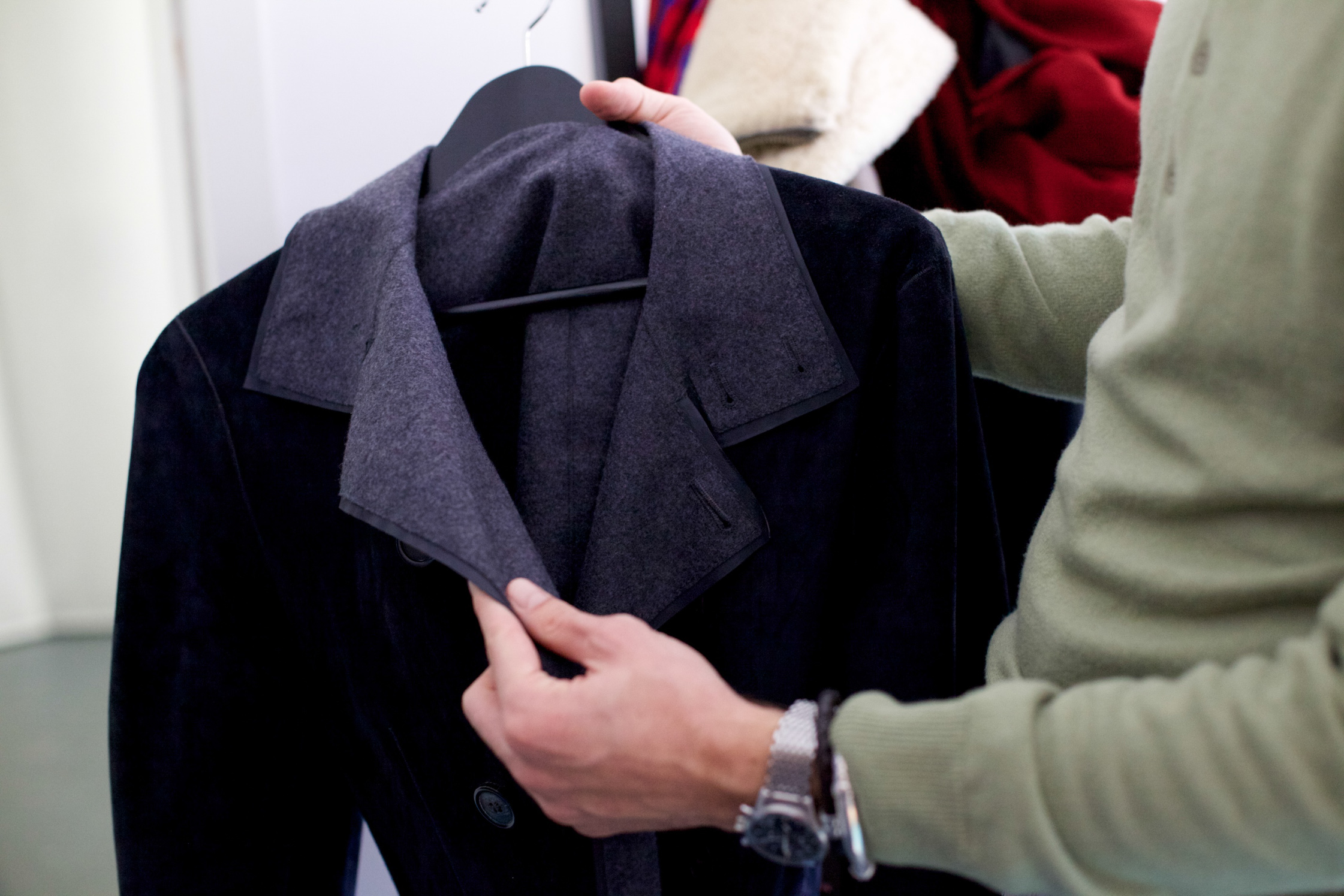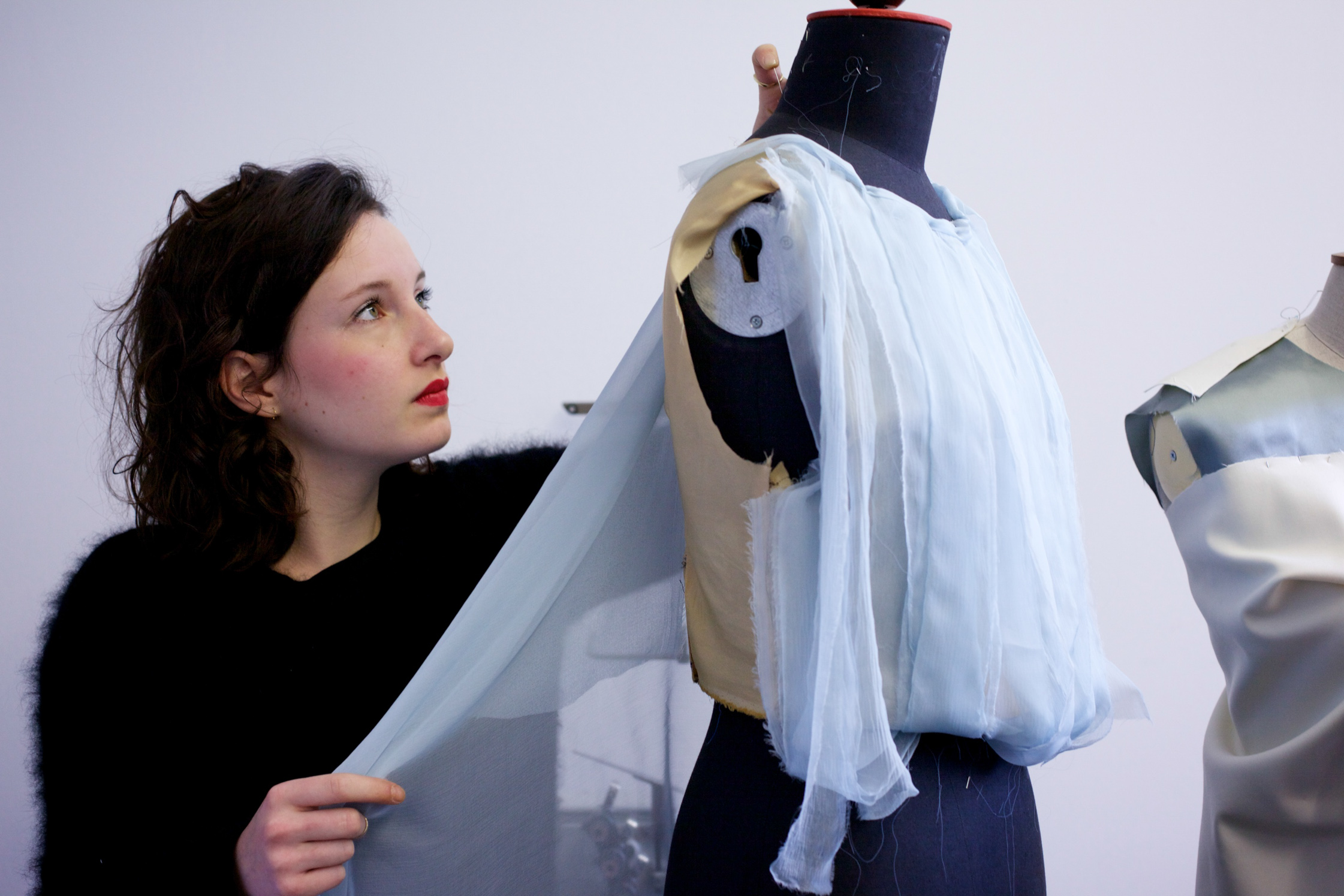 Thomas and Oliver, both of you founded Achtland. Why?
Thomas: When we met seven years ago Oliver was still doing his studies. We still lived in London. The idea of establishing something was abstract but decided upon very quickly. The product already existed as an idea for some time.
Oliver: We decided to found Achtland spontaneously. This is how we make decisions on other things as well: rapid and intuitive, without hesitating.
Why did you decide to base Achtland in Berlin?
Oliver: The space was quiet cheap in here – and there was definitely much more friction. Berlin is not only beautiful, but it also possesses such terrible sights in certain areas. This disturbing ugliness and incompleteness stimulates our creativity. London felt like home and we felt too comfortable. This very 'comfort-zone' had to be abandoned at some point.
Your studio is located in the neighborhood of Mortizplatz. Do you feel good in this area?
Thomas: This neighborhood is very important to us when it comes to infrastructure. Prinzessinnengärten, Oranienplatz, and of course Modulor are our local spots. We buy everything there that is not for eating. Modulor opened when we moved here – it was fate. Our production is also located right around the corner. We also have two colleagues here, the Berliner designers, Michael Sontag and Sissi Goetze.
Aside from Modulor, are there any other cafes or restaurants that you like to go to?
Thomas: At the moment we don't leave Kreuzberg during the afternoon. We like the Cocolo Ramen at Paul Linke Ufer or Coco Ro at Mehringdamm. But we can mostly be found at Colddampf's, the restaurant connected to Modulor. This way we can call kill two birds with one stone! In the evening we like to go to Da Baffi in Wedding.
You are not only business partners but a couple as well. Are you afraid of building something that later on might collapse?
Thomas: I think we would be more afraid to do it alone. We are constantly pushing each other, which is very important.
Oliver: Many think that joining up with your partner for business is like opening the gates to hell. But we think it's great that we can experience everything together. We don't have to explain to each other why we are getting home late. We also gain a lot by sharing happy, challenging, and difficult moments simultaneously.
You work and live together? How do you manage to have free space?
Thomas: It starts by going to the studio at different times. Oliver always comes with his sweet mini-oldtimer car. It has now become somewhat of an important ritual – especially for our shared living as it gives us a certain freedom before putting on our fashion hats.
Oliver: Talking about work is absolutely forbidden at the breakfast table. Absolutely! We have the strict rule of not bringing work home but unfortunately that does not always go to plan in reality.
Why is your label called Achtland?
Thomas: The idea was to have something abstract. Achtland tempted us because it stays in our memory. It sounds like a person and a place. And it sounds German – but it's not. There is also a story behind it.
Oliver: Achtland is a mystical figure. She was a Celtic queen who was dissatisfied with the situation of men on earth. So she decided to leave behind her material being and marry a god. We really like this story however, the original meaning has been altered in relation to our work.
Do you hope to transform women into goddesses with you label?
Thomas: Oh god no! Achtland's ideology has its limits. In terms of the context of mystical worlds, here women are rather reactive. This is different with our actual customers: we want the idea of self-determination and strength to be present in our work and for the wearer.
Oliver: Achtland represents an earthly woman who goes over to another world. Crossing limits is also part of our sentiment. It is mainly about confidence.
If it's not a goddess, who wears Achtland?
Thomas: Our clients come from all over. Just recently we sold a dress to a woman who was about 60 years old. Our kind of woman seems to be in search for something new while preserving permanence. She has an interest in materials. She buys things, perhaps considering the possibility of passing the garment onto her daughter one day. Our work embodies continuity, permanence, and the feeling of a favourite-piece. Much less is bought, but the items purchased are done so with love.
How important is role distribution? Who is responsible for what?
Oliver: Ultimately both of us are the designers, as we generate the collections together. Every piece, element, and material is discussed. We have a similar taste and intuition with regards to what we consider appropriate for Achtland. I am responsible for the concrete design work. Thomas is responsible for the daily business. He is the strategist.
In terms of collections, do you also approach them strategically? Do you think about what could work within the market?
Thomas: We approach the collection quite abstractly. We mainly start with an idea that remains until the very end. We don't have a word for word explanation about what inspired us for each collection.
Oliver: An argument starts mostly when we really dislike something. We then try to put it into another context. The result is much more organic than merely aspiring to create a trend intentionally.
How can arguments like this start?
Thomas: We like to experiment with materials, for instance silks and wool mixtures, or cashmere. We bring the materials home from fairs and are only the starting point. A lot of things get done in the studio – for instance embroideries.
Oliver: Every element of an embroidered piece is decided upon in the studio. The colors are chosen and then we send them to India.
You produce your collections in India as well?
Thomas: We produce everything here in Germany! But the embroidered pieces are special handcraft that has not survived in Europe. India is different, there is tradition. But sooner or later we will transfer our production to France, because we are able to work as delicately as we wish.
Do you feel you ever have to make compromises when it comes to quality and production?
Thomas: We only work with a small selection of suppliers and don't make compromises when it comes to materials. We don't approach clothing this way. We love high-quality materials that look and feel good. The initial contact and perception of our garments should speak for itself. Achtland functions very much on the surface.
What do you focus on when you go shopping for yourselves?
Oliver: It's mainly about colors, quality, and materials. But that's a bit due to the job. I would get so upset when buying a nice piece that would break after wearing it only three times.
Thomas: I kind of lost my pleasure for shopping once I started working in fashion. This is why at the moment I just buy small accessories, wallets, or scarves. You can see very quickly what they are made of. I make similar considerations when shopping to that of my work: Does it feel good? Will it last for a long time?
Do you travel a lot? Where do you like to go the most?
Thomas: We love to travel. Right after the production of a collection we always travel – preferably far away. For instance, to Thailand or India. We need that time away to clear our minds and reflect on something else for a while. We don't consciously leave in order to undertake research for the upcoming season. We consider that a big luxury.
Speaking of luxury, be honest now, isn't your fashion much too pretty and ornamental to be sold in Germany?
Thomas: Our idea is to go against that conception of German fashion and style. Often quality and frivolity are lacking in the comprehension of German fashion: the idea of buying something because it is eclectic or eccentric, as opposed to it being necessary. Let's be honest, no one needs a ripped bomber jacket with flower prints on it. However, there is a desire that exists for it as it offers something not previously provided.
For instance attention. It requires a lot of courage to walk around with an attention-grabbing Achtland jacket through Berlin, doesn't it?
Oliver: This is a real Berlin phenomena: the true eccentrics of the city are way over 70 and live in Charlottenburg. I hope this generation and the one following it have the courage for self-expression and frivolity; to have the courage to wear something that disturbs and teases.
What plans do you have for the future?
Oliver: It would be wonderful to be considered by our peers as an established brand in the near future. My wish is for Achtland to function and develop independently.
Thomas: I would like for the brand to broaden. I have a vision for an accessories and shoe-line. You start a label with 1000 ideas, transforming these ideas step by step is a lot of fun.
Would you ever launch a men's collection?
Thomas: We sometimes talk about it. However I think distance is important and I don't think it is good to design for yourself.
Oliver: It wouldn't work under the label Achtland. For the moment this idea seems quite far off . I cannot design for men and don't have any experience in this area.
Could you imagine expanding Achtland towards a design-object direction?
Thomas: Of course. I can imagine furniture. We look for furniture a lot. Achtland, standing as a color and idea is something that could be well transformed.
What would be the first Achtland piece of furniture?
Oliver: A beautiful sofa or chair.
Thomas: It could be made out of leather. The handcraft would be noticeable through it's seams. The processing would need to be seen and felt. It would need to instinctively feel good and would be reduced in form – perhaps even more refined than our fashion. A partner for life. And expensive!
I can see a few personal things here!
Oliver: My office chair by Vitra was bought when I went to London. It has been my office chair ever since. I basically have lived in it and it has always accompanied me.
Thomas: My lava lamp is very important – my nephew gave it to me for relaxation. We also love candles, for instance La Durée, Dyptique oder Cire Trudon. We love to decorate the Berliner courtyard.
When is it the nicest time to be in the studio?
Thomas: It depends who is in the room!
Oliver: The big windows are the best thing about our studio. There is so much light. During the afternoon the sun shines into the office and during the evening the sun shines into the studio. This is especially wonderful as it gives a reddish tone to everything in the interior. Light is our main element when it comes to furnishing.
This portrait is the second episode of a collaboration with Elle Online. See the second part of story on their website here.
Photohgraphy: Hayley Austin
Text: Celina PlagOliver Lühr und Thomas Bentz sind zwei Männer, die Frauen einkleiden, und zwar mit großem Erfolg. 2011 gründeten sie gemeinsam das Label Achtland, begleitet von den lauten Klängen medialer Euphorie. Ihr Stil, eine farbenfrohe und detailreiche Ode an die selbstbewusste Dame von Welt, schlägt ein wie eine Bombe – die perfekte Ausgangssituation, um das frische Label Stück für Stück zu etablieren. In Berlin-Kreuzberg wächst das Baby stetig, als Idee geboren wurde Achtland aber viel früher. Thomas und Oliver lernten sich noch zu Studienzeiten in London kennen, schnell war klar, dass die gebürtigen Deutschen von nun an auf gemeinsamen Pfaden wandeln. Nicht nur beruflich, sondern auch privat.
Ein Leben und Arbeiten in Symbiose – vielleicht begründet sich hier das Geheimnis der Anziehungskraft, die das Liebespaar genauso umweht wie Achtland selbst. Oliver studierte Design am renommierten Modecollege Central St. Martins, Thomas hat einen Abschluss in Internationalen Beziehungen. Der Kreative und der Ökonom, das ergänzt sich eben perfekt. Etwas, das man schier sehen kann. Beide haben dieses hübsche Bubenhafte an sich, ein warmes Lodern in den Augen und ein unschuldiges Lächeln auf den Lippen; eine gesunde Farbe im Gesicht. Wenn sie nebeneinander stehen, Oliver, der Blondschopf, und Thomas mit den vollen dunklen Haaren, wirken sie wie die fleischgewordene Verkörperung von Ying und Yang: Harmonie pur.
In dieser Manier empfingen sie uns, als wir die jungen Männer in ihrem loftigen Kreuzberger Hinterhof-Studio unweit des quirligen Moritzplatzes trafen, wo wir den beiden für einen Tag bei ihrer Arbeit über die Schulter schauen und sie auf ihren alltäglichen Wegen begleiten durften. Klar, dass die Achtland-Jungs zum Arbeiten auch Input von außen brauchen. Ein kleiner Inspirationstrip zum Neuen Museum und ein Bummel durch Modulor, des Designers liebstem Shoppingparadies, durfte daher auch nicht fehlen.
Thomas und Oliver. Ihr habt Achtland gemeinsam gegründet. Wie kam es denn überhaupt dazu?
Thomas: Als wir uns vor sieben Jahren kennen lernten, war Oliver gerade noch im Studium. Damals wohnten wir in London. Die Idee, etwas zusammen zu machen, war zwar abstrakt, aber schnell getroffen. In Form von Oliver war das Produkt ja schon da. Den konkreten Zeitpunkt, Achtland zu gründen, entschieden wir allerdings spontan. So treffen wir Entscheidungen auch in jedem anderen Bereich: schnell, intuitiv und ohne uns umzuschauen.
Warum habt ihr euch dazu entschieden, Achtland in Berlin großzuziehen?
Oliver: Hier in Berlin gab es günstig Raum – und mehr Reibung. Berlin ist nicht nur schön, sondern mancherorts auch ganz furchtbar. Dieses aufwühlend Hässliche und Unfertige fördert unsere Kreativität. In London waren wir zu Hause und haben uns sehr wohl gefühlt. Aus dieser "Comfort Zone" mussten wir raus.
Euer Studio liegt in der Nachbarschaft des Moritzplatzes. Fühlt ihr euch wohl in der Gegend?
Thomas: Der Kiez ist infrastrukturell sehr wichtig für uns geworden. Die Prinzessinnengärten, der Oranienplatz, und natürlich Modulor, unser Fixpunkt. Da kaufen wir alles, was nicht essbar ist. Modulor hat aufgemacht, als wir hier hingezogen sind, das war Schicksal. Außerdem sitzt unsere Produktion auch gleich um die Ecke. Und wir haben zwei Kollegen im Haus, die Berliner Designer Michael Sontag und Sissi Goetze.
Abgesehen von Modulor, gibt es auch Restaurants oder Cafés, wo ihr gerne hingeht?
Thomas: Wir bewegen uns gerade mittags nicht aus Kreuzberg weg. Das Cocolo Ramen am Paul Linke Ufer oder das Coco Ro am Mehringdamm mögen wir gern. Meistens findet man uns aber im Coledampf's, dem an Modulor angeschlossenen Restaurant. So können wir gleich zwei Fliegen mit einer Klappe schlagen (lacht). Am Abend gehen wir gerne ins Da Baffi im Wedding.
Ihr seit ja nicht nur Geschäftspartner, sondern auch ein Paar. Habt ihr keine Angst, etwas Gemeinsames aufzubauen, was dann schief geht?
Thomas: Ich glaube wir hätten eher Angst, es alleine zu machen. Wir pfuschen uns dauernd gegenseitig ins Handwerk und das ist auch wichtig so. Jeder hat ein Veto-Recht.
Oliver: Viele denken, sich als Paar selbstständig zu machen, ist wie die Pforten zur Hölle aufstoßen. Für uns ist aber ganz toll, dass man gemeinsam Erfahrungen macht. Dass keiner dem anderen erklären muss, warum er gerade spät nach Hause kommt. Und dass wir Freud und Leid teilen zu können – daraus schöpfen wir sehr viel.
Ihr arbeitet und lebt zusammen? Wie schafft ihr euch Freiräume?
Thomas: Es beginnt zum Beispiel damit, dass wir getrennt ins Studio fahren – Oliver kommt immer mit seinem süßen Mini-Cooper. Das ist mittlerweile ein wichtiges Ritual geworden, vor allem für unser Zusammenleben, weil es uns eine gewisse Freiheit erlaubt, bevor wir hier ankommen und uns den Modehut aufsetzen.
Oliver: Außerdem ist es verboten, am Frühstückstisch über Arbeit zu sprechen! Es gibt die ganz feste Regel, nichts mit nach Hause zu nehmen. Leider sieht das in der Realität häufig anders aus (lacht).
Warum heißt euer Label überhaupt Achtland?
Thomas: Es sollte ein abstrakter Name werden. An Achtland reizt uns, dass er im Gedächtnis bleibt. Es klingt nach einer Person und einem Ort. Und es klingt deutsch – ist es aber nicht. Außerdem gibt es eine Geschichte dahinter zu entdecken…
Oliver: Achtland ist mythische Figur. Eine keltische Königin, die unzufrieden war mit der Männersituation auf der Erde. Also entschloss sie sich, ihr irdisches Dasein hinter sich zu lassen und heiratete einen Gott. Die Geschichte fanden wir ganz spannend. Im Kontext von dem, was wir machen, hat es eine eigene Bedeutung bekommen.
Geht es euch darum, aus jeder Frau eine Göttin zu machen?
Thomas: Oh Gott nein! Ich glaube Achtlands Strahlkraft ist begrenzt. Aber sie kommt aus der Mythenwelt, wo Frauen eher re-aktiv tätig sind. Das ist bei ihr anders: Die Idee von Selbstbestimmtheit und Stärke, das ist unser Ansatz.
Oliver: Achtland ist eine irdische Frau, die in eine andere Welt übertritt. Selbstgewählte Grenzen zu überschreiten, das schwingt bei uns mit. Hauptsächlich geht es um Selbstbewusstsein.
Wenn es keine Göttin ist – wer trägt dann Achtland?
Thomas: Unsere Kundin ist in einem ziemlich breiten Feld zu finden. Gerade haben wir ein Kleid verkauft an eine Dame, die zwischen 60 und 70 war.
Offensichtlich ist sie auf der Suche nach etwas neuem, aber auch nach Beständigkeit. Sie hat einen gewissen Sinn für Oberflächen und Materialien und kauft Dinge unter dem Aspekt, dass sie sie irgendwann mal an ihre Tochter weitergeben kann. Kontinuität, Beständigkeit, Lieblingsteilgefühl – dann kauft man sich nicht so viel, dafür aber viel lieber.
Wie steht es um die Rollenverteilung – wer ist für was zuständig?
Oliver: Letztendlich sind wir beide Designer, weil wir gemeinsam die Kollektionen generieren. Jedes Teil, jedes Element, jeder Stoff wurde zusammen besprochen. Wir haben einen relativ gleichen Geschmack und eine ähnliche Intuition für das, was wir für die Marke Achtland gut finden. Beim konkreten Designhandwerk fängt dann mein Part an. Und Thomas übernimmt im Tagesgeschäft alles andere. Er ist der Stratege.
Wenn es darum geht, eure Kollektionen zu kreieren – geht ihr da auch strategisch vor? Zum Beispiel, indem ihr Trends vorhersagt oder schaut, was am Markt funktionieren könnte?
Thomas: Wir gehen eigentlich völlig abstrakt an eine Kollektion heran. Meistens fangen wir bei irgendetwas an, was irgendwie hängen bleibt. Wir haben nichts, was eine buchstäbliche Übersetzung von dem ist, was uns in den allerersten Schritten inspiriert hatte.
Oliver: Häufig startet die Auseinandersetzung auch mit etwas, das wir ganz furchtbar finden. Wir versuchen dann, es in einen anderen Kontext zu setzen. Was daraus entsteht, ist vielmehr ein organisches Ergebnis denn der Versuch, einem Trend vorzugreifen.
Womit kann denn so eine Auseinandersetzung konkret starten?
Thomas: Wir experimentieren gerne mit Materialien, zum Beispiel Seidenqualitäten und Wollmischungen oder Kaschmir. Die Stoffe, die wir von Messen mitbringen, sind allerdings nur unsere Ausgangssituation. Viel funktioniert über das, was wir hier im Studio entwickeln – die Stickereien zum Beispiel.
Oliver: Grundsätzlich wird bei den Stickereien jedes Element einmal bei uns im Studio vorgestickt, die Farben festgelegt und dann schicken wir es nach Indien.
Produziert ihr eure Kollektionen auch in Indien?
Thomas: Thomas: Wir produzieren alles hier in Deutschland. Aber die Stickereien sind eine Form von Handarbeit, die so in der Form in Europa nicht überlebt hat. In Indien ist das eben anders, dort gibt es diese Tradition. Über kurz oder lang werden wir einen Teil unserer Seidenproduktion wahrscheinlich nach Frankreich und Italien verlegen, weil wir dort so fein arbeiten können, wie wir es wollen. Grosse Produktionen von leichten Seidenteilen sind in Berlin noch eher schwierig.
Bei Qualität und Produktion macht ihr keine Kompromisse?
Thomas: Wir arbeiten nur noch mit einer kleinen Auswahl an Stoffhändlern und machen keinen Kompromiss bei den Materialien. Auch, weil wir selber so an Kleidung herangehen. Wir lieben qualitativ hochwertige Stoffe, die gut aussehen und sich gut anfühlen. Das Haptische ist eben der erste Kontakt nach dem Visuellen. Achtland funktioniert sehr stark über die Oberfläche.
Worauf achtet ihr, wenn ihr für euch selbst Shoppen geht?
Oliver: Es dreht sich schon primär um Farben, Qualität und Materialität. Das kommt aber auch ein wenig durch den Job: Ich ärgerte mich, wenn ich ein schönes Teil kaufe, was aber nach drei Mal tragen kaputt geht.
Thomas: Ich habe ein wenig die Lust am Shoppen verloren seitdem ich selber Mode mache. Deswegen kaufe ich momentan nur kleine Accessoires, Portemonnaies oder Schals. Da kann man auch viel schneller feststellen, wie so etwas gemacht ist. Fühlt sich das schön an? Werde ich es lange nutzen? Bei allem anderen versuche ich, nichts in Schwarz zu kaufen. Das ist meine Maxime.
Reist ihr viel? Wohin geht es am liebsten?
Thomas: Wir reisen sehr gerne. Immer direkt nach der Produktion einer Kollektion, und am liebsten weit weg. Zum Beispiel nach Thailand oder Indien. Das brauchen wir, um den Kopf komplett frei zu bekommen. Um sich auf etwas ganz anderes zu besinnen. Wir gehen auch bewusst nicht weg, um für die kommenden Saisons zu recherchieren. Das verstehen wir als unseren großen Luxus.
A propos Luxus. Hand aufs Herz – ist eure Mode nicht viel zu prächtig und schmückend, um sie im bodenständigen Deutschland zu verkaufen?
Thomas: Unser Gedanke ist, ganz bewusst dagegen zu gehen. Häufig fehlt im Verständnis von deutscher Mode die Qualität von Frivolität – die Idee, etwas zu kaufen, weil es eklektisch oder exzentrisch ist und eben nicht, weil man es braucht. Denn seien wir mal ehrlich: kein Mensch braucht zum Beispiel eine zerrissene Bomberjacke mit Blumenstickereien drauf. Aber man möchte es, weil es einem etwas gibt, was man vorher nicht hatte.
Zum Beispiel Aufmerksamkeit. In Berlin gehört Mut dazu, mit einer auffälligen Achtland-Jacke durch die Stadt zu laufen, oder?
Oliver: Das ist ein richtiges Berliner Phänomen: Die echten Exzentriker in der Stadt sind alle über Siebzig und wohnen in Charlottenburg. Das würde ich mir wünschen für unsere Generation und die darunter: Mut zur Selbstdarstellung und Frivolität. Den Mut zu haben, etwas zu tragen, was stört und reizt.
Was habt ihr eigentlich für Pläne, auf lange Sicht?
Oliver: Es wäre schön, in naher Zukunft als etablierte Marke wahrgenommen zu werden. Achtland soll sich ganz selbstständig entwickeln und funktionieren.
Thomas: Ich würde die Marke gerne erweitert sehen. In meinem Kopf haben wir irgendwann ein Schuhsortiment und Accessoires … Man startet ein Label mit 1000 Ideen im Kopf und diese Schritt für Schritt umzusetzen, das macht Spaß.
Würde für euch auch das Lancieren einer Herrenkollektion in Frage kommen?
Thomas: Das diskutieren wir manchmal, aber nicht besonders intensiv. Mir fehlt der Abstand zu den Sachen. Wenn du für dich selber designst, ist das meiner Meinung nach nicht gut.
Oliver: Es würde unter der Marke Achtland nicht funktionieren. Im Moment liegt mir der Gedanke fern – auch, weil ich nicht für Männer designen kann. Darin habe ich keine Erfahrungen gesammelt.
Könntet ihr euch vorstellen, die Marke Achtland auch auf Designobjekte zu erweitern?
Thomas: Auf jeden Fall. Möbel könnte ich mir sehr gut vorstellen. Vor allem weil wir immer viel nach Möbeln gucken. Achtland ist von der Farbwelt und Idee etwas, das sich gut umsetzen ließe.
Was wäre das erste Achtland-Möbelstück?
Oliver: Momentan wäre es auf jeden Fall ein schönes Sofa oder ein schöner Stuhl.
Thomas: Es könnte aus Leder sein. Das Handwerk wäre sichtbar, zum Beispiel durch Nähte. Man müsste die Verarbeitung sehen und spüren können, sich instinktiv wohl fühlen. Es wäre sehr reduziert in den Formen, vielleicht noch zurückhaltender als die Mode.
Ein Partner fürs Leben eben. Und: teuer!
Ein paar persönliche Dinge finden sich dennoch hier!
Oliver: Meinen Chefsessel von Vitra zum Beispiel habe ich mir gekauft, als ich nach London gegangen bin. Das ist mein Bürostuhl ever since. Auf dem habe ich quasi gelebt und der wird mich auch immer begleiten. Der funktioniert in seiner Funktionalität.
Thomas: Ganz wichtig ist auch meine Lavalampe – mein Neffe hat sie mir geschenkt, zur Entspannung. Außerdem lieben wir Kerzen, zum Beispiel von La Durée, Dyptique oder Cire Trudon. Unser einziger kleiner Versuch, den Berliner Hinterhof ein wenig zu schmücken. (lacht)
Zu welcher Uhrzeit ist es in eurem Studio am schönsten?
Thomas: Das kommt ein wenig darauf an, in welchem Raum man sich befindet…
Oliver: Das wirklich tolle an diesem Studio sind nämlich die großen Fenster, sodass ganz viel Licht einfällt. Mittags scheint die Sonne in das Büro, abends ins Studio. Das ist besonders schön, weil es einen leichten Rotstich auf alles zaubert. Eigentlich ist das Licht ist unser Haupteinrichtungselement.
Danke Thomas und Oliver, dass ihr eure Geschichte mit uns geteilt habt. Mehr Informationen und Impressionen zur Mode von Oliver Lühr und Thomas Bentz, den Designern des Berliner Labels Achtland, gibt es hier.
Dieses Portrait ist der zweite Teil unserer kooperation mit Elle. Zum zweiten Teil der Story auf deren Website geht es hier.
Fotografie: Hayley Austin
Interview & Text: Celina Plag