For their latest issue, long-form interview magazine mono.kultur focuses on "the sorceress of style" and how her garments explore lucid dreaming.
As a teenager growing up in Bavaria, Kai von Rabenau found comfort in international magazines. "They were my lifeline to a larger world, and to this day, they're my main source of information and relaxation," he says, explaining that working in magazines was a dream of his from a young age. After studying visual communication in London, von Rabenau moved to Berlin in 2000, briefly working as a photographer for several publications before discovering that the role was too limiting for his interdisciplinary interests. "I've always been interested in all aspects of magazine production, from the writing to the images to design and production, so starting my own seemed a natural step."
Inspired by Les Inrockuptibles—a French magazine that dedicates up to twenty pages each issue to an interview with a band or filmmaker—mono.kultur focuses on long-form interviews with international creatives. "It took us two years to find our format of featuring one interview per issue," says von Rabenau, adding that while it was initially a practical measure to cut costs, this approach became mono.kultur's signature. Since releasing their first issue in 2005 dedicated to the German electronic musician Carsten Nicolai, mono.kultur has covered a wide variety of international creatives from the contemporary artist and activist Ai Weiwei to Serbian performance artist Marina Abramović.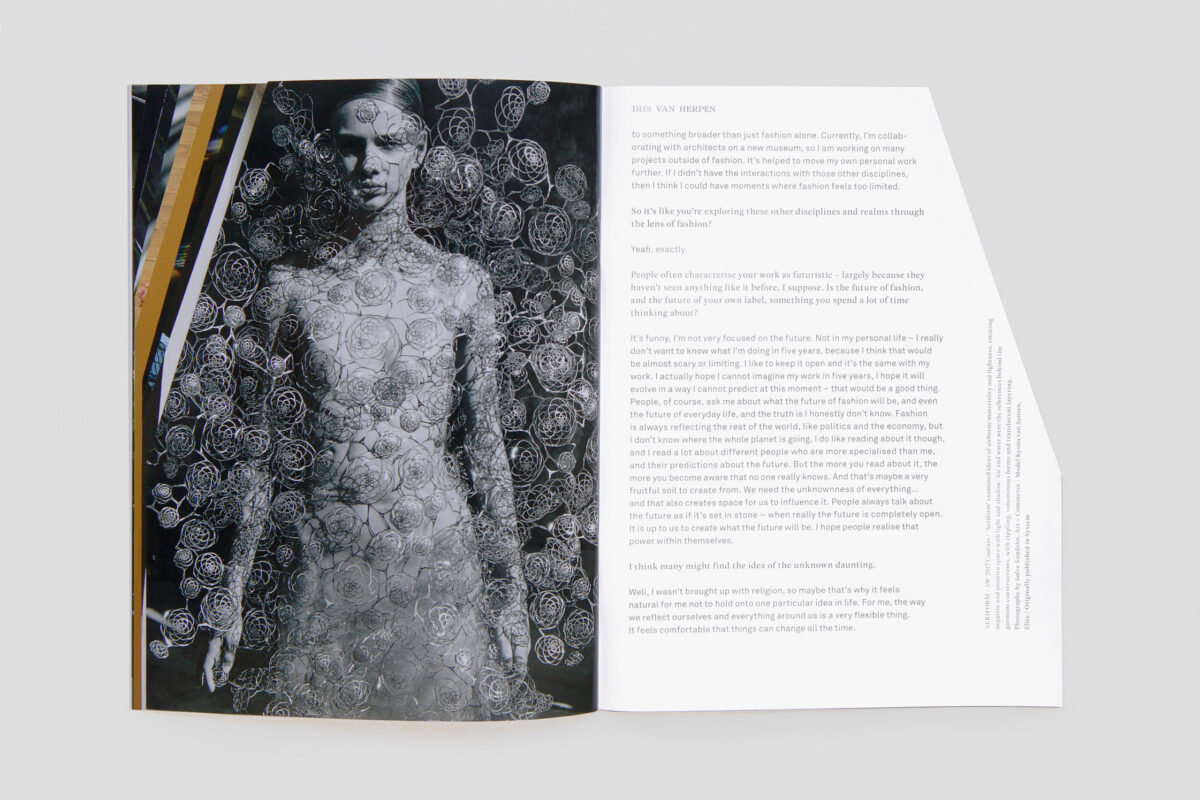 For the latest issue, mono.kultur took a deep dive into the futuristic world of Dutch designer Iris Van Herpen. The idea was initially proposed by Canadian-born and Berlin-based writer Charmaine Li who first fell in love with Van Herpen's work when she saw it worn by dancers as part of the Berlin premiere of Kreatur, a production by German choreographer Sasha Waltz. Moved by the piece and Van Herpen's costumes in particular—"in one scene there were half-naked dancers wrapped in voluminous cloud made of fine silver filaments, and in another, there was a faceless figure donning a black bodysuit embellished with steel umbrella ribs,"—she went on to research the designer in greater detail. "I discovered that her Fall 2016 presentation explored lucid dreaming, and as I'm drawn to all things related to the unconscious I was excited to learn that she actively engages with these realms as well," says Li. "More than that, I was intrigued by the poetic way in which she brought bits and pieces from the worlds of art, science, technology, and dance into her designs. It was so refreshing to see a designer cross-pollinate ideas like that." Li channeled her admiration for Van Herpen into an article for AnOther Magazine in 2017, after which she received an unexpected email of thanks from the designer herself. "We then had a brief conversation about dreams and coincidences. That's how the whole idea for the mono.kultur interview started."
mono.kultur takes a deep dive into Van Herpen's fashion alchemy
While Li conducted the first part of the interview in Van Herpen's Amsterdam atelier, she concluded her dialogue with the designer at her 'Syntopia' in Paris. "Seeing the pieces interact with human bodies on the runway gave me insight into a dimension of Van Herpen's work that I wouldn't be able to grasp otherwise," says Li. "It was really special to be able to spend so much time delving into one person's life and creative process," she continues. "I guess that's what I like most about doing long-form interviews, you not only learn about their work, but you also gain a much deeper understanding of how they see the world."
mono.kultur is an independent Berlin-based publication that dedicates each of its issues to long-form interviews with international creatives. Their latest issue, Iris Van Herpen: The Unknownness of Everything, delves into the world of the renowned Dutch fashion designer and is available to order from their website.
If you're looking for more FvF interviews with purveyors of printed matter check out our recent pieces on Nataal and Fluffer Everyday.

Text: Emily May