Look behind the curtain at the creative laboratory and headquarters of the Swiss bag brand QWSTION in Zurich and you'll undoubtedly see a work in progress.
The metallic industrial sewing machines chatter softly, their steady sound forming an audible backdrop. Against this, a group of QWSTION staff brood over drawings of new prototypes, type away on their laptops or passionately discuss projects with one another. The light-flooded, loft-like hall, which is divided into smaller work areas using white metal and chipboard, is a truly suitable space for the backpacks and bags designed here: young, pragmatic, flexible—and with optics unequivocally aligned with the times.
The behind-the-scenes look at QWSTION marks the beginning of a joint debate on sustainability, functionality and design for Freunde von Freunden.
"We're not a classic fashion brand, but rather see ourselves as a manufacturer of quality everyday products."

– Hannes Schoenegger
"When we founded QWSTION, we wanted to create all-rounders that are sustainable, aesthetically pleasing and at the same time functional," says co-founder Hannes Schoenegger. "Bags that you can wear for both cycling and in the office, for business meetings, in cafés and on weekend walks in the woods," he adds. Hannes looks after the Austrian location as much of the operational business is now done in Tyrol while the studio headquarters remain in Zurich.
Back in 2008, when the idea of ​​a personal bag label was just starting to take shape in the minds of friends Sebastian Kruit, Christian Kaegi, Fabrice Aeberhard, Matthias Graf, and Hannes Schoenegger. At that time, backpacks and tote bags were all either functional or visually appealing—not both. And so it's hardly surprising that QWSTION was born almost out of necessity with the five-member founding team creating a product they wanted yet simply couldn't find.
Between each of the founders they already had important know-how thanks to their various creative professions: Hannes, who knew his way around communication and figures, Sebastian, who was fit in fashion sales and retail, and industrial designers Christian and Fabrice and graphic designer Matthias. A first prototype, rectangular in shape, fancier than a sports backpack, but sportier than a classic leather bag, was soon produced and distributed to friends and acquaintances. "The response was great, which furthered our idea of ​​starting a business," says Hannes. "Our first backpack is still in the collection—of course, we have continually developed and improved upon the original design."
For QWSTION, however, change does not mean running after fast-paced trends. Although the collections are developed consistently, all their models are designed to work primarily long term thanks to the durability of the materials and the timeless design. "We're not a classic fashion brand, but rather we see ourselves as a manufacturer of quality everyday products," Hannes says. The products come in mostly muted colors and the design also has a clear, reduced form. "It's striking that even the Swiss think that we come from the Scandinavian region," Hannes says laughing.

QWSTION's bags are so minimal in their design, even in their home country people think of the brand as Scandinavian.
And then there's the matter of sustainability. Work is done with natural fabrics such as cotton, wool or linen, which are provided with a water-repellent coating. Straps and shoulder straps, on the other hand, are made of recycled polyester and nylon, while the handles are made of leather that's tanned using plants. With this purely vegetable-based and natural tanning, the leather partially darkens and softens over time and thus the bags get an individual look and feel. "Our natural fibers are also biodegradable and don't leave pollutants behind," says Christian.
The manufacturing of a prototype bag
"Sustainable production isn't location-specific."

– Matthias Graf
With so much environmental awareness, it's surprising that the production of the bags, unlike the prototypes isn't done in Zurich, but rather in China! It's commonly known that the "Made in China" label doesn't have the best standing when it comes to green production and quality. Christian wants to change this prejudice: "We went where the know-how is. If we were to produce in Europe, the paths between our individual partners would be too far apart: Our tannery and all other production facilities are located within a radius of about 150 kilometers of the Hong Kong Special Administrative Region. In addition, the harbor is nearby to ship our products to Europe. A good portion of our bags will also be sold in the Asian market, so we deliver directly from Hong Kong."
"Sustainable production isn't location-specific," adds Matthias, explaining at the same time how QWSTION can guarantee fair working conditions in Asia from Switzerland: "Not only do we visit our partners regularly, but we also see it as our task to implement sustainable standards in production facilities. For example, our partners are all BSCI certified." Thanks to a code of conduct, this EU initiative ensures ecological and even fair standards in the treatment of employees. "In addition, our bags are tested by TÜV Rheinland for their longevity."
For the QWSTION founders, bag production in their home country of Switzerland would also be nothing more than ideological: "We see no added value here for the wearer or the production. Our bags should remain affordable! Production in Switzerland would be much more expensive," explains Matthias. The customer was quite simply not (yet) willing to pay an increased price resulting from sustainable production in Switzerland or Europe. Even if virtually everyone has been bragging about their ecological awareness for years now—QWSTION's entrepreneurial experience teaches a different worldview.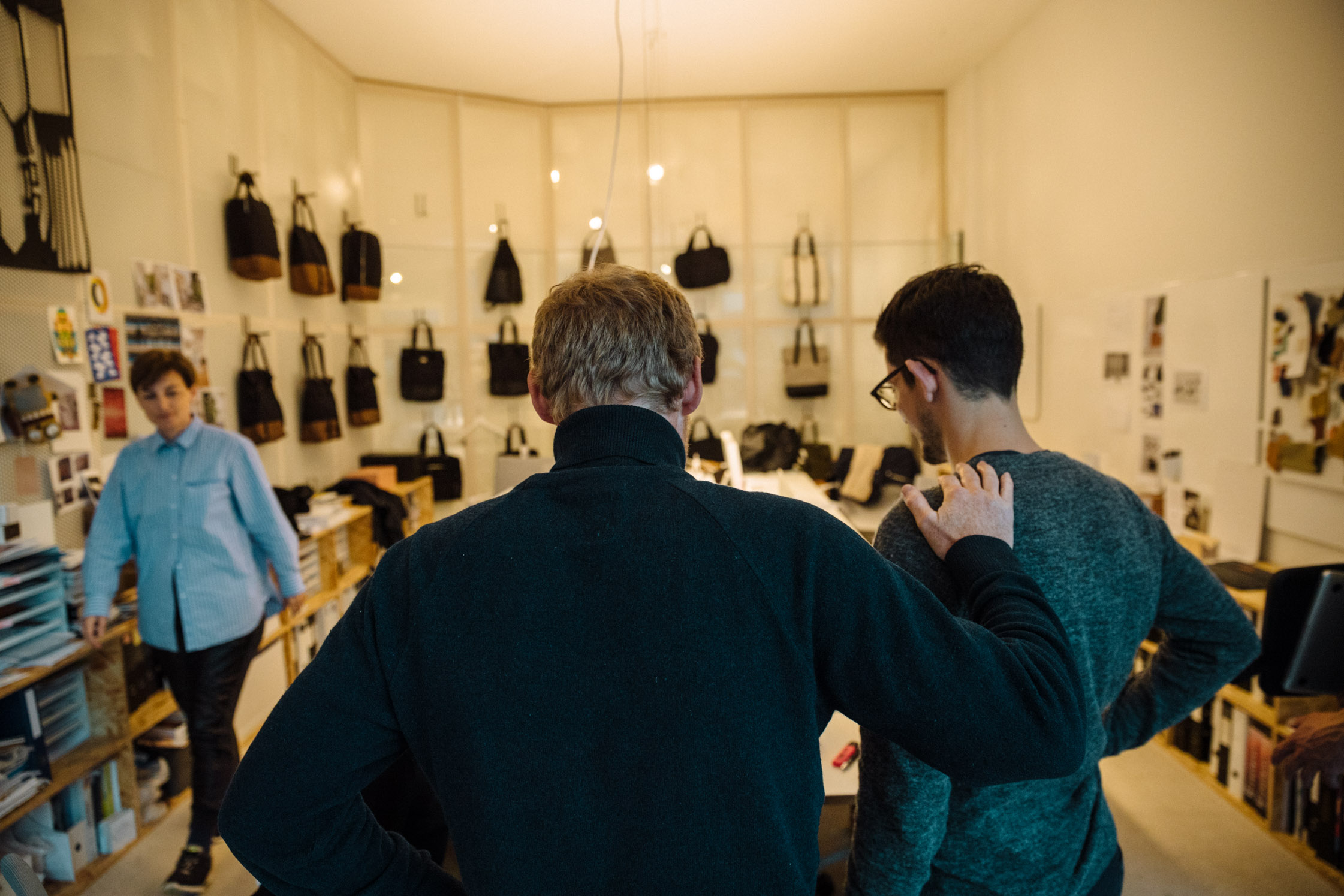 However, the Zurich-based brand is not lacking in popularity. After all, QWSTION has been able to slowly but successfully establish itself on the market since 2008 with its functional, aesthetically-pleasing and sustainable concept. In addition to their own stores in Vienna, Zurich and, more recently, Copenhagen, QWSTION has a considerable worldwide standing in concept stores from Berlin to Montreal and Sydney to Tokyo. "We worked for a very long time for little money purely for the idea and operated with an eye on the future," says Matthias. "Only when logistics were under control, the brand protection taken care of and the materials well fitted, did growth seem reasonable at all."
In the triad of functionality, design and sustainability QWSTION still considers itself to be well positioned, even as competition continues and the bad market has changed significantly in recent years. Sustainable production is not a static label, as every year more becomes possible. "We want to continue to promote this to improve ourselves year by year," Hannes responds, but that's not the only idea for how QWSTION intends to remain innovative in the future despite its consistent approach.
For that, they have their own stores, in which the Zurich-based label shows its own range in addition to products of other brands with similar values ​—a clever move to create worlds in which the customer finds not only bags but all manner of things for modern life. And then there would be the regular cooperation with other preferably Swiss brands such as Sibylle Stöckli, Soeder or D.N.S., which even gave rise to practical-chic, sustainable raincoats that won QWSTION the German Environmental Award for Ecological Design in 2016. Another clever approach to merging the essences of two labels and expanding their own scope.
QWSTION's Concept Store in Vienna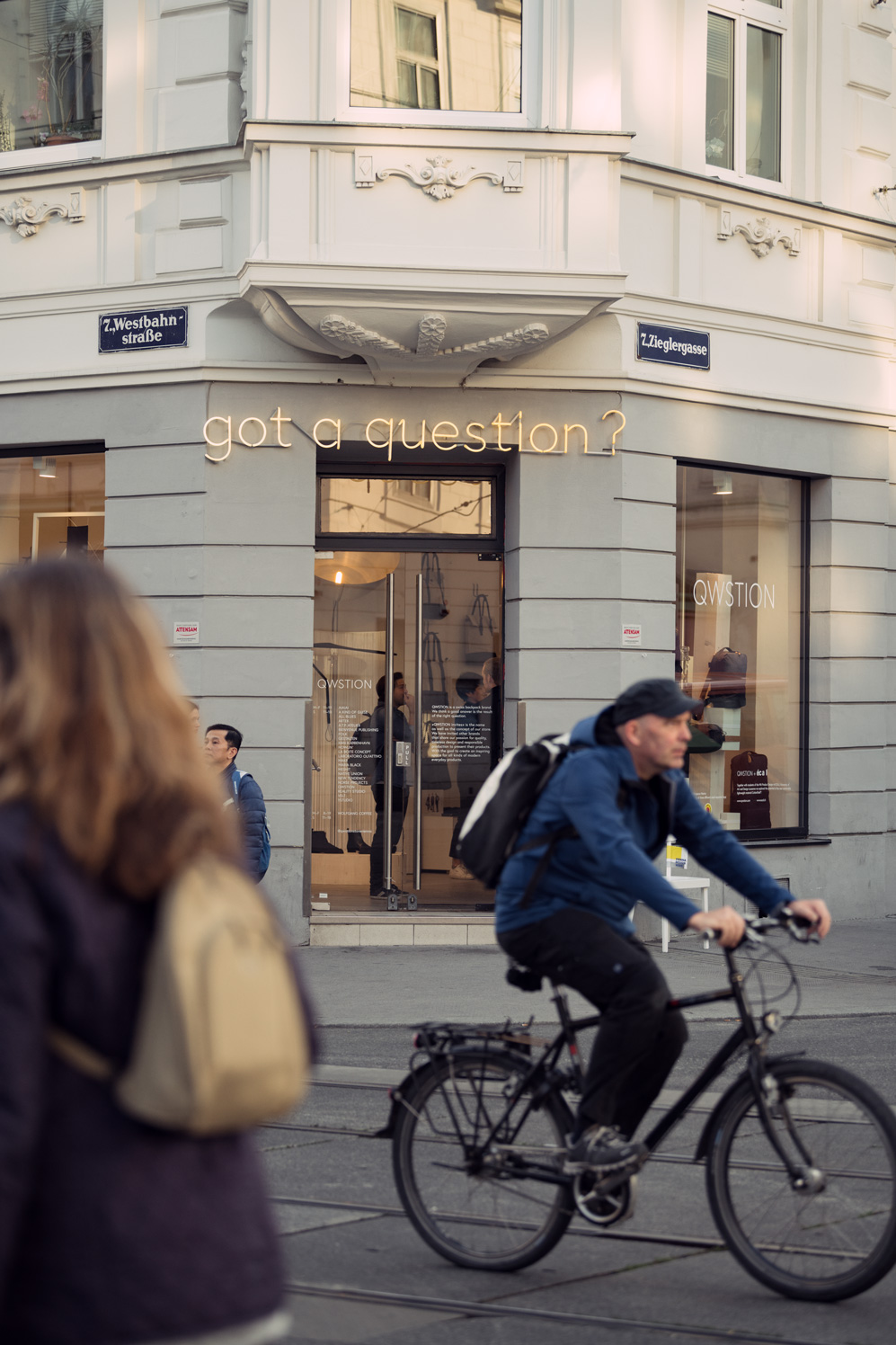 And so, despite the consistent framework of QWSTION, there's always plenty of variety to be found, and the founders' potential is far from exhausted: "On the way from our apartments to the workshop in Zurich, we see at least one of our bags on the street," says Matthias. "Of course, that makes us pretty happy but there are still people around home who don't know our bags yet. It's exciting to see that after nine years of work, we're still starting out in a certain way. That's encouraging and challenging at the same time."